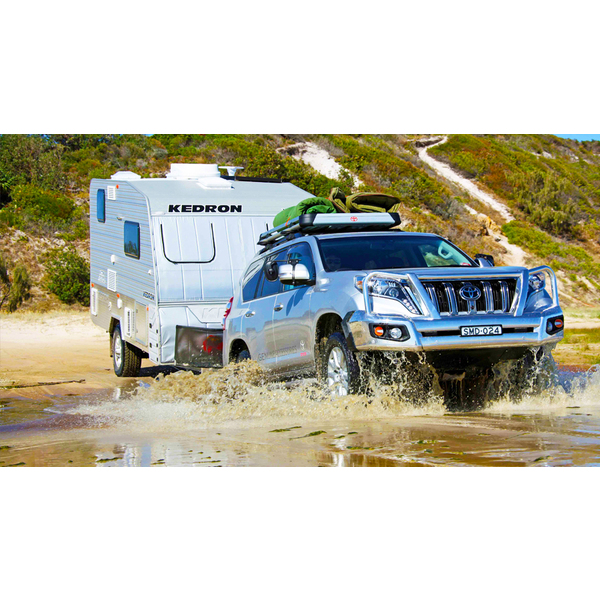 What is the difference between On Road & Off Road caravans?
The caravan market is composed of a stunning array of RV options and choices.
While this is great for experienced campers, it can be overwhelming to someone who is just getting started.
If you've been looking at a caravan, one of the first things you will have to decide is whether to purchase an on-road or an off-road model.
There's a large price difference between the two types and, as a result, new campers are often concerned about making the wrong choice.
The following few paragraphs will provide a brief comparison of on-road versus off-road caravans.
If, after reading this article, you are still unsure which option is the best for you, please feel free to get a hold of our Sunshine Coast experts at 1-800 RV PARTS for a free consultation.
General Capabilities
Off-road caravans are capable of going a lot of places on-road caravans are not, therefore providing an unsurpassed level of freedom to their owners.
These caravans are essentially built for "off-the-grid" kinds of camping experiences and allow you to camp anywhere your towing vehicle can get to.
This can be beneficial during busy traveling times, such as holidays, providing you with a level of unmatched flexibility.
On-road caravans, on the other hand, are limited to driving on roads, restricting the number of places you can go by whether or not they can be reached via traditional driving means.
If the majority of your time will be spent on the highway, traveling between holiday parks and resorts, you will likely be fine with an on-road caravan.
What about Outback Caravans?
An Outback caravan essentially begins as an on-road caravan.
Manufacturers add a few extras, such as a checker plate sides, allowing the Outbacks to travel on reasonable dirt roads and locations which permit the continuous operation of a generator.
You can consider them a mid-way point between on-road and off-road caravans.
Features and Construction
Because off-road caravans are specifically constructed to withstand the tough demands of off-road conditions and off-the-grid life, it's not surprising that these models generally have added features geared towards resilience, durability, and greater independence.
The following features distinguish an off-road caravan from an on-road model:
Super strong suspension and chassis
Load-sharing suspensions are generally considered the best in the industry
Big wheels and tires with load-sharing systems
To provide better ground clearance
Angled towards the back-end of the cabin
To make a larger departure angle to better clear deep ruts and steep inclines
Bigger battery capacity and grey water tanks
For "off-the-grid" camping
To help charge the battery
Toilet and shower- with emphasis on water sealing
An Outback model has a few features geared towards durability and off-the-grid living, but not nearly as many as off-road models.
These include (but are not limited to):
Improved stone protection
Larger water tanks or an increased number of tanks
Outdoor cooking facilities and shower
Pricing
As a result of their durable construction and features dedicated towards off-the-grid living, off-road caravans are generally more expensive than on-road models.
Tips for Choosing a Great Off-Road Caravan
Oftentimes it can be difficult to tell whether a caravan is truly designed for the demands of off-roading.
In fact, the fine print contained in the warranties of certain "off-road" caravans restrict the driver to on-road use.
To help you become a master at discovering a true off-road caravan, we have compiled a few final tips.
Read the warranty of your prospective caravan. If your driving is restricted, it is not a true off-roading vehicle
Check the caravan's chassis. An off-roading caravan generally has a larger chassis diameter- somewhere around 150mm wide x 50mm thick
Check the caravan's A-Frame. The A-Frame of an off-roading caravan has members that extend the complete length of the van (as opposed to ending at the axles)
Check the caravan's suspension. A good off-road suspension set generally includes a Cruisemaster or ideally the Simplicity load sharing independent suspension.
Verify the caravan's carrying capacity by subtracting tare weight from ATM. If the caravan's carrying capacity is only about 350kg more than its tare weight, it was likely not built for true off-roading.
Examine the A-Frame hitch. A basic 50mm ball hitch is not suitable for off-roading.
Check the A-Frame's water tap. An off-roader's tap is generally shielded from potential stone damage.
Check beneath the caravan. A real off-roader will not have any fragile-looking wires or pipes exposed beneath the RV.
Research the manufacturer's other caravan models. What makes this particular "off-road" model more durable than its on-road counterparts?
You can also simply ask the salesperson to go over these facts with you while you're at the dealership.
NOTE: Please do not be fooled by the fact that off-roading caravans appear lighter than on-road caravans. The general weight that manufacturers display does not include the weight of optional add-ons. Therefore, please be sure that you are taking your vehicle's towing capacity into account when ordering additional features and extras.
Conclusion
Now that you've got the basics covered, the differences between an on-road, off-road, and Outback caravan should be pretty clear.
A higher price does not necessarily make an off-road caravan better, especially if you have no intention of ever doing remote, off-the-grid camping.
The best way of making a wise decision is to simply sit back and think about what you intend to use the caravan for and where you intend to go.
If you're planning on living on the road while traveling highways, Caravan parks, and resorts, then there's no reason to be spending extra cash on caravan features and materials that you likely will never use.
If, however, you're looking for the solitude of the wilderness and some independence from typical societal life, then an off-road is what you'll be requiring.
Don't forget! For any caravan-related questions or concerns, our knowledgeable experts are only a call away.