---
Caravan & Trailer Wireless Interface Anti-Theft System:
Connect Wirelessly:
Designed and developed in Australia, WiTi replaces the cables and plugs connecting a tow vehicle and trailer with an advanced wireless interface. WiTi consists of a primary unit in the tow vehicle and a secondary unit in the camper trailer or caravan.
WiTi transmits all lighting and braking signals and supports all modern electric brake controllers.
No more cables to damage or rip out, no more corroded terminals and no more loose connections.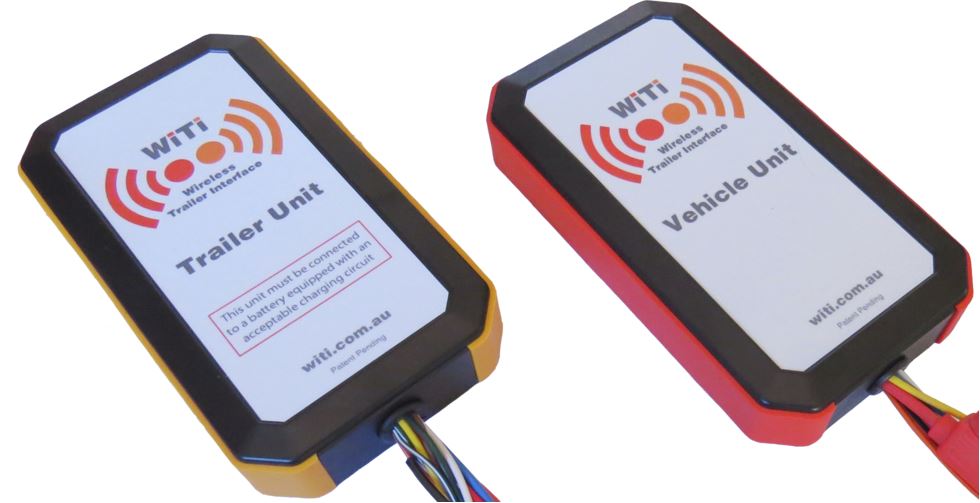 Anti-Theft System:
WiTi includes a revolutionary anti-theft system and the onlyanti-theft system designed specifically for caravans and camper trailers.
The WiTi anti-theft device detects movement via a highly sensitive gyroscope. If a caravan / trailer is hitched or moved slightly whilst the anti-theft is active then WiTi immediately applies the brakes, flashes all the lights and sounds an alarm. The caravan or camper trailer is completely immobilised and will be impossible to tow.
Unlike other anti-theft alarms or tracking devices, WiTi ensures the caravan or camper trailer is completely immobilised and cannot be towed away. There are no subscription fees or ongoing charges and for less than the excess on your insurance WiTi Anti Theft will protect your caravan or trailer from theft.
Now available as a stand alone product. The Anti Theft capability can be purchased separately and operate independently from the Wireless Interface.
*Patent Pending
Wireless Technology:
WiTi consists of two units, a sender unit in the vehicle and a receiver unit in the camper trailer or caravan. The units are permanently paired with each other and communication between units is fast, secure and stable.
Driving lights, indicators, brake lights and electric brake controller signals are all transmitted to the trailer / caravan. WiTi includes additional outputs which can be be used for other switched requirements in the trailer or caravan. For example an ignition source in the tow vehicle that will switch the caravan fridge to 12V when the vehicle is started.
Electric Brake Controller Support:
WiTi supports all types and brands of modern brake controllers. WiTi takes the output from the brake controller and transmits it to the trailer / caravan. All modern brake controllers available in Australia have been extensively tested and will operate seamlessly with WiTi.
Older style RedArc controllers will require an inline resistor to be fitted on the Vehicle Unit and connected between the blue brake wire and white earth wire.
Low Voltage Alarm:
WiTi features a low voltage alarm. If the voltage drops below 11.5V on the battery in the camper trailer or caravan an alarm will sound and the trailer lights will flash to alert the driver.
Break Away System:
WiTi provides an optional integrated break away system that complies with ADR38/04 and New South Wales VIB06. WiTi provides the added benefits of proportional braking to bring the caravan to a stop safely as well as activating the brake lights to alert other motorists.
NOTE - THIS UNIT COMES WITH TWO REMOTES.
Be The First To Review This Product!
Help other Caravan RV Camping Accessories users shop smarter by writing reviews for products you have purchased.
---
Others Also Bought
---
More From This Category