Life on the Road – What You Won't Miss from Home
Author: Tahlia Maynard Date Posted:13 October 2016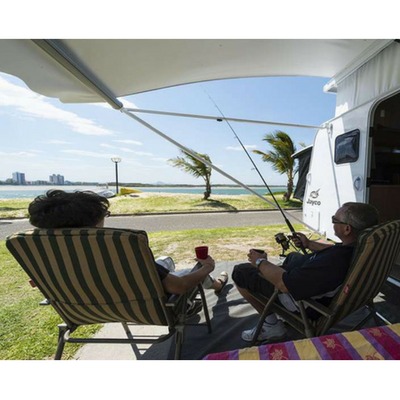 What you won't miss from home when you hit the road on your big lap or holiday.
In the hustle and bustle of preparing for your big lap or even just your holiday you may hear a bit of chit chat about homesickness. You may experience some naysayers commenting on the little luxuries you will be foregoing. You may even endure other people's horror stories too. So if you need a little reassurance and an overall pick-me-up, this one is for you. Leaving home for a period of time comes with a bit of uncertainty sure, but it also comes with excitement. While there are a few things you will miss from home, there is also so much you simply won't. So to pep you up, here are 5 things you won't miss while you're on your next road trip – big or small.
1. Gardens to Maintain
We've all been here. Your weekends are absorbed by tending to plants, mowing lawns, trimming, mulching, watering – you get the picture. When it's you and your caravan, unless you have a pot plant or two, you will have no gardens to work on.
2. Housework
We know you want be totally kicking up and relaxing, but comparatively speaking, your caravan will require significantly less house work to do. With such a small area, it's much easier to maintain and a lot quicker to spruce up.
3. Door knockers
Haven't we all been a bit guilty of pretending we aren't home when door-knockers come approaching. Even worse than not answering the door, is answering the door. If you're not being bombarded with donation requests at your front door, you're being hounded on the home phone or by mail. Either way, when you are on the road the only people who will be pestering you are fellow campers who want to spend happy hour with you. And who would say no to great company and a couple of cold beverages?
4. Neighbours You Are Stuck With
Annoying neighbours at home are easy to get stuck with which is why being in a mobile home is so awesome. If you aren't loving your next-door-neigbourinos, you can leave. You don't even need to leave that campground; you just need to request a new campsite. There isn't a shortage of camping grounds around Australia, so it's easy to move on if you not loving the company.
5. Being Busy
We can all relate to being constantly busy. Every weekend there's a birthday, wedding, christening, did we say birthday? There seems to be no end to the reasons to be somewhere and do something. Leaving home for the great outdoors removes the expectation for you to do things. You will finally have time for you, spending time how you want, where you want.
So the next time someone tries to talk you out of your travels in exchange for the comforts of home, remember these reasons. While we are sure there are way more you could add to this list, this is a playful list of few we thought were worthy to mention.
---
---