Fixed Solar Panels

Need help? Click here:
Camp Anywhere in Australia with our Caravan Solar Panel Kits
We all love to get out on the road and spend time appreciating the beauty of the outdoors as we explore what this great country has to offer. That said, we do allow ourselves some luxuries to ensure we can still relax and enjoy ourselves without too much effort involved. From lights to cooking, electricity makes travelling abroad a much smoother process, but powered sites aren't always easy to come by and end up costing more to book. In addition, there is absolutely no access to electricity when camping or parking your caravan in truly remote areas such as national parks. With caravan solar panels from Australia's one stop RV shop, you can have easy access to economical, eco-friendly power no matter where you go!
Enjoy the Convenience of Portable Folding Designs
Anyone who has used a generator or run the engine to recharge the batteries will know how much of a hassle it can be. Inconvenience aside, it even spoils the serenity of peaceful remote areas. With portable solar panels for camping or caravans, you can keep your batteries charged at all time with a quiet, low-maintenance and affordable power source.
We stock portable and folding panels in various sizes and wattage, along with a number of accessories and components such as regulators, power cables, solar showers, mounts, carry bags and more. We believe that it shouldn't break the bank to truly enjoy your journey, which is why we ensure every product on offer is competitively priced. We are the motorhome, trailer and camping specialists — whatever you need, we have you covered!
Caravan Solar Panel For Sale
No longer must you dread the cold morning shock associated with an otherwise loveable camping trip. Camec's line of high-quality folding solar panels has also been added to our catalogue as a result of customer demand. Available in various wattages (such as 120W and 175W), and including a 15 amp controller and all necessary cables, these Camec panels are a great way to bring touches of home back to life on the road, all the while staying true to your green spirit. Caravan RV Camping urges you to browse their extensive online catalogue of camping accessories. In addition to those already named, it also features a large selection of Camco and Coast to Coast products, including mini stretch cords, tent pegs, tent peg pullers, folding portable toilets, stools, tables and, much, much, more. Don't make your vacation more difficult than it has to be. Put the warmth back into your campfire with Caravan RV Camping now.
Order Online for Prompt Delivery
Instead of heading into the shop, browse our range with just a few clicks from the comfort of your own couch! We offer prompt delivery of both standard and folding solar panels for caravans and camping throughout Australia, and are more than happy to take orders over the phone if you prefer. Call 1800 RV PARTS (1800 787 278) to put through your purchase or make an enquiry and our experienced staff will give you everything you need.
Some Of Our Best Sellers
Dometic PSB150 150W Portable Solar Panel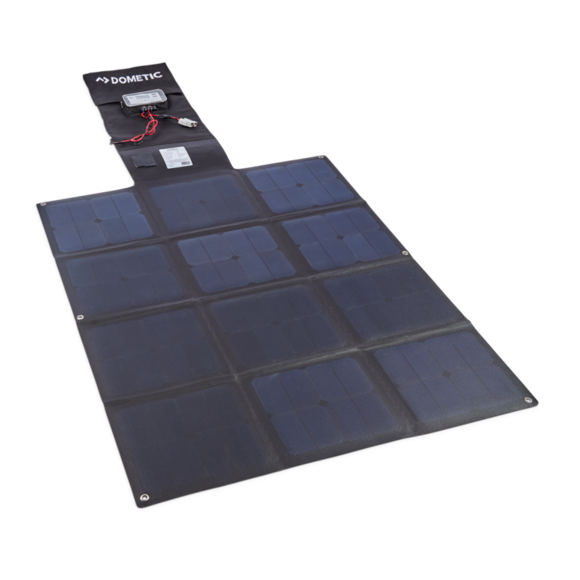 Read More...