Taking a bike on your travels is a great way to get around and explore without the hassle of unhitching your tow vehicle. You can simply jump on your bike to a lookout to watch the sunset or to the shops for some bread and milk.
If you're travelling with kids, bikes make it easy to keep the kids entertained, especially in caravan parks where they can ride around and meet new friends.
The good news is there's a growing range of caravan bike racks from brands like Fiamma and Thule that make it easy to take your bikes on your next trip.
Inspired to take your bikes away with you? Check out our guide to buy the right caravan bike rack:
Where To Mount Your Caravan Bike Rack
When choosing a caravan bike rack, the first thing you need to work out is where you will mount it. There are three options:
Mount on the A-frame or draw bar of the caravan

Mount on the rear of the vehicle or RV

Mount from the tow bar of the vehicle
Got e-bikes? With the growing popularity of e-bikes, you can now buy a caravan bike rack suitable to sustain the weight of an electric bike, which can be up to 50% heavier than a normal bike.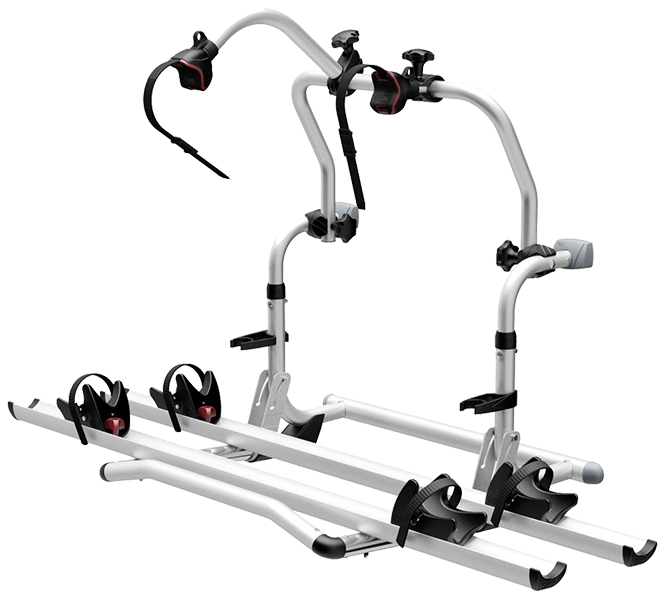 Pro Tip: When choosing a caravan bike rack, always ensure the weight limit will not be exceeded with an e-bike.
Types Of Caravan Bike Racks
A-Frame Mounted Racks:
Both of the top brands - Fiamma and Thule - offer A-frame mounted bike racks.
The Fiamma Carry Bike Caravan XL A fits all caravans that have a standard A-frame and pivots forward so you can still access your storage compartment. It supports up to two bikes at a total weight of 35kg. There's also a reinforced rail support base which eliminates the need for bike blocks.
The Thule Caravan Light 2 Bike Carrier can also be tilted to access storage space and is great for vans that can't store bikes at the back. It also comes with foam bumpers to prevent the bike from being damaged during transport.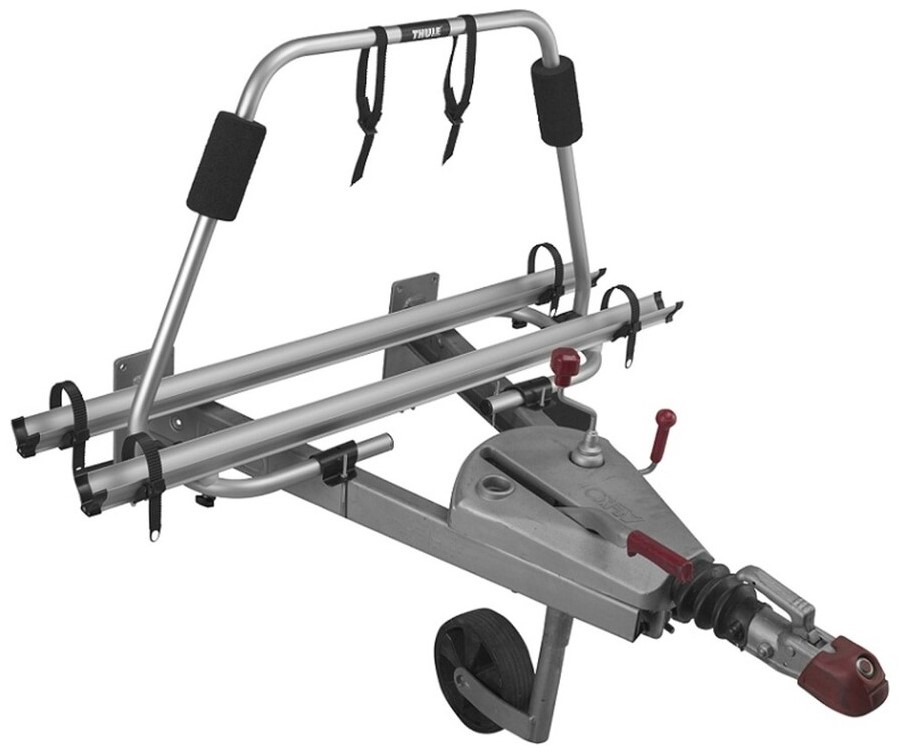 Tow Ball Mounted Racks:
The Quick Fit Pro is designed for two bikes and is suitable for almost all tow bars. You can even use it with e-bikes, as it has a 60kg maximum weight limit. Not only is this caravan bike rack extremely easy and quick to install, your boot is always accessible thanks to the easy to use tilt mechanism.
Giantz is another brand that provides great tow ball mounted bike racks. Check out the Giantz 4 Bicycle Carrier Rack with Tow Ball Mount in Black and Silver or the Giantz Foldable 4 Bicycle Carrier Rack with Rear Car Mount. Both have capacity for four bikes, or a total weight limit of 60kg.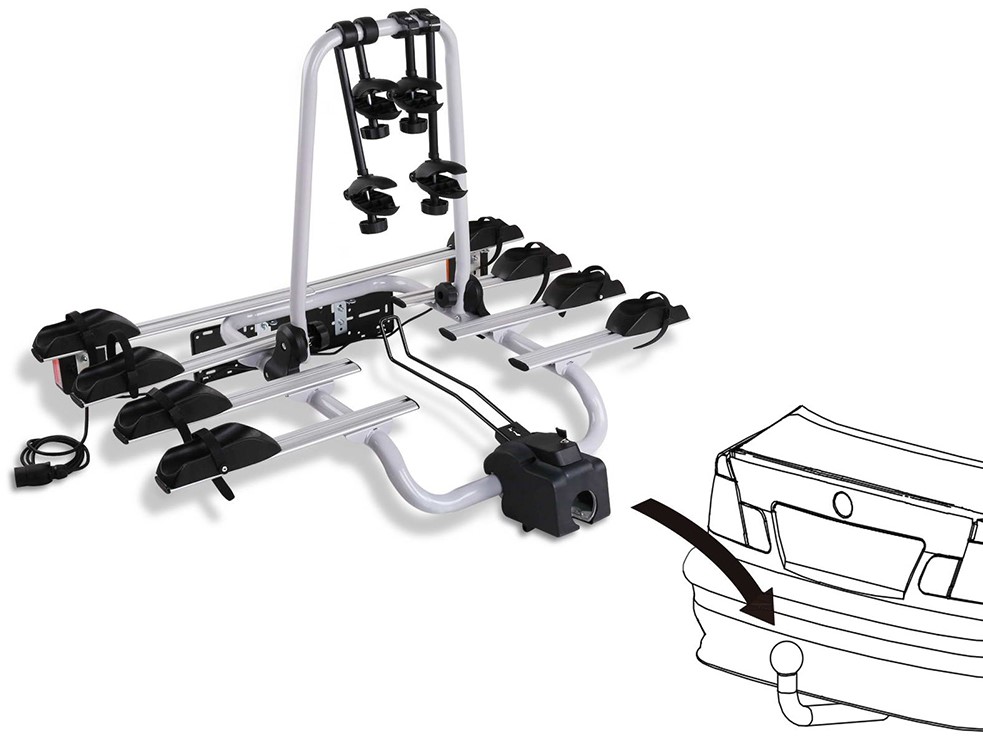 Rear Mounted Rack With Window:
If you want to mount the bike rack on the rear of your motorhome, where there are windows, you need a rack with a low profile. The Thule Sport G2 2 Bike Carrier Short is ideal thanks to its low design. It comes with a lockable platform to stop your bikes from moving during transport. The rails are adjustable from left to right, easily sliding to help you find the best position for your bikes. There's a total weight limit of 50kg and you can also add a third bike with an extension set, sold separately.
Another option is the Fiamma Carry Bike Pro C, which is specifically designed for motorhomes with windows on the back. The best part is, you don't have to unload the bikes to open the rear window! It carries two bikes as standard and you can add two more by buying the FIAMMA Bike-Rack Rail w/ Black End Caps and Quick Strap x 2, with the optional bike blocks - FIAMMA Bike Block Pro 3 Black or FIAMMA Bike Block Pro 4 Black.
Rear Mounted Rack Without Window:
Want a caravan bike rack that is rear mounted? If you don't have a rear window to worry about, the Thule Sport G2 Universal 2 Bike Carrier and Fiamma Carry Bike Pro are top picks.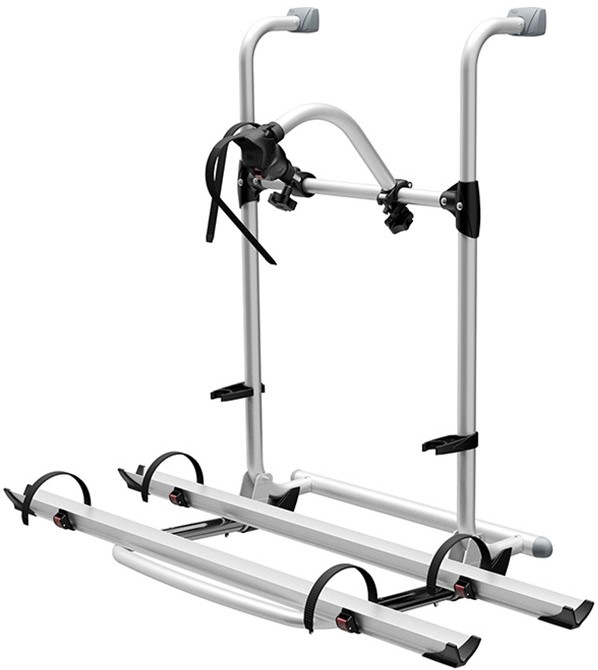 The Fiamma Carry Bike Pro holds two bikes with no height limit and you have the option to add two more bikes (so long as the total weight does not exceed 60kg) if you buy the Fiamma Bike-Rack Rail w/ Black End Caps and Quick Strap x 2, with the optional bike blocks - Fiamma Bike Block Pro 3 Black or Fiamma Bike Block Pro 4 Black.

Bike Rack For Mercedes Sprinter & VW Crafter:
With the Mercedes Sprinter and VW Crafter being popular vans in Australia, Fiamma has created some special caravan bike racks to suit.
The Fiamma Carry Bike 200 DJ Sprinter and Fiamma Carry Bike VW T6 Pro are designed to be mounted on the two-door opening Mercedes and VW, making it easy to access the back of the van without unloading the bikes.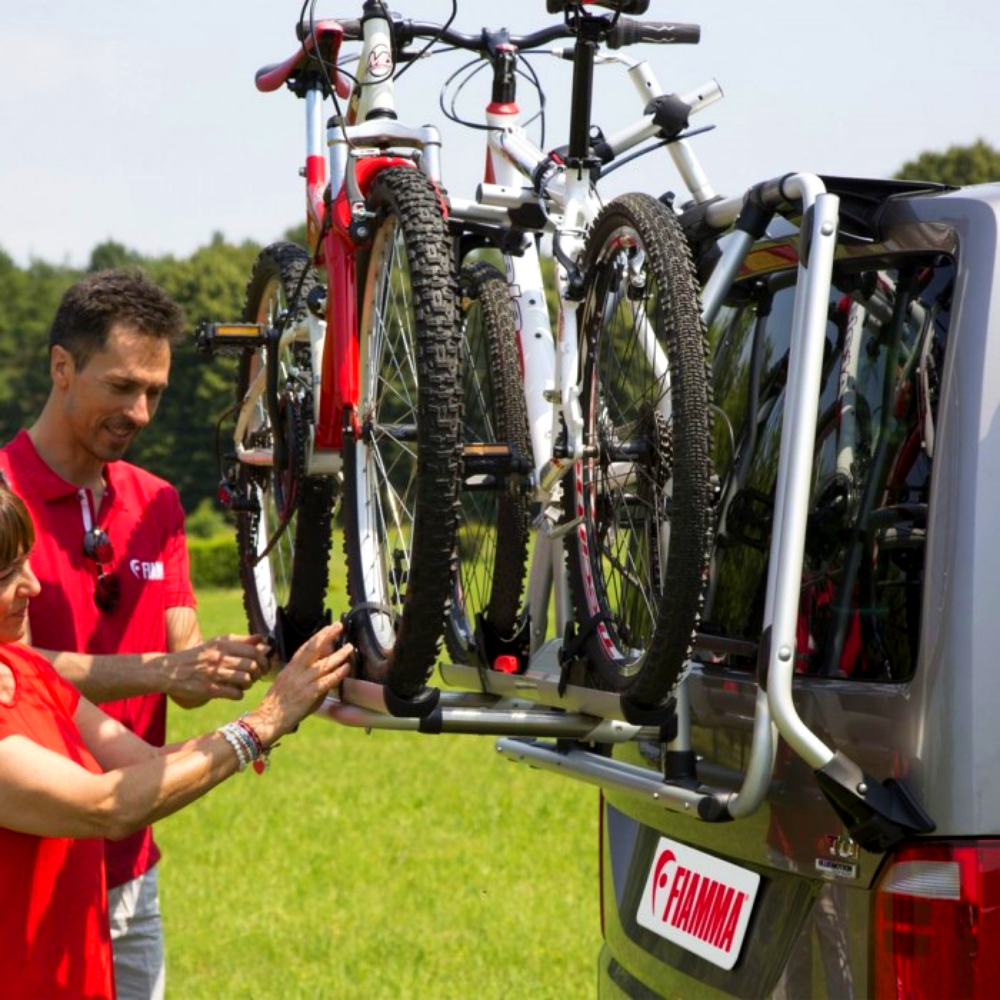 E-Bike Rack:
If you want to be sure that the caravan bike rack will hold the extra weight of your e-bike, go for the Fiamma Carry Bike Pro E-Bike.
Pro Tip: Protect your bikes from damage while on the road. We sell top brand bike covers from Fiamma and Thule to fit your bike rack.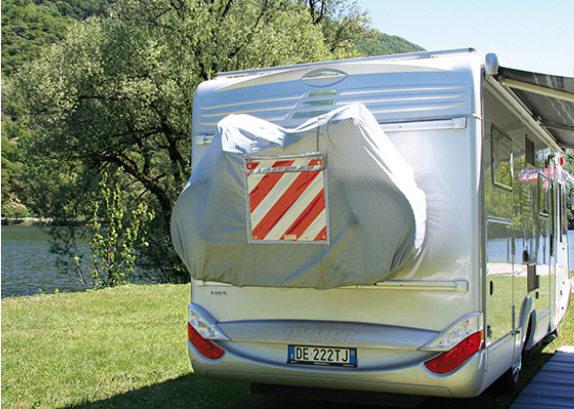 Shop caravan bike racks and covers on our site today!
DISCLAIMER* Please note, this advice is general in nature and we strongly recommend consulting the product manual and where relevant, a professional installer.