For some folks, a generator is an essential part of their caravan and camping trip. For others, a generator can provide peace of mind in knowing that back up is close at hand if their other power sources are unavailable. Generators come in a variety of types and sizes that are suitable for a number of applications. Doing your own research can sometimes feel overwhelming. This buyers guide will help you make the right choice for your needs and budget.
'Watt' Are The Power Ratings?
Generators are rated in Watts (W) or Kilowatts (kW). The higher the wattage rating, the more power the generator can output and the more appliances it can run. Two ratings are provided, 'Continuous Output' and 'Peak Output'. The continuous is the main rating you should be concerned with; this is the power output the total draw of your appliances should remain below. The Peak Output is the power that the generator can produce for a very short burst of time. The Peak Output is useful for appliances with electrical motors and compressors (power tools and air conditioners).
TIP: Sometimes a generator will be rated in KVA. Always look to the specifications for the real power output that will be rated in kW or Watts.
Types Of Generators:
When it comes to caravans and camping, only look for "Inverter" generators. Inverter generators are compact, quiet, economical and produce clean power for running sensitive electronics. They really are the perfect solution for caravanning and camping. These Generators are all powered with 4 stroke motors with standard unleaded petrol.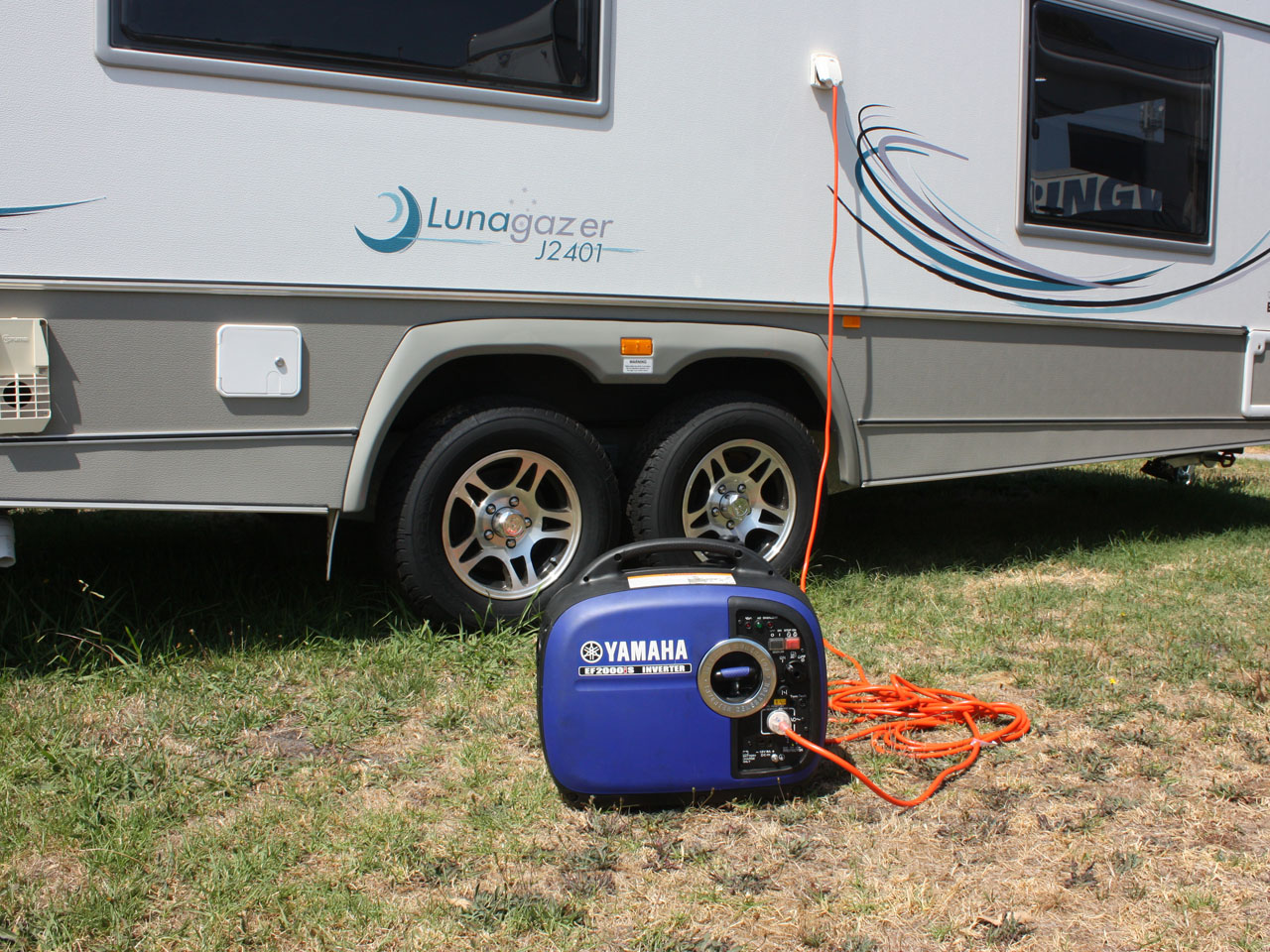 Of course, every rule has an exception and specific applications do call for a diesel-powered generator. We have a range of vehicle - mounted generators for larger motorhomes and bus conversions. We explore these further in the vehicle mounted section below.
Size Of Generator:
This is the big question. "What size Generator do I need?" Well, it all comes down to what you need to power. Each appliance will draw a certain amount of power. We call this Load. So, Power Draw = Load.
Battery Charger = 350W (20A Battery Charger), 1050W (60A Battery Charger)

Washing Machine = 1200W – 1600W

Microwave = 900W - 2200W. Tip: try and choose a low wattage caravan model!

Laptop = 50W

Phone Charger = 5W

TV = 200W
We recommend a 2000 – 2400W generator for a typical caravan set up. There are not a lot of inverter generators smaller than 2000W, so we tend to focus on this range. You can run all these appliances individually, but may not be able to power them at the same time. Most of the time you are using it to recharge your batteries quickly so you can switch back to running everything direct from DC power.
Running An Air Conditioner:
If you are planning to run an air conditioner while staying off the grid away from powered sites, then you will need a generator. A good quality 2400W from our website will cover almost every air conditioner past and present. Most companies will tell you that you need to call your air conditioner manufacturer to find out the exact start up current of the air conditioner so you can match the generator. It is a lot easier to call us on 1800 787 278. Have the make and model of your air conditioner on hand. We will be able to match the right generator with your air conditioner in 95% of cases.
Noise Levels:
Be wary of noise levels advertised by manufacturers as they are often tested under differing conditions.
Some generators will only be noise tested at ¼ load, which will be their quietest noise output.
The lower the kW output the quieter the generator. Small suitcase style inverter generators are by far the quietest. The Yamaha 2000W Silent Inverter Generator, EF2000iS is one of the quietest generators on the market: Noise Level 51.5 dBA (1/4 load) / 61 dBA (full load).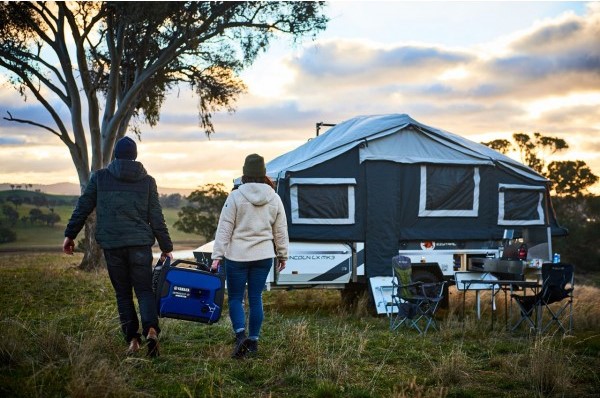 Vehicle Mounted:
The Kubota lowboy and Fischer Panda are diesel powered, vehicle mounted and water-cooled options for serious motorhome and bus conversions. The Kubota Lowboy is fitted with Automatic Voltage Regulation (AVR) and whilst not an inverter still produces very clean power. The other diesel options are the German built Fischer Panda range. These are the only Diesel Pure Sine Wave Inverter generators on the market. They produce clean power and are very fuel efficient. The Fischer Panda range is extremely quiet and compact.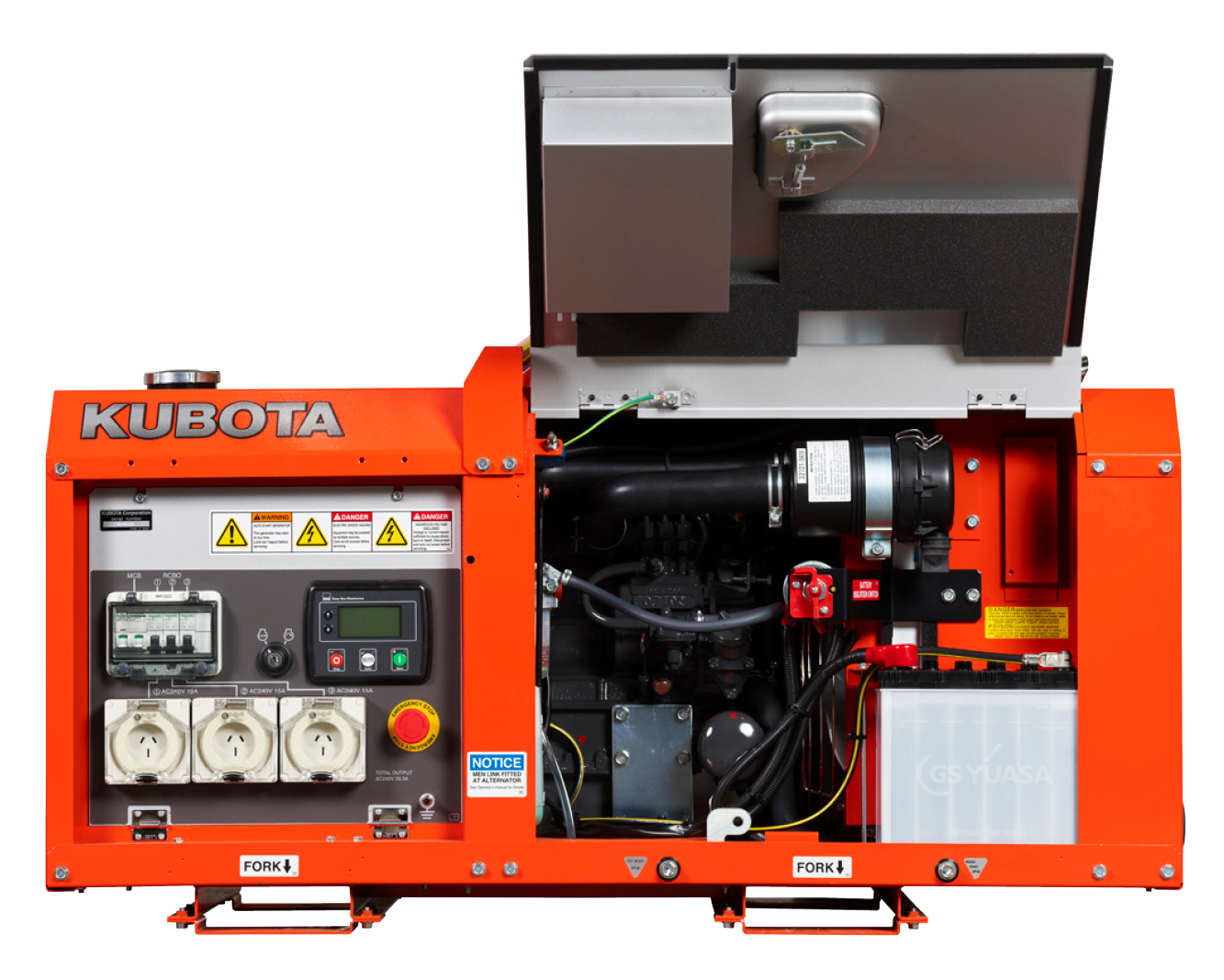 Both the Kubota Lowboys and Fischer Panda can be configured to auto start as part of a sophisticated power management system.
The Dometic Tec 29 Petrol Vehicle Mounted Generator runs a fuel efficient Honda engine with a pure sine wave inverter output. This unit is purchased with its own vehicle mounted fuel tank for ease of fuel storage and refill. The Generator has an electric start wall mounted control panel for ease of generator start/stop from inside the van. This generator produces plenty of power (2600W continuous) for its small size.
Good, Better, Best:
We highly recommend three tried and tested inverter generators for caravanning and camping. The following models are the best option for each budget:
Still need help choosing a caravan and camping generator? Give one of our product experts a call on 1800 787 278!
-
DISCLAIMER* Please note, this advice is general in nature and we strongly recommend consulting the product manual and where relevant, a professional installer.
---
Comments (4)
which Genset will suit my needs

hi team, I am looking at getting a genset to run our caravan it will need to run a Belaire Houghton 3400 r/c aircon and the usual extras microwave/toaster, chargers what would be you recommendations

By:

Aaron Saxton

on 6 September 2023





www.caravanrvcamping.com.au Response
Hi Aaron, we will reach out to you via email with some options the will best suit your need
---
What size genny?

About to take delivery of a 2023 van with Air Command IBIS 4 a/c. Add a TV, microwave, toaster and phone charger. I like the Honda and Yamaha brands but which one is quieter and what model would you suggest?

By:

Andrew

on 13 June 2023





www.caravanrvcamping.com.au Response
Hey Andrew, thanks for reaching out and congrats on the new buy! Both brands are a premium product that will treat you well. We sell and recommend the Yamaha generators. They are reliable and won't let you down
---
Honda or Yamaha

Hi. I've a 7m caravan ( my home ) the aircon is a wren air command reverse cycle, ideally I want to buy the right generator the first time , A toaster , an electric kettle ( using gas now so could use gas all the time ) tv and the battery charger. Price is important but also durability and longevity for the money. Kind regards David





www.caravanrvcamping.com.au Response
Hi David, I would look at a generator around the 3KVA mark. The Wren Air Con is an older style Air Con that will have quite a larger power consumption over the newer inverter style air cons. I will email you some more options directly to you
---
what is the best generator to suit our needs

Hi, we have a 'aircommand' 'Ibis 3' model air conditioner in our caravan. (model number 810001). Im in the market for a generator to suit our desire to run the air conditioner. we have a batter system in the caravan, but not enough to operate the air conditioner. can you recommend the right generator to meet our needs

By:

chris bayly

on 17 January 2023





www.caravanrvcamping.com.au Response


Hi there, the air command Ibis 3 will require a quality 2400W inverter generator or higher to start and run it. There is one 2200W inverter generator that will power it, which is the Yamaha EF2200IS https://www.caravanrvcamping.com.au/yamaha-2200w-inverter-generator-ef2200is

Another popular option is the Cromtech Outback 2400W Inverter generator https://www.caravanrvcamping.com.au/cromtech-outback-inverter-generator-2.4kw

Beware of cheap inverter generators with embellished specifications and power claims. We only sell reputable brands. Feel free to call for more advice
---
Leave a comment