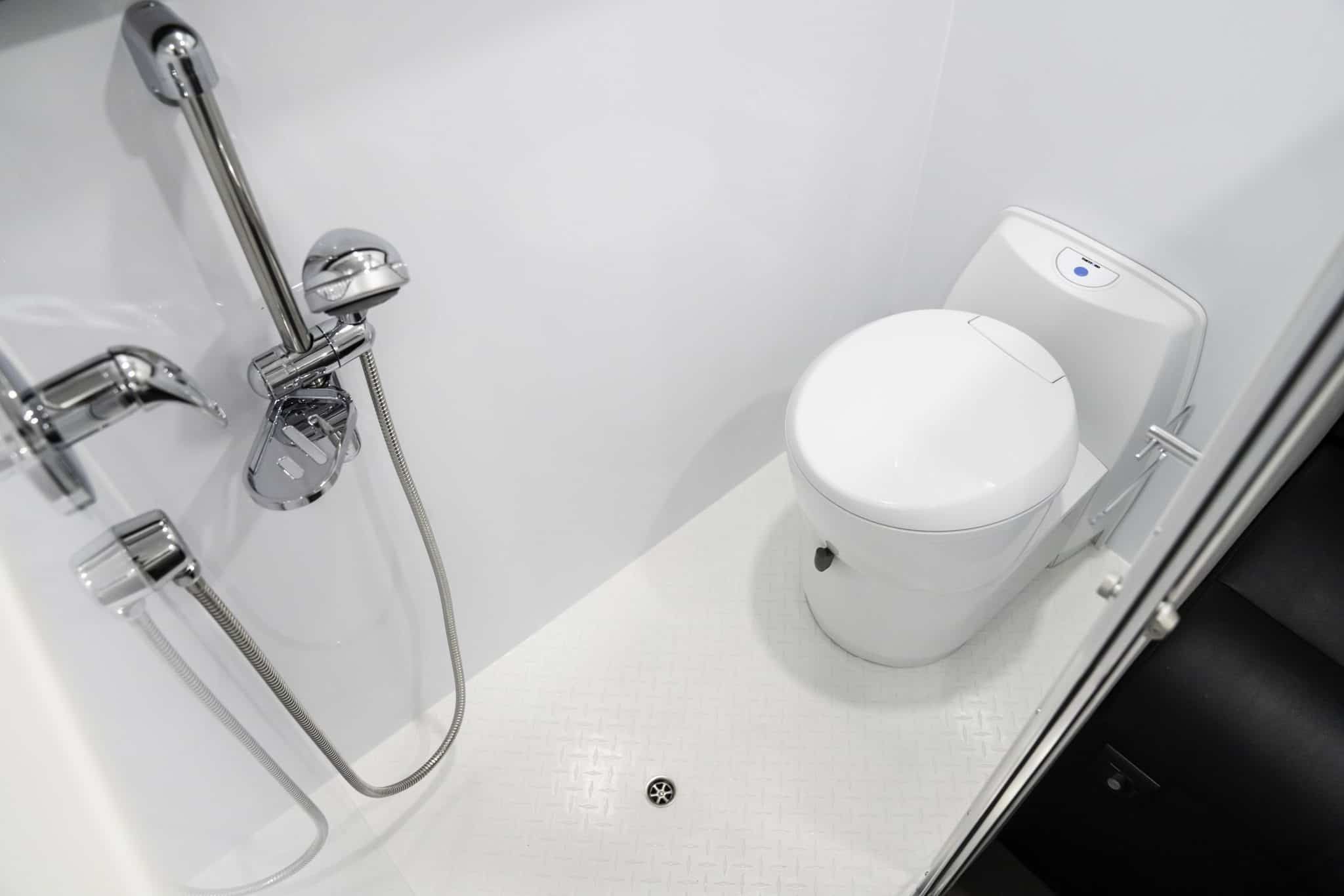 If there's one home comfort you can't travel without, it's a caravan toilet. Toilets are essential to a great road trip. You don't want to have to rely on drop toilets in the middle of the bush!
With so many features to choose from, choosing the perfect caravan toilet isn't as easy as you think.
Use our caravan toilet buyer's guide to make the right choice:
Types of Caravan Toilets:
There are only two main types of caravan toilet to choose from in our range. Both of them have pros and cons depending on your caravan and preferences:
1. Cassette Caravan Toilet:
Cassette toilets have been around for a while. They are a great option for caravans, RVs and campervans because they are easy to install and use.
The toilet bowl is permanently installed over a removable waste tank. When you flush, the waste drops into the tank. When the waste tank is full, you can remove it through the caravan service door and empty it into the dump point. Easy!
You can even dump the waste in regular public toilet if you can't find a dump point.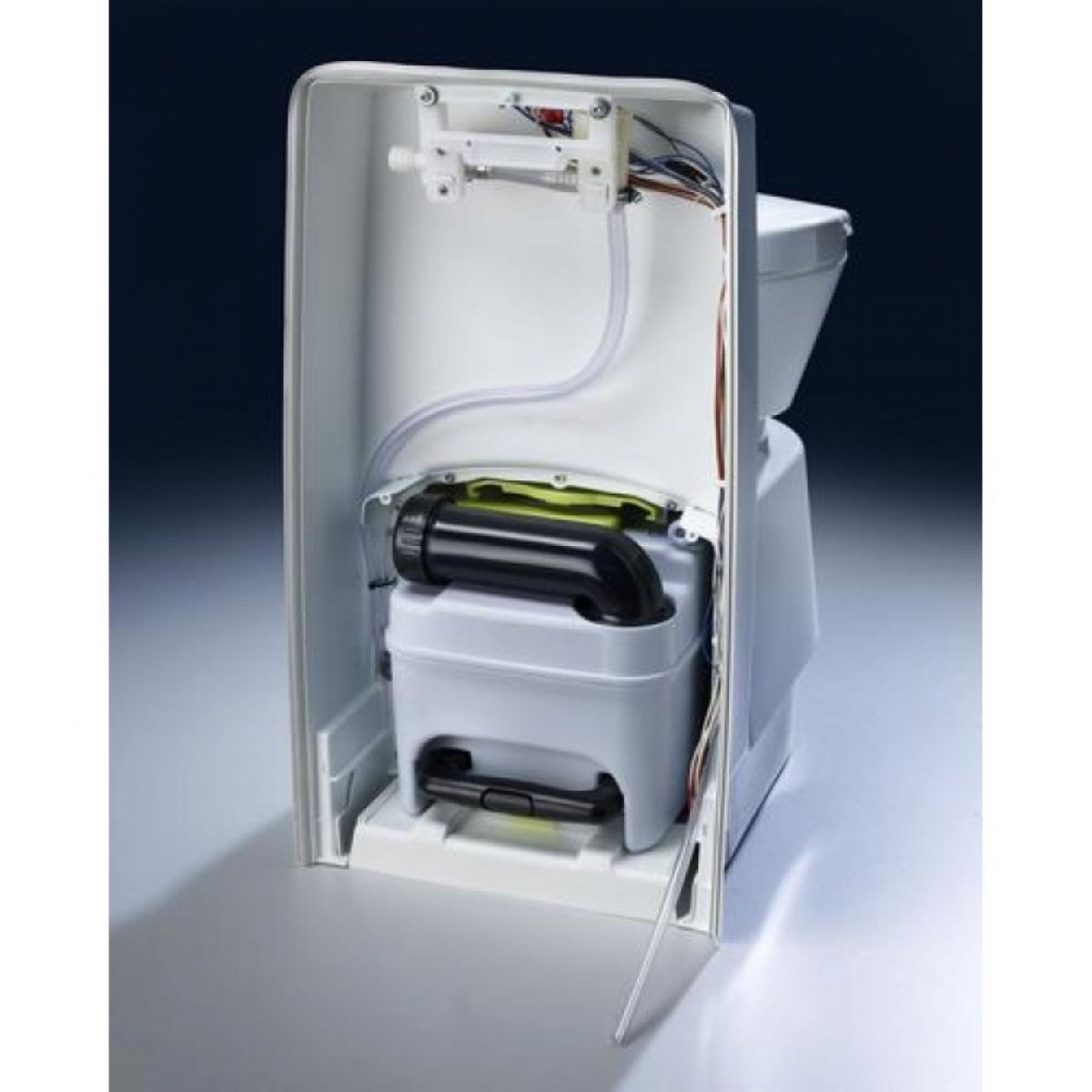 Buy a cassette caravan toilet if:
You want a quick and easy installation.

You want to save water.

You are happy to fix the toilet to your caravan – you also have the option to purchase left-hand or right-hand entry models to suit your mobile home.

You want the speed, ease and convenience of a cassette tank. No need to pack up camp to empty the tank, they are quick to dump and easy to clean!
Don't buy a cassette caravan toilet if:
You aren't confident lifting the cassette tank – they can be heavy when full.

You don't want to install a toilet permanently.

You don't want a toilet inside your van, full stop. Any odour will be noticeable if the waste tank is not properly treated or ventilated.
2. Portable Toilet:
Portable toilets are designed so you can literally take them anywhere. They are popular for small caravans and camper trailers as well as 4WDs and even tent camping.
The toilet comprises a lightweight plastic toilet bowl and a small water tank on top of a small waste tank. When the waste tank is full, remove it from the upper seat and bowl, and empty it into a dump point.
A portable toilet only requires two additives – one in the flush tank for lubrication and the other in the waste tank to help break down the waste and prevent bad odours.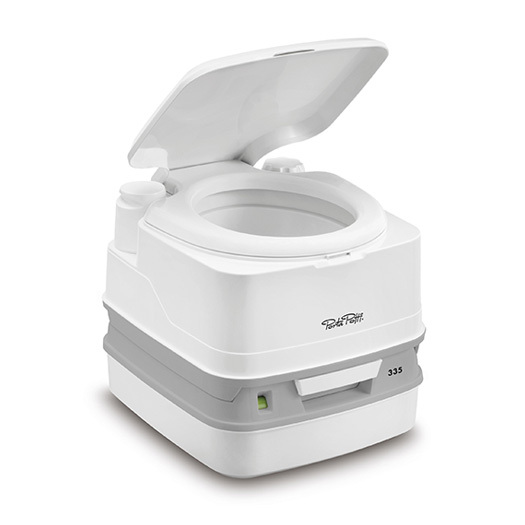 Buy a portable toilet if:
You want a cheap option.

You need a compact and lightweight toilet that you can take on any adventure – even in a tent!

You want to keep your toilet far away from your caravan to stop odours hanging around.

You don't want to worry about permanent installation in your caravan.

You won't have easy access to water – a portable toilet uses very little water.
Don't buy a portable if:
You need a bigger tank capacity – portable toilets usually have a small holding tank capacity which means more frequent tank emptying.

You need a higher seat – portable toilets tend to have a very low seat.
Which Model Is Right For Me?
Now you know the types of caravan toilet, and their pros and cons, answer these questions to work out which toilet is for you:
Inside or Outside?
If you want to permanently install a toilet in your van, consider the space and set-up you have. Caravans and medium-sized motorhomes tend to best suited to a cassette toilet.
For camper trailers or smaller caravans, a portable toilet is a better, inexpensive choice. You can house them in a toilet/shower tent for privacy.
What Kind of Installation?
There are lots of ways to install your caravan toilet depending on the space.
Some cassette toilets allow the flush water to be plumbed in so the tank fills automatically from the fresh water onboard your vehicle. This is easier in the long run, but a more complicated and expensive installation. Also, you cannot add a rinse aid to the water refill.
The alternative is a cassette toilet with a self-contained flush tank that you will need to fill with water manually. Dometic cassette toilets do not have on board flush tanks for their Australian models and need to be plumbed in from the fresh water tank.
Thetford have one model that has a 15L on board flush tank. This is a very convenient installation option. The Thetford C402C is available in left hand and right hand options.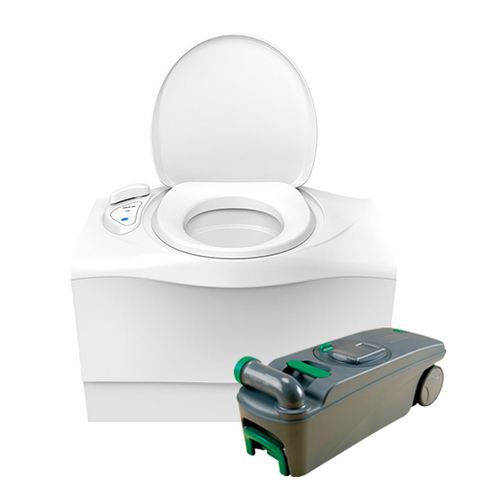 Remember, you still need to empty the waste manually on all cassette toilets – and they can fill up fast!
An after market design called the SOG Ventilation System is also worth a thought when installing a toilet into any caravan or motorhome. It immediately removes odours with a powerful ventilation system in your cassette or gravity toilet. This keeps the inside of the caravan free from odour and the addition of oxygen into the waste tank speeds up the decomposition of the waste.There are SOG systems to suit varying Dometic and Thetford toilets.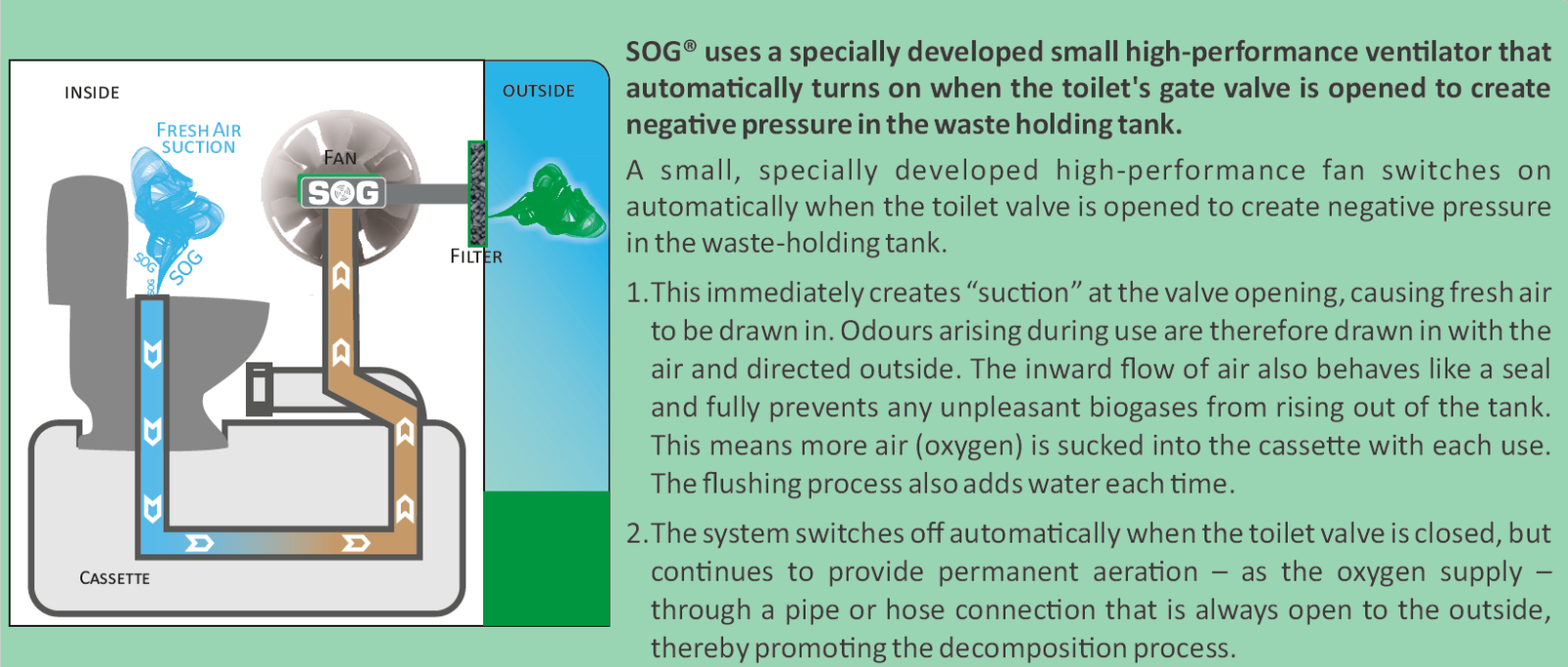 How Tight Is The Space?
Consider the space available in your van. If you want to save space and have the toilet as part of the shower cubicle, a Thetford side entry or toilet with a swivel seat is a great option. This helps maximise space and allows you to squeeze the toilet into a tight space. Thetford and Dometic have a great range of cassette toilets that swivel to fit most spaces, like this Dometic CTS 4110 cassette toilet.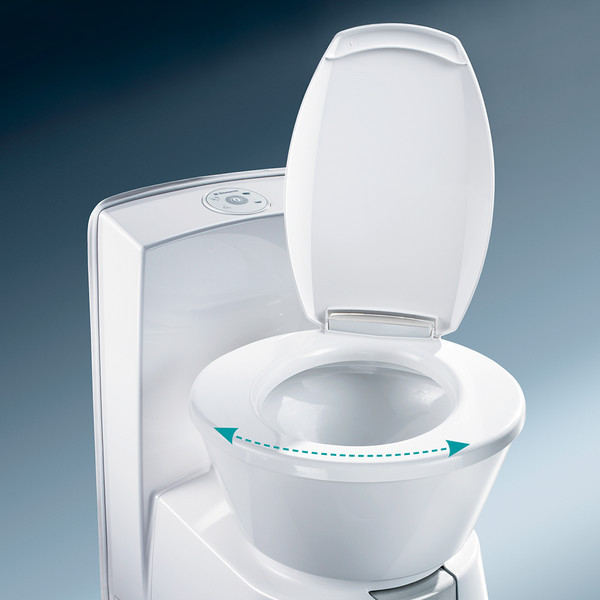 It's worth noting that the service door is not included but essential if you want to access the cassette through the wall of the van.
You can also buy a left-hand or right-hand toilet to suit your caravan bathroom design, like the cassette toilets by Thetford. This right-entry cassette is removed from your right side as you are seated on the toilet and vice versa for the left entry.
What Extra Accessories Do You Need To Buy:
Here are some essentials to keep your caravan toilet working well and smelling good:
Water tanks – Explore our range to work out the right water tank for your caravan.

Toilet chemicals – Find the best toilet chemicals for your toilet in our toilet chemicals buyers guide.

SOG Toilet Ventilation – This system has been designed for use on Dometic and Thetford Cassette and Gravity toilets. It provides a ventilation system that keeps the smell of waste out of your caravan and helps break down the waste faster with the increased flow of oxygen.

Happy Bowl Toilet Bowl Liners – Keep the toilet bowl clean with no brush, no fuss.

Service door – Depending on the toilet, you may need to buy a service door to access the cassette from the outside of the van.

Plumbing – You'll need a spigot, flange and other plumbing accessories to install your caravan toilet.
You can shop our whole range of toilet accessories here
Need Replacement Parts?
If you're looking for replacement parts or a new cassette, we can help! We sell a range of parts for popular caravan toilet models.
What's On The Market?
Best Toilet For Camping:
For a comfortable, practical and durable portable toilet that doesn't require a connection to a drainage or water system, Thetford's Porta Potti is the ideal solution. Compare a range of sizes and flushing systems, including electric flush.
Best RV And Caravan Toilets:
Dometic has a fantastic range of cassette toilets to meet all needs. It starts with the Dometic Saneo CS – a cassette toilet featuring a bowl adjustable by 90 degrees in both directions making it ideal for tighter spaces. It also comes with an ergonomically shaped seat for comfort and a high-quality, scratch-resistant ceramic inlay for easy cleaning and a premium finish.
For more features, choose the Dometic Saneo BLP, which has a low console and an easy to remove 16-litre cassette.
The Dometic CTS 4110 is the newest in the range, with an innovative high grade scratch resistant ceramic inlay and hygienic waste disposal of 19 litres.
Have more questions? Send us a message on our live chat in the bottom right hand corner of your screen!
-
DISCLAIMER* Please note, this advice is general in nature and we strongly recommend consulting the product manual and where relevant, a professional installer.
---
Comments (4)
Blown fuses

I have a thetford c402c as pictured above.Have problems with algae build up in flush water which cause the pump to sieze which then causes the fuse to fail.How can I prevent the gunk build up in flush water tank?





www.caravanrvcamping.com.au Response
Hi Bob, you would be best to contact a service agent for Thetford that should be able to offer you some further assistance on getting the tank serviced
---
Travelling with toilet waste

We have a cassette style toilet for our caravan. Do we have to empty the cassette before we hit the road? Is it safe to travel with waste in our cassette? We only do "number ones" in out toilet.





www.caravanrvcamping.com.au Response
Hi Phil, it is safe to leave waste in the tank while travelling. The seal between the cassette and the toilet will keep wasting from leaking.
---
Composting toilet

What is your opinion about composting toilet please ? Why there is no Australian one on the market for caravan ? Overseas products ask so much for the postage.





www.caravanrvcamping.com.au Response
Hi Andrew, every state has differing laws on using composting toilets in permanent facilities so perhaps mobile laws are not yet in place. Which may be why there isn't any in the Australia market yet. It is always advised to check your local and state laws before using any products directly shipped from overseas.
---
Caravan toilet

Liquid from our toilet is spilling out on top of the cassette as well as into cassette. The opening lever is working & flushing button seems ok.





www.caravanrvcamping.com.au Response
Hi Winnie, it sounds like your seal may need replacing. You are best to give Dometic a call on 1800 21 21 21, alternatively you can find a service agent near you on Dometic's website. They should be able to assist
---
Leave a comment