Are caravan steps really that important? Certainly, they make it much easier to get in and out of your caravan, but is there more to it? Won't just about any step do? When selecting the appropriate step, several parameters require consideration. However, in this particular article we'll concentrate on a common subject of debate: electric caravan steps versus manual steps.
Types Of Caravan Steps
Before taking our discussion into the realm of specifics, let's quickly run through the common types of caravan steps on the market today. These can primarily be categorized into manual and electric steps. Manual steps can belong to the folding (retractable) category, fixed to the caravan chassis and extended by hand when needed. They can also be completely freestanding, stowed away when the caravan is in motion, and placed outside the caravan once it's parked. Electric steps are powered by a motor that uses a 12V connection. Installed just under your caravan's doorway, these steps can be made to slide out at the push of a button.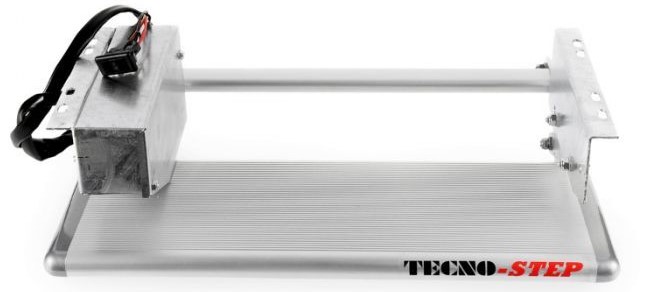 Things to consider when choosing a caravan step is the material the step is made out of. Most caravan steps are built using steel, aluminium, alloy or plastic.
Steel steps are the heaviest steps and can become susceptible to rust if their paint is somehow damaged. Aluminium alloy steps are stiffer and lighter than steel but also tend to be more expensive. Compared to aluminium and steel steps, plastic steps are fairly light and relatively easy on the wallet. Unfortunately, however, many plastic steps do not offer folding capabilities as a result of the ribbing technique used to strengthen them.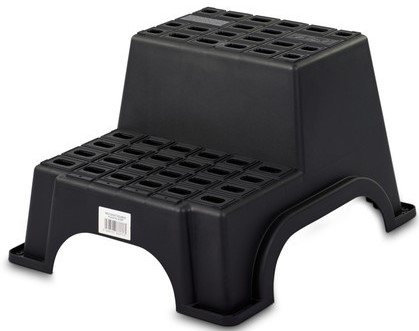 Electric & Manual Caravan Steps - Points Of Difference
The task of choosing your caravan steps can get a little complicated when you're presented with all the available options. While both manual and electric steps have their pros and cons, we'll try and simplify their points of difference into the following headings:
1. Ease Of Use
One of the most obvious differences between manual and electric caravan steps lies in their usability. Manual steps have to be extended by hand, or manually placed outside your caravan. Electric steps on the other hand can do the legwork on their own, asking you to just press a button once your caravan is parked and ready for use. In addition to this, top-of-the-line electric steps come with additional features such as automatic self-levelling and electrical steadies, thus introducing a whole world of convenience to your caravan. Obviously electric steps will require a 12V power source which will alter your calculations for total draw of appliances from the van. This is an important thing to consider when calculating your power needs.
Aussie Traveller offer a range of both manual and electric caravan steps. The manual and 12V range offers slide-out, single and double drop down steps.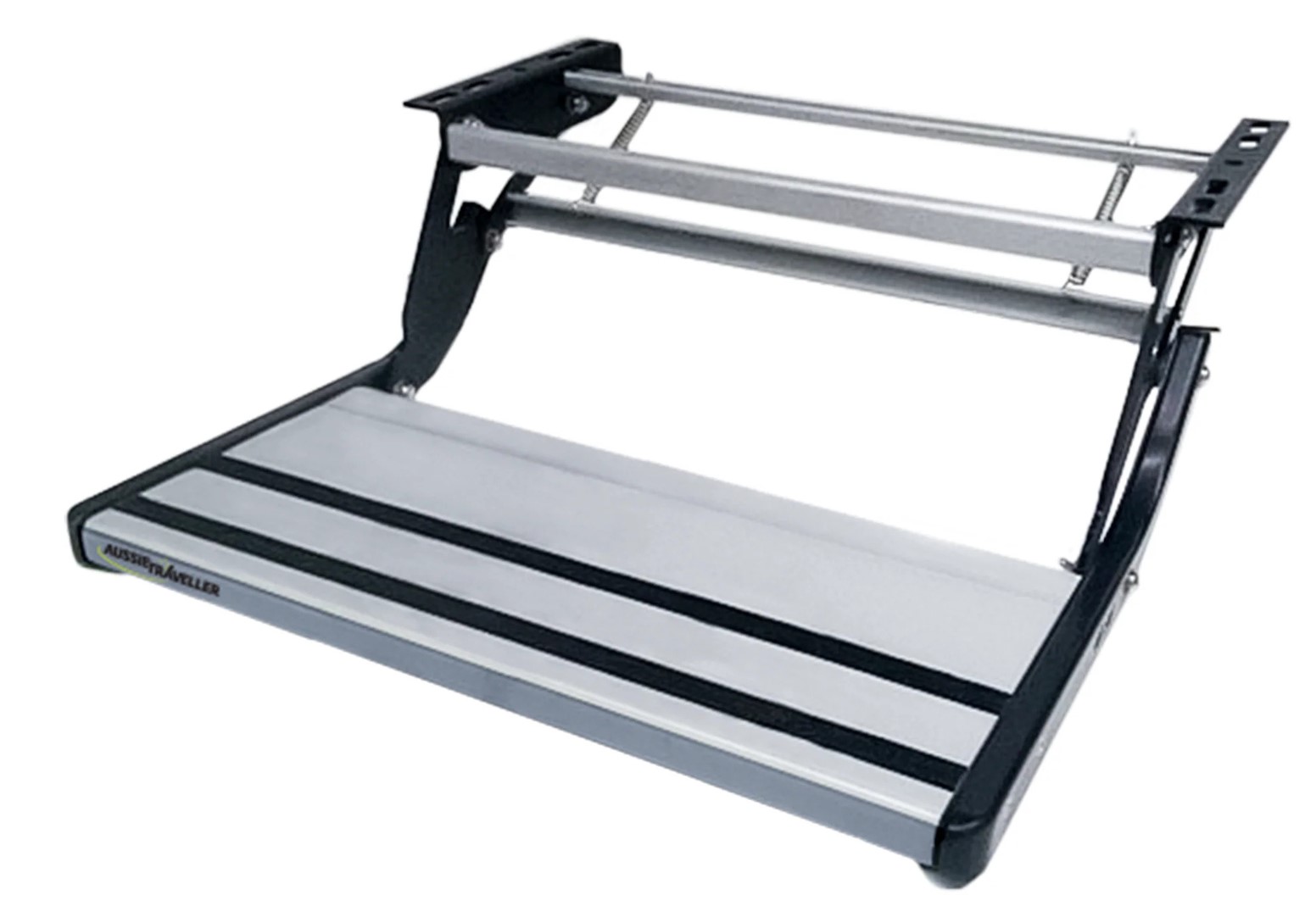 2. Stability
All caravan steps come with a maximum load rating, which is usually mentioned on the tread. Overloading is never good for the health of your caravan steps, but electric steps in particular demand extra care. You must also take care to not step on an electric step when it's in the process of sliding out. This strains the motor and can shorten the lifespan of the product. Freestanding steps like the Milenco MGI Single Step might be a better idea if loading is a particularly big issue. In terms of manual steps, as long as you follow the correct installation guides and weight ratings, you won't have an issue with them long term. Portable steps while convenient for not having to install them on your van, you need to ensure they are sturdy and don't become a trip hazard.
3. Storage
Electric steps disappear underneath your caravan chassis when retracted, which means that once you're ready to hit the road, all you need to do is pack up, press a button to retract the steps, and drive away. Thule 12V 550mm Slide-Out Step offers the convenience of 12V retraction and due to it's sleek design it reduces the height from the bottom of the caravan to the ground, which can be important when ground clearance is limited.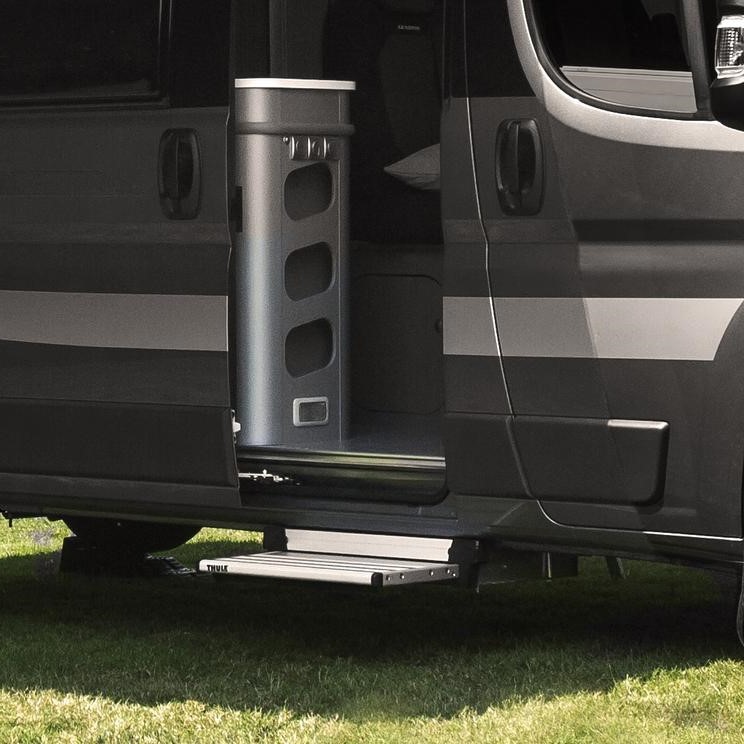 Manual caravan steps can also be stored underneath the chassis, if they're the slide-out variety. Freestanding steps on the other hand will need to be stored inside your caravan, so while they're stable and everything, bear in mind that they'll need some free storage space.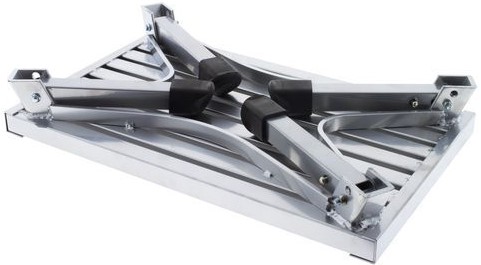 4. Maintenance
Electric steps will need lubrication from time to time, to keep their moving parts in order. In addition to this, they can present the occasional repair cost, on account of having electrical components. In general, electric caravan steps that are regularly lubricated and examined for weaknesses can last you a good many years at a stretch.
5. Cost
Electric steps will of course cost more than their manual counterparts. However, the difference isn't particularly stark when you consider the ease of use that these steps bring into the equation. In the interest of getting more value for your money, invest in electric steps from an established brand. These will typically have good quality electric motors and low maintenance costs.
If looking for a good quality and cost effective step then you can't go pass the Dometic Folding step. It is a manual folding step that is easy to use and one of our most popular caravan steps.
Step in and out of your caravan in style with caravan steps of your choice. Choose electric steps if convenience and time savings figure higher on your list of priorities. And if you'd like a low-budget solution and don't mind some muscle work, manual retractable or freestanding steps can do the job for you.
DISCLAIMER* Please note, this advice is general in nature and we strongly recommend consulting the product manual and where relevant, a professional installer.
---
Leave a comment