What Is A Camping Battery?
A camping battery is a portable power source. You'll also see them referred to as a "power pack". They do no need a fuel or a battery charger to run, and have built-in sockets, chargers and monitors.
Why Should You Buy A Camping Battery?
Camping batteries are great for shorter trips and weekends away, because they can run smaller appliances and devices, from portable fridges to phones, laptops and lights.
But if you have a caravan, 4WD or camper trailer and travel frequently, a caravan battery is a better option. These are installed in your vehicle and much larger – up to 400Ah – which gives you all the power you need for longer trips.
How To Work Out Which Camping Battery You Need?
Answer these questions to work out the right camping battery for you:
1. What appliances do you want to run?
Smart phone chargers, lights, fridges – different appliances require draw different amounts of power. So, consider what you want to run when on your trip. If you want to run high power drawing appliances, you'll need to buy a higher amp hour power pack.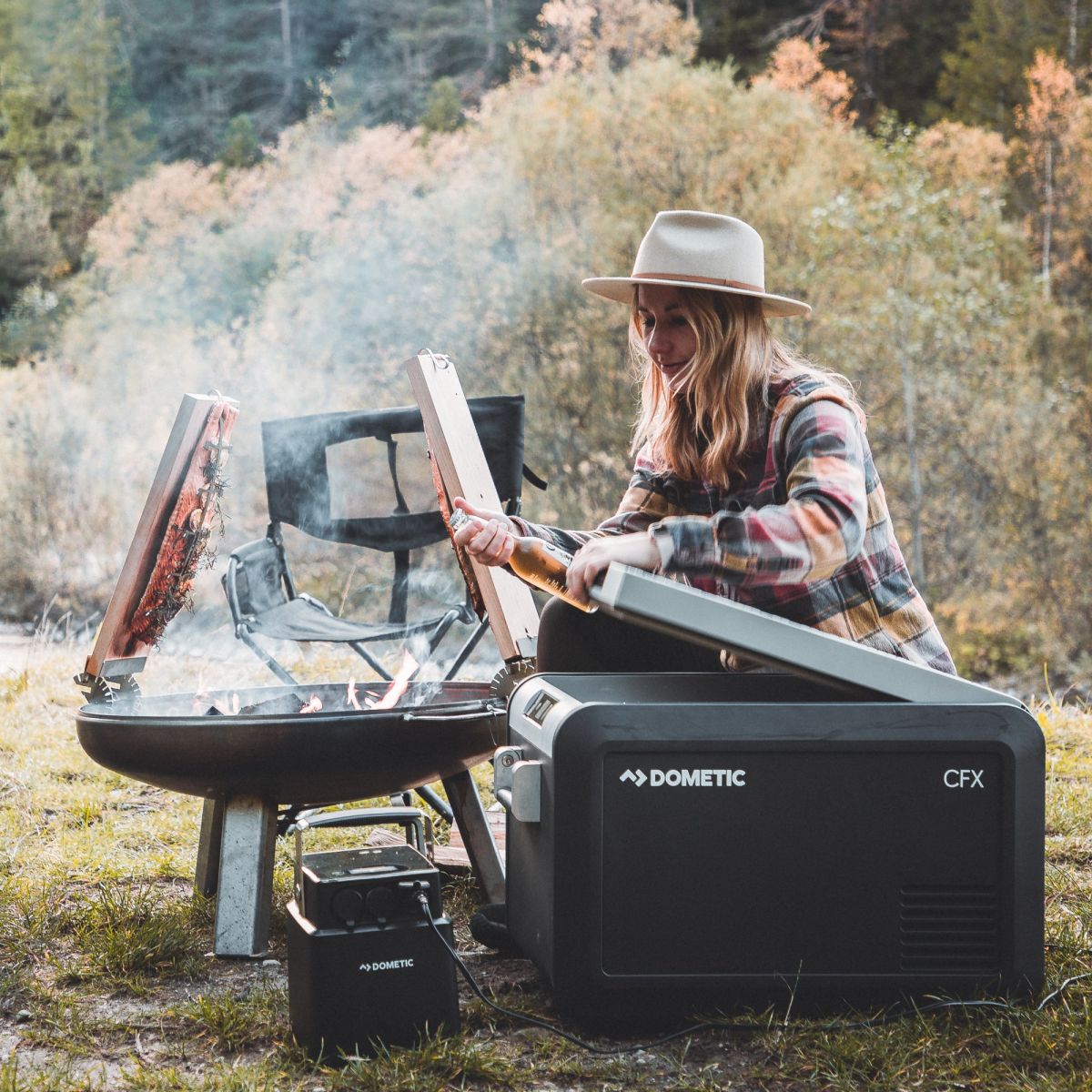 2. How much do you want to spend?
What's your budget? Prices depend on the camping battery size and brand. Some camping batteries come with different in-built features, such as a DC to DC charger. If you're on a tight budget, keep it simple.
3. Do you want a power pack and solar panel bundle?
Bundling your power pack with a solar panel means you can charge up your battery and power your appliances wherever you go. The three major brands – Baintech, Dometic and Goal Zero -all offer power pack and solar panel bundles.
Camping Battery Models We Recommend:

Dometic Portable Lithium Battery Pack
There's a lot to love about this PLB40 camping battery. It's lightweight, compact and portable, with a stainless steel carry handle, with enough capacity to power portable fridge/freezers and other 12v appliances.
As we've come to expect from Dometic, the battery is made for Australian conditions and has earned an IP44 rating for splash proof and dust resistance. The in-built DC-DC charger means there three ways to charge the Dometic PLB40: your vehicle's 12V socket, solar panels or AC power. At just under $1000, this is camping battery offer great value for money.
Baintech 50Ah Lithium Powertop With Internal DCDC:
The Baintech 50Ah Lithium PowerTop is a new release and doesn't disappoint. It comes with 50Ah of lithium battery cells, enough to power your fridge, lights, phone and more. The PowerTop is compact and lightweight, at under 12kg. It can be charged using the in-built DC-DC charging, solar or vehicle charging.
Goal Zero Yeti:
Designed for small to medium size devices and appliances, the Yeti 500X Portable Power Station packs 20% more power into a 20% smaller and lighter pack than its predecessor. It's equipped with four different port options (AC, 12V, and 60W USB-C PD) making it easy to power everything from phones to portable fridges.
Plus, there's a high-speed Power Delivery port for charging USB-C laptops, tablets, mirrorless cameras, and phones in a fraction of the usual time. The Yeti also comes with an MPPT charge controller so you can hook up your solar panels and get the most efficient solar charge possible.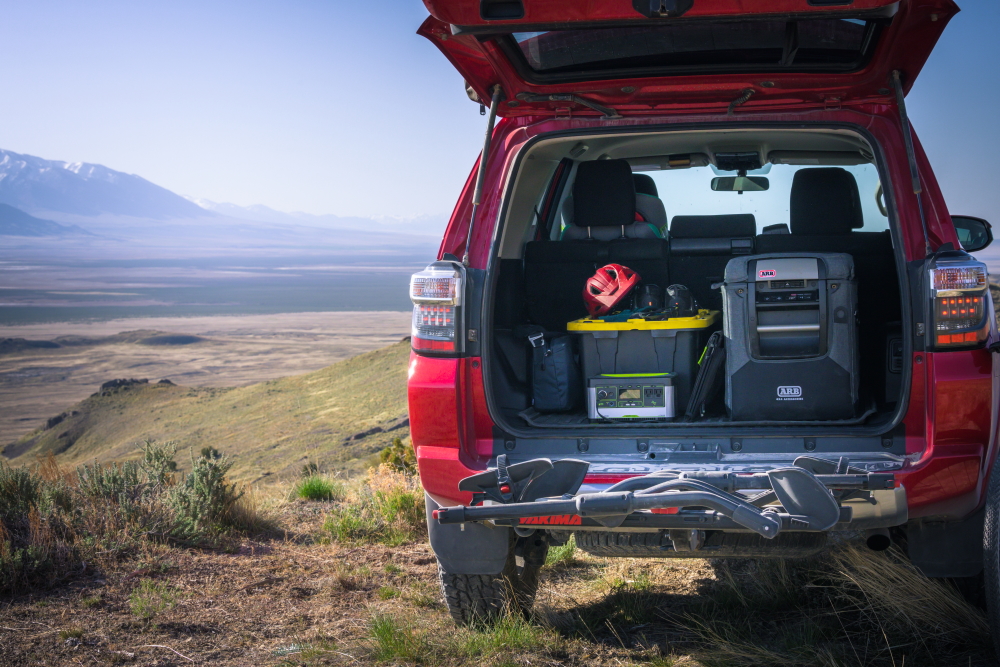 Pros & Cons Between Different Camping Battery Brands
Depending on the brand you choose, there are different pros and cons to factor into your decision. Let's take a look at the most popular brands:

Dometic:
Pros:
Dometic is a market leader in caravan/camping products, which immediately puts them at the front of the pack for excellent design and innovation.

The Dometic camping battery has some big pros. First, it features an integrated DC to DC charger, which is a big plus. It can be charged from 12V, AC power and solar, which makes it convenient while travelling off-grid. It also comes with two USB ports.

Dometic camping battery is built to be extremely robust and can withstand all weather conditions in Australia. Yet it's still lightweight at under 8kg! It is safe to charge the PLB40 from zero to 45 degrees Celsius and discharge from 10 to 55 degrees!

Finally, you can choose from power pack and solar bundles.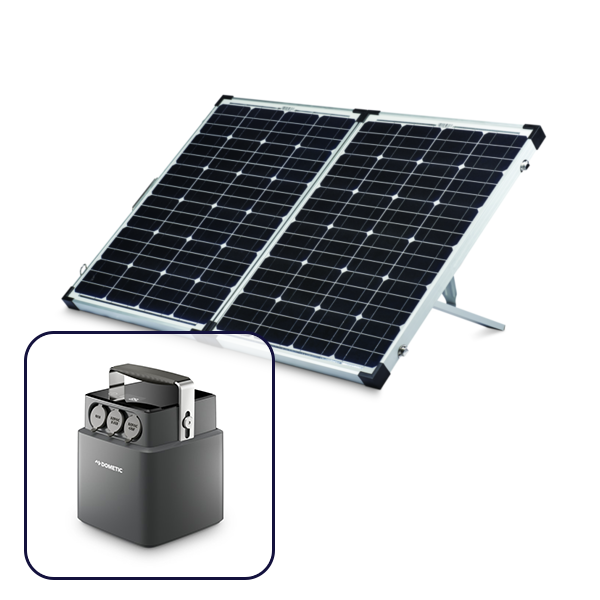 Cons:
Dometic currently only offers one model, which is only 40A in size. So, if you want to run larger appliances you will have to look at other brands, like Goal Zero.

Also, the camping battery only comes with a 1 year warranty, which isn't very generous as warranties go.
Goal Zero:
Pros:
If it's choice you're after, Goal Zero has it covered. This brand offers an extensive range of camping batteries from a compact 13AH up to 276.1AH.

These are versatile products – the two biggest models are designed to run lights and appliances during a home power outage.

The camping batteries also feature an AC inverter meaning you can run more appliances/electronics safely. They also come with built-in surge allowances and multi-stage protection. And even with all these features, they are super lightweight!

Like Dometic, you can choose from a range of power pack and solar bundles
Cons:
Goal Zero comes in with a higher price tag than Dometic and Baintech, yet still only offers a 1 year warranty.
Baintech:
Pros:
Right up there at the top of the list of pros is the generous 5 year warranty. It doesn't get much better than that!

Like Dometic, Baintech offers a camping battery model with an integrated DC to DC charger. Other top features include Ciga and Engel sockets, two dual USB sockets with C type and 3 Anderson connectors.

You can choose power pack and solar bundles if needed.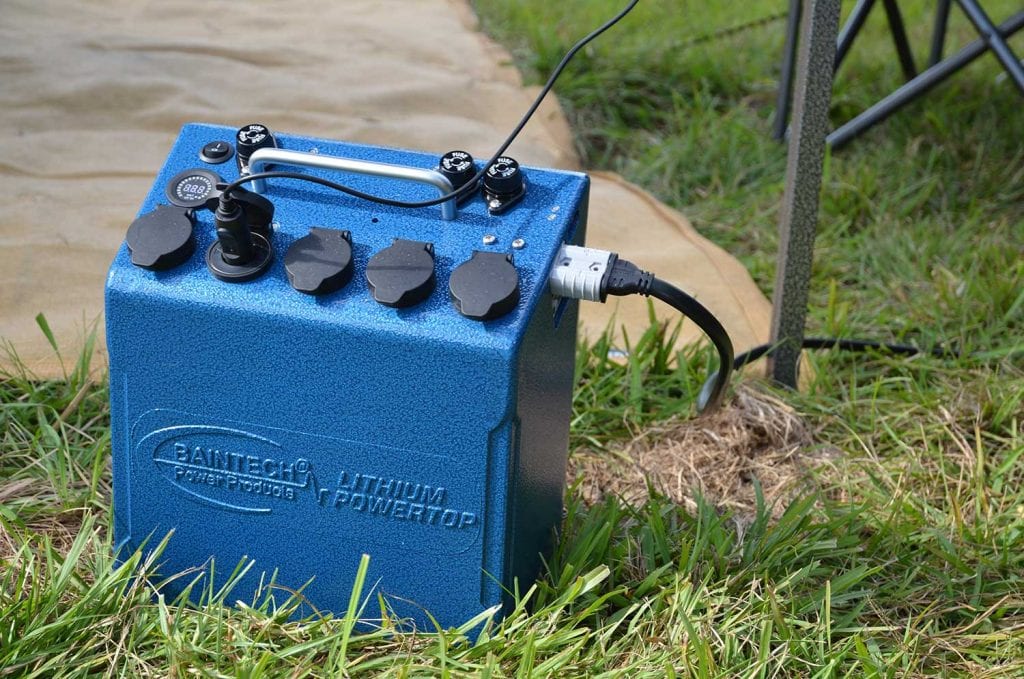 Cons:
Baintech only offers three models and they are only 50A in size – if you want to run larger appliances look to the Goal Zero models.

In the past, Baintech has only offered AGM models, so these models are the brands first launch of lithium power packs.

Baintech also comes in more expensive than the Dometic PLB40 (but remember they do offer a much longer warranty).
Any Important Accessories You Need To Purchase?
SOLAR! Having a solar panel (or several panels) means you can travel off-grid and still power all your favourite gadgets. The solar panel will charge the power pack which will charge your appliances and electronics.
PRO TIP: consider purchasing a solar panel that is compatible with your power pack, for example a Goal Zero Yeti 500X Lithium Portable Power Station + Boulder 100 Briefcase Pack. Solar energy is free and easy!