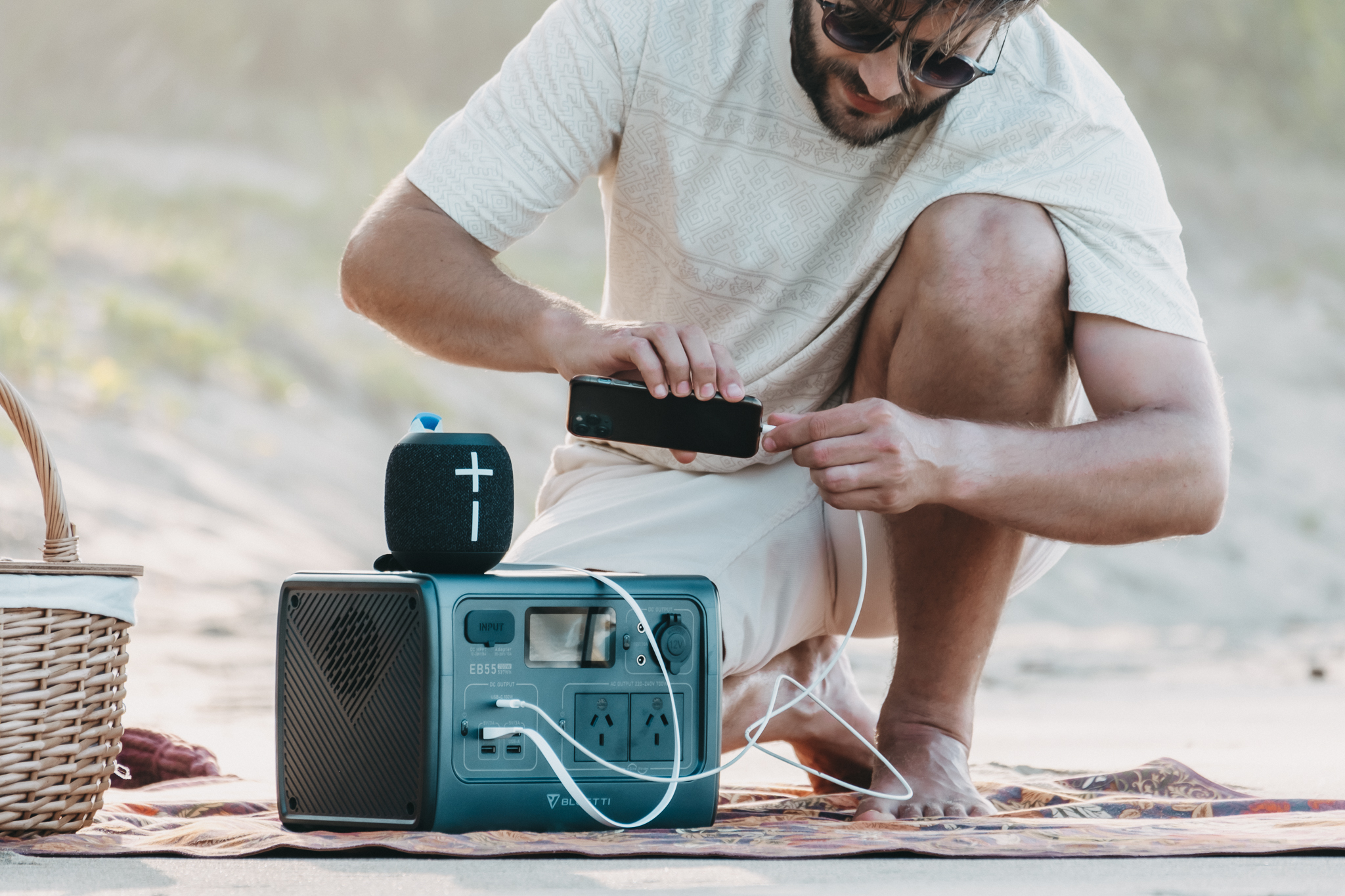 In an age where our connection to the great outdoors often goes hand in hand with our reliance on technology, the concept of camping has evolved. As campers, we cherish the serenity of nature, but we also crave the convenience of our devices, whether it's for capturing stunning sunsets, staying connected with loved ones, or simply powering our essential appliances or gadgets.
The traditional fixed power installations in 4WDs or caravans are gradually giving way to a more versatile and dynamic solution: portable camping batteries. These compact and portable devices are changing the camping game, and there's a noticeable shift in the camping community towards embracing this trend.
What Is A Camping Battery?
A camping battery is a portable power source. You'll also see them referred to as a "power pack". They do not need a fuel source or a battery charger to run, and have built-in sockets, chargers and monitors.
Why Should You Buy A Camping Battery?
Camping batteries are great for shorter trips and weekends away, because they can run smaller appliances and devices, from portable fridges to phones, laptops and lights.
But if you have a caravan, 4WD or camper trailer and travel frequently, a caravan battery is a better option. These are installed in your vehicle and are much larger – up to 400Ah – which gives you all the power you need for longer trips.
How To Work Out Which Camping Battery You Need?
Answer these questions to work out the right camping battery for you:
1. What appliances do you want to run?
Smart phone chargers, lights, fridges – different appliances draw different amounts of power. So, consider what you want to run when on your trip. If you want to run high power drawing appliances, you'll need to buy a higher amp hour power pack.
2. How much do you want to spend?
What's your budget? Prices depend on the camping battery size and brand. Some camping batteries come with different in-built features, such as a DC to DC charger. If you're on a tight budget, keep it simple.
3. Do you want a power pack and solar panel bundle?
Bundling your power pack with a solar panel means you can charge up your battery and power your appliances wherever you go. The three major brands – EcoFlow, Bluetti and Goal Zero - all offer power pack and solar panel bundles.
Camping Battery Recommendations:
EcoFlow
EcoFlow have multiple power stations in their range, all with their own features and benefits. The EcoFlow River600 Portable Power Station is the smallest model, with the option of adding an additional 24Ah battery as an accessory. The River600 PRO offers 720Wh of portable power and is similar in that an extra battery can also be purchased, increasing the amp hours to 1440Wh.
But the most impressive model in the range is the Ecoflow Delta Pro Power Station 3600Wh which recharges at 10 times the speed of most other competitors! It comes with 4x AC outlets, large inbuilt inverter, meaning it can power home appliances and tools below 3600W (4500W with X-Boost). You also have the option to expand this capacity with the Extra Battery pack. This will double the total capacity to a massive 7200Wh, making it the ideal companion for your off-grid adventures.
The most recent introduction to the range in 2023 is the EcoFlow River 2. These lightweight and compact camping battery packs are designed to easily come with you on your trips and with the use of the EcoFlow app you can control and monitor the system from afar.
Key Points:
The EcoFlow patent X-Stream Technology enables the DELTA & DELTA Pro to recharge at 10x faster than other competitiors on the market!

Each EcoFlow power station includes a built-in inverter, so you can power home appliances and tools

Select models have an option to add on an additional battery to double the amp hours

The RIVER600 Pro and DELTA comes with a lifecycle of 800 cycles to 80%+ capacity
View the full EcoFlow Range here.
Goal Zero:
Designed for small to medium size devices and appliances, the Yeti 500X Portable Power Station packs 20% more power into a 20% smaller and lighter pack than its predecessor. It's equipped with four different port options (AC, 12V, and 60W USB-C PD) making it easy to power everything from phones to portable fridges.
Plus, there's a high-speed Power Delivery port for charging USB-C laptops, tablets, mirrorless cameras, and phones in a fraction of the usual time. The Yeti also comes with an MPPT charge controller so you can hook up your solar panels and get the most efficient solar charge possible.
Key Points:
The two biggest models are designed to run lights and appliances during a home power outage

The camping batteries also feature an AC inverter meaning you can run more appliances/electronics safely. They also come with built-in surge allowances and multi-stage protection. And even with all these features, they are super lightweight!

Choose from a range of power pack and solar bundles
View the full Goal Zero Range here.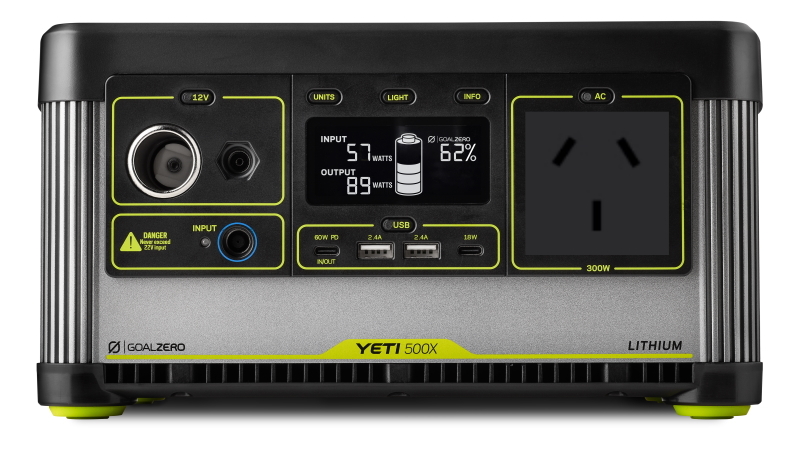 Bluetti:
Bluetti power packs are growing in popularity amongst the camping community due to their small and compact size and aesthetic design. The EB3A may be compact in size, but it packs a punch when it comes to handling substantial tasks. From powering a small blender, a mini rice cooker, to even a small refrigerator, the EB3A has you covered. This is made possible by its robust 600W AC Pure Sine Wave Inverter (with a 1200W surge capability) and an impressive 268Wh capacity.
The Bluetti AC200P Portable Power Station 2000Wh is a larger capacity power station with the flexibility to power most household appliances and heavy-duty DIY tools under 2000Wh. It can be used in your home, caravan or on camping trips. It can be used to charge your phone, tablet and laptop so you can stay connected even off-grid. You can also have it at the ready for home backup. The best thing about this unit is that its service life is 1-3 x longer than other portable power stations on the market today.
Key Points:
Impressive service life

Perfect for heavy-duty appliances

Multiple charging options

Some models feature a UPS mode

The AC200P has the ability to charge 13 devices simultaneously
View the full Bluetti Range here.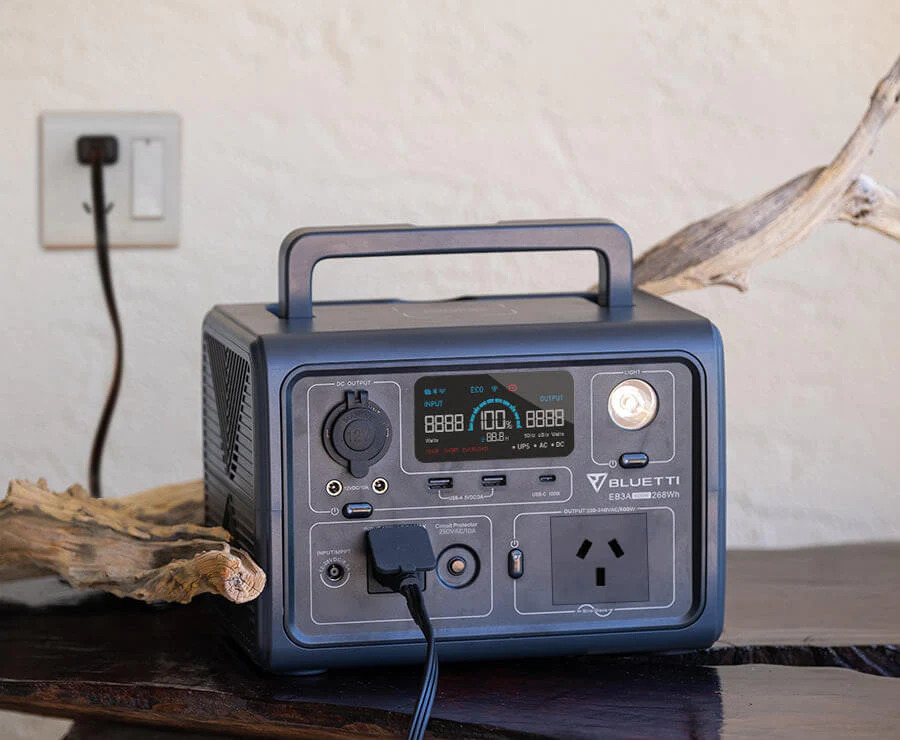 Jackery:
The Jackery Explorer Power Stations offer an excellent starting point for outdoor camping enthusiasts seeking a reliable power source. They're capable of powering your phones, laptops, lights, and more. With their compact design and convenient carry handles, you can easily transport them wherever your adventure takes you. Depending on your specific power requirements, you can select from the 240Wh option up to the robust 2000Wh model.
Plus don't miss the option to bundle it with a 100W folding solar panel for effortless charging of your Jackery power station.
View the full Bluetti Range here.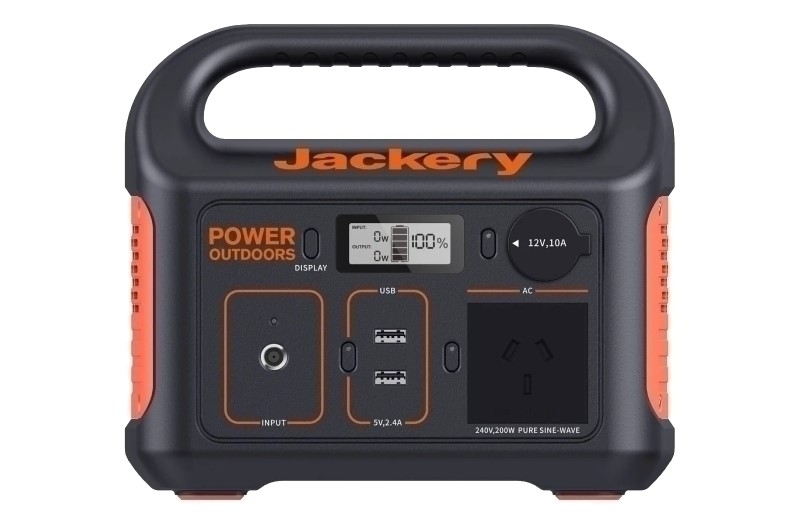 Any Important Accessories You Need To Purchase?
SOLAR! Having a solar panel (or several panels) means you can travel off-grid and still power all your favourite gadgets. The solar panel will charge the power pack which will charge your appliances and electronics.
PRO TIP: consider purchasing a solar panel that is compatible with your power pack, for example a Goal Zero Yeti 500X Lithium Portable Power Station + Boulder 100 Briefcase Pack. Solar energy is free and easy!
Shop our camping battery range online now.
-
DISCLAIMER* Please note, this advice is general in nature and we strongly recommend consulting the product manual and where relevant, a professional installer.
---
Leave a comment