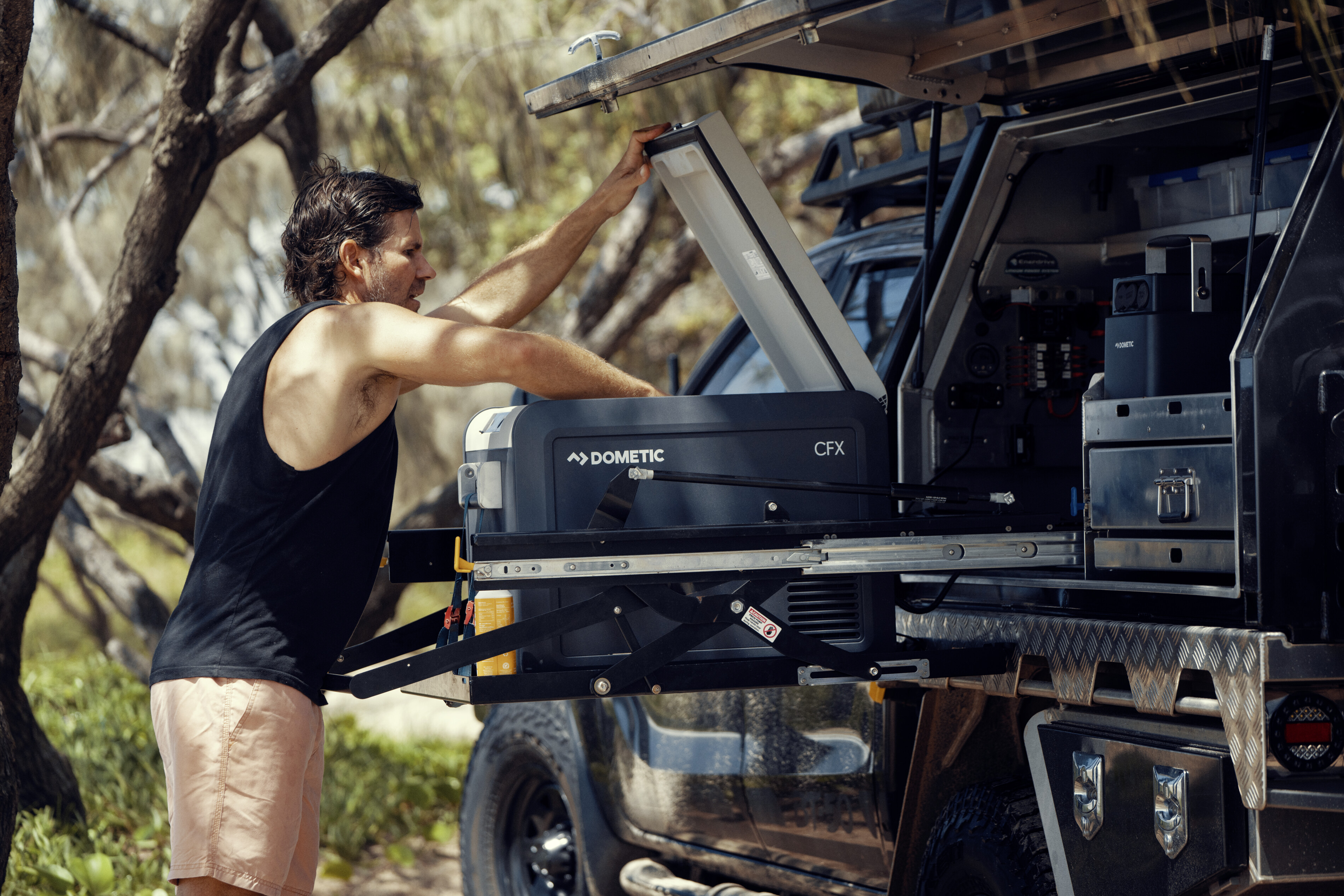 A portable camping fridge is an essential piece of gear for every camping trip. It will keep your drinks cool, your food fresh, and even make ice for your bevvies – if you choose the right model! But with so many types to choose from, which camping fridge should you choose?
What Is A Portable Camping Fridge?
Portable camping fridges are designed to take on adventures. That means they are compact, mobile and easy to power.
Rather than permanently installing the fridge into your caravan, car or boat, you can easily move the fridge wherever you need to keep your food and drinks cold. That makes a camping fridge the ideal piece of travel gear for boating, camping, fishing, 4WD adventures, caravanning, and much more.
Camping fridges must be connected to a power source, with the most common being a 12/24 volt source from your battery.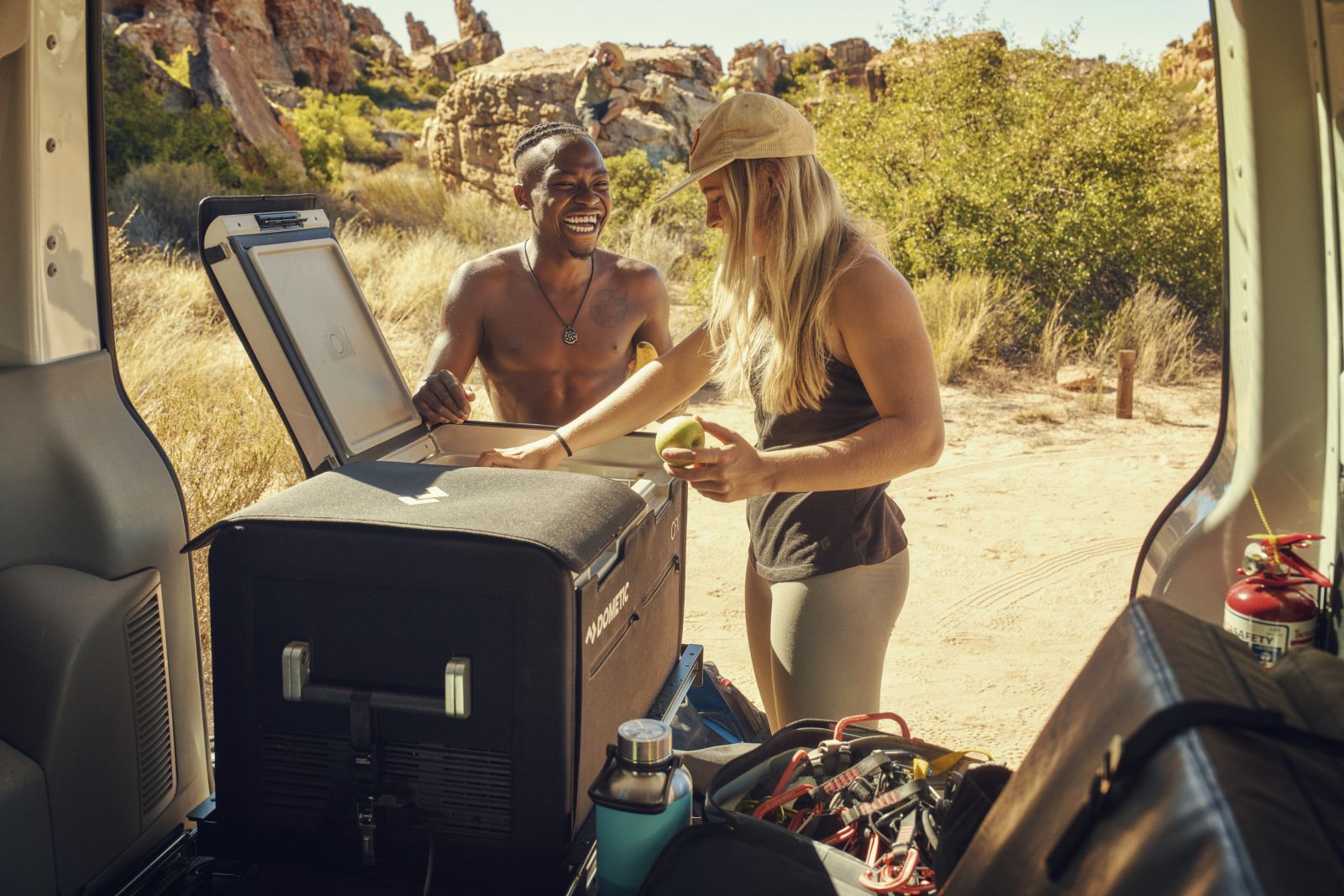 Which Type Of Portable Fridge?
To work out which type of fridge you need, you need to think about what you are using the fridge for. Will you be using it for long camping trips or short weekends away? Do you need a fridge and freezer at the same time, or can you get by with just a fridge or freezer?
There are two main types of portable camping fridge:
Dual zone models, like the Dometic CFX3 75DZ, give you all the flexibility of independently temperature-controlled zones. Set one as a fridge and the other as a freezer, or both as fridges, or both as freezers. It's your choice.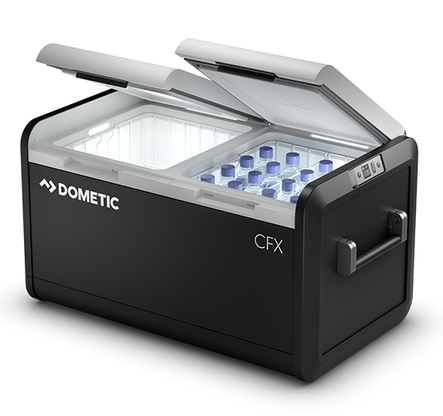 Which Size Fridge Should You Choose?
Portable camping fridges range from a super compact 13 litres up to 110 litres. So, which one should you choose? First, think about what you actually want to store in your fridge. There's no need picking a fridge that is bigger than your needs, because you'll wind up wasting power on cooling empty space. But too small, and you'll find yourself with some warm beers you can't fit inside.
Consider how you will use your fridge on your trips. Do you just want to keep a few beers icy cold on a day trip or are you feeding your whole family on a weekend away?
How Much Do You Want To Spend?
When it comes to portable fridges, prices vary massively depending on the model, features and brand you choose. Set your top budget before you start shopping. Camping fridges vary in price up to almost $2000 for a massive portable fridge with all the added extras.
For a little under $2,000, you can buy the Dometic CFX395DZ which will give you a 94 litre dual zone portable fridge/freezer, smartphone app connectivity, WiFi connectivity, USB charging outlet for mobile phones and tablets, and more. Plus the CFX3 range comes with a 3 years full warranty + additional 2 years (5 total) on the compressor parts.
If your budget is closer to $1,000, the Evakool Down Under 75 Litre Dual Zone Fridge / Freezer is a good option to consider. It features a Secop compressor and an efficient roll bond evaporator system. The fridge has a digital display with a built-in fault finding system, as well as digital controls, eco and max compressor speeds, and internal LEDs. It is easy to clean and has removable baskets. Additionally, it comes with a 3 year warranty and a 5 year compressor warranty.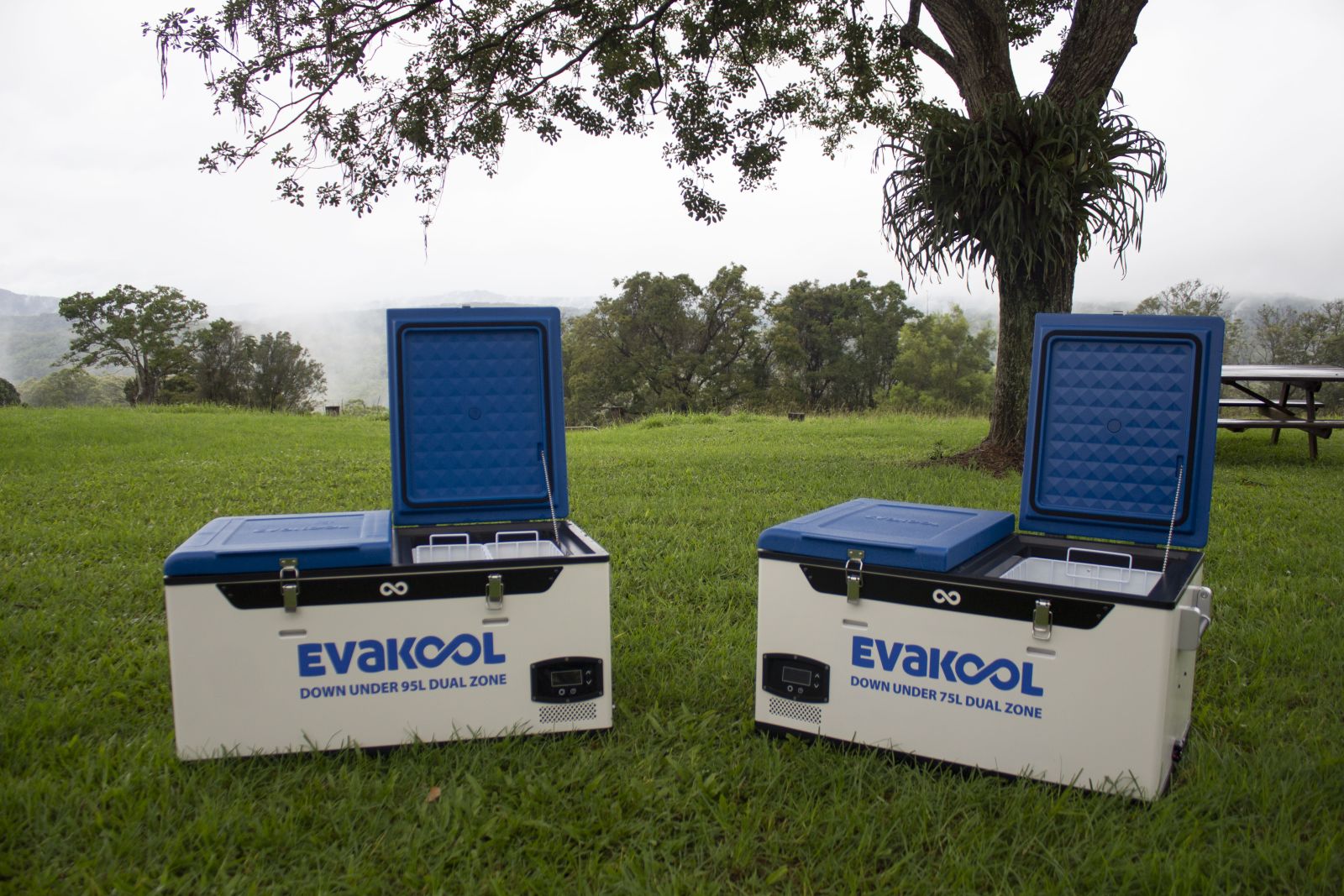 Pro Tip: Look out for sales – you'll be surprised what you can get for your money!
What Features Are You After?
Do you want all the bells and whistles, or are you happy with a standard fridge that keeps things cool? Some fridges feature Bluetooth connectivity, which is great if you want to control the fridge settings. But that might be more technology than you need.
Feature to look out for include:
Top Portable Camping Fridge Brands
There are heaps of trusted, well-renowned brands that produce high quality portable camping fridges that will tick all your boxes. Your biggest issue will be deciding which model is best for your next adventures.
For example, Dometic is renowned for its innovative technology and being well ahead of the game. The old Dometic CFX95DZ model was the most popular camping fridge on the market, and the newer CFX395DZ sets the bar even higher!
Engel are another brand that have been in the portable fridge market for many years and offer a super robust and well designed fridge that can stand the test of time. Check out the Engel MT60F 60 Litre Chest Fridge Freezer for an all round great family fridge.
Our recommended brands and ranges out there include:
What makes these camping fridge ranges the best? Simple – they are manufactured to a quality and built to last in harsh Australian conditions. What's more, these camping fridges come with extended warranties and after-market support, so you know that even if they fail, you're covered.
What Are Some Pros & Cons Between Brands In The Range?
How To Maximise The Efficiency Of Your Portable Fridge:
Your first step is to choose from one of the brands known for their quality. Dometic, Bushman and Evakool are the top tier brands that will serve you well for many years to come. These brands are known for their efficient compressors and well insulated construction.

Ensuring your food and drinks are already pre-chilled before packing to head away, will keep your portable fridge running easier for longer. Don't fill a fridge with hot drinks.

Packing your fridge smartly will keep your fridge running efficiently. If you start getting low on food and drinks, consider popping some bottles of water in the space. A cold bottle of water will keep the fridge cooler than an empty space when you are opening the fridge and letting warm air in.

Invest in quality solar. If your solar input is greater than your output, it will keep the voltage high. Higher voltage means less current draw and the ability to extend your trip time before going flat.

Ventilation is key. Your portable fridge will have vents near the internal compressor. It is important to keep these clear and clean at all times to ensure your fridge performs at its best....always. Dust can build up at the intake points around this area so maintenance at these points is imperative.

Location is important. When using your fridge choose an area that is shaded as best you can. The cooler the ambient temperature of your space the easier your fridge will stay cool and less draw or your power system.
Pro Tip: Look out for bonus items that add additional value to the fridge, such as a fridge cover!
Ready to compare camping fridges? Shop trusted brands in our online store.
-
DISCLAIMER* Please note, this advice is general in nature and we strongly recommend consulting the product manual and where relevant, a professional installer.
---
Comments (1)
Ice Cooler

Would like to purchase WAECO Coolice 221 rotomold icebox





www.caravanrvcamping.com.au Response
Hi Bob, I have reached out to you via email. Alternatively you can give us a call on 1800 787 278
---
Leave a comment