12v/240v Caravan Fridge/Freezers
Reliable 12 Volt Fridge Freezers To Fit Your Vehicle
When travelling on the road, your fridge is not an appliance that should be overlooked. Keeping food fresh, safe and hygienic shouldn't be hard. At Caravan RV Camping we have a range of 12 volt fridge freezers, to include brands such as Dometic / Waeco, Engel, Thetford, Vitrifrigo and Evakool. You can be sure that you will have a durable and dependable food storage system that'll keep leftovers and home-cooked meals tasty and delicious for miles and miles. Browse our range today that has now expanded to include Bushman Off Grid fridges and find something that fits your vehicle, lifestyle and budget.
While small, these units are powerful enough to keep everything at safe temperatures while quiet enough not to bug you in the night. The unfortunate fact of any cooling unit is that it has to be left on 24/7 to do its job. There's no safe way to have a power outage when you're running one of these. Fortunately, our 12v caravan fridges are energy-efficient and cost-effective, meaning less of a hit to your wallet and your power supply now and when you're on the road.
Available in a variety of sizes from space-efficient 40L models to family-friendly 285L units, there's something to suit every caravan, motorhome and boat. Take a look at our 12v caravan fridges today and find something to make going out on the road a little bit easier.
The Dometic Waeco CRX110 12V Fridge Freezer is one of the most popular caravan fridges on the market!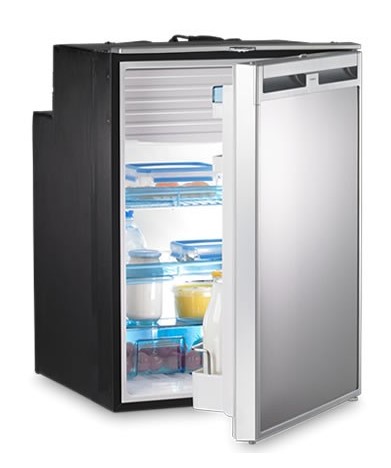 The Bushman DC130-X Upright Caravan Fridge is another popular fridge model for caravans.
Take a bit of home with you with our caravan accessories
With more than four decades of experience in the business, Caravan RV Camping knows what our customers need to have the safest, most enjoyable time out on the open road. Working with the most reputable companies and offering high-quality products for the most competitive prices, we've made a name for ourselves as a reliable knowledgeable and friendly figure in the Australian caravanning industry and community. From caravan televisions to privacy screens, you don't have to give up the comfort of home just because it's on the other side of the country.
Browse our online store today and discover something to put the joy back into hitting the road. Any questions? Our staff are more than happy to give you the benefit of our 40+ years of experience. Send us a message through our contact page or speak to us directly by phone on 1800 787 278.
Read More...