What are you looking for in a caravan door? You want it to be strong, sturdy and secure against intruders – all while looking good on your beloved caravan.
Sounds easy enough, right?
But with so many caravan doors on offer, it can be tough to narrow down the right one for your needs. Whether it's for a caravan or RV, the bottom line is you want a high quality door that's built to last.
We're here to help answer all the questions you never thought to ask.
Read on for our caravan door buyer's guide:
Are You Looking For A Replacement Door Or A Door For A New Build?
Start by looking for the right door size. What size cut out do you have? The size of the door is always determined by the cutout, not the overall dimensions of the door, as it needs to incorporate the frame.
Generally there are two standard width options available: 572mm and 622mm.
Some caravans have large cutouts, typically 878mm wide, but there's a limited range offered in this size.
For height, standard options include 1540mm, 1623mm, 1690mm, 1723mm, 1750mm, 1822mm, 1850mm, and 1908mm.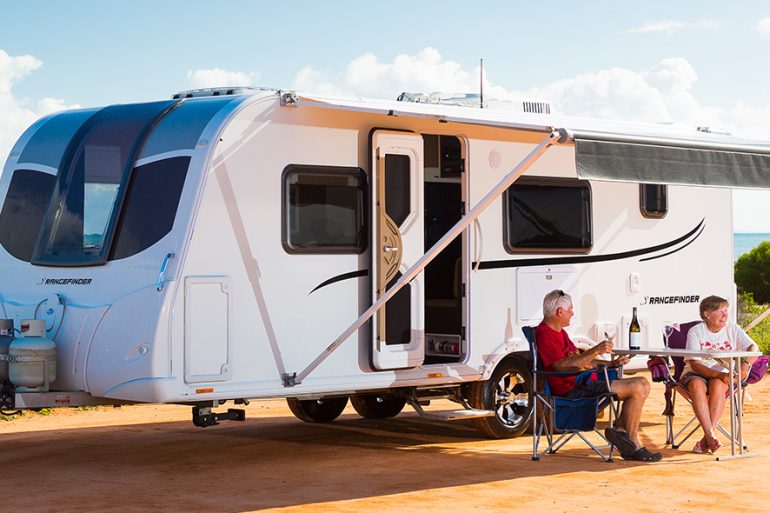 Pro Tip: Make sure you check your measurements, especially the height!
Do You Want A Left-Hand Or Right-Hand Hinge?
Double check which direction you want to open your door. Caravan doors come with hinges fitted either to the left- or right-hand side, when looking at the caravan from the outside. Keep in mind obstructions that might get in the way. So, if you want hinges located towards the front of the caravan, choose a left-hand door. It is most advisable to use a left-hand hinged door if installed on the passenger side of the RV/caravan.
Are You Looking For A Curved Or Square Design?
Depending on your caravan exterior, you can choose between curved (also known as "radius") and square design. The original 4 square corner design is a popular choice, or you can opt for 2 curved corners for a more contemporary look. For an uber modern style, go for 4 curved corners. It is important to ensure you choose the correct corners when replacing an existing door to ensure you don't receive a square cornered door, with curved cutouts in your vehicle.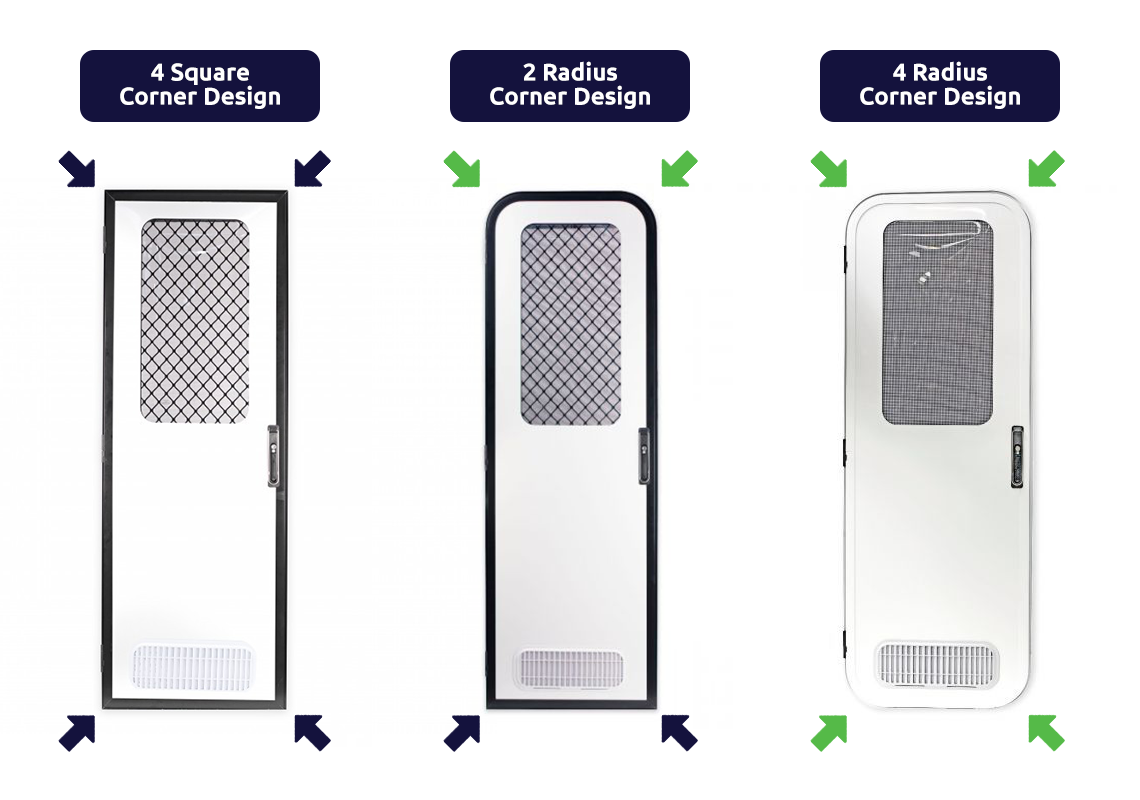 What Colour Will Match Your Caravan Exterior?
There are more caravan door colours than you might think! The frame is generally available in white or black. Caravan door panels come in white, black or silver. And you can also opt for a vent in white or black.
So you can have an all white door, a white door in a black frame, a white door in a black frame with a black vent, and so on. There are also some ranges of doors that allow you to match the bottom half of the door to the colour or patterns on your van. The options are endless!
Do You Want A Screen Door And Added Security?
Most caravan doors incorporate two doors – the main door plus a screen door or security door – into one unit. Depending on the model, the inner door might feature a security screen and flyscreen. This also means you can open the main door and still enjoy fresh air without worrying about bugs flying in.
You want to know that the security door will hold strong against intruders, so look for a security door with exceptional strength. For example, the Dometic CARAD door can withstand 180 J of impact, as tested by an independent company in Germany.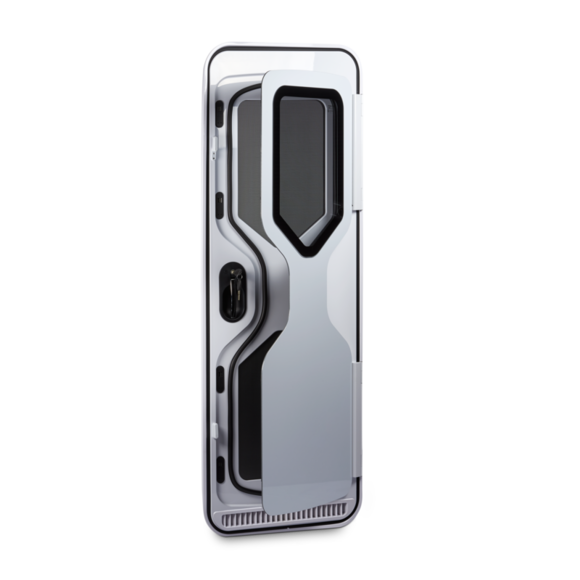 The Odyssey Premium, Aero and Vista range all come with black stainless-steel mesh for additional security.
For added security, look for a door with a multi-point locking system. Some models of Milenco and Dometic caravan doors offer a four-point locking system.
Are You Looking For Additional Features?
Features to look out for include:
Blinds: Block light from entering the caravan and enjoy additional privacy with an integrated blind.

Glass Panel: A glazed window panel can bring added comfort and temperature control, while also looking stylish.

Permanent Ventilation: Look for a built-in vent for air circulation in accordance with gas installation requirements.

Keyless Entry: some doors offer a 12V powered keyless entry system, which can be opened via token style keys or a wristband. This is great for holidays in caravan parks where you can have the safety of knowing your van is locked and your family can easily access the van with multiple keys.
Caravan Doors We Recommend
Australian based company Aussie Traveller stock a range of ready to ship, high quality doors. They feature a large tinted acrylic window, modern outer door, screen door and triple compression lock system. These doors are available in left and right hinge, square and radius tops, black and white and a wide range of sizes to suit your custom fit.
Milenco Columbia caravan doors make an attractive entrance with safety in mind. There are lots of options to choose from, including right hand and left hand, with black and white colour combinations in different sizes. Doors come with a four-point locking system and highly resistant safety mesh for security. The built-in vent offers excellent air circulation too.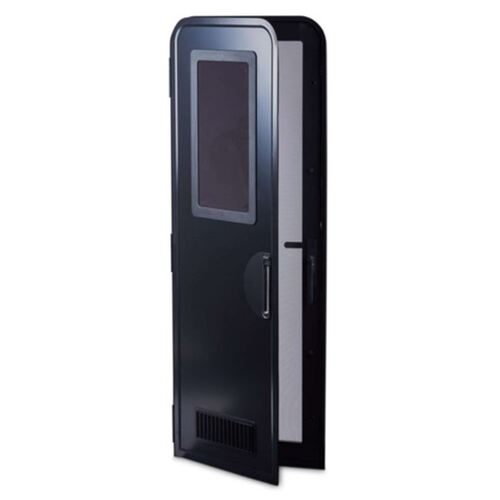 Dometic CaraD doors offer a unique door design for caravans. A sandwich door panel includes a high security safety mesh screen, with a blind and four point locking system. The safety mesh lets air into your caravan without compromising your security. The Dometic CaraD range is ADR approved for use in motorhomes and buses. This meaning, when a vehicle is carrying passengers these doors can be internally secured while the vehicle is in transit ensuring added safety for young children while on the move.
Camec have an extensive range of doors available in black and white, with the added options of aluminium infills to suit the caravan's external look. The basic Odyssey range comes in 2 radius, 4 radius and 4 square corners to suit many styles of caravan openings. You can step up into the Premium, Vista and Areo range which will give you a higher quality stainless steel security door and the Vista and Aero range can be fitted with keyless entry. They can all have a blind as an optional extra.
Pro Tip: Keep in mind the weight of the caravan door – if you are trying to travel light, every gram counts!
Browse our range of caravan doors today.
DISCLAIMER* Please note, this advice is general in nature and we strongly recommend consulting the product manual and where relevant, a professional installer.
---
Comments (3)
Mr

Our Elddis caravan screen door has broken. We have tried to replace it or fix it but have been unsuccessful. No one can help. So we have come to the conclusion we are going to have to get a customised door and screen made. The measurement of the actual door is 545 cms wide X 167.5 long. Would you be able to make a door and screen to fit.





www.caravanrvcamping.com.au Response
Hi Ian, Unfortunately we don't offer customer made choices. You can find our range of doors on the link here: https://www.caravanrvcamping.com.au/dometic-caravan-doors/
---
Caravan doordt

I had a quote for a new caravan security door from Camec. The price ! Not in my budget $2,200 !!





www.caravanrvcamping.com.au Response
Hi Chris, I will send you an email directly to see if we can assist you.
---
Which door?

Gday, I have a 2011 Mitsubishi Rosa bus going camper conversion and interested in a door and trim to readily fit in place of my swing away stock door. Im looking for security mesh inner. Match outside panelling/window shape. Left hand hinge. White door black tinted glass. Lower air vent. Im in northern Brisbane Qld near Bribie Isle. What can you advise pls.





www.caravanrvcamping.com.au Response
Hi Elvis, how exciting for you! We have reached out on email to you with some door choices. We hope this helps.
---
Leave a comment