Are you looking for the best caravan brake controller for your vehicle? A brake controller is essential to minimise the risk of an accident while towing your caravan.
How Does a Caravan Brake Controller Work?
Mounted to your tow vehicle, usually on your dash, the brake controller is used to control the electric brakes on the caravan to mimic the action of your tow vehicle brakes.
Using power from the car battery, the controller senses when you hit the brakes in the tow vehicle and sends an electric current to the electric brakes in the caravan. This activates the brakes and slows down the caravan.
Why Do You Need A Brake Controller?
The one big reason to buy a caravan brake controller is for safer towing. They can help you minimise the risk of an accident while towing your caravan on long trips.
Imagine this scenario:
You're cruising along the freeway at 110km/hr and the road starts going downhill. Without a brake controller, you can press the brakes to slow down your car, but your caravan won't slow down. The weight of your caravan will push your car and could cause you to lose control and swerve into other lanes or even oncoming traffic.
This potentially fatal situation could be avoided with a caravan brake controller. It helps you keep control of both vehicles so you can slow down safely.
Types Of Caravan Brake Controllers:
Do you want to buy an automatic brake controller or a manual braking controller? Before you can answer this, you need to know the difference between the two options.
Manual Brake Controllers:
Manual caravan brake controllers are the basic systems. They can be manually operated using a dial or control knob which is installed within reach of the driver. They are also known as user-controlled brakes, because you have the power to adjust the amount of braking force required whenever you need to. Then, when a brake light signal is given the trailer brakes will apply the brakes to the set level.
Automatic Brake Controllers:
Automatic brake controllers automatically apply force to the caravan brakes using the brake in the tow vehicle. They are also known as proportional brake systems because they use advanced electronics to deliver great accuracy of braking measurement across a range of conditions and in response to how hard the tow vehicle is braking.
They are most commonly used on caravans and trailers over 750kg. In fact, they are a legal requirement on all caravans and trailers where the GTM is over 2000kg.
Most electric caravan brake controllers also give the option of manual overrides, which allow the caravan brakes to be activated independently from the tow vehicle brakes if needed.
Remember, if you buy electronic brakes, you need to install a control unit in the tow vehicle, usually on the dashboard. With the Redarc Tow-Pro Elite, this is really easy. The dial fits neatly on the dash while the master control box is tucked out of the way.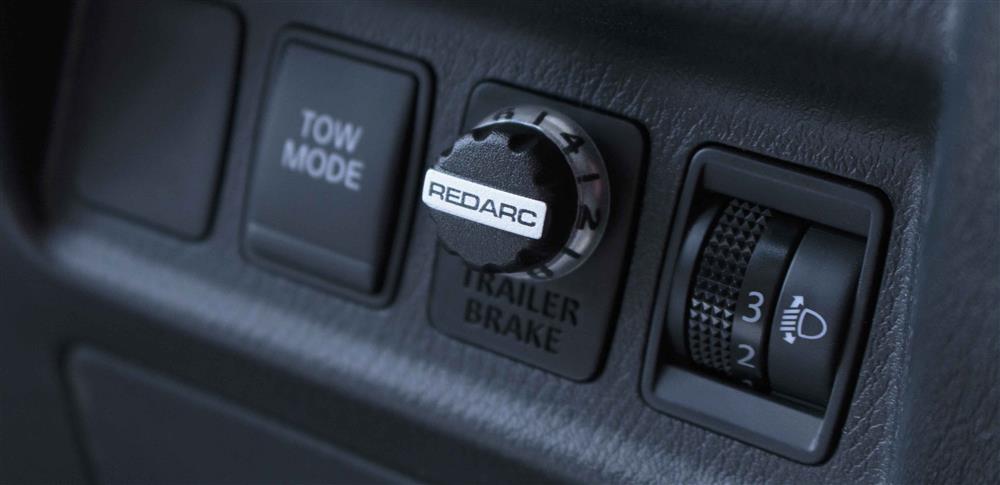 Some caravanners fit the brake controller's dial within reach of the front-seat passenger so that they can help if needed.
Brake controllers for most tow vehicles are required to be fitted to the vehicle battery. Most are 12V, while 24V controllers are available.
What's On The Market?
When it comes to a caravan brake controller, don't compromise on quality. Choosing a high-quality, reliable brake controller can save your life!
Redarc is the number one brake controller brand on the market but you will pay more for these models than others. Redarc's Tow-Pro range is a popular choice in Australia and comes in three main options:
1. Tow-Pro Elite Brake Controller Kit:
By far our most popular product, this product is highly versatile. It suits the most common caravan braking applications, from smooth high-speed freeways to stop/start city traffic and all the really fun off-road adventures.
You get lots of brilliant features, including the ability to switch between automatic and manual modes. Use automatic for cruisy braking management on smooth bitumen. Then switch to manual when you head off-road and turn the brake controller up or down to match the terrain.
With all Redarc Tow-Pro brake controllers, the installation and operation of the device is really easy.
2. Tow-Pro Elite Brake Controller Kit with Extended Wiring:
This all-in-one Tow-Pro Elite kit comes with everything you need to set up your tow vehicle with an electric brake controller and safely tow trailers, caravans, camper trailers, and more.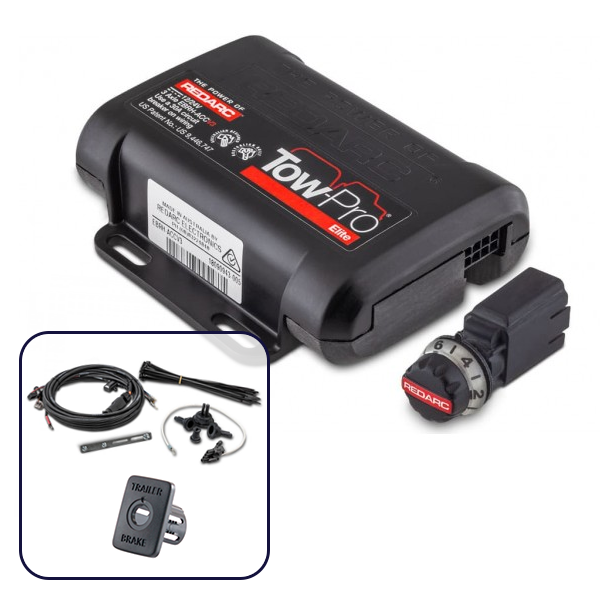 3. Tow-Pro Classic:
The manual controller version of the Elite is simple to install and operate. It offers a user-controlled mode of braking, so you have complete control of the brake level whether applying the footbrake or override. Adjust the control knob in user-controlled mode to adjust the braking force from minimal (zero) to maximum (ten).
Besides Redarc, there are a few relatively new players who offer some innovative products:
Baintech:
A more afforadable option we recommend is the Baintech Tow Mate. We love this model because it operates with a pre-set braking force using microprocessor technology. It's super rugged and compact, and can be easily installed with the connection of four wires. It also comes with a remote control to make adjusting and monitoring the brakes even easier. The Tow-Mate also features an override function for independent braking of the trailer from the vehicle brakes.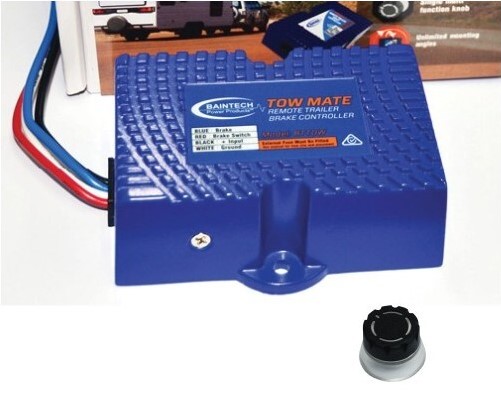 The Baintech Tow Mate also comes with the option of a remote trailer brake control.
Hayman Reese:
This brand has two options we really like: Compact IQ and Guardian.
The Compact IQ Remote Mount is a time activated, dash-mounted brake controller suitable for both heavy duty and light load towing. It is a proportional system that only needs two dials mounted on the dash, while the main control unit can be installed under or behind your dash out of sight. It also features a Boost feature so you can apply more or less braking power when needed.
The Guardian is a more basic option for 4WD, light caravan and camper applications. It comes with a large easy to read display and push-button controls.
WiTi:
If there's one reason to buy the WiTi Brake Controller, it's the ground-breaking industry first – Hill Descent Assist. The device measures the angle of descent and applies the caravan brakes relative to the gradient of the hill and to the rate of deceleration. So, the caravan or trailer braking is increased when travelling downhill giving you a safer and more controlled descent.
Extra Accessories For Caravan Brake Controllers:
It's worth noting that some brake controllers do not come with all the installation components, so be sure to check what comes included with your purchase.
Tow your caravan safely – check out our range of caravan brake controllers today!