Looking to purchase a new caravan air conditioner? With so many models on the market it can be hard to choose the best model for your needs, read our guide below for assistance!
What's the difference between a normal household and a Caravan or RV Air Conditioner?
Both types do the same job - cool or heat, both are designed for different applications, both are very different in price!
The Positives:
Durability? Caravan and RV Air Conditioners are designed to cope with the normal operating conditions of your caravan or RV while on the move. They are made to withstand vibration, lumps and bumps on the road, as well being wind, bug, water and generally weather proof all round.

Fit for Purpose? A Caravan or RV air conditioner will have a considerably longer lifespan than a normal household air conditioner when being used in a mobile home application, it will not literally 'rattle to bits' or allow 'water ingress' due to its mobile friendly design.
The Negatives:
Price? Because of the extra engineering that goes into a caravan and RV air conditioner, it is generally a little more expensive than its comparable household counterparts.
What are the different types of Caravan and RV air conditioners?
Roof Top - A rooftop air conditioner can be mounted on the roof which is practical for a few reasons.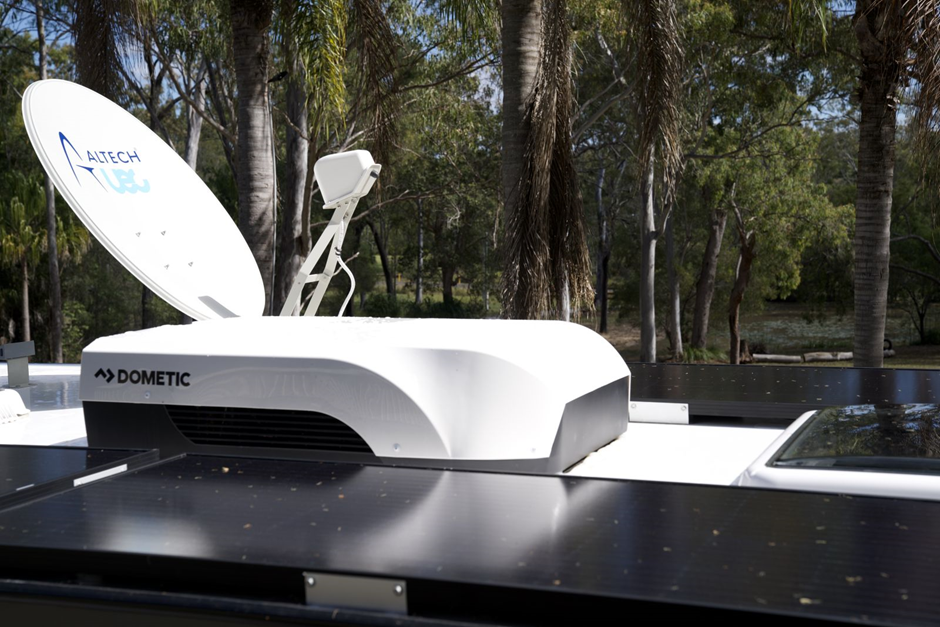 The Positives:
Cool air will naturally sink to the floor allowing you to cool your entire van quicker and more efficiently.

Having it mounted on the roof means you don't have to take up valuable real-estate along the walls of your caravan or RV. This can allow you more cupboard, bench or other valuable space needed in your living area.

Easy to place in a central location.

Suitable for most Caravan and RV's.
The Negatives:
Pop-Tops and smaller Camper Vans may have a roof not designed to carry the weight of an RV air conditioner. Roof modification and support may have to be installed which can be costly. A built in style or box type air conditioner may be a cheaper alternative in this case.
Underbunk Style - An Underbunk Air conditioner is targeted at cooling a smaller area, where it doesn't make sense to mount an air conditioner on the roof. Most Pop Top caravans, without modification, won't support a roof top air conditioner and this is a way to save roof space and keep your overall roof height lower. An Underbunk Air Conditioner will exchange air through a cut out in the floor and distribute cool air around the van via ducting. The Underbunk air conditioners tend to be quite efficient and light weight. Again, this is a perfect option for a smaller caravan or pop top.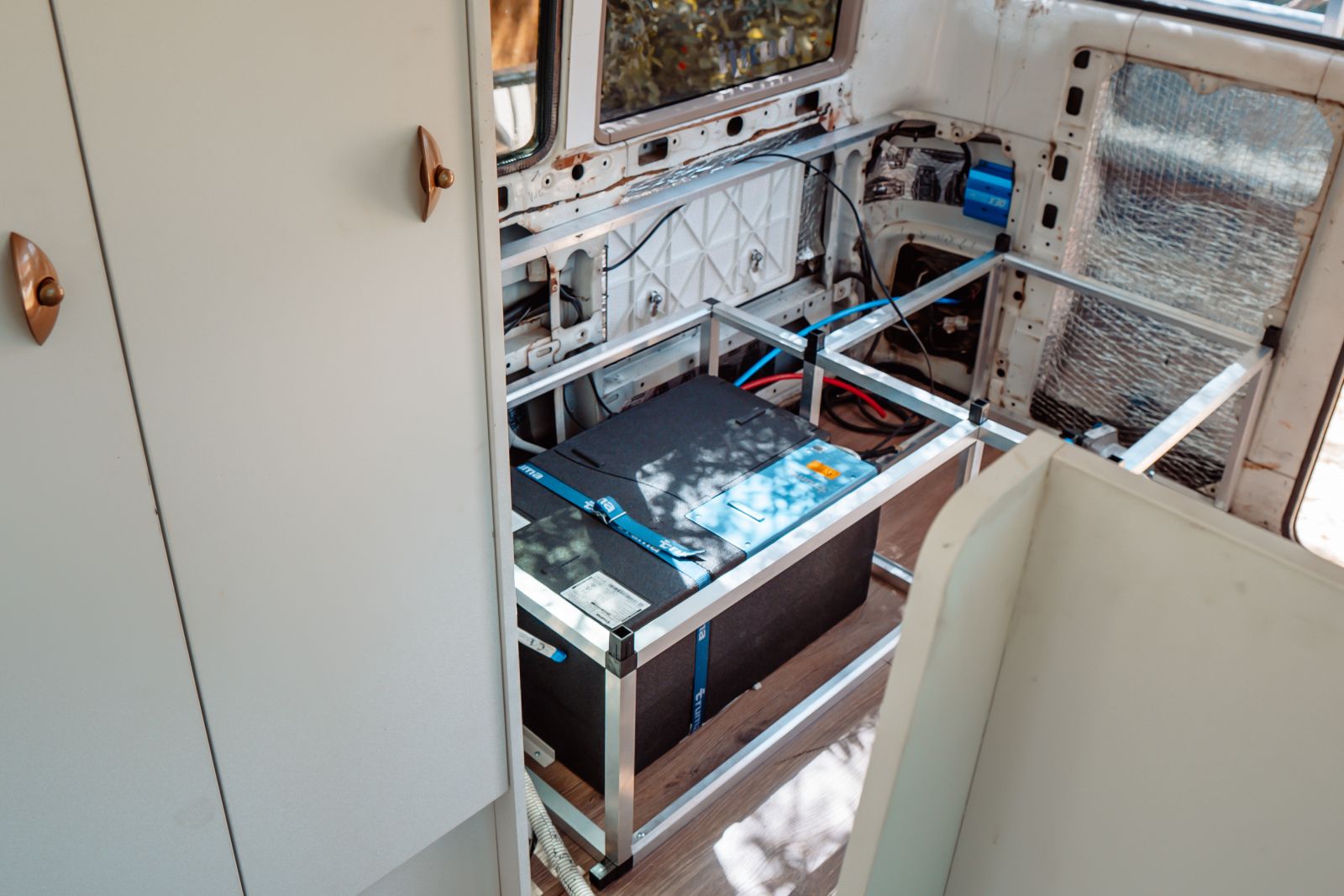 The Positives:
If you own Pop-Top, Camper Trailer or Camper Van where a roof mounted air conditioner is not practical, an underbunk type may be preferable and often cheaper solution than modifying your roof to suit.
The Negatives:
Can take up extra room inside your Caravan or RV that could be used for other living comforts compared to a roof mounted air conditioner. For Example: more bench space or a cupboard
What's the difference between a reverse cycle heating and an air conditioner with a heating element for caravan and RV's?
It's mainly all to do with outside or 'ambient' temperatures and energy efficiency, both types of systems have their advantages and disadvantages.
Reverse Cycle Air-conditioning (Heating)
The Positives:
Efficiency - Reverse cycle air conditioning essentially uses a closed refrigerant system to transfer heat, which means no power hungry heating elements are used. Whether you're wanting your room cooler or warmer, a reverse cycle air conditioner is a very efficient way of transferring heat inside to outside, or outside to inside. This is important if you're running off a generator.

Ventilation - No need to worry about depleting oxygen levels in small spaces as with gas heating.

Ambient Temperatures - Certain ambient temperatures can drastically affect the performance of your air conditioner - check the manufacturer's specifications regarding ambient temperatures. (air conditioning manufacturers will be quick to point out if their air conditioners work effectively at sub zero outside temperatures).
The Negatives:
Ambient temperatures - Unfortunately when the outside temperature approaches freezing point, it is possible that freezing (or partial freezing) of some of the air conditioner components will result in little to no heating at all which makes for an unpleasant situation. Manufacturers are always improving the technology to control the negative effects of ambient temperature, BUT always make sure to check the specifications of your Air conditioner before purchasing to make sure the heating will work effectively in the temperatures that you're travelling in.
Heating element type air conditioner
The Positives:
Ambient temperatures – will not affect the operation of heating element type air conditioners
The Negatives:
Efficiency - The power required to run any sort of heating element can be costly if other heating methods are suitable. Make sure your power generating system is capable if not using mains power.
How effective is Caravan or RV air-conditioning?
Providing you stick to within the manufacturer's size and insulation specifications, caravan and RV air conditioning is just as effective as your normal household air conditioning. Just be sure you make generous allowances for caravans, camper trailers and camper vans without insulated roof or wall panels – a larger air conditioning unit will be required.
What size Air Conditioner do I need?
For the caravan industry, generally 2 to 2.5 kW will be suitable for caravans up to 16' and 3+ kW is suitable for caravans up to 24'
In a nutshell, air conditioners are rated by their effective cooling/heating produced in 1 hour, this is called capacity. The power that an air conditioner motor/compressor and fan require can differ to achieve the same capacity, so it is therefore common to rate an air conditioner performance by its capacity and not by its power consumption.
Capacity
This is generally measured in Kilo watts (kW) or BTU's (British Thermal Units). For Example, A 3 kW cooling capacity air conditioner refers to the amount of actual heat removed from your room in 1 hour. The manufacturer's specifications will tell you what size area a 3 kW rated air conditioner can effectively cool. (Manufacturers performance specifications will always be based on fully insulated fixed roof Caravans and RV's, otherwise a larger unit will be required to compensate for uninsulated or thin skinned pop-tops and campers etc.)
Power
The power required to run the air conditioner can be an important consideration, especially if you plan to run off a generator. If this is the case, then efficiency is calculated by selecting the cooling/heating capacity you require and finding the lowest amp/power draw for that size, basically more bang for your buck. Generally your power draw is displayed in voltage and amps, but just to confuse you it can also be measured in Kilo watts (kW), though typically not rated by this as the power required to run the motor is not always a direct correlation with the cooling/heat capacity output.
Why are air conditioners supplied with 360mm or 400mm opening kits?
This refers to the existing square opening in your caravan or RV. Chances are if your caravan was built in America you will have an existing 360mm or 14' square opening, if it was built in Europe or anywhere else, 400mm is standard. Knowing this could come in handy when selecting a new air conditioner as modifying your roof could be an avoidable costly expense.
What is an inverter type Air conditioner?
An Inverter type Caravan Airconditioner is also commonly referred to as an air conditioner with soft start technology. This is because the inverter technology allows the compressor in your air conditioner to be started with less power or Amp draw then conventional methods. Every time your compressor cycles, ie starts and stops, you will reap the benefits in power savings with a lower current draw. This is especially important when running off a portable generator where the maximum output of the generator is close to the caravan airconditioners Amp draw.
There are only a small number of inverter controlled air conditioners on the market. These are all manufactured by Dometic, suitable for small, medium and large caravans. Dometic has very recently just released a new and improved range of inverter technology run air conditioners. This range if called the FreshJet 7 Series.
Dometic's history witnesses a significant milestone with the introduction of the FreshJet 7 Series, representing a major leap in product development. Leveraging their vast knowledge and expertise, Dometic has crafted three remarkable models poised to supersede some of their best-selling units. Leading the charge, the FreshJet Lite assumes the role of the Harrier Lite, while the FreshJet Plus takes over from the Harrier Plus. Finally, the FreshJet Pro stands ready to succeed the highly acclaimed IBIS 4, setting new standards in the industry.
What size generator do I need to run my caravan air conditioner?
A generator is required to power your caravan air conditioner if you intend to camp off-grid – meaning there is no power available! We recommend a good quality 2400W inverter generator in most cases. The latest caravan air conditioners by Dometic are manufactured using inverter technology and can be started and run with a good quality 2000W inverter generator. See our table below for the three Dometic caravan air conditioners currently on the market and the best generator models available to run them.
Best Generator Models Available:

Air Conditioner Model:

Under $1,100:

Under $1,300:

Under $2,500:
In 95% of cases, we are able to match the right generator with your air conditioner. Simply give us a call on 1800 787 278 and one of our product experts will be able to assist!
Installation
Most touring adventurers would never choose to travel without an air conditioner, all though not all caravan, motor home or RVs are equipped with them. Having an air conditioner fitted to your pride and joy is quite an easy task if you abide by the appliances specifications and your RVs modification handbook. Most RVs will be designed and manufactured with the addition of air conditioning in mind, full height caravans are built to with stand the weight of a roof top air conditioner, most Pop Top Caravans and campers can also have roof top air conditioners installed.
Keeping an eye on air conditioners that are light in overall weight yet still have the ability to cool the space is ideal. Additionally, these are 240V appliances so it is advised they are installed by a certified electrician.
Click here to check out our full range of Caravan Air Conditioners!
DISCLAIMER* Please note, this advice is general in nature and we strongly recommend consulting the product manual and where relevant, a professional installer.
---
Comments (2)
Pop Top 17 ft caravan

I have an Electrolux box in the wall air conditioner which runs the fan only and the compressor does not kick in. Is there some repair that can be done? Also, I've been told they are not made anymore. Is this correct as I can't seem to find anything. Your advice will be much appreciated.

By:

Roger Waskow

on 21 October 2023





www.caravanrvcamping.com.au Response
Hi Roger, these units are no longer made. You can contact a local air conditioner repair to see if it is repairable. Due to them being no longer made it makes it hard to replace them. People opt to go a roof mounted Air Con. Please reach out if we can help any further
---
Inverter?

we are in the final stages of getting our caravan built with an Ibis 4 air con. do we need to have our 3000watt inverter wired to the air con as at the moment its only wired to all power outlets.

By:

Wayne Gowman

on 31 July 2023





www.caravanrvcamping.com.au Response
Hi Wayne, you will need to contact your electrician to determine the best way to connect your 240v Air Conditioner to your inverter
---
Leave a comment