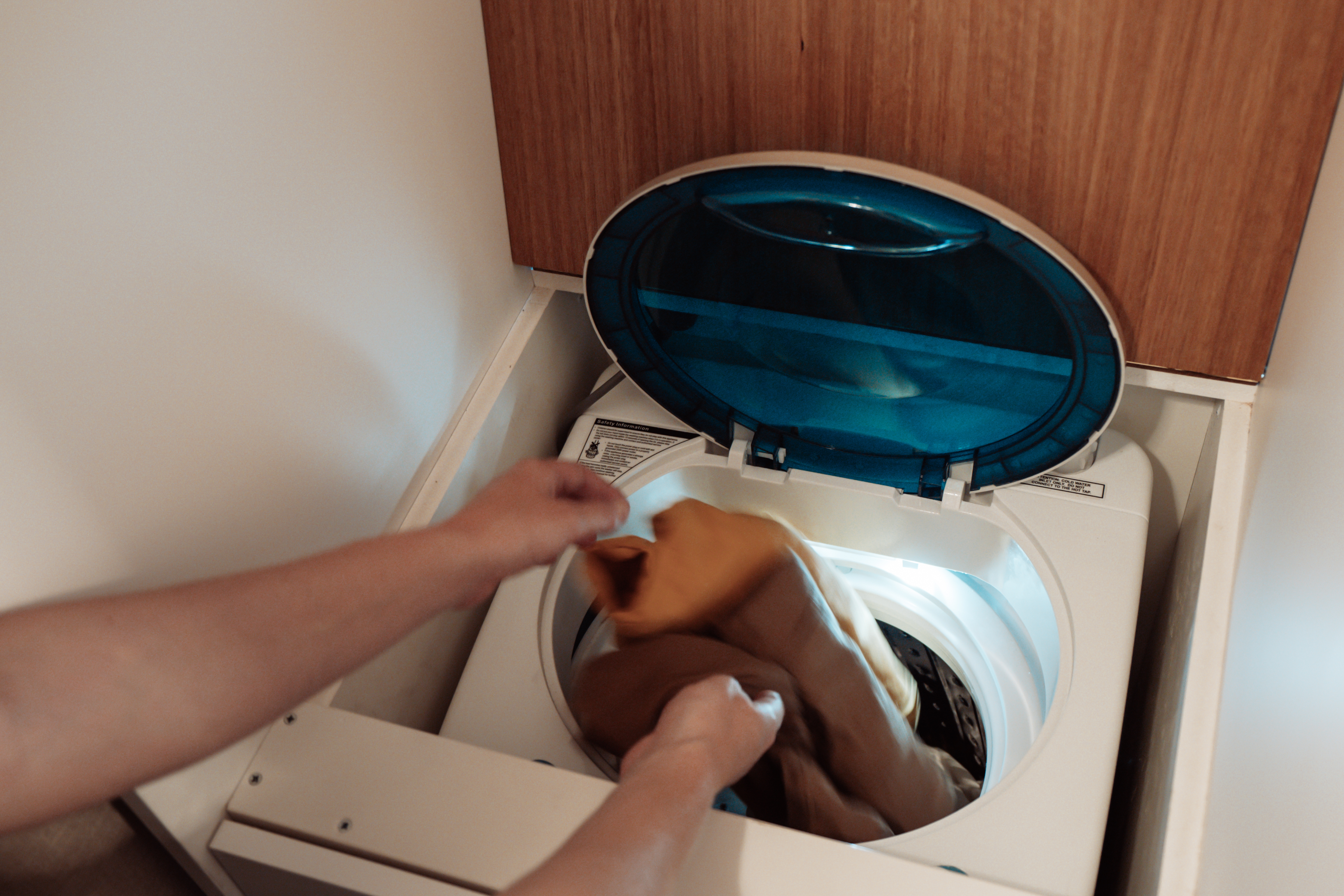 Being able to wash your clothes on caravan travels is important. No need to store your dirty washing in your van while you wait to find a laundromat. No wasting a morning waiting for an available machine at the caravan park, and then even longer for the cycle to finish. With a caravan washing machine, you have the freedom of doing your washing when you like!

Caravans these days often come pre-equipped with automatic caravan washing machines because they are a convenient and cost effective way to do your washing while travelling. Caravan washing machines can also be very budget friendly. The initial outlay of your washing machine compared to using coin-operated machines can be considerably less depending on how often and for how long you travel. Not to mention saving the hassle of finding the right coins! In fact, the average caravanner will recoup their initial purchase costs in six months or less, as well as have the added bonus of convenience and not having to share with others.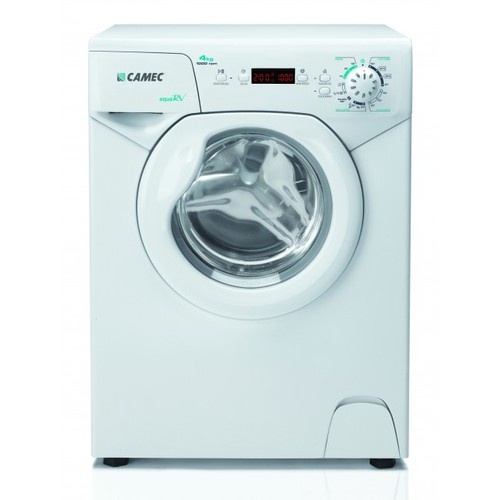 Camec Compact RV 4kg Front Load Washing Machine

When it comes to purchasing a caravan washing machine, keep in mind that price will generally reflect water efficiency and quality of spin – cheaper is not always better!


Types Of Caravan Washing Machine

There are three types of caravan washing machines:
Front loading

Top Loading

Portable
Let's take a look at the different types in more detail.

Front Loading Caravan Washing Machine
Front loading machines are handy for smaller spaces, as you don't have to worry about keeping enough room on top to open the lid. They are also water efficiency, which is ideal when you're travelling away from caravan parks and only have on-board tank water for use. We love the Camec Compact RV 4kg.
Coming in at only 70cm high, it can be incorporated into cupboard spaces to give you easy access and convenient washing without taking up too much floor space. It even has as many as 15 different wash cycles - just like your washing machine at home! The Camec Compact boasts extremely low water and power consumption, making it a great choice for off-grid travel. It works with cold water only, though a hot water wash is available thanks to the inbuilt heating element.

Top Loading Caravan Washing Machine
There is a bigger range of top loaders, including different brands and sizes, starting from a very compact 2kg up to a family-size 5kg. Most top loaders are fully automatic, with between 800-1000 RPMs for a good quality spin cycle. The most popular models are by Camec and Sphere.
The Camec Compact RV 2.5kg is a fully automatic top loading washing machine that handles variable loads without consuming more than 20 litres of water, even on its highest water level setting. It might be small, but it still offers seven different washing programs.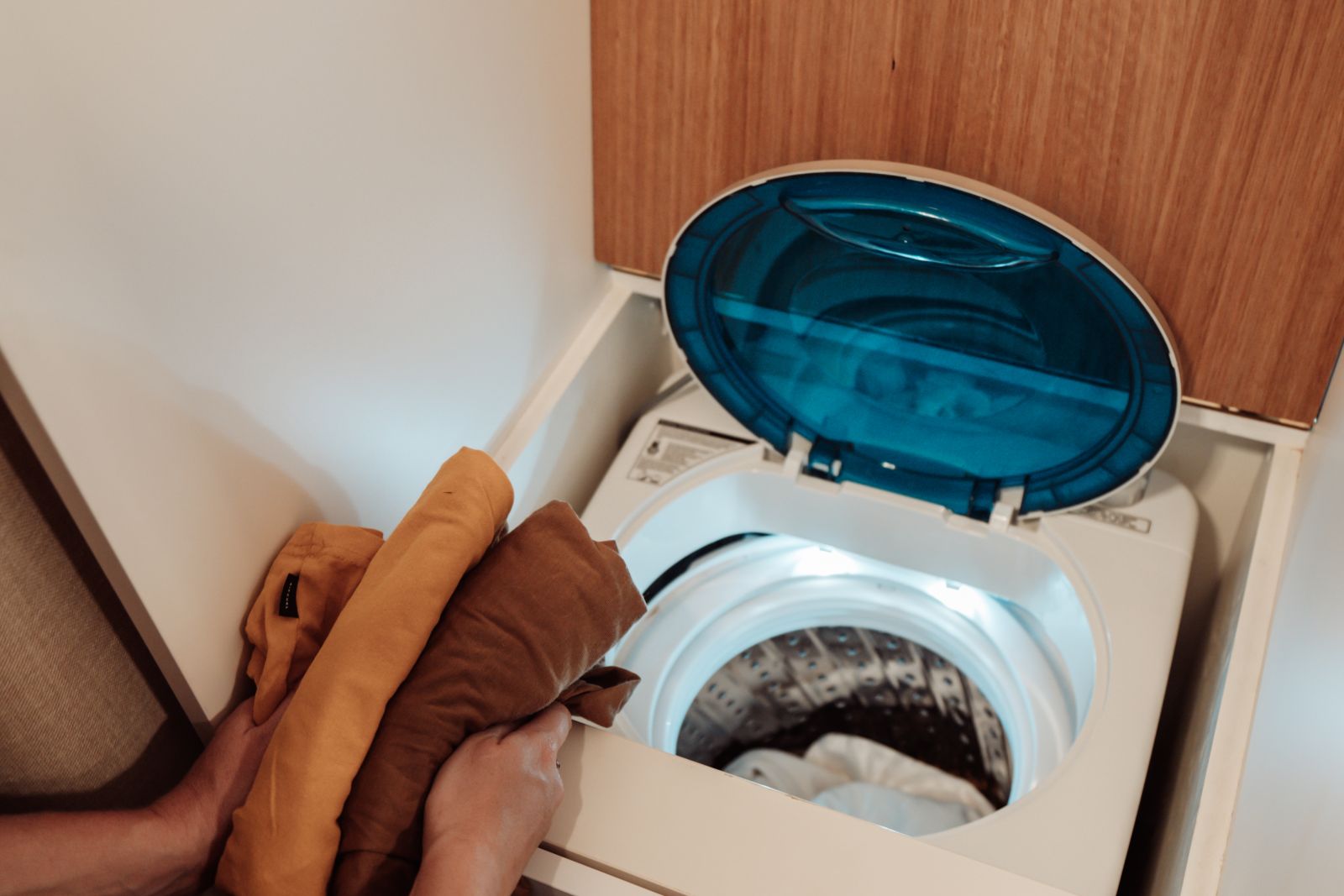 Aussie Traveller also offer a 2.5kg option with a stablising drum basket that also doubles as a carry basket. How handy is that! It features five washing cycles from rapid to full wash while only using a maximum of 20 litres of water. You also have the option to purchase a bundle with the 2.5kg washing machine and Northstar RV pump.
For a hot wash option, the Camec Compact 3kg is a great choice. In fact, it's the first caravan top loading machine to offer a hot wash. It also offers six wash programs and a lightweight feature. We love the LED light inside the tub drum, which helps you find those hidden socks in dim lit RV laundry cupboards!
If you are looking for something a little bigger, you can check out the Aussie Traveller 3.2kg Top Load Washing Machine or Aussie Traveller 3.2kg Top Load Washing Machine Bundle with Northstar RV Pump.
Another slightly bigger option is the Sphere Auto Mini Washing Machine which has a 3.3kg capacity. There are five settings from a full wash-rinse-spin cycle (38 minutes) to a simple spin (7 minutes) to get the washing done. Like the Camec Compact, water consumption is around 20 litres per load. It also comes with a lint filter, balance alert and countdown display, as you'd expect in a full size domestic machine.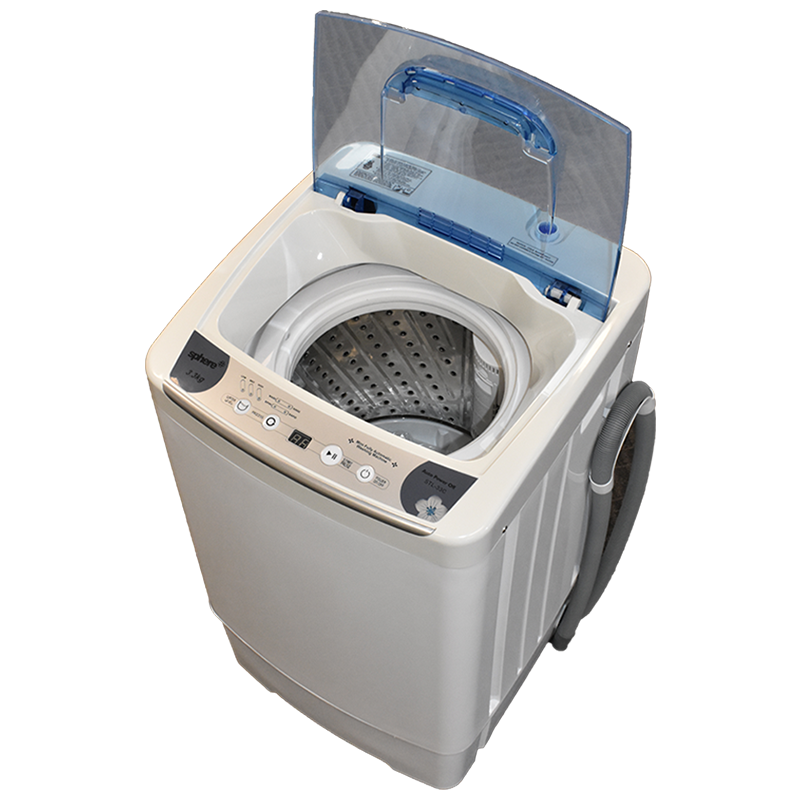 Sphere 3.3kg Automatic Mini Washing Machine 240V

Portable Caravan Washing Machine
Portable washing machines are a good option if you're tent or 4WD camping. They are also suitable if you don't have space in your caravan cabinetry to permanently fit a top or front loader. You can bring it outside when you need to use it, then stow it away under a bed or table. Our range of portable washing machines by Devanti are small and compact, offered in 3kg, 4.6kg and 5kg loads.
Pro Tip: If you travel in a caravan and have the space, we strongly recommend a top loader or front loader - they are more efficient and have a greater spin capacity.
For an indepth guide to portable washing machines check out our buyer's guide here.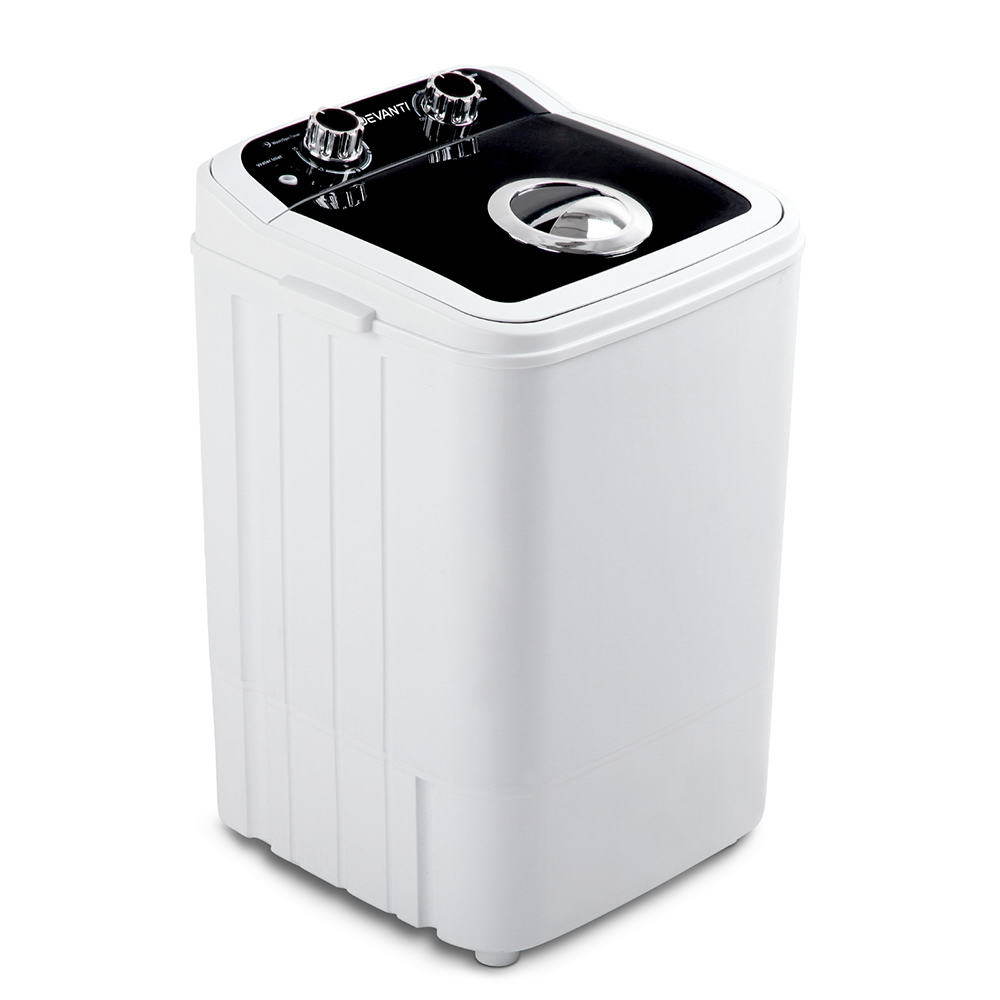 Devanti Black 4.6kg Portable Top Load Washing Machine

Accessories:
There's a huge range of laundry accessories to make life easier on the road! Check out everything from collapsible laundry bags to clothes lines and even special attachments to turn your bike rack into a clothes line!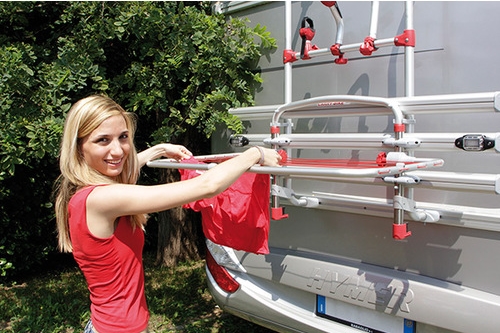 Fiamma Easy Dry T/S Carry Bike

Caravan Dryer
If you have the space and power capacity, why not think about a dryer for those rainy days? We recommend the Camec Compact 3.2kg dryer. The Camec dryer is simple to use and offers high and low heat settings. You can install it upright or mount it upside down, which gives the option to have a left or right hinge to ensure it will work within your space requirements.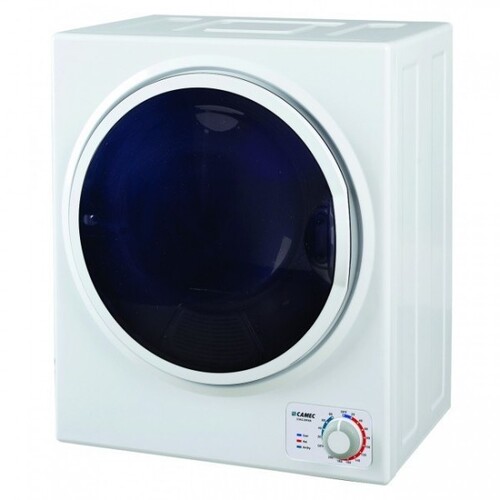 Camec compact 3.2kg RV Dryer 240V 850W 2-way mounting


Ready to purchase? See our full range of caravan washing machines and dryers here. Have a question? Give one of our product experts a call on 1800 787 278.
DISCLAIMER* Please note, this advice is general in nature and we strongly recommend consulting the product manual and where relevant, a professional installer.
---
Comments (1)
Smells

Moved in a caravan with a new washer every time I use it it smells horrible what can I do





www.caravanrvcamping.com.au Response
Hi Carol, that does not sound pleasant at all. If it is an electrical smell then it is advised to stop using the machine immediately and contact the manufacturer of the machine or the caravan. If it is a water smell then you may need to check your plumbing, you may be getting back flow smells from your grey water tank and it might be time for a deep clean of your tank. I hope this information helps.
---
Leave a comment