Enerdrive

Need help? Click here:
Need help? Click here:
Need help? Click here:
Need help? Click here:
Need help? Click here:
Enerdrive Lithium Battery Systems
Our range of Enerdrive Lithium Battery Systems includes caravan batteries, battery bundles, power systems, battery chargers, solar panels, inverters and more! Enerdrive are experts in lithium so you can rest assured no matter which product you choose, as long as it is by Enerdrive you are purchasing a high quality and long lasting item.
Quality Products with Unrivaled Support.
The name Enerdrive has been part of the Australian electrical landscape for nearly 19 years. Starting as Advance Trident Limited in 2003 and predominantly servicing the marine industry, ATL saw the huge growth potential in the mobile and recreational vehicle market soon after. In 2008 with a management buyout, ATL Limited morphed into Enerdrive with is current owner Chris McClellan.
Today, Enerdrive is owned by Dometic. Enerdrive still design, manufacture and source world class products from leading edge companies like Delta Q, Morningstar, Blue Sea Systems, TBS Electronics & Xantrex.
Enerdrive embarked on its own "Brand Identification" program some 5 years ago and started private labeling products for the Australian market. These included our eLITE & ePRO battery monitors, Enerdrive lithium battery systems, Magnasine Inverter/Chargers, Dual Battery kits & VSR relays. With the success of these item in the marketplace, we added more lines to this portfolio including off grid fixed and folding solar panels and regulators, inverters & DC2DC converters.
In recent times Enerdrive has embarked on its own manufacturing program. We saw the need to control our own destiny and produce hi-end products that the Australian marketplace was demanding. This program has led to Enerdrive manufacturing our own range of ePOWER AC battery chargers & DC2DC battery charger along with our Lithium battery systems.
Along with our own branded products, Enerdrive are the largest stockist of Blue Sea electrical installation equipment in Australia. This product range is engineered to withstand the demanding applications in marine & mobile electrical systems. In the early days, Enerdrive where a significant player in the on-grid solar industry. As time moved forward, Enerdrive found that the business was better suited to the off grid/standalone arena, so a distributorship alliance was formed with the world leader in off grid solar controller technology, Morningstar.
Enerdrive carry large stocks of the Morningstar product range and are constantly working with Morningstar to produce specific charging algorithms to suit the latest battery technology including Lithium. With other significant national distribution rights such as Delta Q, TBS Electronics & Xantrex, Enerdrive have you covered in all industries.
Looking to purchase an Enerdrive lithium battery system? Our customer service team is here to help! We work closely with all industries that require independent, mobile or off grid power solutions including:
Caravan/RV
Marine
Mobile
Emergency Services
Off Grid Solar
Telecommunications
Power Utilities
Mining
Oil & Gas
Local Government
Defence
Give us a call on 1800 787 278 and we can help you find the best Enerdrive lithium battery system for your needs!
Enerdrive Lithium Battery Bundles:
We highly recommend checking out our Enerdrive lithium battery bundles which range from a simple battery and DC charger bundle, up to a full installation kit including a battery, DC charger, AC charger, inverter and solar panels! Some of our favourite bundles include:
Enerdrive ePOWER B-TEC 200Ah Lithium Battery, 40A DC2DC + 40A AC Charger Pack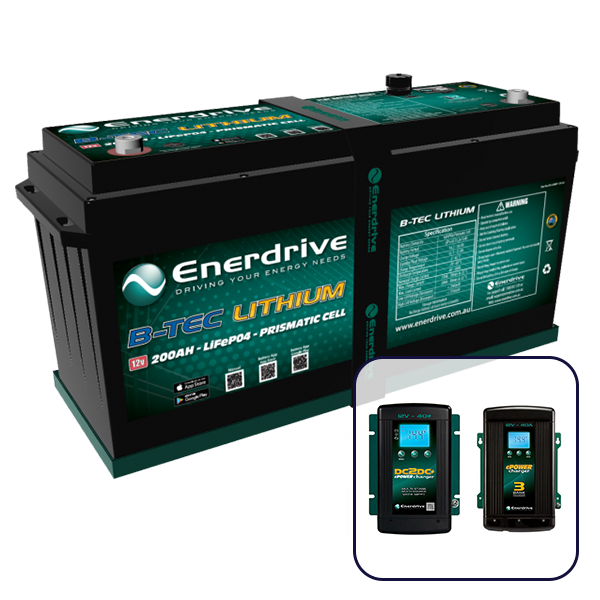 Enerdrive Ultimate Off-Grid 4x4 Bundle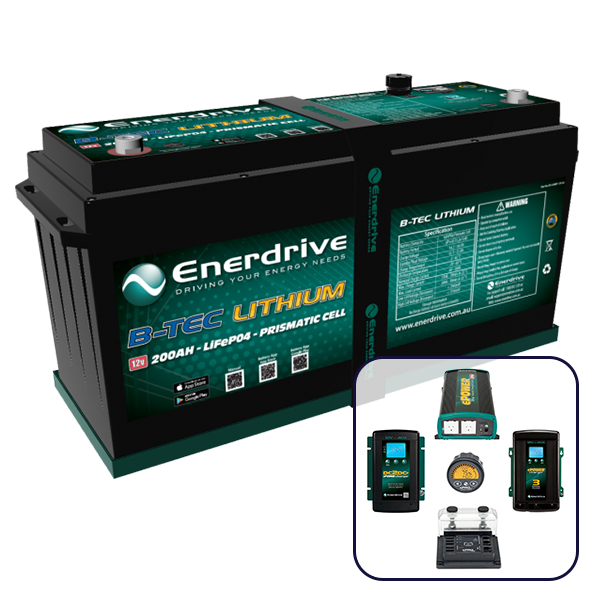 Enerdrive 4WD Canopy Traveller System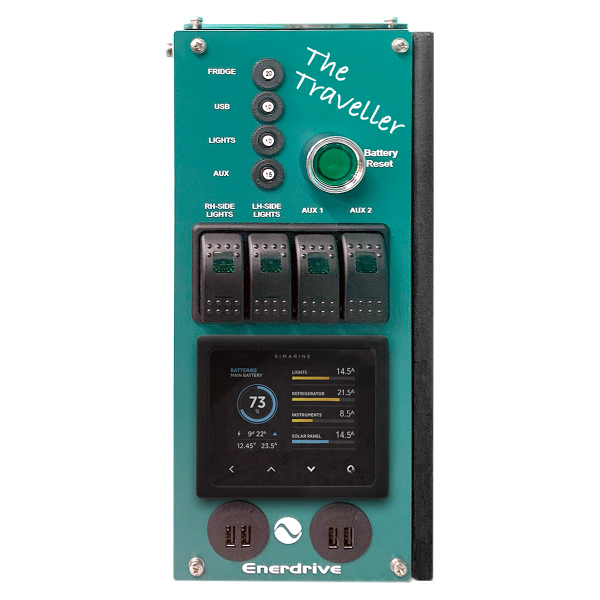 Enerdrive 4WD Canopy Adventurer System
Read More...