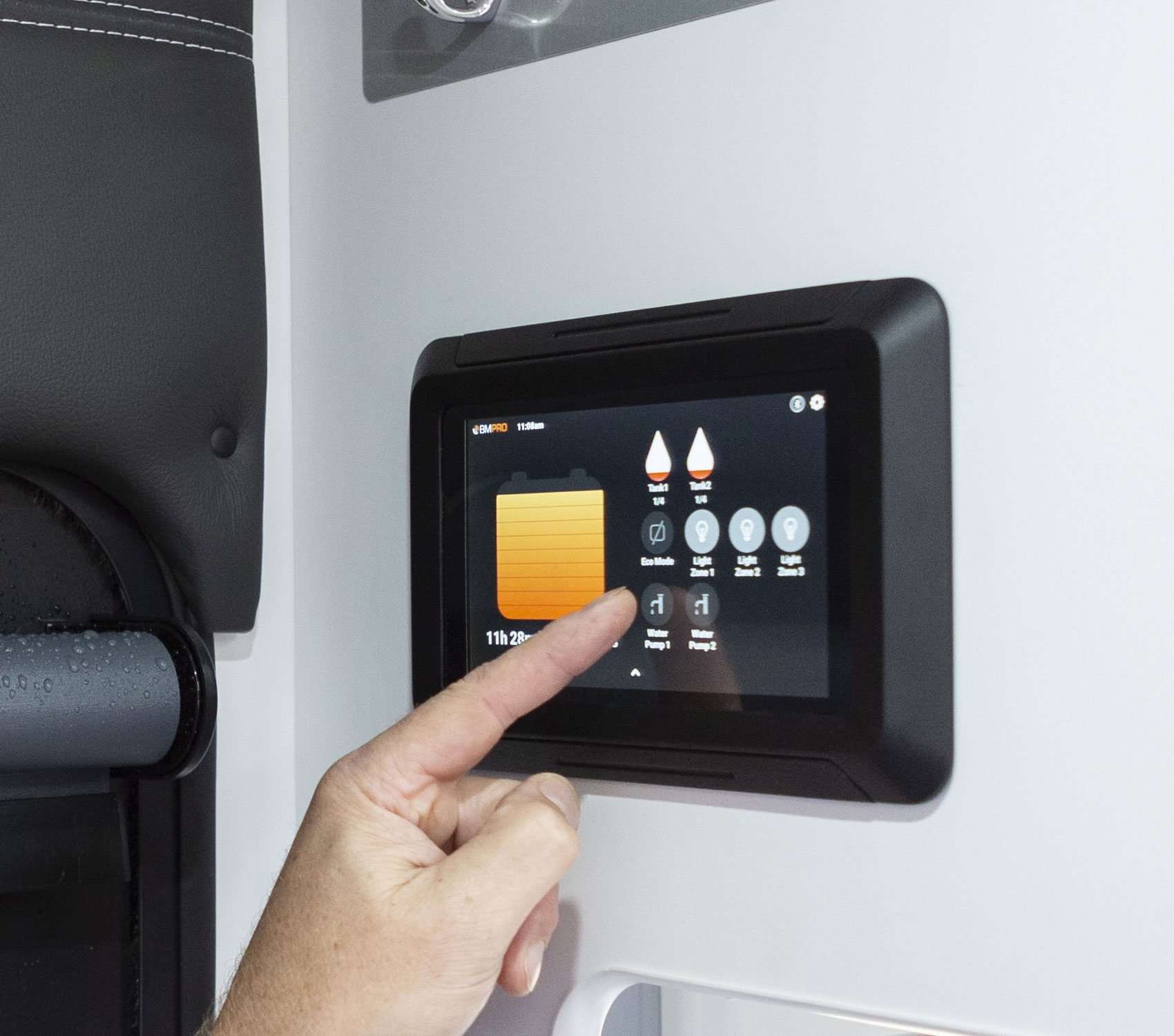 Whether you're travelling in a caravan or 4WD, most people rely on a solar and battery setup to power life on the road.
But how do you know if you're about to run out of juice? How can you make sure there's enough charge left to keep your fridge running and drinks cold? And how do you ensure that your batteries stay running at their best?
That's where you need a battery monitor.
What Is A Battery Monitor?
Connected to your battery, a battery monitor is designed to help you monitor the state of your battery and other important performance measurements, so you can better control your battery and power set-up.
It's not just a fuel gauge for your battery - a battery monitor can tell you lots of things:
Ampere hours consumed

State of charge of the battery

Discharge current

Temperature of your battery

Remaining battery capacity

Time remaining in your battery bank
The best part is, if any of the metrics are not within normal range, the battery monitor can sound an alarm. So, if the battery temperature is getting too hot, you'll know about it.
Why Add A Battery Monitor To Your Setup?
The number one reason to add a battery monitor to your setup is that it helps you keep an eye on your battery's health - and that's essential when you're away from home and relying on a battery for power.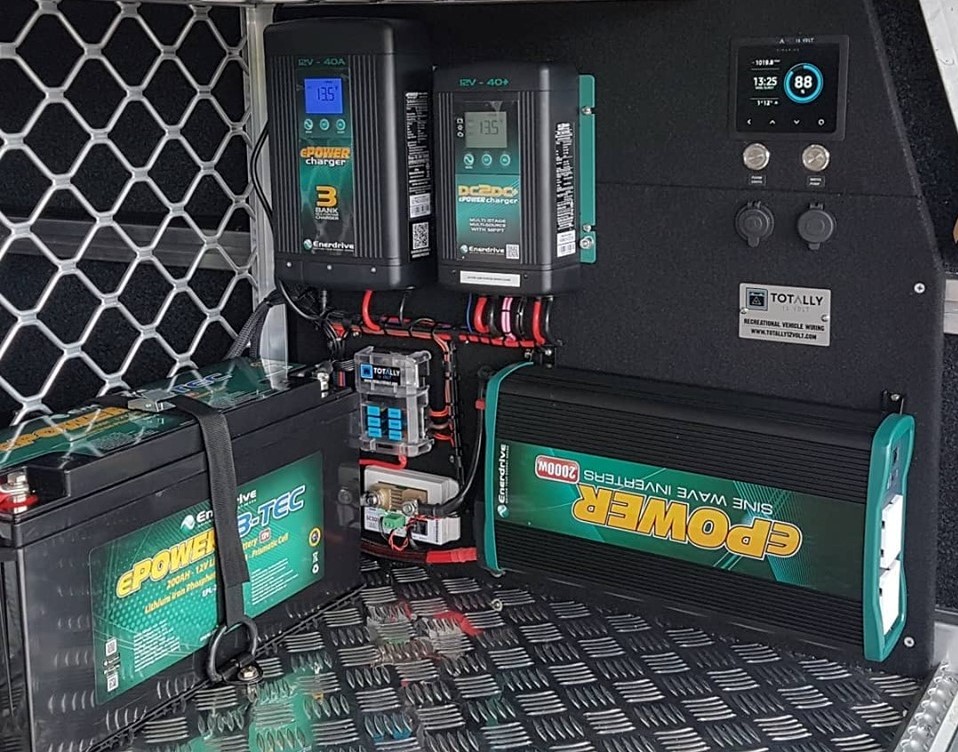 It also gives you better control over the power you're using. You can use a battery monitor to check on how many amp-hours of power you've used, how much power you've been able to put back into your battery with solar, when your batteries are full, and more.
This kind of control makes it much easier to travel knowing you have access to power when you need it. Better still, it means you can take better care of your batteries so that they perform more efficiently and last longer.
Let's say you have lead acid batteries. They like to be charged up to 100% every day for the best performance. Fail to do this and their lifespan will decrease. A battery monitor helps you see what state they are in so you can make sure it reaches the maximum charge.
With many newer battery monitor models, all of his data is available in a handy app on your smartphone - so long as you are connected to bluetooth or wifi. So you don't have to be near your battery monitor or power setup to know how it's performing.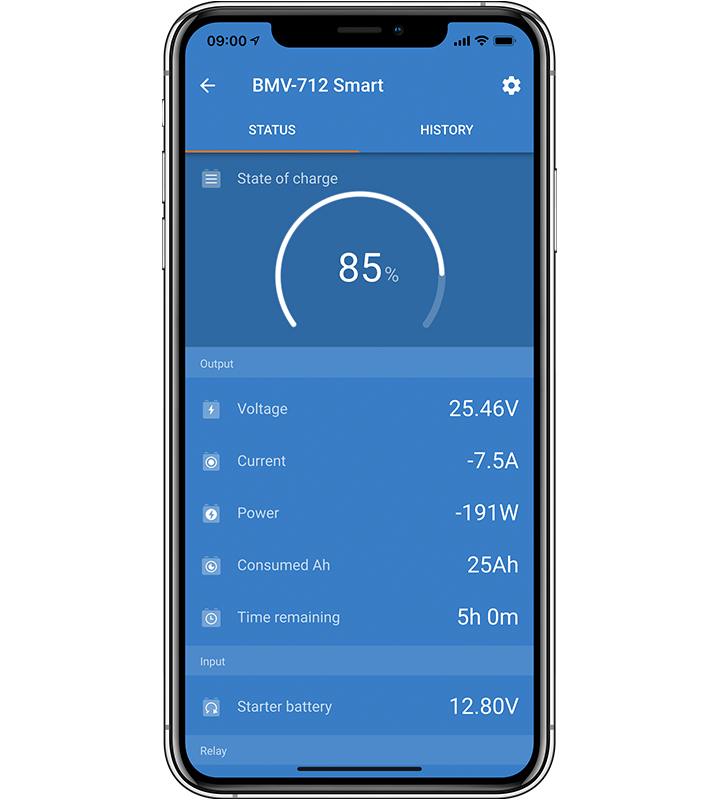 Which Battery Monitor Brands?
There are four top brands to choose from: Enerdrive, Simarine, Victron, and BMPro. Let's look at their top features and models.
Enerdrive:
Why Pick Enerdrive?
Enerdrive's ePRO range of battery monitors are packed with the features you want, and use high performance measuring circuits, along with complex software algorithms to display the exact state of the remaining battery capacity. The monitors feature a clear back lit LCD display and an intuitive user interface. Just one button press and you can see all the metrics you need.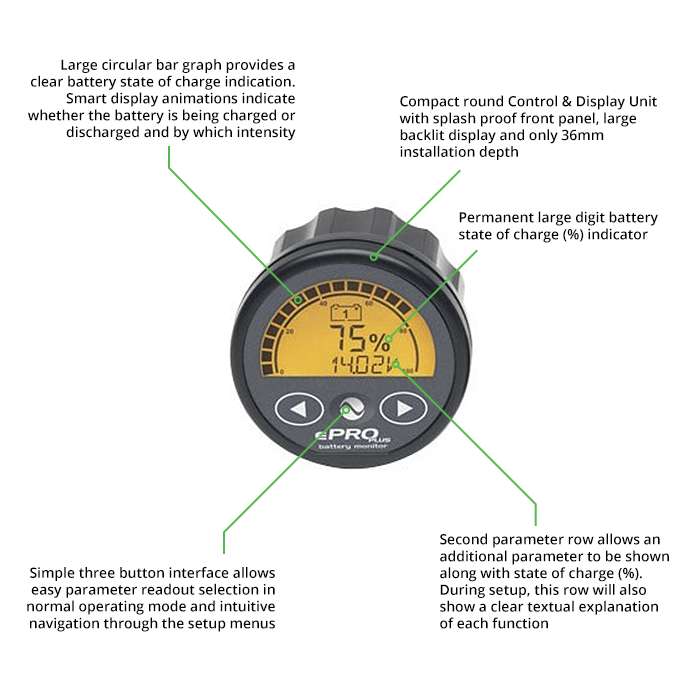 There's also a programmable alarm relay to start a generator when needed or to turn off devices when the battery voltage exceeds your programmed boundaries. Enerdrive battery monitors also come with a huge 5 year warranty.
Enerdrive Battery Monitors We Recommend:
The base model is the ePRO battery monitor. It will accurately read your battery bank like a fuel gauge and define the exact amount of energy available in your battery. For high voltages, choose the ePRO HV battery monitor model.
But for the best of the bunch, the ePRO Plus has it all. You can monitor up to three battery banks, with the inputs for the second and third battery banks able to be configured for other purposes, such as setup lock or backlight control. You can also keep track of the battery history, including Average Discharge, Deepest Discharge, Total AH removed from battery, and Total AH charged to the battery.
Simarine:
Why Pick Simarine?
Simarine by Enerdrive is a highly versatile battery monitor range. Because you can add up to 20 Simarine shunts and modules, you can monitor up to six battery banks, 14 tanks, 10 temperatures, 20 generators, and one inclinometer sensor with pitch and roll readings (i.e. slope and tilt). That's a lot of data!
Use the free app to connect your display to your smartphone using wifi, which helps you monitor all battery and tank data, edit and restore settings, upload history, and upgrade the firmware with new and updated features.
Just want to use it as a battery monitor? The Pico system provides a simple overview of voltage, current, amp hours, battery capacity in percentage, and temperature of the battery.
The only drawback is this is not a cheap option. It starts from $849 and then you need to pay for each module separately.
Simarine Battery Monitors We Recommend:
The Simarine by Enerdrive base model comes with a Pico+ Display, 300A Shunt and Quad Shunt 4 x 25A. Add on the Tank Module to monitor your tanks. Or for the premium model, add the Tank Module and Inclinometer. The Inclinometer has a measuring range of ±90°, with an accuracy of 0.2°.
Victron:
Why Pick Victron?
Victron's battery monitor range is easy to install and use. Depending on the model, you can monitor up to two batteries (main and starter battery) with the option to see a great range of metrics. There's also a range of add-ons, including the Victron Temperature Sensor and Victron VE.Direct Bluetooth Smart Dongle ($85). The temperature sensor is also not built-in, but available with the add-on Victron Temperature Sensor.
In addition to the BMV range, Victron offers the SmartShunt. This is an all in one battery monitor, only without a display. Your smartphone becomes the display through the VictronConnect App.
Victron Battery Monitors We Recommend:
One of the most popular battery monitors on the market is Victron's smart BMV-712 battery monitor, which comes with all the features of the BMV-702 plus bluetooth connectivity. You can monitor up to two batteries to see: Average Discharge (AH and %), Deepest Discharge (AH and %), highest and lowest battery voltage, number of days since the last full charge, Total AH removed from battery, and Total AH charged to the battery, number of full discharges (0%), and number of charge cycles.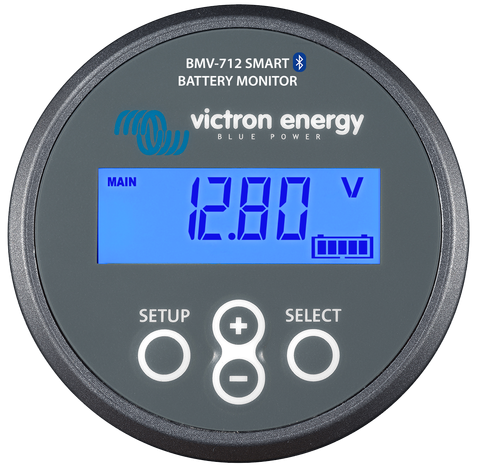 BMPRO:
Why Pick BMPRO?
BMPRO offers a wide range of battery monitors for different needs and budgets. If you want to check your battery health before and during your adventure, the BMPRO BatteryCheck range is a great pick. The wireless battery monitors use Bluetooth to provide data to a free smartphone app and work with batteries in parallel (7Ah-800Ah battery bank). They are also compatible with a range of deep cycle lead acid, AGM, Gel and LiFePO4 batteries.
BMPRO Battery Monitors We Recommend:
For a monitor that's specially designed for recreational vehicles' deep cycle batteries, go for the BMPRO BatteryCheck100. This entry-level model allows monitoring up to 100A maximum charge or discharge, but is not suitable with engine cranking applications nor for use under the vehicle bonnet.
If your system has an inverter over 1000W you will need to use the BMPRO BatteryCheckPRO Wireless Battery Monitor. This unit can handle loads up to 300 Amps.
You're now ready to shop our range of battery monitors online today!
DISCLAIMER* Please note, this advice is general in nature and we strongly recommend consulting the product manual and where relevant, a professional installer.
---
Comments (1)
Bm pro Trek 3 not working

Ive purchased a BM pro Trek 3 which came with Odyssey link 103. the screen is blank. Have a missed something ? Do I need a battery plus 35 aswell?





www.caravanrvcamping.com.au Response
G'day Michael, the Trek3 is designed to work with BatteryPlus35 battery management system. Connected to the BatteryPlus35 via CAN bus, it continuously monitors information providing vital data at a glance. I will also reach out to you via your email address as well.
---
Leave a comment