There is no denying that a caravan can be an expensive purchase. If you've already taken the plunge and bought one, you already understand how valuable the investment can be and will likely be wanting to protect it. A good way to do this is by using a cover.
A high-quality caravan cover provides caravans with protection from various types of common damage (like mould, dirt, rain, tree sap, and UV wear).
The evolution of caravan covers have come a long way since their inception. Originally, covers were made from heavy and abrasive materials that would often result in damage to the vehicles that they were meant to be protecting. Since the mid-90's however, we have seen the introduction of new, light, high quality and breathable fabrics. These fabrics allow the new covers to breathe by allowing the moisture to escape thus reducing mould and mildew which can damage the externals of your caravan including paint.
Use the following sections to guide you to select the best caravan cover for you:

Do I Need A Caravan Cover?
Although caravan covers aren't technically necessary, using one is highly recommended by experienced camping connoisseurs. A caravan cover is an easy way to protect your caravan from a variety of dirt, mildew, mould and damage which would otherwise directly affect the RV's paint and exterior components.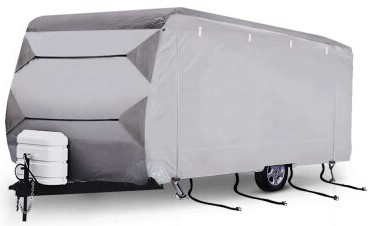 Things such as tree sap, insects, acid rain, bird droppings and harmful UV rays all have the potential to do serious damage to a caravan, ultimately negatively impacting its resale value and ruining the external aesthetics.
Most people who are against using a caravan cover have unfortunately had negative experiences with low-quality varieties. However, it's quite easy to avoid buying a low-quality cover if you have an idea of what to look for.
If you're debating purchasing a caravan cover but aren't quite sure what they're all about, then read on.
Types Of Covers:
There are covers available to suit the following RV types:
How To Pick The Right Size:
Although first-time buyers can be intimidated to buy a caravan cover online, cover manufacturers have made the task extremely easy by using standard RV height and width measurements therefore only leaving an external body length to be measured by the consumer.

Because manufacturers use the standard industry measurements, selecting the right cover for your caravan is as easy as measuring its external body length.

A cover that is too big will not fit snuggly around the caravan and will have to be pinned and strapped in order to protect the vehicle as intended. As mentioned, plastic and acrylic windows are also much more likely to be scratched if your caravan cover is poorly-fitted.

A lot of people will go off the set manufacturers measurements which is not always correct, as some manufacturers determine the quoted length of your RV off the internal floor plan and not an overall external body length which means that you will generally end up with a cover that is not big enough to fit your RV.
So, when choosing a cover there are a few simple rules:
Measure your external body length (JUST THE BODY), excluding any front, rear bumpers, spare wheels, bike racks or tool boxes. We do not recommend covering these items as it can cause unwanted billowing and place undue stress on the cover.

Keep that overall measured length and quote to sales inquiries.

Choose a top-quality brand of cover such as Aussie Traveller, ADCO or Camec which all have 3 year manufacturers warranty.
Refer to the image below for further information on how to measure your RV.
You are going to want your caravan cover to fit nice and snug although it is always better to choose the next size up if your length falls in between the provided sizes. You can then use the cinching straps to adjust the fit of the cover on your RV.
Selecting A Caravan Cover - Quality Is Key:
Although a low-price tag can seem attractive, cheaper caravan covers are often manufactured using lower-quality materials that are less resilient to damage. Make sure when choosing a cover, it has a long-term warranty such as Aussie Traveller, ADCO or Camec which provide a 3-year warranty.
Choosing a high-quality cover over a lesser brand will always end up saving you more cash in the long-run. This is because cheaper brands can rip, tear and disintegrate more easily therefore giving a shorter life span when compared to their high-quality counterparts.
Will A Caravan Cover Scratch My Windows?
While most caravan covers are specifically designed to protect caravans, plastic and acrylic windows can be scratched if the cover is not properly fitted.
To reduce the chances of this occurring, always be sure to accurately measure the length of your caravan during sizing and upon fitment of the cover be sure to read the installation instructions or get a brief overview from your supplier to avoid any unsuitable installations of the cover.
Are Caravan Covers Waterproof?
Most caravan covers are not fully waterproof. Covers that are rated 100% water proof have been known to sweat, resulting in mildew, mould and other bacteria causing damage to the exterior of the RV.
Depending on what brand and model RV cover you choose will depend on the degree of water proofing or water resistance. Typically, if water proofing or water resistance is offered as part of the cover specifications, it usually makes up the roof panel, in order to provide added protection to your roof top accessories, including TV antenna, hatches and air conditioners. The stitching of the seams, along with the side panels, will not be waterproof or water resistant so that they can remain open to allow moisture and steam to escape, hence making them "breathable".
So, to keep your pride and joy in perfect condition the covers with a water proof or water resistant roof panel and breathable siding have been ranked no. 1 when wanting to protect your caravan, motor home, bus, boat, truck or trailer.
Which Brand Should I Choose?
ADCO, Aussie Traveller and Camec are currently three of the most popular caravan cover brands in Australia. Find out more about each brand below:
The ADCO Brand:
ADCO Products Incorporated was founded in 1955. Since its foundation in the 50s, the brand has grown and risen to become the top manufacturer of caravan covers Australia-wide. Currently advertised as a "fourth-generation family-owned sewing company", ADCO Products Incorporated has to date manufactured over 20 million protective caravan covers for countless satisfied customers worldwide. This is in addition to their large variety of assorted, custom soft-goods.
Most recently, ADCO Products Incorporated was awarded Readers Choice Awards from both popular Motorhome and Trailer Life magazines.
Overall, ADCO prides themselves on a combination of high-value, trusted customer service and unbeatable quality.

ADCO Covers: Features and Benefits
As mentioned, ADCO prides themselves on a combination of high-value, impeccable customer service, and unmatched product quality.
However, ADCO covers also stand out for a few other reasons:
Easy size selection.

Innovative, high-quality materials.

Each of their superior quality caravan covers is protected under a comprehensive 3-year manufacturer warranty.
ADCO Covers: Size Selection
One mistake campers often make when purchasing a caravan cover is buying the wrong size. ADCO takes the difficulty out of size selection by offering all covers in standard caravan height and width specifications. This means that you only need to know the length of your RV to purchase the right size, ultimately making selecting the right caravan cover easier than ever before.
ADCO Covers: Innovative, High-Quality Materials
Because buying a low-quality caravan cover means less resilience and a shorter product lifespan, ADCO always goes above and beyond when selecting their materials.
As a result, their covers have since come to be known as "the most durable, all-climate covers on the market". Each and every cover is engineered with durable polypropylene side and top panels. Each of these panels is composed of 4 separate layers of breathable, high-quality Dupont Tyvek, specially designed to repel beaded water and protect against UV damage. In addition to these materials, they also feature reinforced corners, air vents geared towards mold prevention, and a zippered door for easy user access.
The Aussie Traveller Brand:
Aussie Traveller offer a wide range of covers to fit different sizes and types of caravans and even camper trailers. The covers are made from durable materials that are able to withstand harsh weather conditions down under. The Aussie Traveller Caravan Covers come with a 3 year warranty that covers any defects, giving customers peace of mind and confidence in the quality of their product. Whether you're looking to protect your caravan from the sun, rain, or wind, the Aussie Traveller Caravan Covers are an excellent choice, backed by a reliable warranty and support network.
Aussie Traveller Covers: Features and Benefits
We love the Aussie Traveller Caravan Covers for a few more reasons:
Built for Australian conditions.

UV 50+ rated roof.

Available in sizes from 14-20ft.

Side panels allow moisture to escape.

Easily adjustable.
The Camec Brand:
Camec has been one of the biggest suppliers of caravan appliances, parts and accessories in Australia for the last 45 years! Not only this, but they also have have a massive range of their own "Camec" branded products, including washing machines, hot water systems, AGM batteries and of course, caravan covers.
Camec Covers: Features and Benefits
The best thing about Camec covers is that they are affordable, while still being a good quality product! See their other features we love below:
300D water resistant UV 50+ roof section.

Water resistant breathable side panels.

Double stitched reinforced corners.

Soft non-abrasive lining.

Lightweight.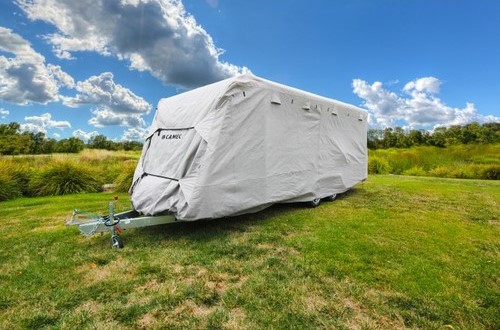 If you require further information on caravan covers or would like to speak to one of our friendly staff, you can call 1800 787 278.
DISCLAIMER* Please note, this advice is general in nature and we strongly recommend consulting the product manual and where relevant, a professional installer.
---
Leave a comment