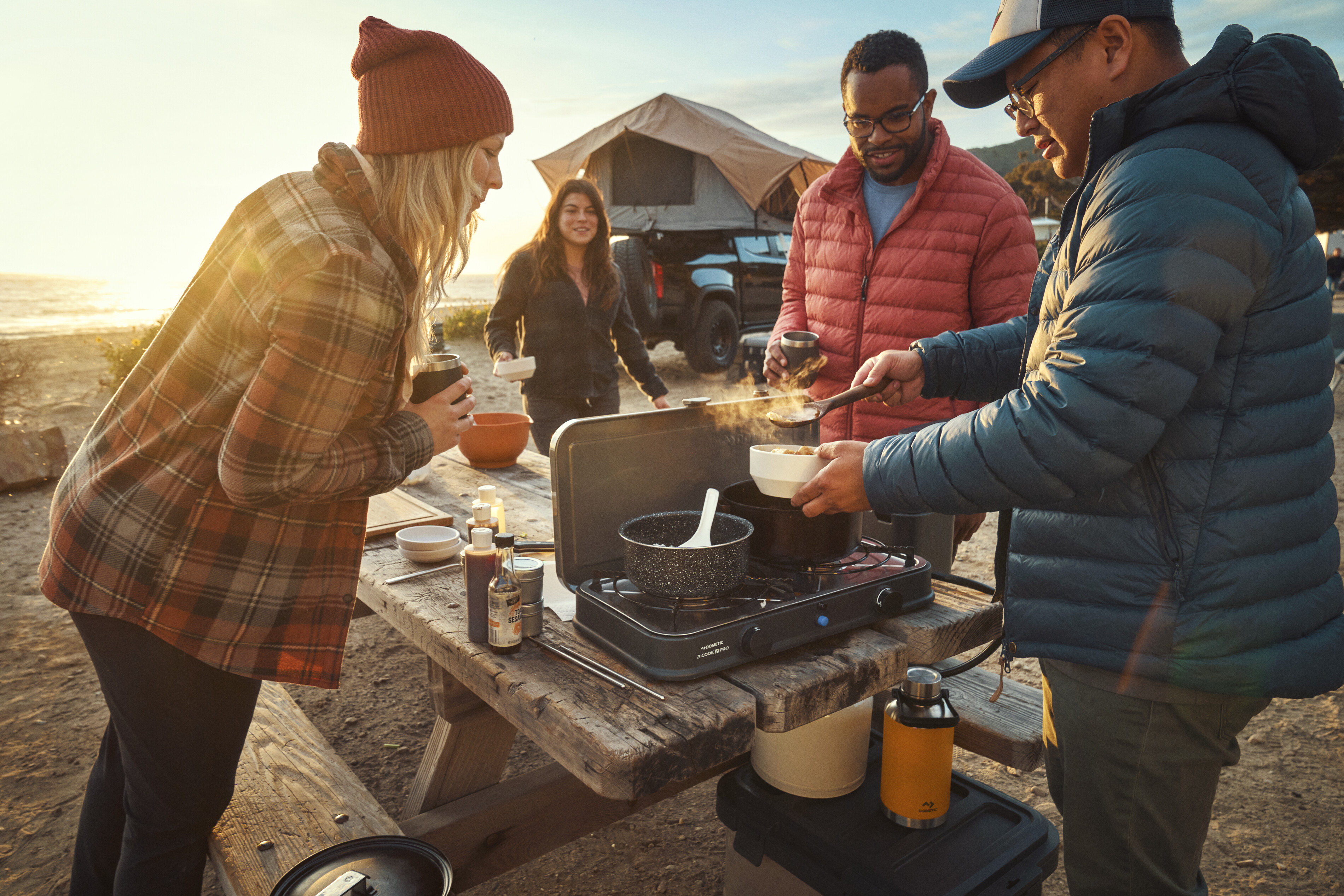 Cooking on your camping trip is a breeze with the right camping stove and appliances. No matter your cooking style, there's a plethora of camping stoves, BBQs, grills and roasters to choose from these days. Want to grill your day's catch? Or whip up a gourmet brekkie for the whole crew? Or enjoy a spit roast with the family? You'll find the right cooking gear for your camping trips.
Take a look at our camping cooking appliances guide:
Camping Stoves & Grills
Camping stoves are the easiest cooking option you can buy for your adventures. A camping stove is a portable cooker that has burners, just like your gas cooktop at home, so you can heat your frying pans, kettle and cooking pots without any fuss. Some camping stoves also come with an in-built grill, like the Dometic portable gas stove and grill, or even an oven, like the Dometic gas stove and oven.
One of the most important factors to consider before buying your camping stove or grill is the fuel type. There are three main types to choose from:
Butane Gas
The most common is a gas camping stove, which runs on gas canisters (isobutane). These are lightweight and easy to use, and you can pretty much buy them anywhere in Australia. But if you're heading into a cold winter, they're not the most efficient option.
Liquid Gas (LPG)
These camping stoves use a larger liquid gas canister which you can refill (just like your BBQ at home). This tends to be a more versatile and cheaper option than the canister gas stoves if you're using the stove for longer periods or on a regular basis. On the downside, they are heavier than butane camping stoves.
These camping stoves are a great value option and there are lots of brands to choose from, including Dometic and Gasmate. Check out the Dometic CS102 for a high heat output of 20,000 BTU on the stove. No need to remember to bring matches or a lighter thanks to the easy push-button Piezo ignition, which lights the burners in a matter of seconds.
Electric
These days you can get great electric camping stoves and cooktops that run off your battery or solar kit. Check out this portable single ceramic induction cooktop by Devanti.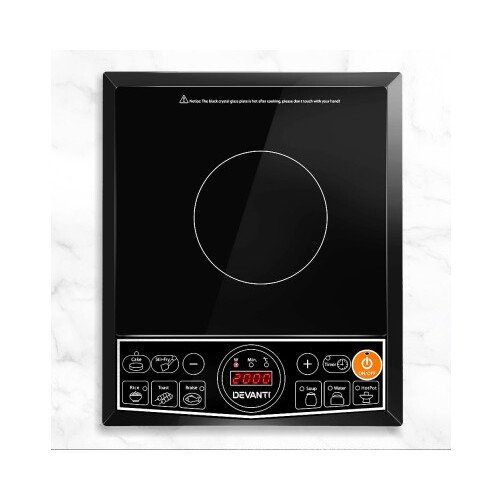 Camping BBQ
A camping BBQ is a portable grill or hot plate that you can heat up and throw snags and fish straight onto - just like your barbie at home. Check out the Dometic portable gas BBQ for a super lightweight and compact BBQ you can take anywhere.
There's a wide range of camping BBQs to choose from to suit different cooking styles. You can go for a fold-up grill fuelled by charcoal or wood for a real BBQ flavour, or a gas fuelled BBQ that comes in a convenient fold-up design like this portable gas BBQ by Grillz.
Because camping BBQs are so popular, you can get accessories made especially for your 4WD or caravan, like this BBQArm.
The BBQArm mounts to your caravan drawbar or rear bar to create a sturdy place for your BBQ that's out of the way. Genius! The new Tow-Hitch mount means you can use your BBQArm anywhere you travel, with or without your caravan.
Camping Spit Roaster
Want to impress all your mates with a feast to remember? Pack your Deluxe Charmate Charcoal Spit Roaster and enjoy delicious spit roasts on your next trip.
With a rotisserie kit included, the Spit Roaster runs off solid fuel with a 240V motor that can carry up to 40kgs - plenty of food for all your crew!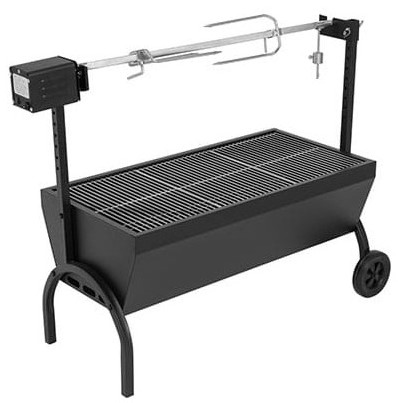 Camping Smokers
Who said you can't go gourmet with camping cooking? There are so many incredible cooking appliances to choose from to spice up your dinners - like this 2-in-1 BBQ Smoker by Grillz or the 3-in-1 Charcoal BBQ Smoker. There's nothing like the taste of charcoal smoked ribs on a camping trip!
A great space saving option is the Charmate Stack Smoker and BBQ. It boasts a 3 tier drum style assembly which lets you slow cook and smoke all kinds of delicious foods. You can use it as a hanging smoker for meat, smoker, BBQ or even a fire pit.
At the end of the day, it all comes down to how much space you have in your vehicle and how adventurous your chef likes to be!
Firepits
Nothing beats a firepit when you're in the great outdoors. As you keep toasty and enjoy the starry skies, you can enjoy some treats on the campfire thanks to cast iron camp oven accessories. The Charmate Cast Iron Camp Oven Kit comes with a camp oven, lid lifter, trivet, gloves and a handy carry bag. Simply hang the camp oven on the Charmate Camp Fire Tripod, which comes with an adjustable chain height and hook.
Accessories For Camp Cooking
Now you have chosen your camping cooking appliances, make sure you have stocked up on the cookware and accessories you need to make cooking and cleaning easy. Here are a few essentials: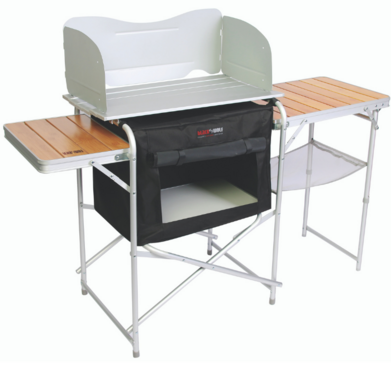 Shop our full range of camping cooking stoves, appliances and accessories today.
DISCLAIMER* Please note, this advice is general in nature and we strongly recommend consulting the product manual and where relevant, a professional installer.