Replacing your caravan windows or choosing windows for a new caravan? There's more to it than you might think!
Caravan windows let you enjoy a stunning view of the outdoors while bringing more light and air into your caravan when you need it. At the same time, you want to make sure your caravan window is secure against possible intruders.
That's why it's so important you choose the right caravan window for your needs.
Check out our buyer's guide:
Which Caravan Window Style?
There's a wide range of caravan window styles available to suit different needs.
The most popular styles are hinged windows and sliding windows.
Hinge windows are the most popular and common choice for caravans because they can be opened into any position, depending on how much air you want to let in. There is a much wider variety of hinge windows on the market and we recommend them over sliding windows. The top hinged window models include the Dometic DLux which replaced the S4 range and the Dometic S7P.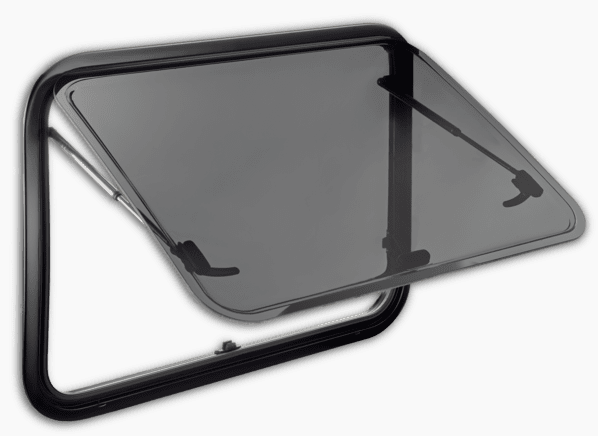 Sliding windows are great to save space and give aerodynamic properties while you drive. These windows also have screens in order to stop insects from flying inside of the RV. For example, the Camec Slimline Slider range incorporates a two-panel window, where one panel slides to provide ventilation and the other remains fixed in position. They also have a fixed flyscreen. There are limited sizes available and people opt to swap them out for hinged windows.
Pro Tip: Look for caravan windows that you can open to varying degrees so you can control the airflow into your caravan.
Which Size?
Caravan windows come in a range of shapes and sizes to suit new builds and existing caravan cutouts. If you are replacing a window, look at what size cut-out is currently there so you can ensure you get the right model. If it's a new build, what size window would best suit your needs? Look at how many windows you want, orientation and size.
Not all types of windows will fit your caravan. Consider the frame thickness, as well as the dimensions. Depending on the model, you can install windows in a vertical or horizontal orientation to fit your caravan's window openings.
The good news is various brands offer multiple sizes to suit a large range of applications.
Which Brand?
When choosing a caravan window it is important to choose a model by a reputable brand. After all these windows need to ensure your loved ones and belongings are safely secured in your vehicle.
The two brands we highly recommend are Dometic and Camec:
Dometic:
Dometic offers two hinged window styles: DLux and S7P.
The DLux range includes a blockout blind and flyscreen and is great for motorhomes and caravans. The Dometic S7P is best suited for curved profiles, where you want a sleek finish, or your vehicle has thinner linings such as buses. Both of these windows are friction controlled, which enables you to open up the window at any angle.
Camec:
Camec offers three hinged window styles: Odyssey, Odyssey Plus and Odyssey Premium.
The Camec Odyssey and Odyssey Plus range have a traditional wind-out style and fixed flyscreen. The Camec Odyssey Premium range has an optional extra flyscreen and blind, similar to the Dometic range. The Camec Odyssey comes with a 2 radius corner style (meaning it comes with two square corners and two round corners), whilst the Odyssey Plus and Odyssey Premium come with a 4 radius corner style: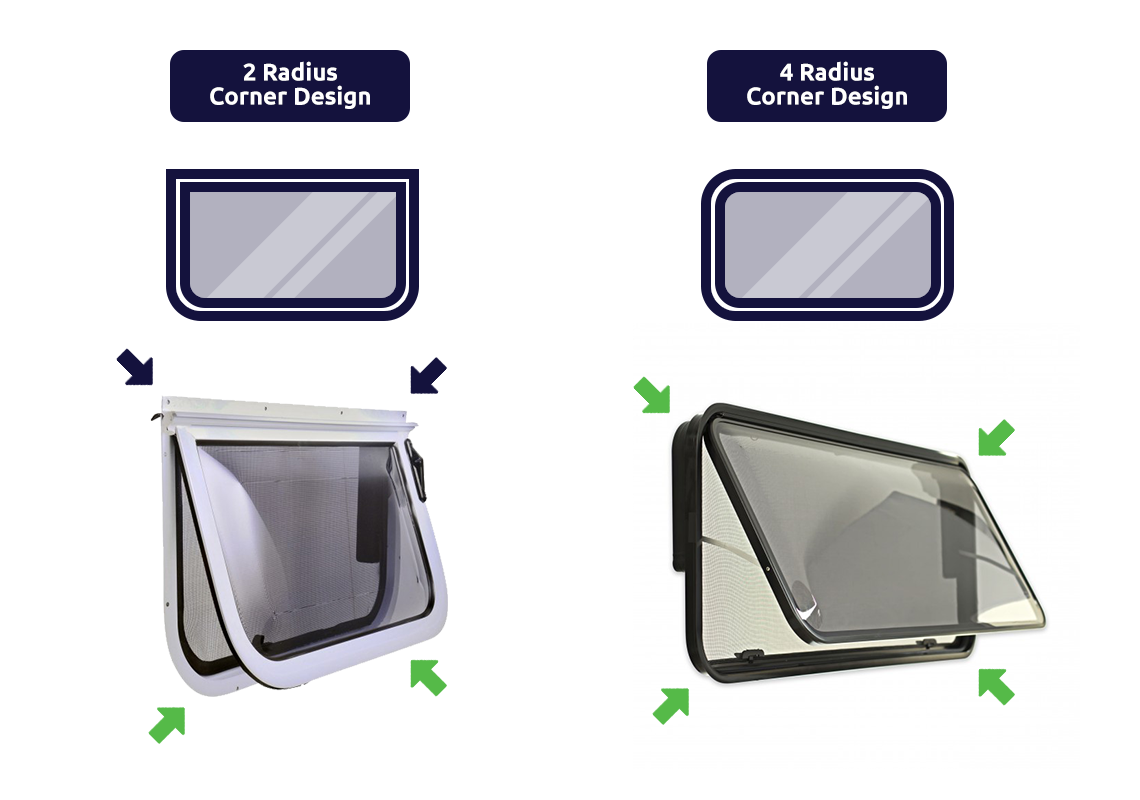 Camec also offer a sliding window range: the Slimline Slider range
As mentioned above, these windows come in limited sizes due to being an older style. We recommend the hinged windows over sliding windows.
How To Measure The Cutout For Your Window:
The size of the window will be different to the cutout size.
As a rule, the overall dimensions of the outer frames are 45mm wider and 30mm higher than the window to accommodate for the frame.
For example, the overall measurements of the outer frame for a 700x300 will be 745mm by 330mm.
Replacing a window is easy – you simply need to find the number which denotes the size.
If you are replacing a Dometic Seitz window, you will find the inscribed numbers on the outside top right-hand corner of the window 'blade'.
For S4 windows you will see a number like AGS50700X0300. Take away the prefix AGS5 and you have 0700X0300, which tells you it's a 700x300 window. Generally, the DLux range of Dometic windows will suit most S4 windows.
For S7 windows you will see a number like AGP50700X0300. Take away the prefix AGP5 and you have 0700X0300, which tells you it's a 700x300 window.
This is the easiest way to determine window size – no tape measure needed!
Pro Tip: MEASURE TWICE, CUT ONCE!
Which Colour?
Consider whether you want your windows to match the exterior of your caravan or make a statement. Here at Caravan RV Camping, we stock a range of colours including black, silver and white.
What Features Should You Look For?
Weigh up your budget with the different features on offer. There are lots of features to consider that will ensure your caravan windows are convenient, easy to use and secure.
Top features to consider include:
Glazing – Look for double glazed models such as the Dometic range and Camec Odyssey Premium to improve insulation so you can keep warm in winter and cool in summer. The glaze reduces heat intrusion from the sun while polyurethane frames reduce unwanted air leaks.

Flyscreens - Keep your windows open and the critters outside with flyscreens. Some windows come with integrated flyscreens while others can be retrofitted.

Block Out Shutters, Blinds And Privacy Screens – Be comfortable knowing no one can see in but you can still enjoy the cool breeze with the window open. Like flyscreens, these can be integrated or retro-fitted depending on the model.

Security Latches – Stop unwanted guests from opening the windows from the outside. The Dometic range and Camec Odyssey Premium feature a multi-locking system for additional security.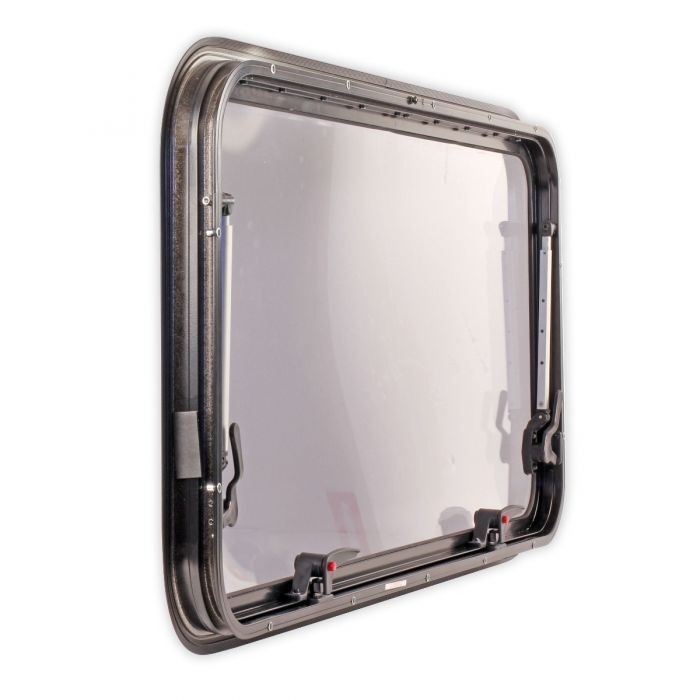 When it comes to features, Dometic is definitely a top pick. For example, the Dometic hinged windows provide insulation that matches the construction standards for homes. Plus, you don't sacrifice safety thanks to a security locking system that prevents the windows from being opened from the outside.
Top Tips And Tricks For Caravan Windows
Tip #1. Beware some models are built to order so if you need it in a hurry you may need to pick an alternative option.
Tip #2. ALWAYS MEASURE TWICE! You don't want to order the wrong size especially if you need to hit the road.
Tip #3. Not all models come with a blind and flyscreen, and these are must-haves in Australia! So, you may need to purchase a blind and flyscreen separately.
Browse our range of caravan windows today.
DISCLAIMER* Please note, this advice is general in nature and we strongly recommend consulting the product manual and where relevant, a professional installer.