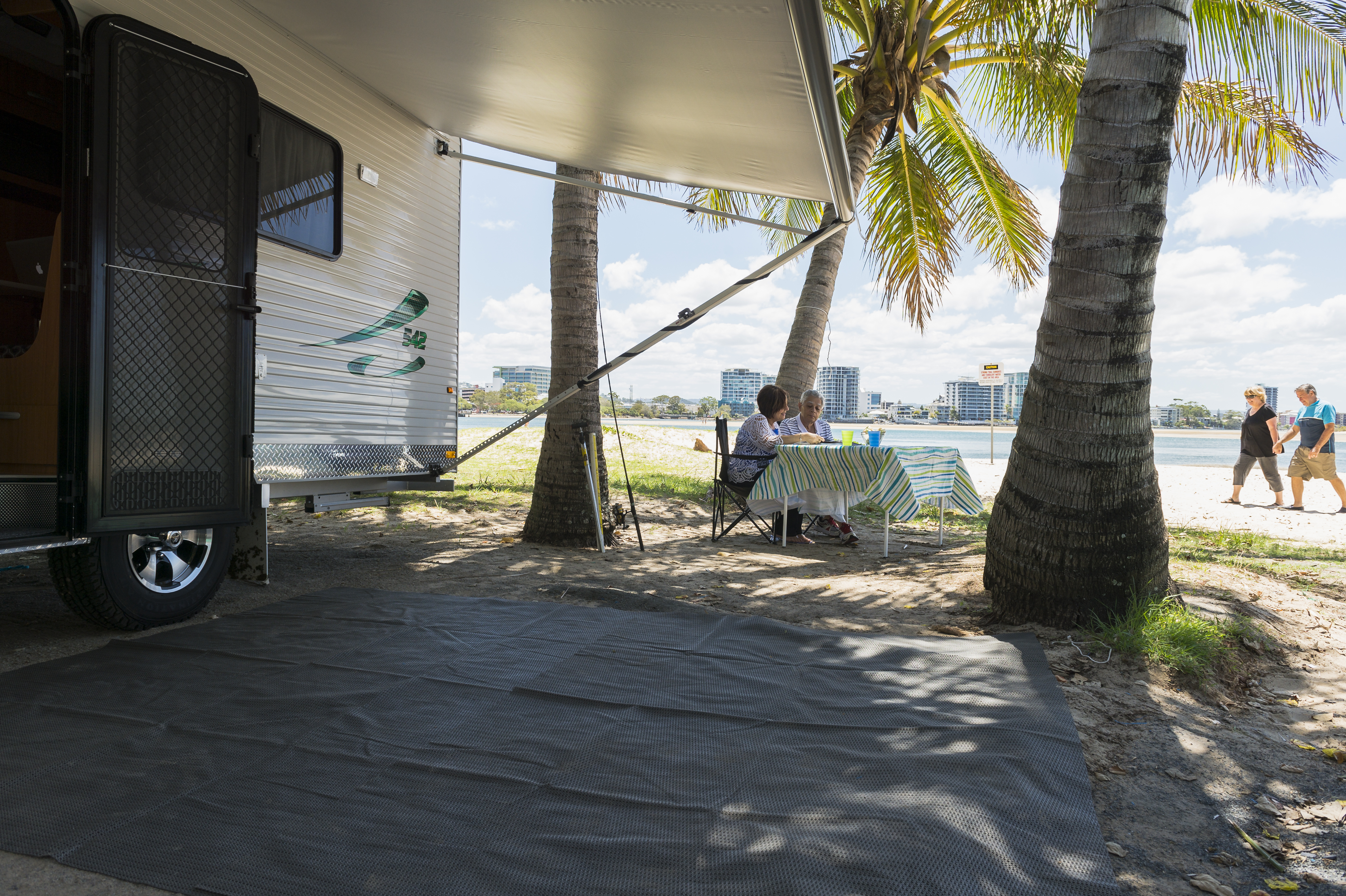 The best way to avoid having your caravan stolen or broken into is by properly preparing yourself with a variety of caravan security equipment. While every camper has a security setup that they prefer, we consider these pieces of prevention equipment to be the most important:
Prevention Equipment:
Witi Anti Theft System:
WiTi incorporates an innovative and world first anti-theft device specifically designed for caravans and camper trailers. If an attempt is made to steal a caravan or trailer, WiTi will detect movement via a highly sensitive gyroscope. The system immediately applies the brakes to prevent the caravan or trailer from being towed, as well as flashing all the external lights and sound a 105db alarm.
The caravan is completely immobilised and impossible to tow.
The siren will cease after 30 seconds to comply with Australian Design Rules. WiTi will then re-enter monitoring mode and repeat the cycle if movement is detected once again.
WiTi is sensitive enough to detect an attempted break-in as well. Sharp knocks and bangs such as trying to force entry into tool boxes or force open doors are detected and will set off the alarm.
WiTi is more than a deterrent it is the only anti-theft system that totally immobilises a caravan or camper trailer.
The anti-theft system is now available as a stand-alone product separate from the wireless interface. For those customers wanting to stay with the wired connection but still want the benefits of the anti-theft system we have developed a stand-alone solution.
The stand-alone anti-theft unit consists of the trailer unit only with no wireless functionality.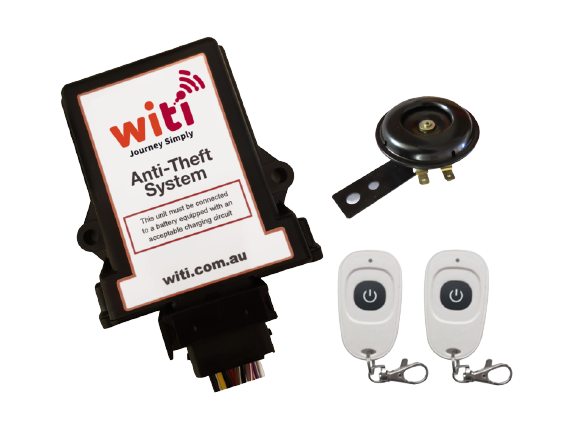 Wheel Clamps:
Wheel clamps lock your caravan's wheels into place making it impossible for a thief to tow it away. When selecting a wheel clamp, you should always avoid models with thin radiating arms and exposed locks because they can easily be cut through with a hacksaw or drill. When it comes to wheel clamps, bigger and sturdier is generally better.
Hitch Locks:
Hitch locks prevent thieves from being able to hitch your caravan onto a tow vehicle. Although hitch locks work well on their own, they are particularly helpful when used with a compatible jockey wheel lock. When purchasing a hitch lock, be sure to look for one that has inaccessible bolts.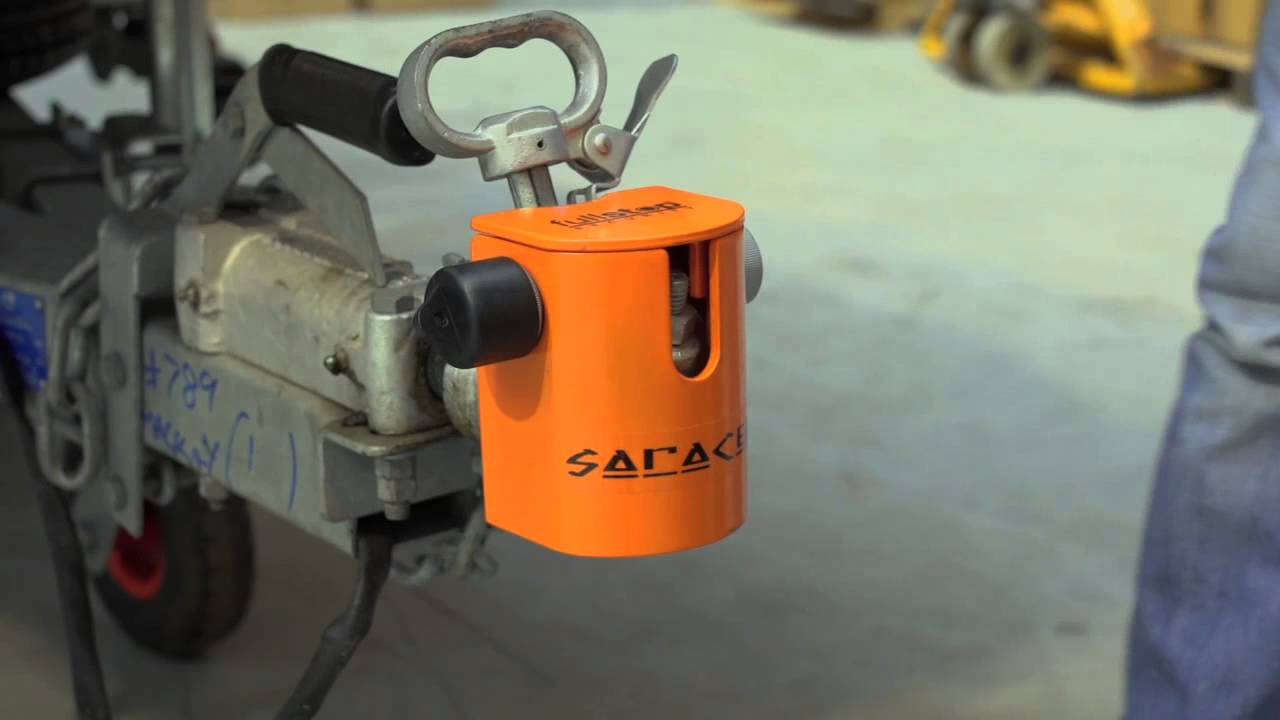 Caravan Cover:
Although caravan covers do not appear as secure as a hitch lock or wheel clamps, they do help to keep your caravan "out of sight and out of mind" in regards to any burglars that may be lurking. Caravan covers essentially provide another deterrent for thieves to battle against and their use is always recommended during storage.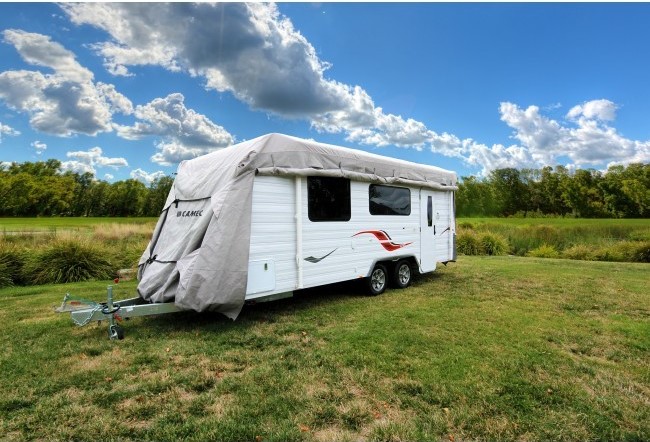 Recovery:
If by some ungodly act of the imagination your security setup has not kept those dastardly caravan burglars at bay, let us hope that you have previously invested in a piece of recovery equipment like a tracking device.
Tracking Devices
As you probably already know, a tracking device is a helpful system that helps pinpoint the GPS location of your caravan in the unfortunate case of a burglary. There are various types of tracking devices but the best ones are probably the monitored and unmonitored devices, whose alarms signal you either directly via telephone/text or indirectly via a monitoring centre. It should be noted that some tracking devices do require a significant annual fee for service.
A popular model to consider is the WiTi GPS Integration which not only offers information on the location of your caravan but also provides information on battery voltage and alarm status. It offers the flexibility of credit based with no monthly subscription, meaning you will only be charged when the alarm is activated. There is also the option to track full time on a monthly subscription.
As mentioned, every caravan camper will ultimately learn to develop their own preferred security setup. But with these few starter items, you will be well on your way to becoming a caravan burglar's worst nightmare. If you require further information, please feel free to contact one of our friendly staff on 1800 787 278 or www.caravanrvcamping.com
DISCLAIMER* Please note, this advice is general in nature and we strongly recommend consulting the product manual and where relevant, a professional installer.
---
Leave a comment