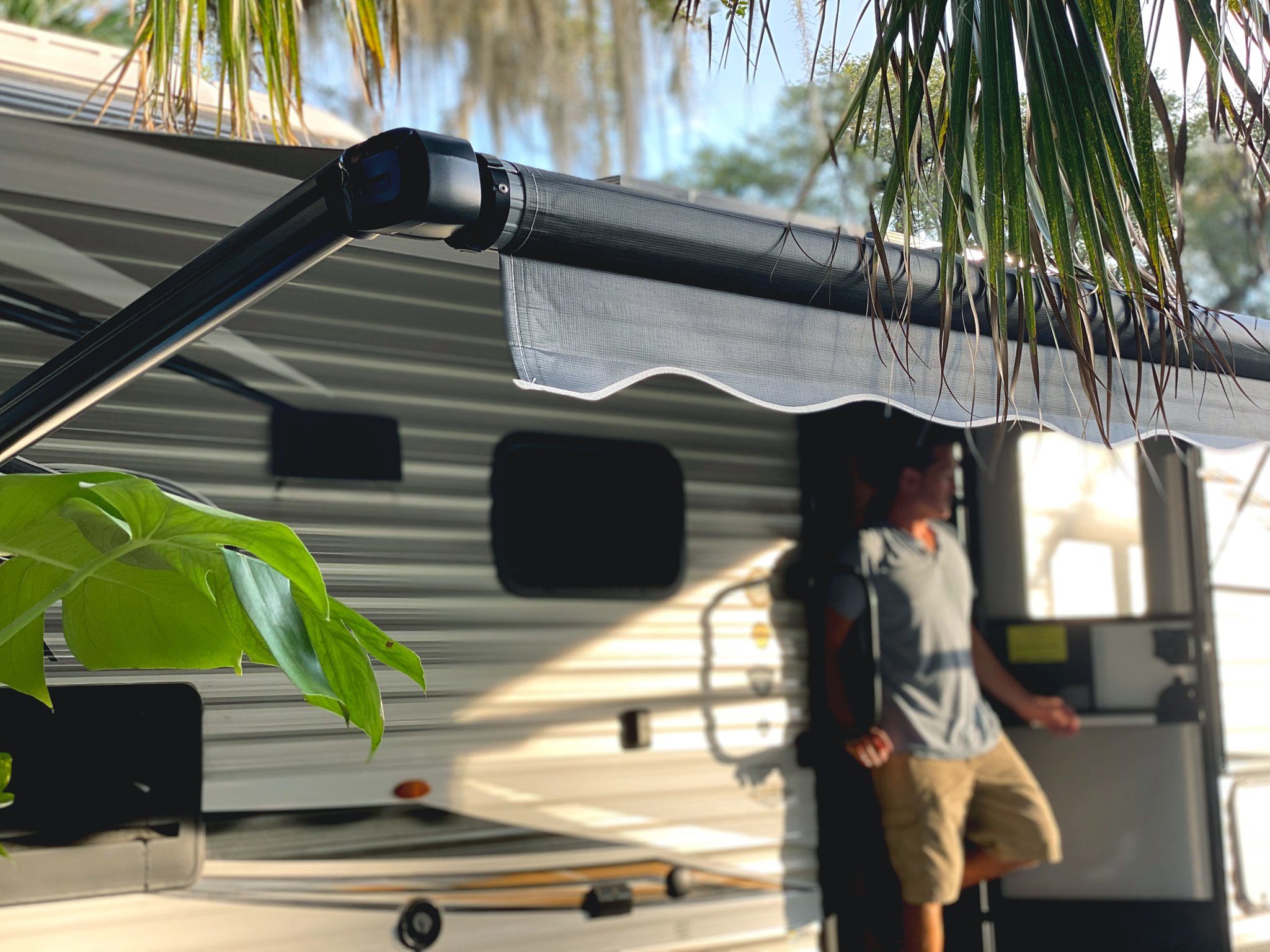 A caravan awning can double your van's living space and transform your adventures. It creates an outdoor living area that's protected from the elements, giving you more room to spread out beyond your caravan's four walls.
But not all caravan awnings are the same. So which style of caravan awning should you buy? What size? And which accessories? Read on for our caravan awning buyer's guide:
Types Of Caravan Awning
Caravan awnings can be divided into these main types:
Roll out awnings: They require two separate components for installation – the hardware kit which attaches to the side of your van, and the roller with fabric. On the plus side, they are very sturdy and will withstand the elements more than a box awning. They are also available in larger sizes. But you do need to permanently mount them to your vehicle.

Box awnings: They are fast and easy to set up with manual or electric wind out functions. The Fiamma F45 box awnings are a popular choice to upgrade from your bag awning on your Jayco camper trailer or caravan. Fiamma F80S is a great model designed to be roof mounted if you are in the process of a bus conversion. The Thule Omnistor 4500 is a popular choice for compact vans due to its sleek and light weight design.
Bag awnings: Bag awnings are a cheaper lightweight yet sturdy design that is easy to use and can be operated by a single person. You simply fix your caravan bag awning to your vehicle, unzip the bag and unroll the awning. You can then pull out the legs and rafter braces from the roll bar and secure them in place. Fiamma sells good quality, affordable bag awnings, like this one.

Window awnings: Window awnings provide privacy for your caravan and can also protect your caravan interior from the sun, so you save the air con.
Are You Buying A New Awning Set-up Or Replacing An Existing One?
If you just need to replace your existing awning, roll out awnings with fabric are available without the arms. This means you only need to replace the part that is worn out.
If you are upgrading a Dometic roll out awning, take note:
The Dometic 8300 and 8500 arms are compatible with the new Dometic 8700 range.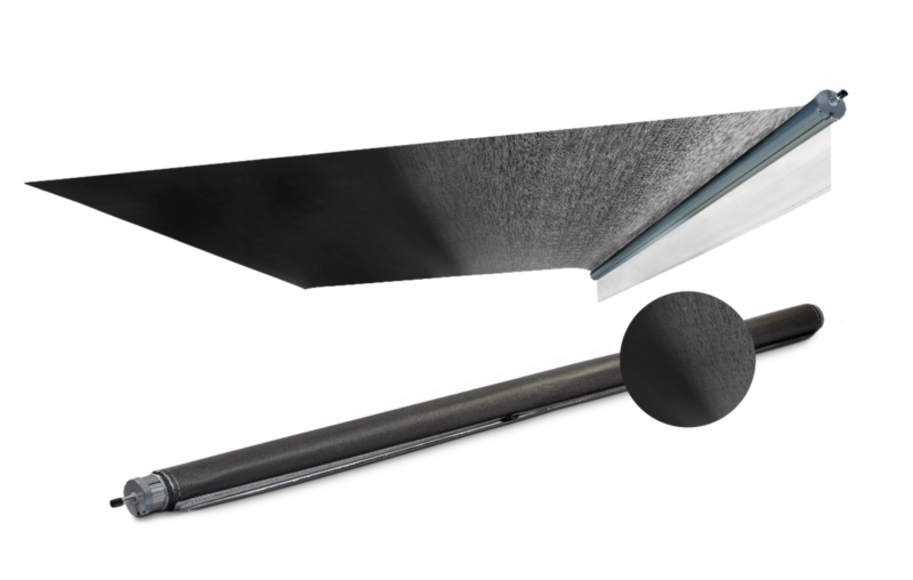 What Size Caravan Awning?
Do you need enough space for your whole family to enjoy the great outdoors or are you a solo traveller? Our tip is to go big! You can never have enough space to spread out and enjoy outdoor living. Maybe you want to put an outdoor kitchen under cover to enjoy family dinners outdoors. If so, you'll need enough space for a BBQ and table setting. If you are after a large awning the Dometic 8700 manual roll out awning are from 10 - 19ft.
You also need an awning that matches the size of your vehicle. So, always measure your vehicle length when buying a caravan awning.
How To Measure An Awning?
Measuring an existing awning is easy. Roll out the awning and measure from the centre point on the awning arms – not the fabric.
Use this diagram (applies to all roll out awnings):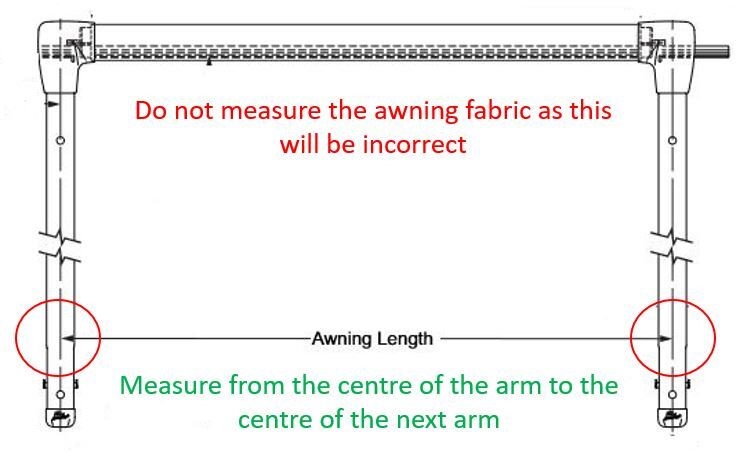 If you are measuring for a box awning, it is important to factor in where your mounting points on your awning and your caravan / bus are. Also ensuring if you plan to use side walls that your awning and walls wont impede on windows, doors and other external fittings.
How Will The Awning Be Mounted?
Consider how your caravan awning will be mounted to your vehicle. Although the roll out and box awnings will fit to most caravans and RVs, think about the installation.
For example, a bag awning is great for minivans, wind up camper trailers and even full height motorhomes and caravans, depending on the adventure.
For a roof mounted installation, look to a box awning, like the Fiamma F80S. These are designed to have a more compact awning protrusion ideal for motor homes and buses.
For a wall mounted awning look to the Fiamma F45, these are hugely popular with the pop top caravanners as they don't require hardware to be fitted down the wall and make for a super convenient set up.
Additional Features
Compare caravan awning features when deciding on the right one for your needs. Here are some top features to look out for:
Locks for safe and secure closing of the awning.

Smooth running gear.

Telescopic crank, which can easily be adapted to various vehicle heights.

Integrated LED lights – check out the Carefree LED Awning.
What Accessories Do You Need?
Depending on the awning type, you'll need to stock up on some important accessories to ensure you get the most out of your outdoor space.
Roll out awnings are modular by design, which means if you are creating a new setup you will need to select the arms for your awning to fit your vehicle. If you are replacing a roll out awning, select an awning that is compatible with your existing arms.
Some box awnings come with wall mounting brackets but if you are mounting to a campervan, you need to purchase brackets to suit your van.
Other accessories to improve your box awning include:
Anti-flap kits - locks and secures the sides of the awning to prevent flapping in the wind and ease of installing privacy screens. To learn more about the Aussie Traveller Anti-Flap Kits, click here.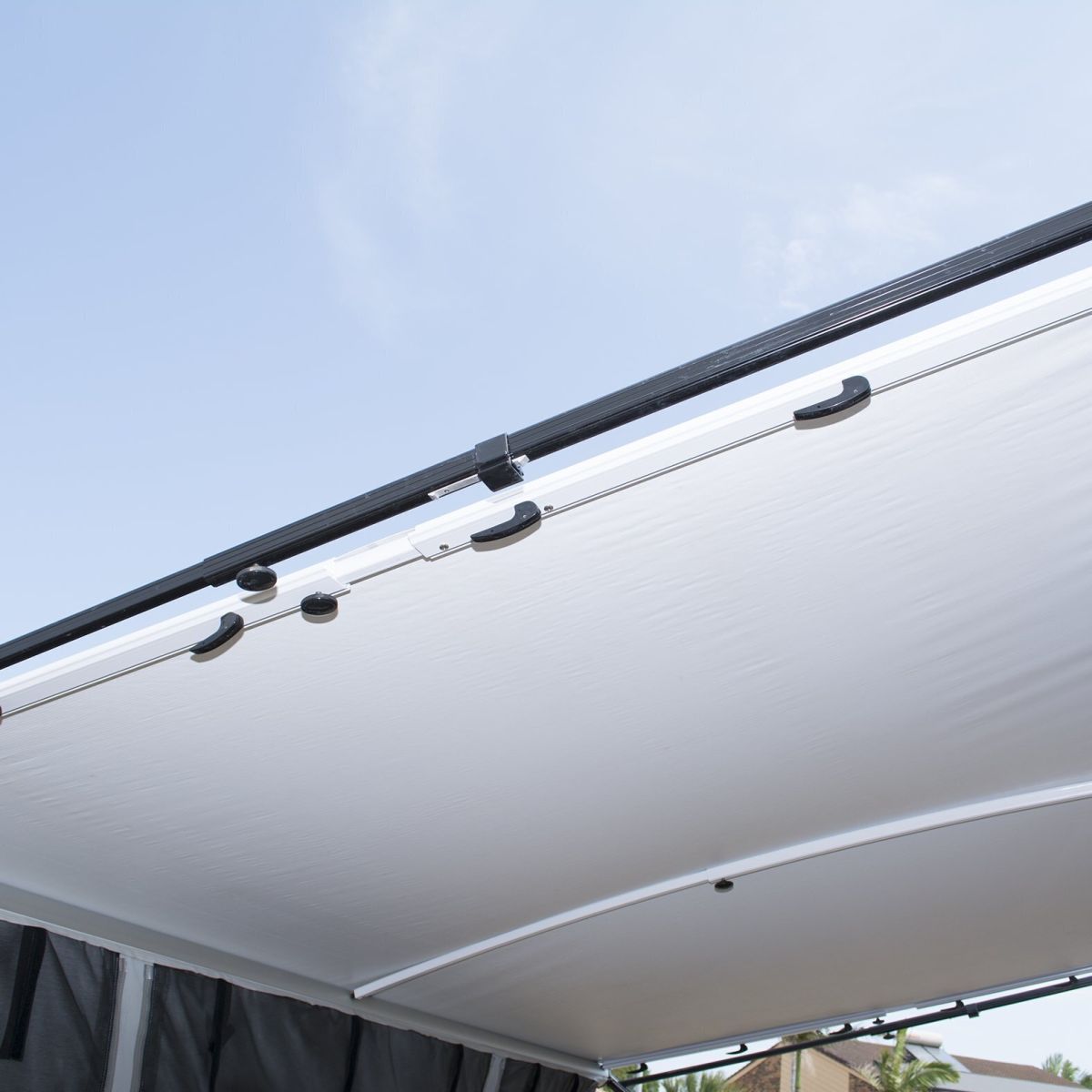 Curved roof rafters – these help in keeping the awning tort and assist in water run off in case you get caught in the rain.

Ties downs - necessary for most awning to secure the awning in place in case of gusts of wind or bad weather.
The good news is here at Caravan RV Camping, we supply all the essential accessories for your awning so you can get the most out of mobile living.
How Do Caravan Awning Brands Compare?
It really depends what you're looking for. That said, some brands have the edge when it comes to certain styles. For box awnings, Fiamma lead the pack with a great sturdy design and ease of self-installation. For roll out awnings, look for Dometic or the new Aussie Traveller range.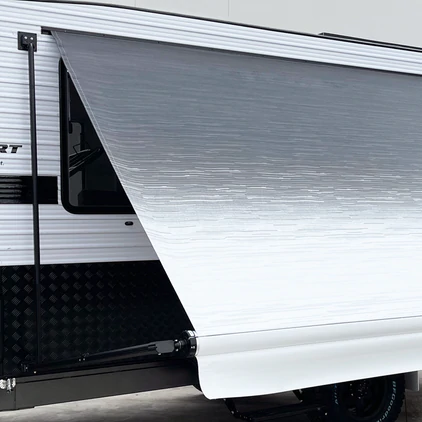 What's Your Budget?
How much do you want to spend on a caravan awning? Bag awning's are the cheapest style, followed by manual box awning's and manual roll out awning's.

Ready to shop? Compare our caravan awnings from top brands.
Need some assistance in selecting the right awning for your caravan? Please do not hesitate to call our Product Experts on 1800 787 278.
DISCLAIMER* Please note, this advice is general in nature and we strongly recommend consulting the product manual and where relevant, a professional installer.
---
Comments (5)
Sprinter long range

Looking for roll out awning, 4.3 wide and 3 meters deep do they come standard depth. I was reading up you guys had great reviews I heard dometic was best quality, also do you install them I'm in whyalla

By:

Christine simunovic

on





www.caravanrvcamping.com.au Response


We sell a variety of roll out awnings for caravans. They project around 2.4m but projection will often relate to the awning length. While we don't do install we can offer advice for your van Give us a call on 1800 787 278 to discuss your application - check out our rollout awnings here https://www.caravanrvcamping.com.au/Roll-Out-Awning-Caravan

The awnings are measured in feet, so we have models around 14ft that may suit. Again, it is best to call us to get your size right
---
Finding it hard ??

Just inquiring about a new complete awning set up for a 21ft van already have a awning on van but it is old , weathered , and the wrong colour, I need black frame with a blue vinyl , if I could ,,, my frame is around 4.750 long just a price to supply the product would be great Cheers paul





www.caravanrvcamping.com.au Response
If you already have the awning hardware (often referred to as the arms), then you would just need to purchase the roll. We need the measurement between the centre of each arm. Please let us know the brand of your current awning and supply this measurement. See the image under 'How To Measure An Awning' or give us a call on 1800 787 878 to discuss your application
---
Dometic box Awning to suit a 2016 Mercedes Benz Mo

Looking for a Rollout Awning ( not motorized ) to suit a 2016 Mercedes Benz Motor Home ( not a Sprinter ).I see that they are mounted up on the roof so I would also need Brackets to suit. The lenght would be approximately 3.9metres long.





www.caravanrvcamping.com.au Response
This sounds more like a cassette awning application. The roll out awnings are wall mounted with the arms folding up against the wall of the awning. A cassette awning winds out and is either self supported with scissor arms or has drop down legs or both. You can view our roof mounted cassette awnings here https://www.caravanrvcamping.com.au/awnings-screens-mats-covers/caravan-rv-awnings/box-awnings/fiamma-box-awning/fiamma-f65-roof-top-mount/ https://www.caravanrvcamping.com.au/fiamma-f80-roof-top-mounted-box-awnings Please call us on 1800 787 278 or email sales@caravanrvcamping.com.au to discuss further.
---
Replacing current awning

We are thinking of replacing our current awning with a powered awning. Our current awning is approximately 19ft in length





www.caravanrvcamping.com.au Response
Thanks for contacting us, unfortunately the electric awnings have been short supplied into Australia for some time. Give us a call on 1800 787 278 or jump on our live chat to discuss when they may become available again
---
Thule anti flap and rafter kit

Could you please tell me the correct kit for a Thule omnistor 5200 I would like to buy anti flap kit plus two curved rafters





www.caravanrvcamping.com.au Response
You will need some accessories to fit the Aussie Traveller Anti Flap kit to your Thule Omnistor. Jump on our live chat or give us a call on 1800 787 278 and we can assist in selecting the correct accessories
---
Leave a comment