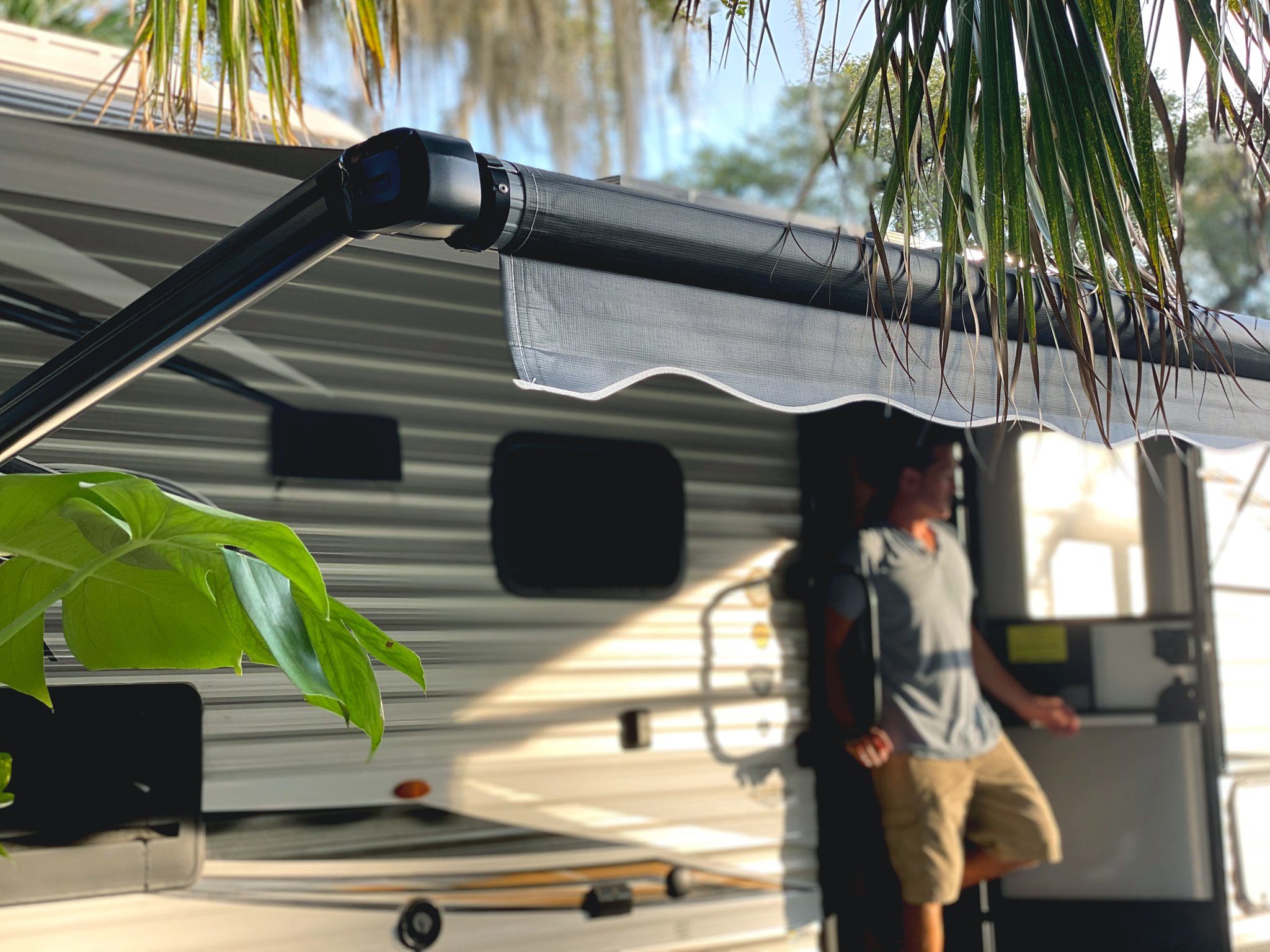 A caravan awning can double your van's living space and transform your adventures. It creates an outdoor living area that's protected from the elements, giving you more room to spread out beyond your caravan's four walls.
But not all caravan awnings are the same. So which style of caravan awning should you buy? What size? And which accessories? Read on for our caravan awning buyer's guide:
Types Of Caravan Awning
Caravan awnings can be divided into these main types: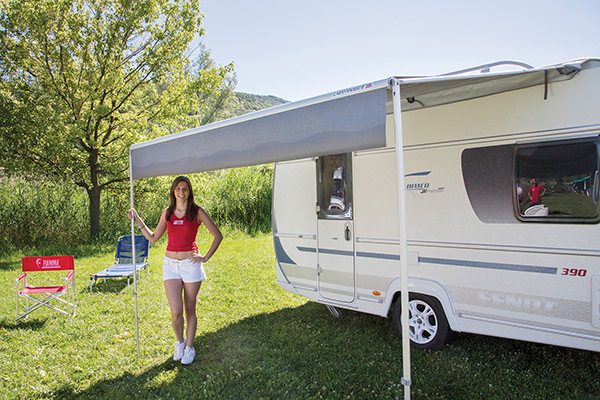 Are You Buying A New Awning Set-up Or Replacing An Existing One?
If you just need to replace your existing awning, roll out awnings with fabric are available without the arms. This means you only need to replace the part that is worn out.
If you are upgrading a Dometic box awning, take note:
The Dometic 8300 and 8500 arms are compatible with the new Dometic 8700 range.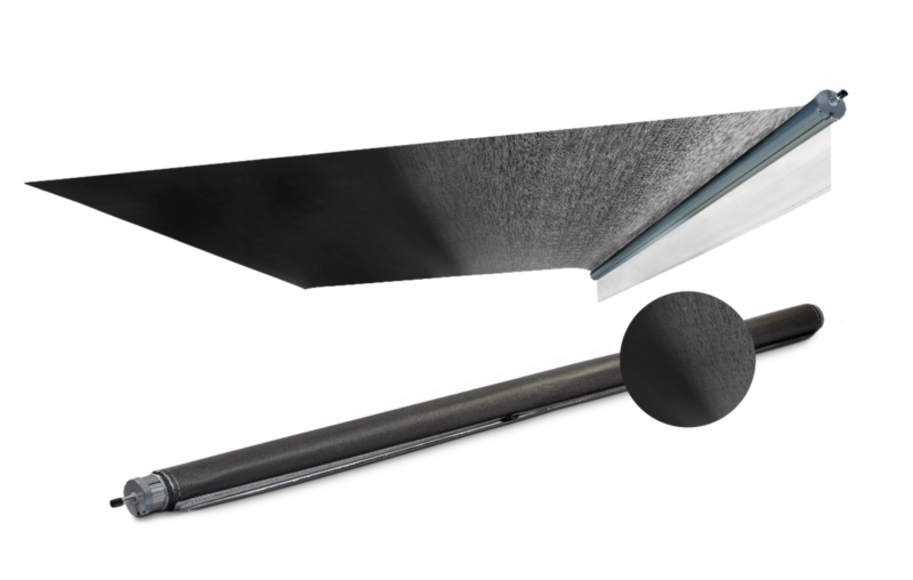 What Size Caravan Awning?
Do you need enough space for your whole family to enjoy the great outdoors or are you a solo traveller? Our tip is to go big! You can never have enough space to spread out and enjoy outdoor living. Maybe you want to put an outdoor kitchen under cover to enjoy family dinners outdoors. If so, you'll need enough space for a BBQ and table setting. If you are after a large awning the Dometic 8700 manual roll out awning are from 10 - 19ft.
You also need an awning that matches the size of your vehicle. So, always measure your vehicle length when buying a caravan awning.
How To Measure An Awning?
Measuring an existing awning is easy. Roll out the awning and measure from the centre point on the awning arms – not the fabric.
Use this diagram (applies to all roll out awnings):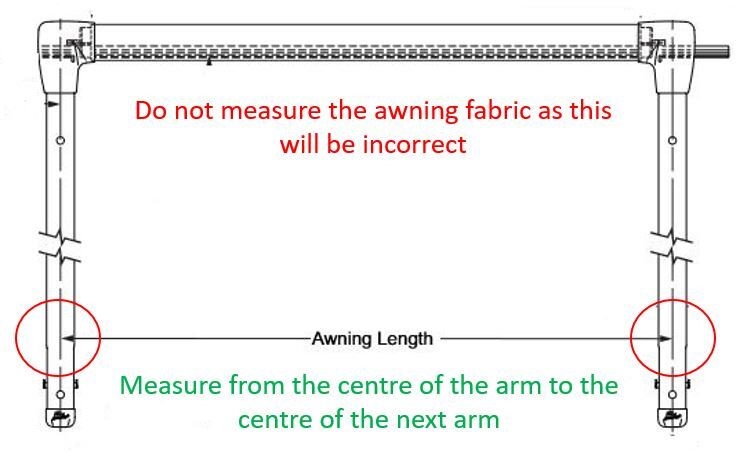 If you are measuring for a box awning, it is important to factor in where your mounting points on your awning and your caravan / bus are. Also ensuring if you plan to use side walls that your awning and walls wont impede on windows, doors and other external fittings.
How Will The Awning Be Mounted?
Consider how your caravan awning will be mounted to your vehicle. Although the roll out and box awnings will fit to most caravans and RVs, think about the installation.
For example, a bag awning is great for minivans, wind up camper trailers and even full height motorhomes and caravans, depending on the adventure.
For a roof mounted installation, look to a box awning, like the Fiamma F80S. These are designed to have a more compact awning protrusion ideal for motor homes and buses.

Additional Features
Compare caravan awning features when deciding on the right one for your needs. Here are some top features to look out for: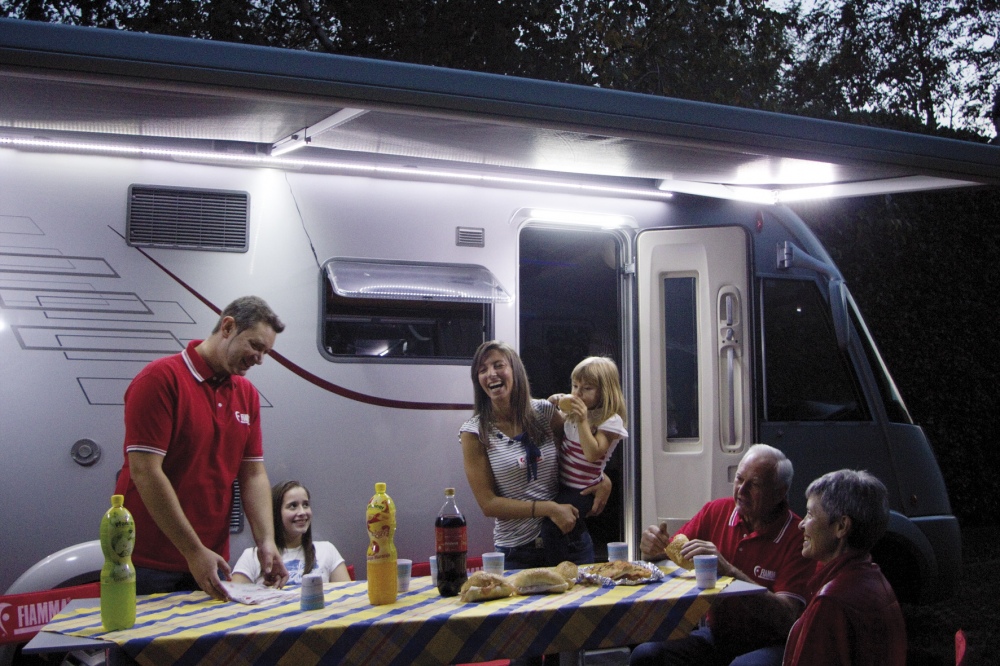 What Accessories Do You Need?
Depending on the awning type, you'll need to stock up on some important accessories to ensure you get the most out of your outdoor space.
Roll out awnings are modular by design, which means if you are creating a new setup you will need to select the arms for your awning to fit your vehicle. If you are replacing a roll out awning, select an awning that is compatible with your existing arms.
All box awnings come with wall mounting brackets but if you are mounting to a campervan, you need to purchase brackets to suit your van.
Other accessories to improve your box awning include:
The good news is here at Caravan RV Camping, we supply all the essential accessories for your awning so you can get the most out of mobile living.
How Do Caravan Awning Brands Compare?
It really depends what you're looking for. That said, some brands have the edge when it comes to certain styles. For box awnings, Fiamma lead the pack with a great sturdy design and ease of self-installation. For roll out awnings, look for Dometic or the new Aussie Traveller range.
What's Your Budget?
How much do you want to spend on a caravan awning? Bag awning's are the cheapest style, followed by manual box awning's and manual roll out awning's.

Ready to shop? Compare our caravan awnings from top brands.
Need some assistance in selecting the right awning for your caravan?
Please do not hesitate to call our Product Experts on 1800 787 278.
DISCLAIMER* Please note, this advice is general in nature and we strongly recommend consulting the product manual and where relevant, a professional installer.