A caravan awning can double your van's living space and transform your adventures. It creates an outdoor living area that's protected from the elements, giving you more room to spread out beyond your caravan's four walls.
But not all caravan awnings are the same. So which style of caravan awning should you buy? What size? And which accessories? Read on for our caravan awning buyer's guide:
Types Of Caravan Awning
Caravan awnings can be divided into these main types:
Roll out awnings: They require two separate components for installation – the hardware kit which attaches to the side of your van, and the roller with fabric. On the plus side, they are very sturdy and will withstand the elements more than a box awning. They are also available in larger sizes. But you do need to permanently mount them to your vehicle.

Box awnings: They are cheaper and easier to install and operate compared to a roll out awning.

Bag awnings: Bag awnings are a cheaper lightweight yet sturdy design that is easy to use and can be operated by single person. You simply fix your caravan bag awning to your vehicle, unzip the bag and unroll the awning. You can then pull out the legs and rafter braces from the roll bar and secure them in place. Fiamma sells good quality, affordable bag awnings, like this one.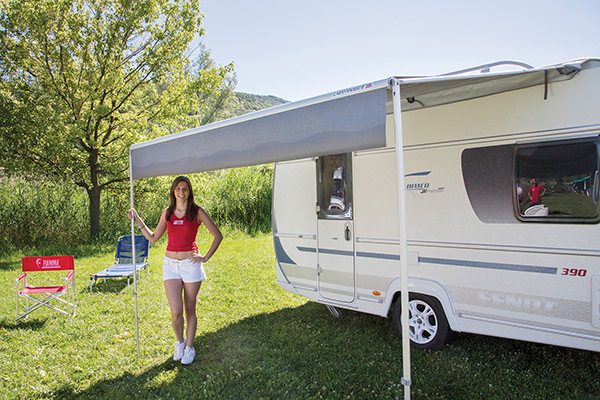 Window awnings: Window awnings provide privacy for your caravan and can also protect your caravan interior from the sun, so you save the air con. Check out Carefree's rollout window awnings.

Electric awnings: If you don't want to waste time with a manual crank, choose a 12 Volt electric awning. Simply press a button until the awning canopy has extended as far as you want. If you're short of space, you don't have to extend it the whole way. They are available in both the roll out and box type versions from brands including Dometic, Fiamma and Carefree. They also feature memory pitch which you can set to create your ideal outdoor living setup.
Are You Buying A New Awning Set-up Or Replacing An Existing One?
If you just need to replace your existing awning, roll out awnings with fabric are available without the arms. This means you only need to replace the part that is worn out.
If you are upgrading a Dometic box awning, take note:
The Dometic 8300 and 8500 arms are compatible with the new Dometic 8700 range.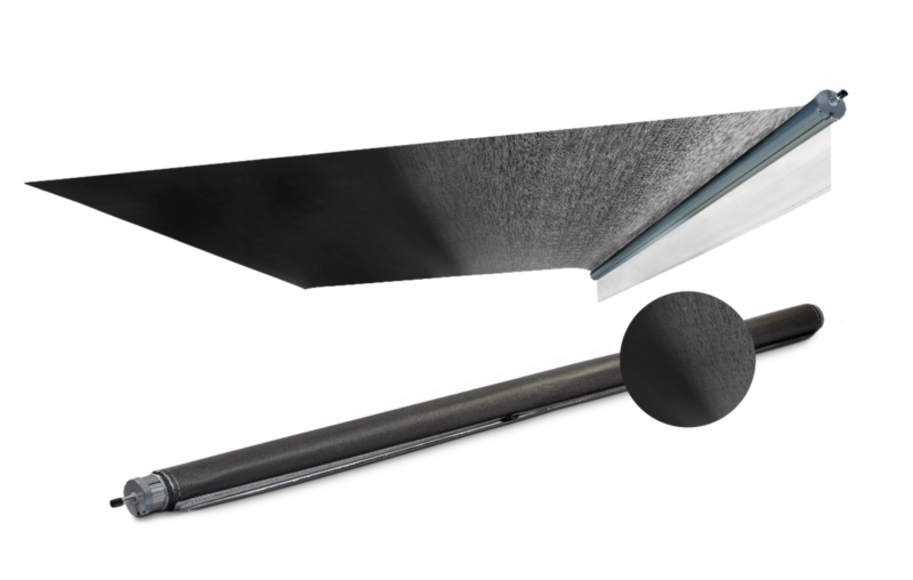 What Size Caravan Awning?
Do you need enough space for your whole family to enjoy the great outdoors or are you a solo traveller? Our tip is to go big! You can never have enough space to spread out and enjoy outdoor living. Maybe you want to put an outdoor kitchen under cover to enjoy family dinners outdoors. If so, you'll need enough space for a BBQ and table setting. If you are after a large awning the Carefree Eclipse manual roll out awning comes in sizes from 14ft to 18ft.
You also need an awning that matches the size of your vehicle. So, always measure your vehicle length when buying a caravan awning.
Another factor to consider is a lightweight design. For example, the Dometic Perfect Roof 2500 is one of the lightest and most compact roof awnings available for lengths up to 4.5 metres.
How To Measure An Awning?
Measuring an existing awning is easy. Roll out the awning and measure from the centre point on the awning arms – not the fabric.
Use this diagram (applies to all roll out awnings):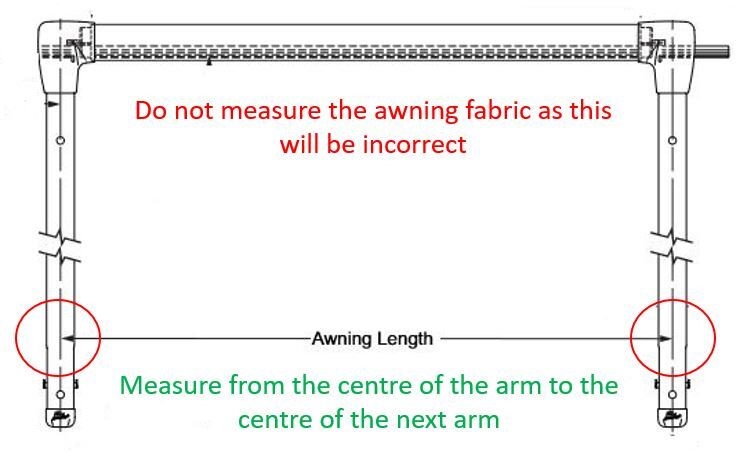 How Will The Awning Be Mounted?
Consider how your caravan awning will be mounted to your vehicle. Although the roll out and box awnings will fit to most caravans and RVs, think about the installation.
For example, a bag awning is great for minivans, wind up camper trailers and even full height motorhomes and caravans, depending on the adventure.
For a roof mounted installation, look to a box awning, like the Dometic Perfect Roof 2000 or 2500.
And for wall-mounted installation, a Carefree rollout awning has it covered.
Additional Features
Compare caravan awning features when deciding on the right one for your needs. Here are some top features to look out for:
Electric operation and memory pitch – check out electric awnings.

Locks for safe and secure closing of the awning.

Smooth running gear.

Telescopic crank, which can easily be adapted to various vehicle heights.

Integrated LED lights – check out the Fiamma F45 awnings range.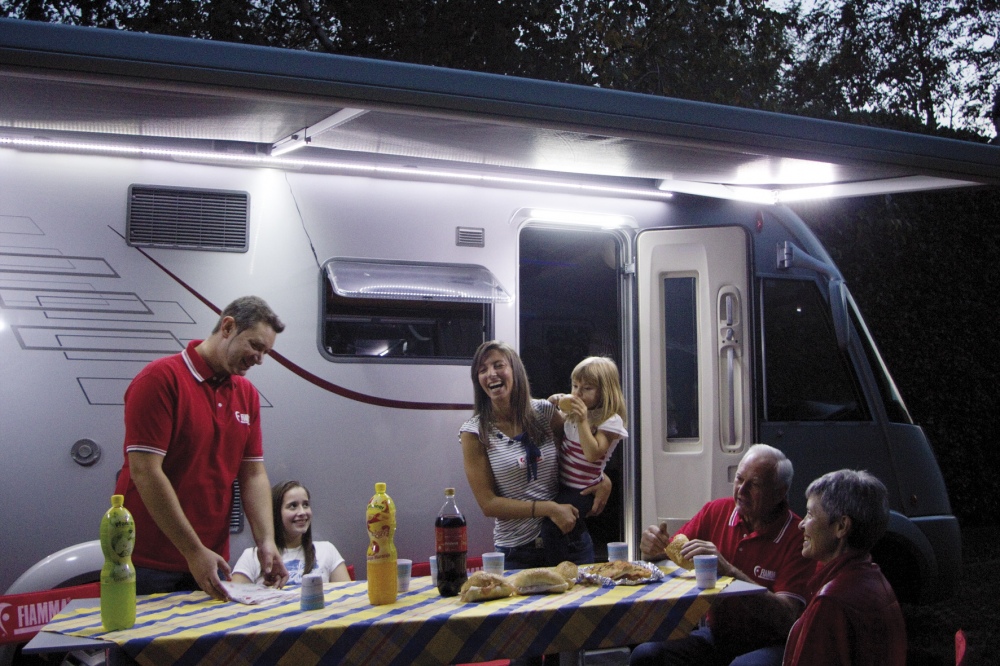 What Accessories Do You Need?
Depending on the awning type, you'll need to stock up on some important accessories to ensure you get the most out of your outdoor space.
Roll out awnings are modular by design, which means if you are creating a new setup you will need to select the arms for your awning to fit your vehicle. If you are replacing a roll out awning, select an awning that is compatible with your existing arms.
All box awnings come with wall mounting brackets but if you are mounting to a campervan, you need to purchase brackets to suit your van.
Other accessories to improve your box awning include a rafter, tie downs and an anti-flap kit. These will ensure your awning doesn't rip when the wind picks up.
Want to buy an electric 12V awning? You may require additional switches to operate it. You can also buy LED strip lights for your awning to make full use of your outdoor living space once the sun goes down. Some awnings come with this feature built-in, but you can always add them later too.
The good news is here at Caravan RV Camping, we supply all the essential accessories for your awning so you can get the most out of mobile living.
How Do Caravan Awning Brands Compare?
It really depends what you're looking for. That said, some brands have the edge when it comes to certain styles. For example, if you are looking at box awnings, the comparison is between Dometic versus Fiamma. Dometic has a 12V option, which is a definite plus. Aside from that, they are very similar in design and functionality.
For electric roll out awnings, compare Carefree versus Dometic. The real difference here is the sizes available. Carefree offers awnings up to 20ft, while Dometic only offer up to 14ft.
What's Your Budget?
How much do you want to spend on a caravan awning? Bag awning's are the cheapest style, followed by manual box awning's and manual roll out awning's.
If you are after additional features such as electric operation and memory pitch, check out our range of electric awnings but be prepared to pay more for the luxury!
Expert Tips & Tricks For Awnings
Awnings For Your 4WD
You will generally require roof racks to mount the awning. For example, you can fix it using the "L" bracket (90-degree angle) to the roof rack. The best options are bag awnings or box awnings.
Awnings For Your Pop Top Caravan
The height of the pop top may limit the option of a bag or box awning. Our advice is to compare roll out awnings, which are much sturdier than a bag awning.
Carefree Eclipse and Fiesta even offer hardware for pop tops, while Dometic does not. The roll out fabric attaches to the pop top on the sail track.
Awnings For Your Caravan
A caravan awning is fixed straight onto the van. Box awnings are the easiest to install and operate on a caravan as they have a handle, while bag awnings can be a little more challenging for a solo traveller. So, if you're travelling solo, don't buy a bag awning. Roll out awnings are more robust for caravans and will stand the test of time. You'll find that there are standard size arms which fit most RV's and caravans. There is also short and tall hardware available.
Awnings For Your Campervan
Depending on the campervan, a roof or wall mounted awning may be suitable. A box awning is possible but beware it will require vertical mounting points or roof racks.
Ready to shop? Compare our caravan awnings from top brands.
DISCLAIMER* Please note, this advice is general in nature and we strongly recommend consulting the product manual and where relevant, a professional installer.