Caravan & Camping DC to DC Chargers

Need help? Click here:
A DC to DC charger is an important part of any caravan, RV or 4WD battery setup. The charger is responsible for ensuring your caravan battery remains fully charged and maintained for as long as possible. While your vehicle is turned on, the DC to DC charger will use power from your alternator and charge your auxiliary battery.
Always choose a DC to DC charger from a reputable brand such as Enerdrive, Victron or BMPro. These brands offer high quality products that you know will last! Plus, they offer extensive warranties in the unlikely case that something does happen to your 12V battery charger.
What Is A DC to DC Charger?
A DC2DC battery charger is like a smart charger for your 12V system. It will boost charge into your battery while you're driving and also acts as an isolator, so that your starter battery doesn't go flat when you stop for a while.
With a DC to DC charger, you can arrive at camp with a battery fully charged and ready to power up your appliances after a long day's driving. This is because DC to DC battery chargers feature a multi-stage charge which can charge your battery up to 100%.
Our most popular DC to DC battery chargers is the Enerdrive ePOWER 12V 40A. A fully automatic multistage, multi-input DC to DC Charger with solar input, the Enerdrive ePOWER ticks all the boxes. Charge from an alternator linked to the battery, or from your solar panels using the in-built Maximum Power Point Tracking (MPPT) solar regulator. You can keep watch on your battery charger too thanks to the LCD display, which shows you which source is charging the battery, plus charger status, voltage and amperage.
Shop our DC to DC battery chargers from Enerdrive, Victron and BMPro today!
Some Of Our Best Sellers:
Enerdrive DC2DC Battery Charger - 12V 40A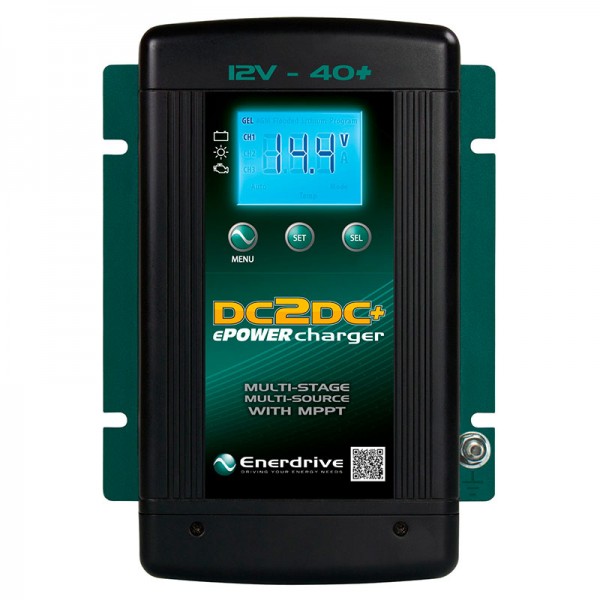 Read More...