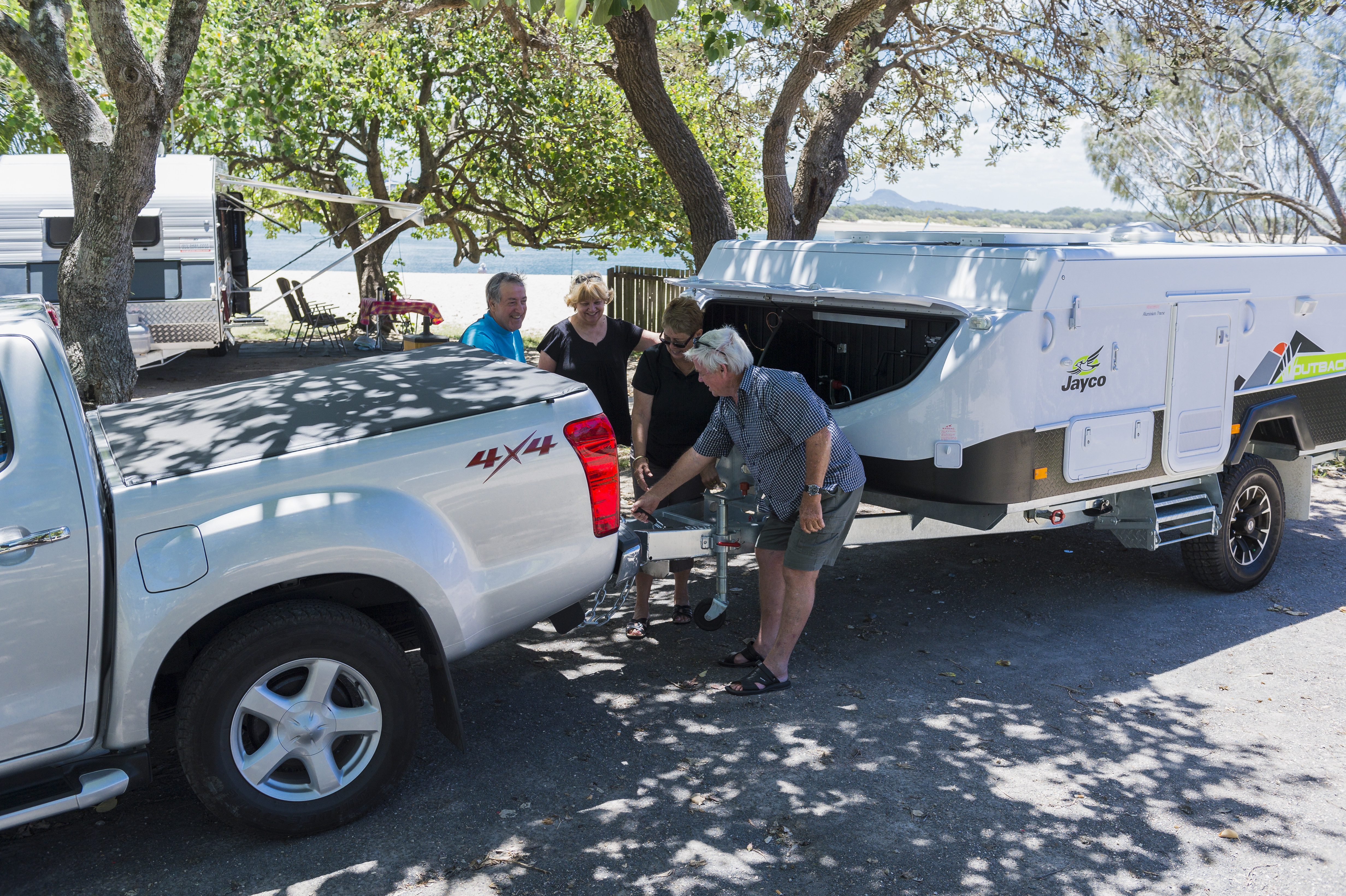 A caravan jockey wheel is one of the top accessories you need before taking off on a caravan adventure.
But what do you look for in a caravan jockey wheel?
Before you go any further, you need to determine your tare mass. This is your empty weight of your caravan, your gross trailer mass and your tow ball weight.
This will ensure you purchase the right caravan jockey wheel model to carry the weight of your caravan. Simply look for the caravan jockey wheel with a "rated to" specification that will carry your tare weight.
How to choose the best caravan jockey wheel:
Loose Ground Or Hard Ground?
Where will you be using the jockey wheel? If you're looking for a jockey wheel that's suitable for hard grounds like concrete and paving, go for a solid wheel model. These are solid rubber tyres with no air.
For loose terrain, such as grass, sand, muddy soft ground, look for a pneumatic wheel model. These are inflatable, or air filled, tyres.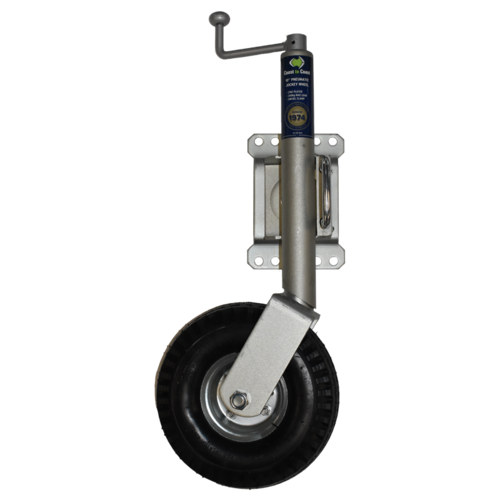 Pro Tip: If you're travelling on-road and off-road, get both! This will ensure you aren't caught out in different environments.
Choose Your Connection Style
There are three different connection styles for caravan jockey wheels:
Standard Swivel Jockey Wheel

Offroad Swivel Jockey Wheel

Standard Clamp
1. Standard Swivel Jockey Wheels
The standard swivel jockey wheel is designed to be easy to use. No need to remove it from the caravan – just pull the release handle and the jockey wheel rotates into a suitable travelling position and stays locked in place until you need it next. Easy!
Our pick is the Alko 6 Jockey Wheel, which comes with a swivel bracket for quick and easy uncoupling of your caravan.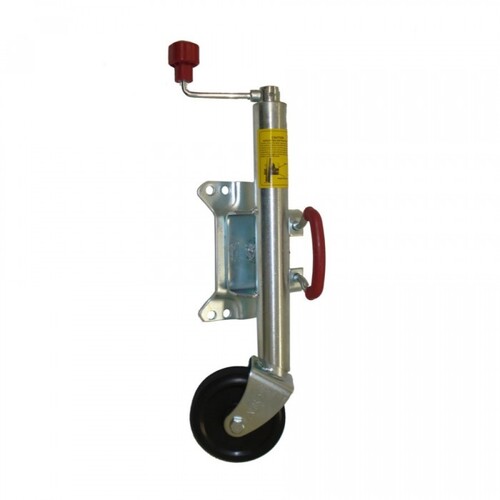 2. Offroad Swivel Jockey Wheels
For an offroad option, the offroad swivel jockey wheel comes with multiple height options in plate and yoke.
The design features two premium wheels for better road grip while spreading the load. There's also a side winding handle which is handy if you have toolboxes and jerry can holders close to the drawbar.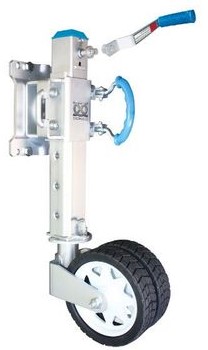 3. Standard Clamp
With this jockey wheel, the clamp is screwed on and needs to be removed before driving off and stored in your vehicle or caravan.
You need to ensure the clamp is stabilised after removing the wheel before driving off so you don't lose the clamp in transit.
A great versatile option to have the best of both worlds is to check out the Trail-A-Mate Hydraulic Jockey Wheel and Jack which can be transformed from a hydraulic jockey wheel to a solid base jack when required. It's capable of supporting a total weight of 1000kg and is compatible with most standard-height and off-road caravans. This is a great option for unhitching and tyre repairs and maintenance.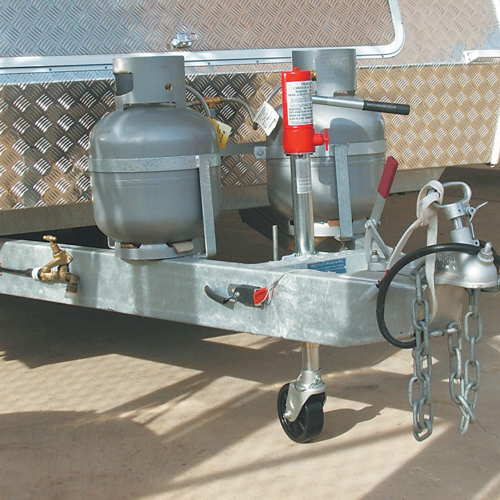 An alternative option to bring your hitching game to a whole new level is the Black Jack Electric Trailer Jack Bundle with Jockey Wheel. The Black Jack is an electric jack that takes all the heavy shoulder breaking work out of unhitching your van. The simple push of a button once your jack is connected to power, the jack raises or lowers your van off your tow vehicle. With this bundle you can have the best of both worlds with a jockey wheel for moving and the jack for raising and lowering. It is a win win!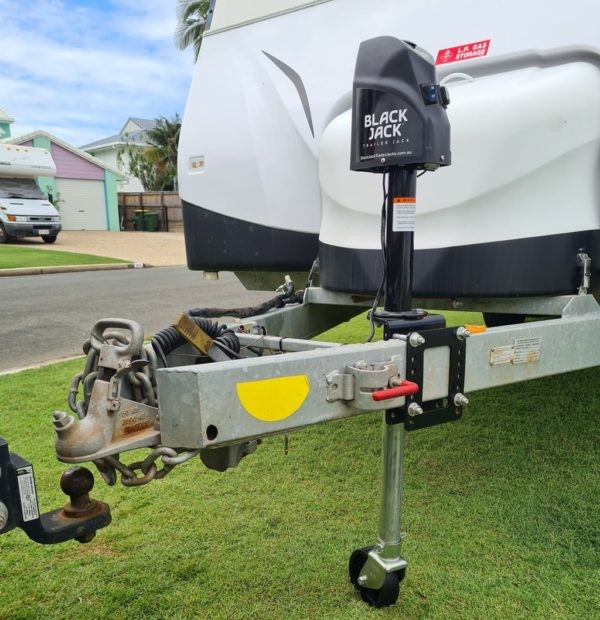 Always Choose Quality
Whichever type you choose, only buy a jockey wheel from a reliable brand, such as ALKO, Ark and Trail-A-Mate. This will ensure it's easy to use, manoeuvre, remove or adjust.
Pro Tip: Whatever caravan jockey wheel you choose, do NOT place excess weight on it and wherever possible, only use it when the caravan is empty. Caravan jockey wheels are not designed to bear heavy loads!
-
DISCLAIMER* Please note, this advice is general in nature and we strongly recommend consulting the product manual and where relevant, a professional installer.
---
Comments (3)
Jockey Wheel for Jayco Pod

Hi We have a Jayco Jpod - these pods do not have front stabilisers and rely on the jockey wheel for front support. Is there a jockey wheel you would recommend for this van. I look forward to hearing from you.





www.caravanrvcamping.com.au Response
Hi Cate, thanks for leaving a comment. I think it is best we chat over email about your application and needs so I can ask a few more questions. I will send you an email now. Amanda at Caravan RV Camping
---
remote control motorized jockey wheel

Do you stock them





www.caravanrvcamping.com.au Response
Hi Colin, We have a wide range of Jockey Wheels on our website: https://www.caravanrvcamping.com.au/caravan-jockey-wheels-and-caravan-jacks Feel free to give us a call on 1800 787 278 and we can help you find the right product to suit your caravan and needs!
---
Jockey wheel

In a lot of situations jockey wheels are unsuitable a solid lift is a much better alternative. Most Times caravans cannot be moved anyway as they are so heavy





www.caravanrvcamping.com.au Response
Hi, yes a solid lift can be a great alternative. Check out the Black Jack Trailer Jack for the ultimate in solid lifts.
---
Leave a comment