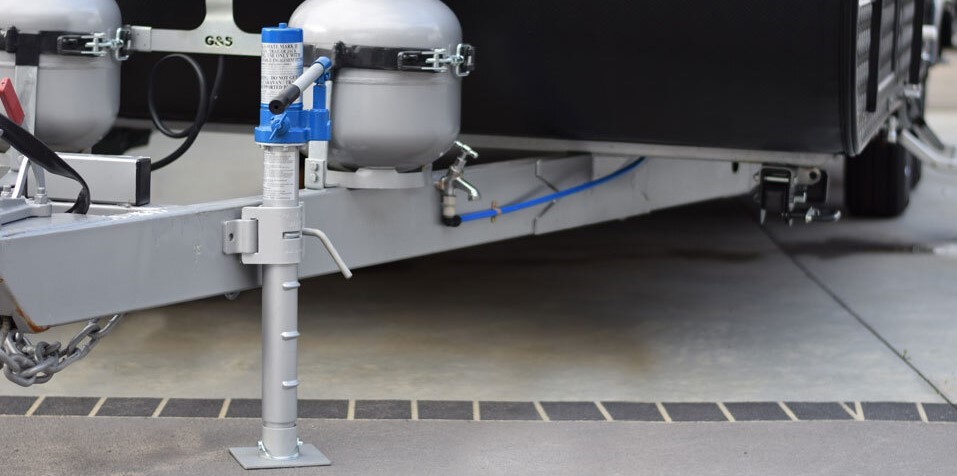 A caravan jack is a must-have for caravanners. But not all caravan jacks are created equal. Our guide to caravan jacks explains what you need to know before you buy.
What You Need To Know Before Purchasing A Caravan Jack
First, you need to determine your tare mass, aka the empty weight of your caravan, your gross trailer mass and your tow ball weight.
Each caravan jack has a "rated to" specification, so knowing the weight will ensure you can choose the right jack to carry the weight.
Types Of Caravan Jacks
There are two uses for caravan jacks:
Jack the caravan coupling from the vehicle's tow ball.

Jack up the side of the caravan to change the van's tyres.
But not all caravan jacks can do both, so work out what you want to do before you buy.
1. You Want A Caravan Jack To Unhitch From Your Tow Vehicle
These are typically electric jacks, which means you don't have to worry about the manual back-breaking pumping of a jack to lift the van from the towball. Phew!
Some caravan jack models come with a built-in level indicator to ensure your caravan is nice and level when unhitched. Because they are electric, you'll need 12V power wired to the unit.
Remember, this caravan jack can NOT be used to jack the caravan for tyre changes.
A top seller is the Black Jack Electric trailer jack with clamp harness kit.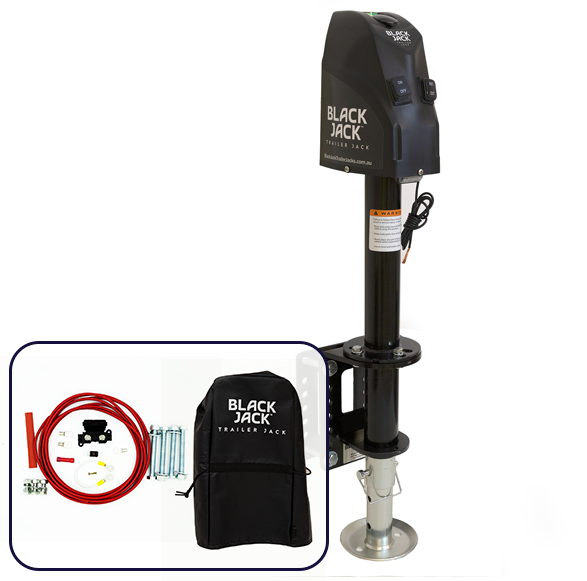 This trailer jack is a simple, quiet and advanced electric jack designed for a huge 1600 kg lifting capacity - more than enough muscle to lift popular caravan models! It's also built for the toughest conditions and includes a built-in level indicator so you can easily adjust the caravan level. Other highlights include the removable footpad extension, emergency crank handle and LED night light in case you're operating in the dark.
2. You Want To Do Everything - Unhitching, Moving & Tyre Changing
Look for an all-in-one hydraulic caravan jack. With hydraulic caravan jacks, you don't need power. And the best part is that most can easily be removed from the chassis to use as a lift for tyre change.
Take a look at the Trail A Mate Jockey Wheel and Jack Kit. This is specifically designed for use with a caravan and makes light work of hitching and unhitching - no matter how low your caravan or camper trailer might be.
Want to turn the jockey wheel into a jack? All you need to do is remove the pin and replace the wheel with a base plate and adjustable clamp. The drawback is this caravan jack is only rated to 1000kg.
The Trail A Mate Mark 2 is a hydraulic jack rated to 1500kg and can be used for unhitching and tyre changes. However, you need to buy a separate jockey wheel rated to 1500kg to unhitch.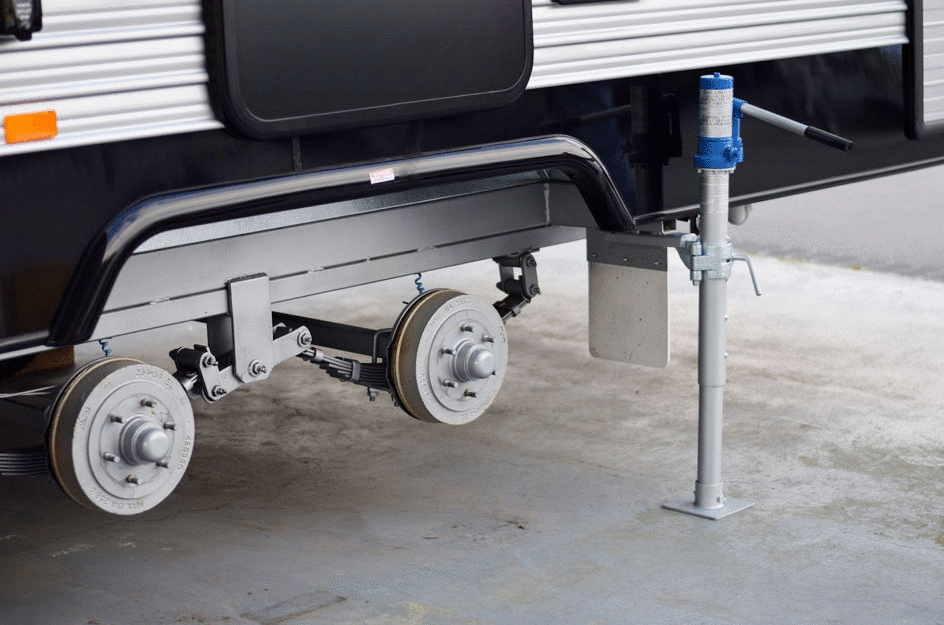 Looking for something with even more muscle? Check out the Kojack Caravan Jack - it's rated to 4 tonnes! If you need to unhitch or change a tyre, the Kojack makes it easy. It even comes with multiple jacking point adapters to suit your van.
Pro Tip: Add a tow ball weight scale to your setup, like the Black Jack Weight Scale. Simply level your trailer, insert the scale under the coupling, lower the jockey wheel or jack and take the reading.
3. You Want To Lift The Caravan In Tough Conditions Like Sand, Mud, Snow Or Soft Ground
Need to lift your caravan out of a sticky situation? An exhaust jack, aka air bag jack, could help. Connect the jack to the exhaust pipe to inflate and help lift your vehicle out of sand, mud, snow or soft ground, where other jacks might sink, so you can slip some tracks under the wheels and drive out.
It also helps where the vehicle is too low for any other jack to fit, as the deflated air bag jack can slip underneath smaller spaces.
The great thing about the exhaust jack is there are no moving metal parts that can go wrong. It can be packed away in a small space, which makes it easy to store and bring out when you need it.
However, it can NOT be used for hitching.
Check out the Thunder Exhaust Jack Kit which is rated to 3000kg.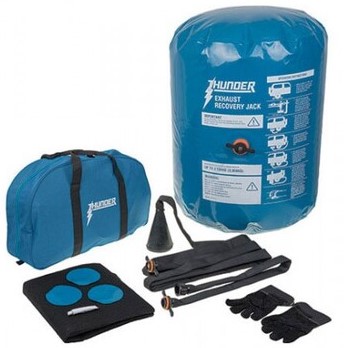 Final Pro Tip: Make sure your caravan jack meets Australian standards and is from a high quality reputable brand – safety is extremely important!
DISCLAIMER* Please note, this advice is general in nature and we strongly recommend consulting the product manual and where relevant, a professional installer.
---
Leave a comment