Are you tired of sweltering in the heat during your caravan trips? Look no further! Dometic, one of the leading innovators in the field of mobile living, has just released their latest breakthrough: the Dometic FreshJet 7 Series caravan air conditioners. With their cutting-edge features and advanced technology, the FreshJet range is set to transform your travel experiences into cool, comfortable adventures.
Dometic is proud to be one of the only companies in Australia to offer rooftop inverter technology. This breakthrough in air conditioning technology allows for more efficient cooling and reduced energy consumption, making it an environmentally and off-grid friendly choice. And now, they have taken this impressive inverter technology and incorporated it into their new family of caravan air conditioners: the Dometic FreshJet 7 Series.
The launch of the FreshJet 7 Series marks one of the biggest product developments in Dometic's history. They have taken their extensive knowledge and expertise and channelled it into creating three remarkable models that are set to replace some of their most popular units. The FreshJet Lite is here to take over from the Harrier Lite, while the FreshJet Plus is stepping in for the Harrier Plus and the FreshJet Pro is set to replace the highly acclaimed IBIS 4.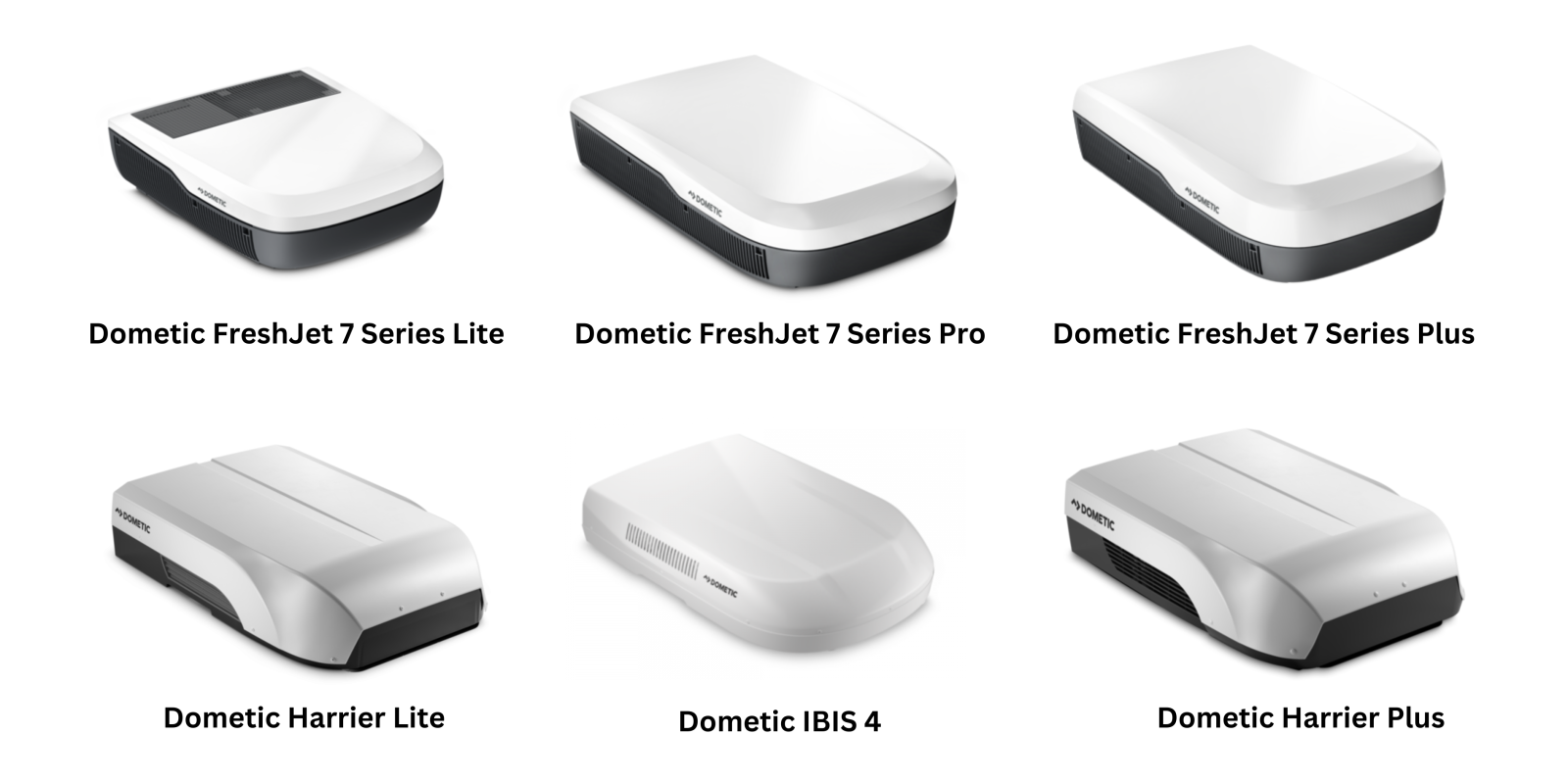 So, what sets the FreshJet 7 Series apart from its predecessors? Let's delve into the top features that make these air conditioners stand out.
1. Unified Design
Along with new and improved inverter technology Dometic has introduced an Air Distribution Box (ADB) across each new model. This ADB comes with an internal LED that provides a sleek and modern touch to your caravan's interior. Additionally, the innovative Dometic FreshJet models include an inbuilt air purifier ensuring that you are breathing in fresh and clean air during your travels. Best of all you don't have to do anything extra it will automatically kick in and start doing its job when you are using the air conditioner. And if you are worried about extra noise fear not the next generation of inverter technology features the quietest and smoothest operation ideal for off grid adventures.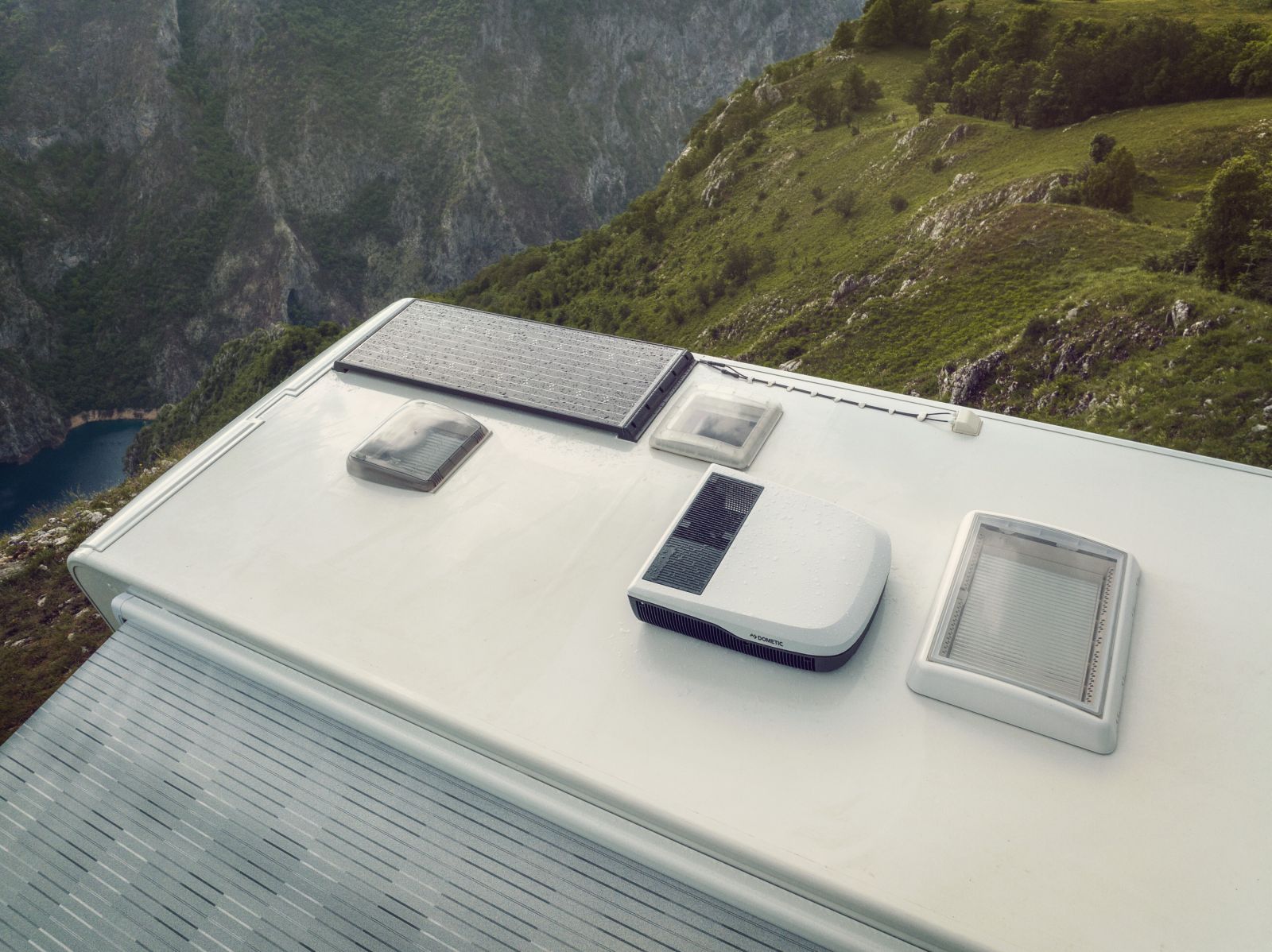 2. Dometic Connectivity
Dometic understands the importance of staying connected, even when you're on the road. That's why they have enabled full Dometic connectivity across the FreshJet 7 Series range. With this feature, you can conveniently control and monitor your air conditioning units using your smartphone, bringing the power of climate control right to your fingertips. Simply install the Dometic app on your smartphone and you are good to go but if technology is not your strongest suit fear not your Dometic FreshJet will include a good old remote.
3. High Energy Efficiency & Sustainability
Along with a number of new innovative features and upgrades Dometic has also introduced a main focus on sustainability. Dometic has implemented R32 refrigerant in the new models, which boasts a staggering 70% reduction in global warming potential compared to previous refrigerants. By choosing the FreshJet 7 Series, you're not only enhancing your comfort but also minimising your carbon footprint.
With the new FreshJet 7 Series, Dometic has gone above and beyond to ensure precise temperature control, faster cooling, and lower noise levels, creating a tranquil and relaxing atmosphere inside your caravan. Extensive field testing has been carried out across various locations in Australia to assess the cooling capacity of these models. Up to 20 vehicles, varying in size, was utilised during the testing process. The results are impressive, as the FreshJet 7 Series has shown a remarkable ability to cool spaces at a faster rate compared to their predecessors. So, no matter the size of your caravan, you can trust that there's a Dometic air conditioner perfectly suited to meet your cooling needs.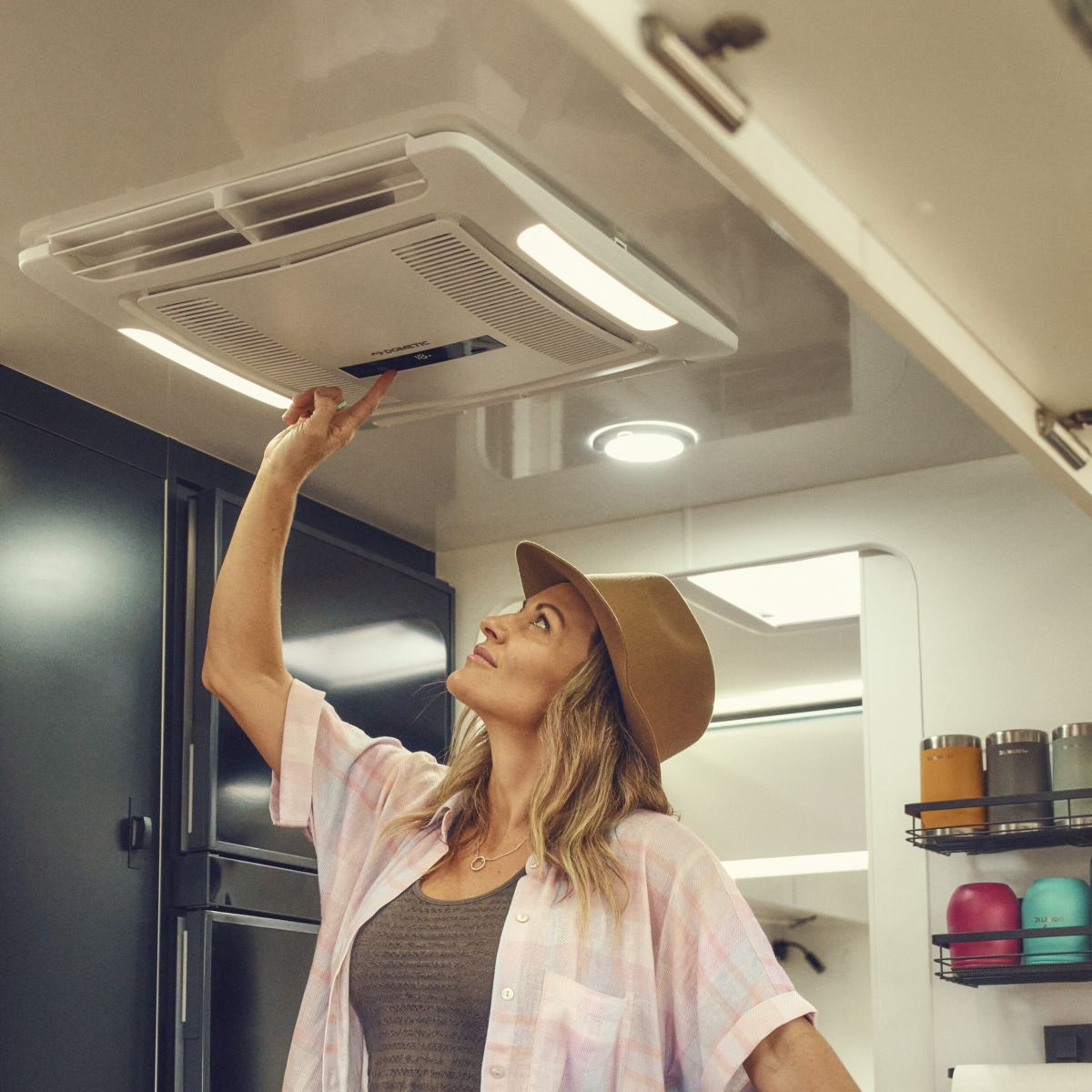 4. Running A FreshJet On Lithium Battery Power
With the increasing trend of using lithium battery solutions to power rooftop air conditioners while off-grid, Dometic has conducted comprehensive in-house controlled testing to assess the performance. The results revealed significant improvements in run time when operating the Dometic FreshJet air conditioners with a 200Ah lithium battery. In the test conditions, the Freshjet Plus and Pro models exhibited a 20% increase in run time, while the Freshjet Lite outperformed the others with an impressive 40% longer run time. This remarkable efficiency gain demonstrates the effectiveness of utilising a battery system to power these air conditioners.
5. Made For Australian Summer
Dometic, understanding the demands of the scorching Australian summer, conducted drawdown time tests in extreme hot weather conditions. The purpose of these tests was to evaluate the cooling performance of their air conditioners in Australia's extreme heat. During the tests, an area with a temperature of 45°C was cooled down to 25°C, and the time required for this process was measured. The results were highly impressive, as the new Freshjet models surpassed their previous counterparts by as much as 41%. Specifically, the Freshjet Lite model outperformed the Harrier Lite model by this significant margin. Furthermore, a comparison between the Pro and Ibis models demonstrated a 14% reduction in cooling time for the same area, while the Freshjet Plus model surpassed the Harrier Plus model by a 17% decrease in drawdown time.
6. Installation
If you're worried about the installation process, fear not! The FreshJet models offer identical installation dimensions to previous Dometic caravan air conditioners, with options for both 360 x 360mm and 400 x 400mm installations. This means that upgrading to the FreshJet 7 Series is a breeze, and you can start enjoying the benefits of superior cooling in no time.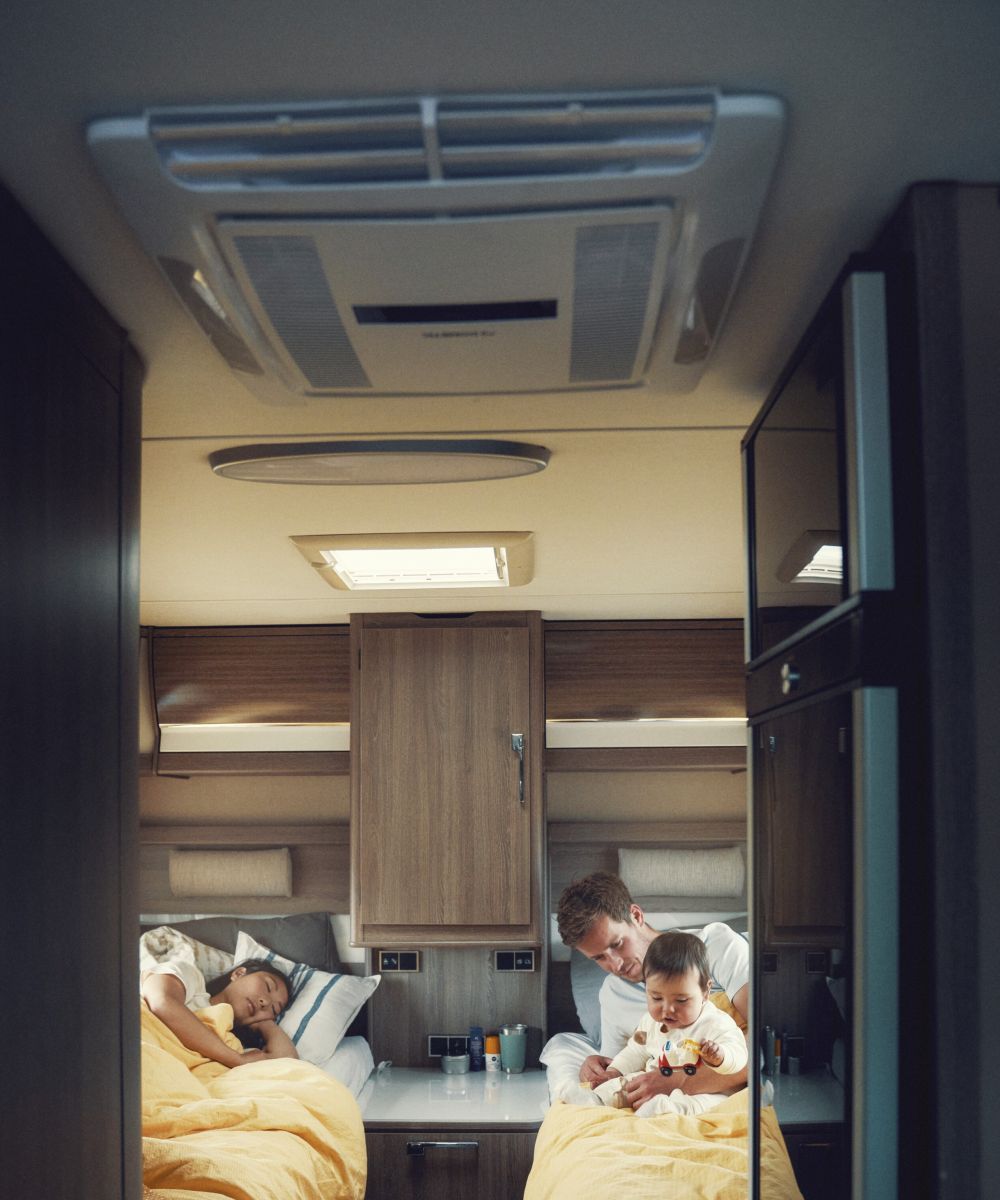 7. Lightweight & Compact Design
In addition to their impressive features, the Dometic FreshJet models boast a lightweight and compact design, making them ideal for caravans of all sizes. The sleek and modern aesthetics of these units will undoubtedly enhance the overall look of your caravan's interior and exterior, giving it a touch of sophistication. This ADB comes with an internal LED that provides a sleek and modern touch to your caravan's interior and with their low profile, these Dometic caravan air conditioners take up little to no property on your roof meaning you have more space and weight for satellites, solar panels and antennas.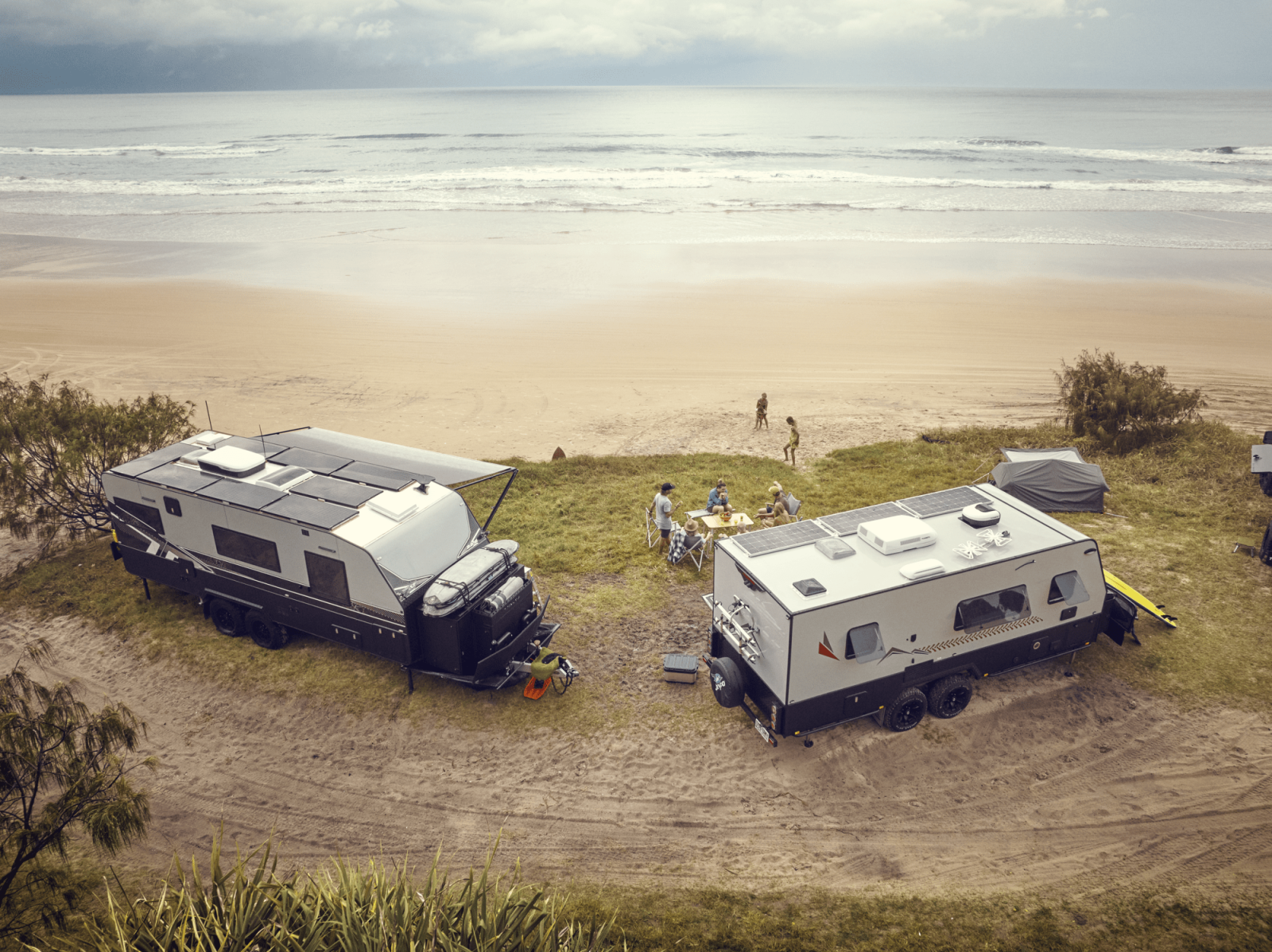 Let's compare Dometic air conditioner models:
Harrier Lite

IBIS 4

Harrier Plus

Cooling

Capacity (W)

2413

2600

2625

2900

3000

3400

Power Consumption (W)

1648

1550

1526

1650

1535

1748

Current draw (A)

7.5

6.9

6.9

7.3

6.94

7.80

Airflow (m3/h)

460

426

475

487

496

502

Heating

Capacity (W)

2421

2300

3017

2700

3017

2900

Power Consumption (W)

1150

1050

1438

1350

1300

1445

Current draw (A)

5.2

4.7

7.0

5.9

5.88

6.44

Airflow (m3/h)

462

449

475

492

496

503

Installed weight (kg)

37

35

40

41

43.8

43.5

Refrigerant

R410

R32

R410

R32

R410

R32

Best for vehicle length (m)

6

6

7

7

7.5

7.5

Dimensions – External (WxHxL)

665 x 240 x 997mm

702 x 225 x 752mm

758 x 230 x 1112mm

700 x 242 x 1090mm

750 x 280 x 1070mm

700 x 283 x 1090mm

Dimensions – Internal (WxHxL)

518 x 48 x 579mm

518 x 48 x 579mm

518 x 48 x 579mm

518 x 48 x 579mm

518 x 48 x 579mm

518 x 48 x 579mm

Other features

Air purifier

No

Yes

No

Yes

No

Yes

Wi-Fi/BT

No

Yes

No

Yes

No

Yes
Explore the full range of Dometic Air Conditioners here.
If you would like any more information regarding the new Dometic FreshJet Air Conditioners feel free to give our team a call on 1800 787 278 or jump on our Live chat.
-
DISCLAIMER* Please note, this advice is general in nature and we strongly recommend consulting the product manual and where relevant, a professional installer.