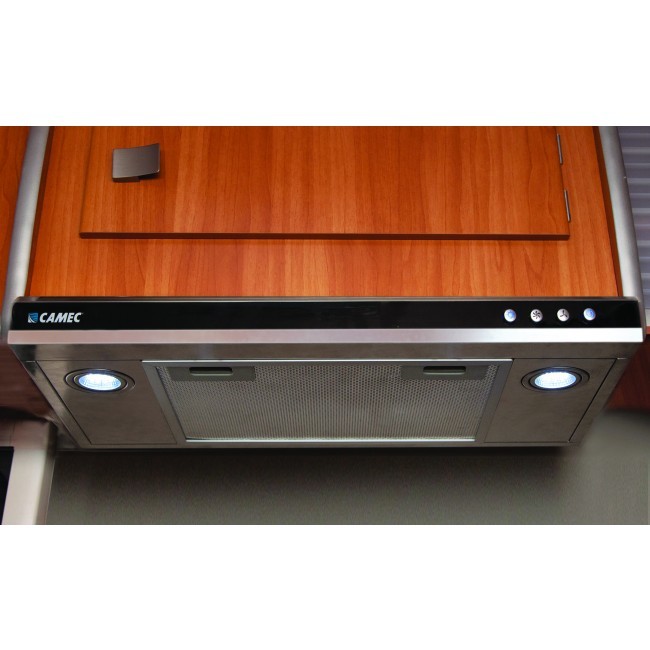 If you love cooking meals in your caravan, a caravan rangehood is a must-have.
The reason is simple: Imagine you've just cooked a beautiful meal after a long day of exploring. Now you want to relax in your caravan before bed, but it's filled with all the steam, smoke and smells from cooking.
Just like at home, a caravan rangehood clears the air and prevents lingering odours and smoke. Long term, it can also prevent mould caused by fogging and moisture.
So, if you have a caravan oven and cooktop, you need to add a caravan rangehood to your home on wheels.
Pick the model to your needs, budget and installation requirements of your caravan.
Read our buyer's guide to choose the best model:
Types Of Caravan Rangehoods
The great thing about caravan rangehoods is they do their job just as well as your rangehood at home. You get inbuilt lights, easy controls and washable filters so they keep working well during your trip.
The biggest question you'll need to ask yourself is whether you need a built-in rangehood or an external rangehood?
For example, the Dometic CK 155 is an externally mounted rangehood, whereas the Dometic CK 150 is a flush mounted caravan rangehood. Both have the fan integrated into the roof dome and not into the unit itself to optimise airflow.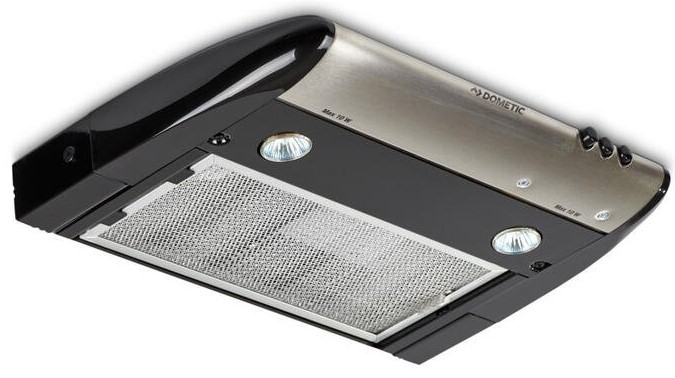 What Size Rangehood?
Consider your caravan installation requirements when narrowing down your list. Measure the cut-out size in your caravan to work out the best dimensions. If you're replacing an existing rangehood, it might be easier to measure what's already there.
When it comes to vents, with most caravan rangehoods, you can choose whether you want a roof or rear facing vent depending on your caravan.
If you have a pop-top caravan, make sure the vent can be installed easily. Both the Dometic CK 155 and the Dometic CK 150 are suitable for conventional and pop top caravans.
Any Extra Features?
Caravan rangehood manufacturers like Camec and Dometic include some top features in their rangehoods, just as you'd expect from a home rangehood. For example, this Camec 12V rangehood includes a two-speed fan operation and features two low energy LED downlights. This is a real bonus because you can light up your cooking area and make sure your food is cooked to perfection.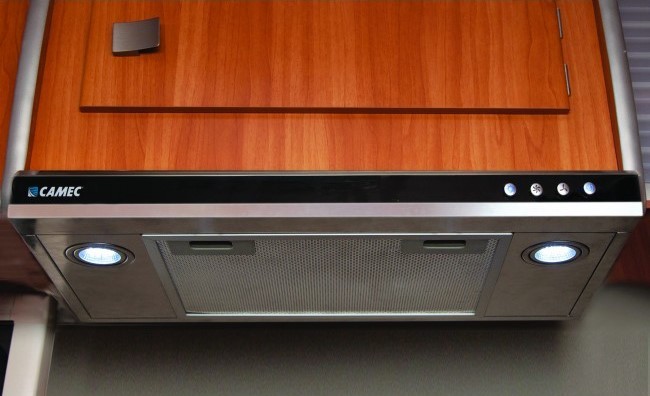 The rangehood boasts illuminated touch controls and a removable filter for easy cleaning. Don't underestimate the importance of keeping the filter clean so your rangehood works at its best.
Remember, the rangehood can be the final touch to your caravan kitchen, so pay attention to looks too. If style is important, consider a streamlined design from Dometic or the sleek tempered glass look of a Sphere rangehood.
What's Your Budget?
The good news is a good caravan rangehood won't break the bank. You can buy a quality rangehood from a reputable brand like Camec for around $200. If you want to get the top-of-the-line rangehood from a brand like Dometic, expect to pay between $400 and $500.
Ready to shop caravan rangehoods? Compare products in our range today.
DISCLAIMER* Please note, this advice is general in nature and we strongly recommend consulting the product manual and where relevant, a professional installer.
---
Leave a comment