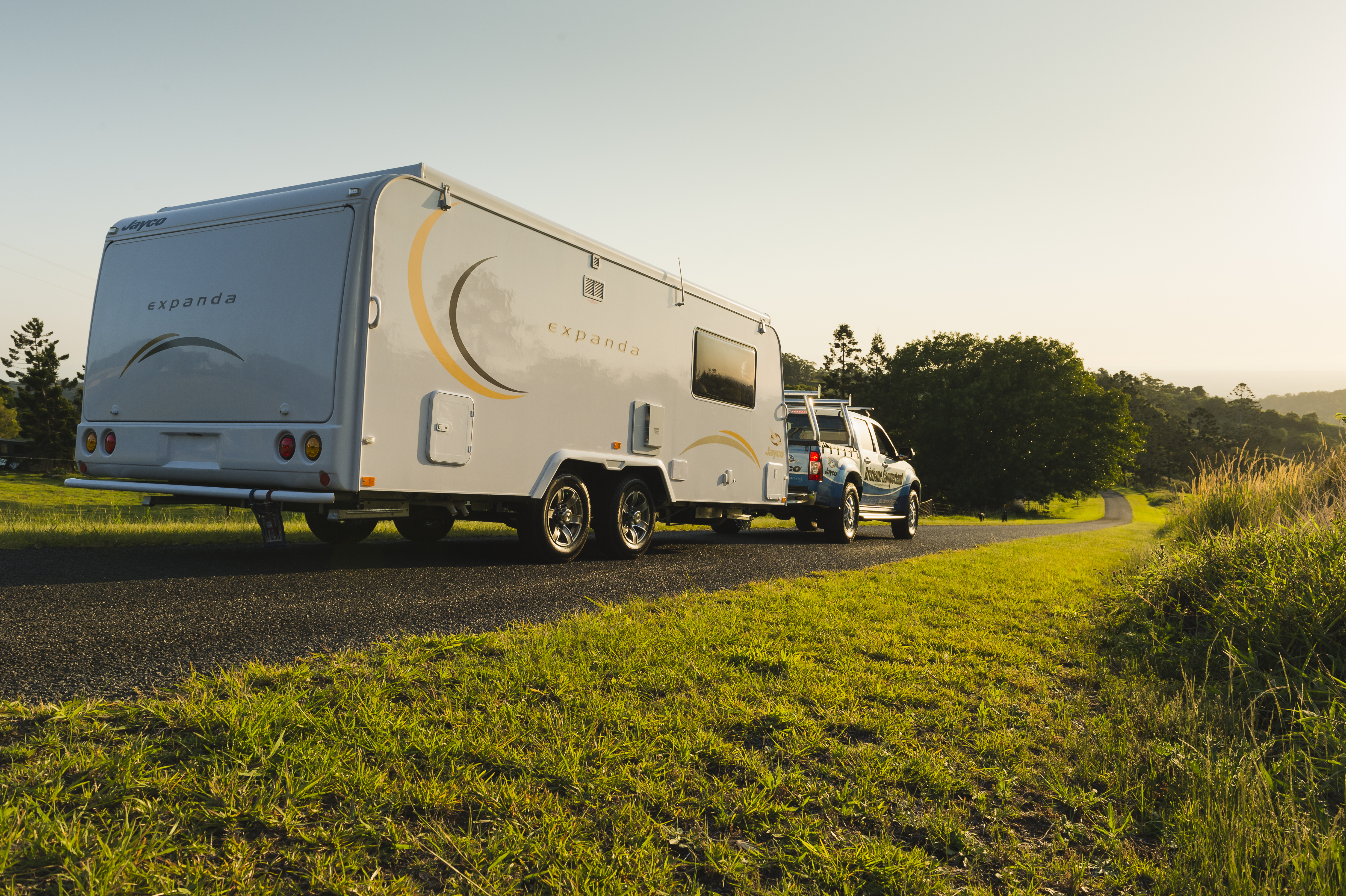 Losing control of a caravan while towing is every caravan owner's worst nightmare. What can you do to ensure you and your precious cargo are safe? You need a caravan weight distribution hitch - a special type of caravan tow hitch that is designed to restore the natural balance of your vehicle and keep everything level.
By maintaining a correct level between the caravan and tow vehicle, you can enjoy a smoother ride, better braking, and easier towing. It prevents any sagging or lifting between the tow vehicle and caravan which can make towing challenging.
There's more than one type of weight distribution hitch on the market, so it's important you buy the right one for your vehicle.
Here's everything you need to know about selecting the best caravan tow hitch to suit your towing needs.
What Is A Caravan Weight Distribution Hitch?
Do you buy a caravan weight distribution hitch, load leveller or equaliser? They're all the same thing and they do the same important jobs:
They prevent the rear of the tow vehicle from sagging when the weight of the caravan or trailer is added to the tow ball.
At the same time, a caravan tow hitch stops the front of the tow vehicle and rear of the van lifting.
All of this is designed to help you tow your camper or caravan smoothly, easily, and most importantly - safely.
A caravan weight distribution hitch is typically designed with three main components:
Towball mount

Spring bars

A-frame bracket attachment
The spring bars attach to the ball mount and are secured to the brackets on the A-frame. Some bars also use chains as a point of connection and tension. These all do the same important job.
This is all designed to transfer the weight from the back of the tow vehicle to the front, and improve weight balance.
Pro Tip: Traditional Weight Distribution Hitches are not the same as an anti-sway device. A traditional caravan tow hitch may reduce sway, but consider an anti-sway device as an extra accessory. Fastway and Anderson have released new "no-sway" models which we discuss further down.
Do You Really Need A Caravan Weight Distribution Hitch?
Not necessarily. A weight distribution hitch is mostly used to tow long or heavy caravans. If your van is fairly light and well-balanced, chances are you don't need a WDH. The best way to decide is to measure the front and rear heights of the vehicle's wheel arches (when unloaded) and the (level) front and rear heights of the caravan. This will give you the best case scenario.
When you hitch up the van, measure the wheel-arch measurements again to see if the difference is more than 20mm. If it is, you need to rebalance your load and then, if that doesn't work, consider a weight distribution hitch.
How To Choose The Right Caravan Tow Hitch
1. Know Your Tow Ball Weight
The first thing you need to work out is your tow ball weight. This will be 10% of your Gross Trailer Mass (GTM). Your GTM is the total mass rating that can be imposed on the trailer's axle when the trailer is fully loaded and coupled to the towing vehicle. You can also purchase a TowSafe Tow Ball Scale to take the guess work out and ensure you are towing you and your family safely.
Pro Tip: If your tow bar indicates a maximum tow ball weight, using the caravan tow hitch does not increase what tow ball weight you can apply.
Important: Exceeding your vehicle's tow ball weight is illegal and dangerous. Don't risk it!
2. Check Your Tow Ball Height
Next, look at the height of your tow ball. Many towing vehicles require a tow ball mount that can be adjusted so the tow ball can be set at higher or lower than normal. Some weight distributions hitches are bundled with a shank, which is a great way.
3. What Size Shank Do I Require?
With the varied range of tow vehicles on the market today it will be rare to find a vehicle and a trailer that line up perfectly when towing. This is where choosing the correct size shank can make all the difference for a nice level tow.
To determine what size shank you require you will need to have a level vehicle and trailer/caravan and get your tape measure out to do the following:
Hitch Height: measure from the top inside of your vehicles receiver (you will find this on your tow bar and is where the shank will connect) to the ground.

Coupler Height: measure from the base of your coupler (your ball mount on the caravan or trailer) to the ground.
Once you have these two measurements you will subtract your Hitch Height from your Coupler Height giving you your Drop. If your trailer sits higher than your tow vehicle than you will need to subtract your Coupler Height from your Hitch Height . This will give you your Rise.
Getting the correct measurement for your shank selection will ensure your caravan or trailer tows more level. Most hitches on the market offer a shank from between 3 and 6 inches which is most commonly used with tow vehicles. Some higher vehicles or ones fitted with lift kits may require a larger shank. For example:
When the tow vehicle is higher than the trailer: HH 14" (355mm) - CH 10" (254mm) = 4" (101mm) Drop
When the trailer is higher than the tow vehicle: CH 16" (406mm) - HH 13" (330mm) = 3" (76mm) Rise
Most shanks need to be compatible with your weight distribution hitch so it is not advised to mix and match your shank with your weight distribution brands.
Pro Tip: Always measure, never guess!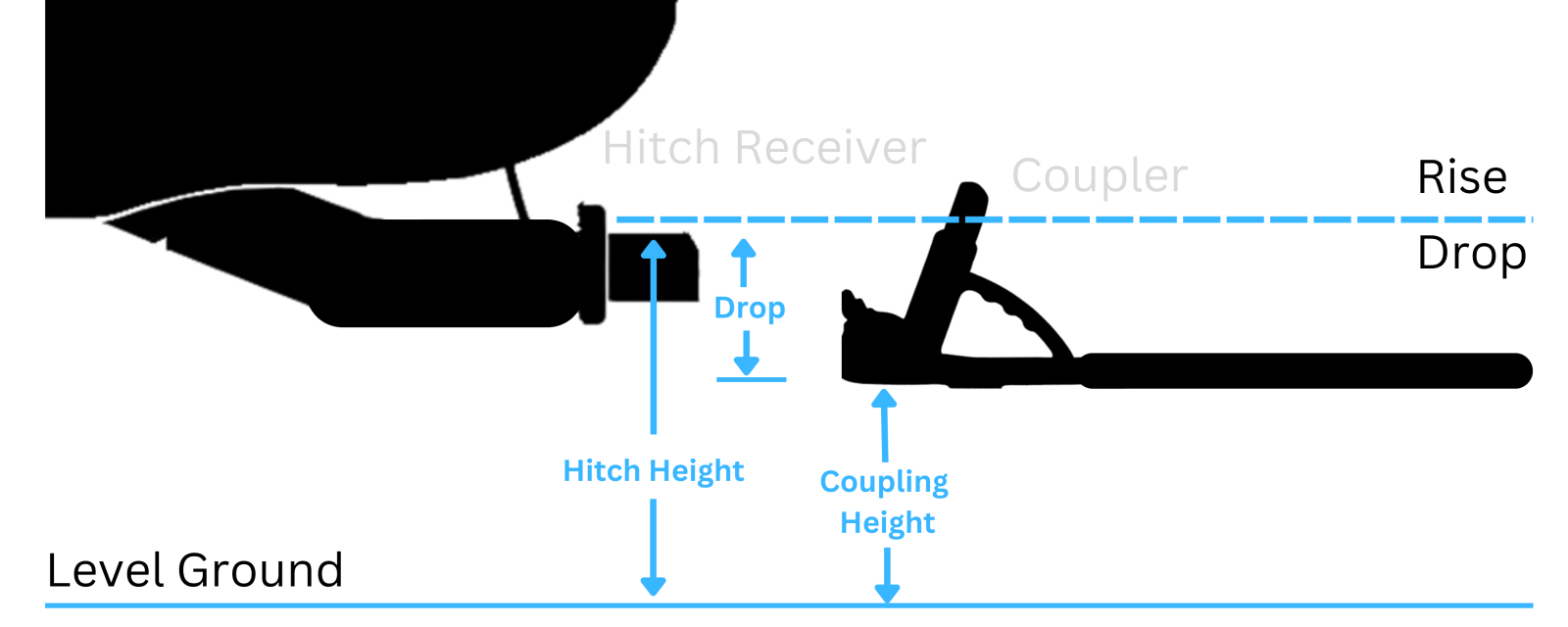 4. Measure How Much Room You Have On The A-frame To Mount The Hitch
Most Caravans will have a jockey wheel mount welded onto the A-Frame of the caravan. It is important to check the location of this to ensure your L- bracket or clamp for spring bars will fit. Most weight distribution bars can accommodate for a varied placement of them, so be sure to check first.
Most people choose to move their jockey wheel to the centre of the A-Frame so it leaves a nice clear path for your bars to move freely.
5. How Deep Is Your A-Frame?
Traditional tow hitches were designed to suit an A-frame that is 100mm deep. However, because lots of caravan models now have A-frames made 150mm deep, it's easier to find a caravan tow hitch with the right clearance.
6. How is the Coupling Mounted to your A-Frame?
The coupling is the part welded to your A-Frame that you use to connect the caravan to the tow ball on the tow vehicle.
The position of this coupling can play a vital part in the type of hitch you purchase.
You need to ensure your bars or chain don't rub against your A-Frame.
These can be mounted in two positions:
On top of your A-Frame – a Round Bar hitch will need to be used. A trunnion can be used in some cases; you will however have to check the bars won't hit your A-Frame.

Underslung coupling (your coupling is mounted inside or on the bottom of your A-Frame) - Round bar or Trunnion hitch can be used.
7. Check Your Brakes
The type of brakes on your caravan or trailer will determine your tow hitch. If you have electric brakes on your caravan, choose any of the weight distribution hitches.
Compare Our Recommended Products
Take a look at the most popular brands and weigh up their pros and cons:
Hayman Reese
Hayman Reese is an Australian company that has been designing and manufacturing weight distribution towing systems since 1971.
These days, their popular weight distribution hitches come in a range of models: 600lb, 800lb or 1200lb (refers to the towball weight capacity).
600lb = 135kg – 275kg

800lb = 275kg – 365kg

1200lb = 365kg – 545kg
They are designed with either 30 or 28 inch spring bars (measured from the centre of the coupling), to suit a range of vehicles, and come in either Classic or Standard models:
Classic: Trunnion style bars, with integrated cams and a new lightweight, extra durable cast steel shank.

Standard: Round (hook) bars with integrated cams to allow for more clearance with a 6" trailer chassis.
Hayman Reese also offers a range of offset shanks to use when the lowest or highest setting on your existing shank is not low or high enough.

Fastway
This brand is renowned for its reliable and easy-to-use trailer products. The best selling Fastway hitch is the e2 model. It has everything you need for sway control and weight distribution, without the need of chains, add-on sway bars or dampening arms.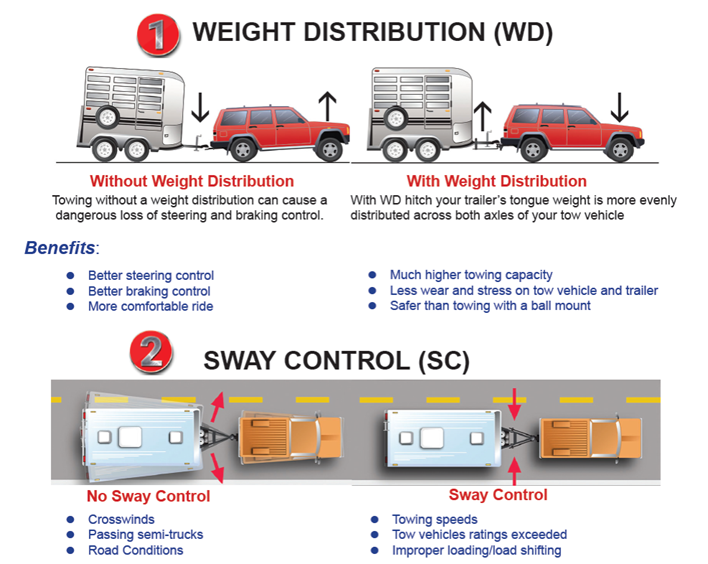 The Fastway E2 range will distribute the weight and offer sway control in an ALL-IN-ONE purchase. Giving that added safety on the road when towing.
The e2 hitch comes in round-bar and Trunnion styles. The Trunnion model weighs 40-45kg, while the round bar is lighter at 37-38kg.
The Trunnion hitch is best if your setup needs more ground clearance.
For both types, the GTM varies depending on the model:
6,000 lb (2500kg)

8,000 lb (3500kg)

10,000 lb (4500kg)

12,000 lb (5500kg)
These are compatible with your offroad type couplings such as the Hyland, DO35 and McHitch etc.
Andersen
Switching things up, Andersen offers chains rather than bars. These are more flexible and less noisy than bars. The WDH comes in a one size fits all and can tow up to 350kg ball weight, or 3500kg GTM. It suits a 50mm 3.5T tow ball and comes in a 4" or 8" drop/rise shank.
One of the best features is the sway control that self-adjusts in a greaseless system. The ball and coupler move as one to provide unparalleled anti-sway control and "True Motion-Dampening" system. The whole system weighs less than 25kg, which is significantly lighter than other brands.
This model also doubles as a standard ball mount for towing without weight distribution.
These are not suitable for use with the offroad type couplings such as the Hyland, DO35 and McHitch etc.
Pro Tip: The Anderson WDH is recommended for people that don't have the strength to attach the sway bars to their mounts. These are attached with the chains and tightened with shifter or socket wrench. The still provide the same strength as the bar style hitches in terms of safety.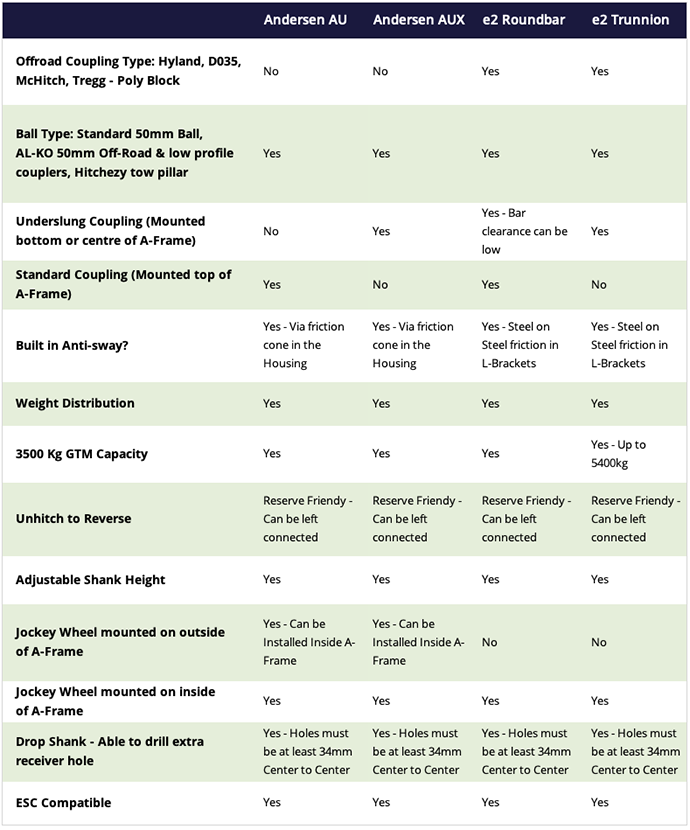 Eaz Lift
This caravan tow hitch is beautifully made from high grade, machine-tapered round steel bars and hook up brackets and chains. In other words, it's built tough.
Choose from the 600 or 800 series. The 600 series has a tow ball weight capacity of 272kg, while the 800 series suits up to 363kg.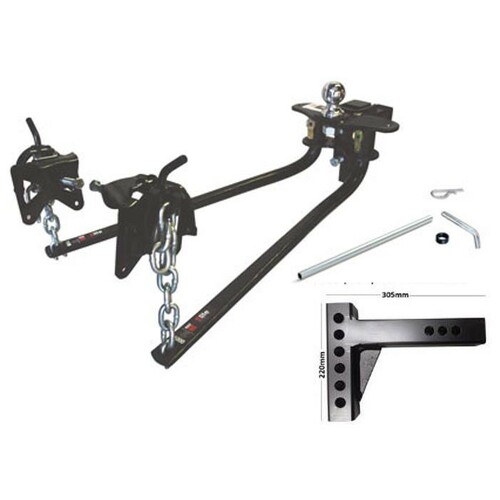 Choose The Right Accessories For Your Caravan Weight Distribution Hitch
Which accessories do you need? It depends on the tow hitch.
Depending on the height of your tow ball, you may need an off-set shank. To work out the right shank, simply measure your tow ball height. You may want to buy an adjustable shank depending on how much towing you do and whether you plan to tow different trailers with differing coupler heights.
Explore our range of caravan tow hitches today.
DISCLAIMER* Please note, this advice is general in nature and we strongly recommend consulting the product manual and where relevant, a professional installer.
---
Leave a comment