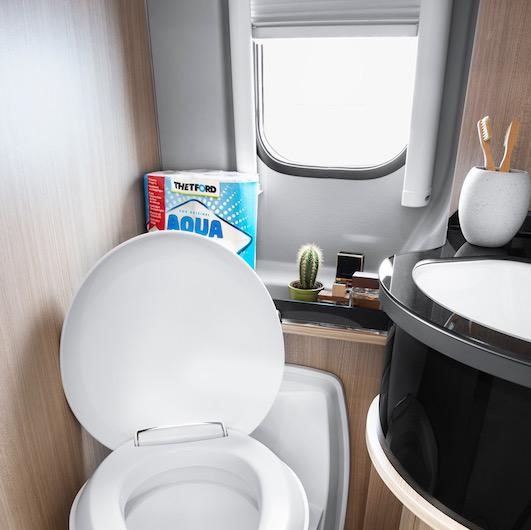 Is there anything worse than a smelly toilet in your caravan? Yes – a toilet that doesn't work because it hasn't been cleaned and maintained properly! The right caravan toilet chemicals can make all the difference to your caravan trip. They ensure your caravan toilet stays clean and smelling fresh – which is an absolute must when you're living in a small space!
But that's not the only reason you should buy caravan toilet chemicals – just like you maintain your toilet at home, you should also keep your caravan toilet in tip-top condition.
What Do Caravan Toilet Chemicals Do?
Caravan toilet chemicals work by bleaching, deodorising and sanitising your caravan waste holding tank. They reduce odours while assisting in breaking down waste, which makes it easier to empty the toilet – a definite bonus!
Some chemicals also prevent scale from building up in your toilet, which helps extend the lifespan of the toilet.
How To Buy The Right Caravan Toilet Chemicals
Liquid, tablets, sprays…there are different types of caravan toilet chemicals to choose from depending on what you need.
Start by asking yourself the following questions:
Do You Prefer To Use A Tablet Or Liquid Form?
Tablets are pre measured, which makes them super convenient and takes the guesswork out. It also means there's no spills and mess, and you don't have to worry about getting harsh chemicals on your hands. However, they can be a more expensive option.
Which Part Of The Toilet Are You Cleaning?
You can buy a liquid or tablet chemical which keeps the waste holding tank clean and prevents the build-up of scale. There are two different types of chemical to choose from – the first is a sanitation additive and the other is a tank cleaner.
The idea behind an additive is that you add it to the waste holding tank, and it helps breakdown the waste (including toilet paper) and neutralise unpleasant gases and odours. The chemical will last for a set amount of time depending on the product you buy.
The waste holding tank cleaner, on the other hand, is for when you want to clean your caravan toilet cassette. They are typically designed to make it very easy to clean with no scrubbing. For example, with the Thetford Cassette Tank Cleaner, you pour 200ml into your waste tank, fill with approximately 5 litres of water, vigorously shake and leave it to stand overnight. No need for scrubbing!
Meanwhile, a spray will help you keep the toilet bowl clean. For example, the Thetford Aqua Rinse Spray coats your toilet bowl with a protective layer that helps prevent stains, smells and allows for a smoother flush.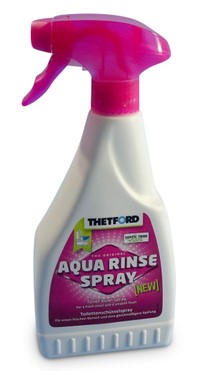 The final thing to consider is…which scent?
Lavender, rain, tropical…the choice is yours!
Top Tips And Tricks For Caravan Toilet Chemicals
Tip #1 You don't need to match the brand of your toilet to the brand of cleaning products!
If you have a Dometic caravan toilet, you can still buy a Thetford cleaning product or a Camco cleaning product, and so on. Some brands are designed for use with any caravan toilet – be sure to check the label.
Tip #2 Go for an environmentally friendly option to reduce the impact of disposal on the environment.
We recommend the Dometic Green Care tablets, which are an environmentally friendly toilet tablet.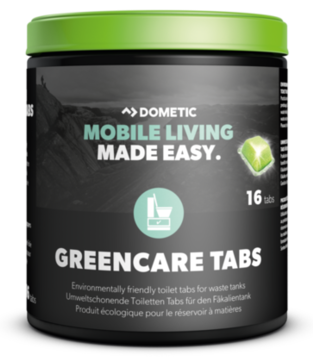 Tip #3 Always refer to the manufacturer recommendations in the user manual on how to best clean and maintain your caravan toilet.
When it comes to cleaning your caravan toilet, don't go rogue! Do what the instructions say to keep your toilet clean, fresh and working properly for longer.
To maintain the life of your seals in your toilet, check out the Thetford Seal Lubricant, 200ml. This is a great product to have in your caravan as it can be used on hinges, doors and windows as well to help maintain the life of your plastic products.
Choose from a wide range of caravan toilet chemicals in our range.
DISCLAIMER* Please note, this advice is general in nature and we strongly recommend consulting the product manual and where relevant, a professional installer.
---
Leave a comment