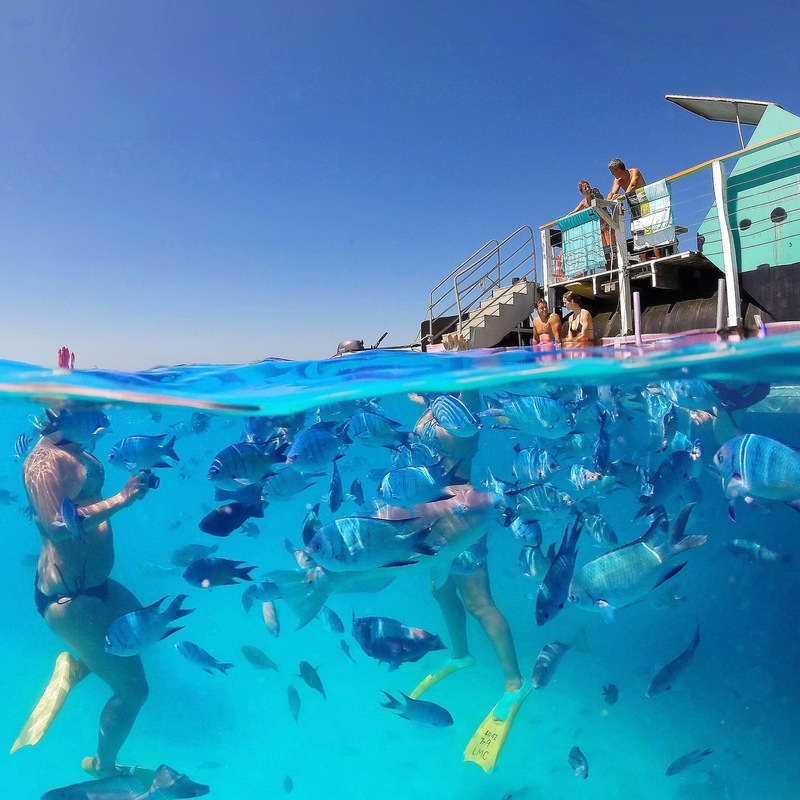 Agnes Water and Surrounding Areas
Average Winter Temps: 18°C
Traditional Land of: Gooreng Gooreng people
For a taste of history amid the unspoiled splendour of the Queensland coast, there may be no better destination than Agnes Water and Surrounding Areas. Since the Gooreng Gooreng people first witnessed Lt. James Cook's ship land on these shores in 1770, the town and its environs have left the surface of this pristine area virtually unmarred. It remains, nearly two and a half centuries later, much as it was prior to the first Europeans' arrival.
Together with its even tinier neighbour, the Town of 1770, Agnes Water offers a bit of paradise on Earth. Nestled within golden beaches, rich coastal rainforests, and abundance of marine and national parks, these twin towns provide a home base for anyone seeking adventure in the great outdoors. Of course, the fact that this is one of only three places along Australia's east coast where you can watch the sun setting low over the water certainly enhances its appeal.
The area's natural beauty also includes one of the world's most magnificent natural wonders: the Great Barrier Reef – a sight that no visitor should pass up the opportunity to experience!
National Parks:
Deepwater National Park
Eurimbula National Park (closest to Agnes Water)
Broadwater Conservation Park (closest to Agnes Water)
Bulburin National Park
Capricornia Cays National Park
Castle Tower National Park
Curtis Island National Park & Conservation Park
Kalpowar National Park
Kroombit Tops
Mon Repos Conservation Park
Mount Colosseum National Park
Mount Scorea National Park
Mouth of Baffle Creek Conservation Park
Wild Cattle Island National Park
Attractions & Activities:
Surfing
Surf Lessons
Kayak Tours
Scooter Roo
1770 Golf Course
Driving Range
Lawn Bowls at the 1770 Bowls Club
Discovery Coast Markets
Paradise Tour
Daily Fishing Outings
Visit Monument Point or the Historical Museum
Water Recreation and Skate Park
Ganoonga Noonga Lookout at the Eurimbula National Park
Get a view of the bay at Round Hill Head
Watch the turtles
Plenty of Restaurants and Cafes to enjoy everything from steaks to seafood or pizza!
Caravan Parks:
1770 Camping Grounds, 1770
Lovely beach-side camping sites make this camping park a cut above the rest. The camping grounds feature plenty of lots for tens, as well as caravan parking and amenities. There are laundry facilities to freshen up those clothes, towels, and other sundries, and gas, ice, areas for barbecuing, and a full camp kitchen with everything you might need to create your culinary masterpiece. There's even a kiosk with basic grocery items. It is open from the early morning until six-thirty at night. The site is a great place to watch the sun set!
Town of 1770
$35-$49/night for 2 adults and children. $12 each additional adult, $8 per child
http://www.1770campingground.com.au/
Agnes Water Beach Caravan Park, Agnes Water
This lovely site is located right on the Discovery Coast in Queensland, and is often used by those who seek a perfect launching spot for any foray to the Southern Great Barrier Reef. From these grounds, visitors can easily access some of the most secluded and secret fishing areas in the world, well-concealed beaches, and pristine views of the rainforest. There are both water-front slabs and areas slightly back from the beach.
Sites are available for powered travelers and their energy-using caravans, campers, and tents – as well as traditional non-powered areas for tents. Campers have access to the grounds amenities, including essentials like coin-operated laundry machines, showers, etc. The grounds are pet-friendly, but all animals must be booked in advance, and are only allowed on the camp sites and on their leads.
$35-$49/night; chalet, studios, and apartments also available beginning at $160/night.
https://www.agneswaterbeach.com.au/
Free Camping / Low Cost Camping
Workmans Beach, Agnes Waters
At the very north end of Queensland's northernmost surfing beach, you'll find a little gem of a campsite that will welcome both you and your pets. Located in an area surrounded by shade, the site is about as close to Agnes Water as you can get and still call yourself a camper! It's secluded enough to feel like you're truly on your own, but still near enough that milk, coffee, and news of the outside world are just a short walk away.
Campers who choose this site have access to the grounds' toilet and shower facilities, gas-run outdoor barbeques, and all the peace and quiet anyone could ever want. That makes it an ideal location to use as a refuge when you need to recover from a day of adventure along the coast. From here, you'll have easy access to surfing, swimming, fishing, and hiking. Both tent and trailer sites are available for rent.
$6/night for each adult and child. Fees are collected by the park ranger.
DISCLAIMER* Please note, this advice is general in nature and we strongly recommend consulting the product manual and where relevant, a professional installer.
---
Leave a comment