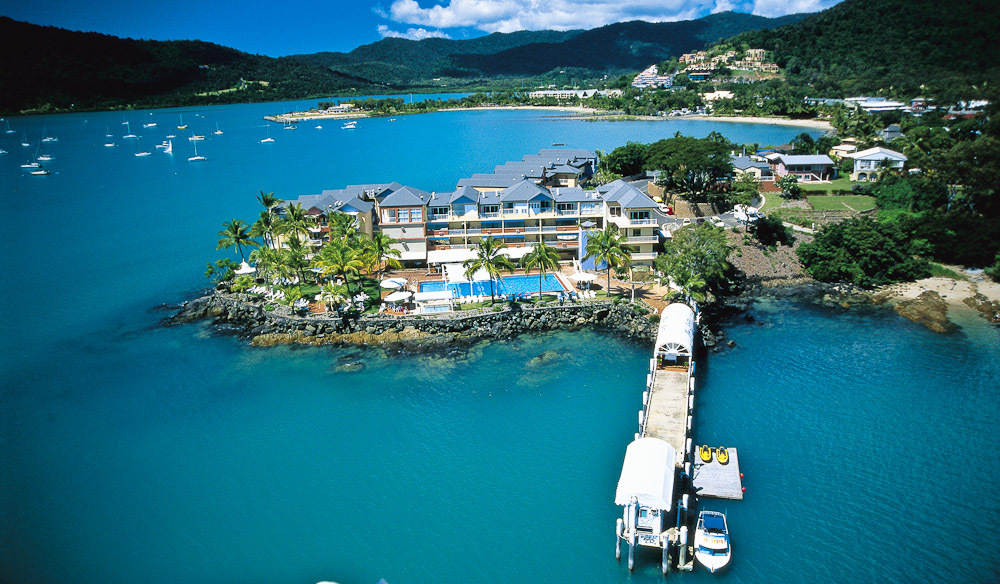 Airlie Beach
Average Winter Temps: 23°C
Traditional Land of: Ngaro and Gia people
If there is one place in Australia on many people's bucket lists, it's the Whitsundays. Home to such natural wonders as the Great Barrier Reef and Heart Reef, this region remains a popular tourist destination for people from around the world. Sitting at the hub of this magnificent area is the township of Arlie Beach – a town that's livelihood now relies almost exclusively on catering to the needs of those who travel here.
Arlie Beach has a prime location for providing these services, with the nearest cities 150 and 300 km away. That makes them the prime starting point for visits to many of the most sought after destinations in this area of Queensland. Their close proximity to the Whitsunday islands and rich abundance of lush scenery and exotic animals are major draws that keep visitors returning to this area time and time again.
Because of its location, Arlie Beach has adapted to ensure that it offers tourists the variety they need to accommodate their individual tastes. Accommodations include everything from fine hotels to budget camping grounds, and the area is packed with tour offerings and other outings designed to entertain and amaze. There's shopping, an array of restaurants and wildlife, and natural wonders and parks that will delight your senses.
Because of its north-facing orientation, the town enjoys one of the most consistently balmy climates in the country. That tropical feel has proven irresistible to developers, and they have taken full of advantage of the boom in tourism in recent years. That has helped to make Arlie Beach a thoroughly modern township nestled within the wonders of the wild. If you're looking to cross Australia off your bucket list of places to visit, there are few places to visit that are more majestic than this township in Queensland.
National Parks:
Conway National Park
Heart Reef
Dryander National Park
Attractions & Activities:
Shopping
Vibrant night life
Swimming
Fine dining
Day tours available
Sailing boat rentals
Fishing
Walking trails, scenic drives
Mountain biking
Kayaking
Trek through the rainforest
Enjoy a round or two of golf
Caravan Parks:
Island Gateway Holiday Park
Airlie Beach, Queensland
This site has it all! Luscious campgrounds, secure camp sites, a spa, and villas help to ensure that your time away from home is every bit the paradise you dreamed it would be. While this is a caravan park, it is a caravan park with a difference! Camping is all fine and good, but with Gateway, you also get access to video games, barbecue, a pool, and much, much more. Cruise bookings and tour opportunities can be obtained from the reception area, making this your one-stop center for Arlie Beach adventure.
$50-70/night
http://www.islandgateway.com.au/
Big 4 Adventure Whitsunday Resort
Airlie Beach, Queensland
Bi4 Adventure Whitsunday has been a consistent prize-winning resort and campground for many years. It not only offers the usually caravan amenities, but also provides a pool, a jumping pillow, tennis courts, movies shown in the great outdoors, and two waterslides. In addition to the camping areas, there are also an assortment of villas and cottages available for rent, making this a resort with just the right options for anyone's tastes. Their kids' club, mini-golf outings, pizza, and face painting festivities make this a true family-friendly destination. The operators pride themselves on creating an environment that makes it almost impossible to become bored!
$35-$91/night for 1-2 persons. $12-$20/ night for each additional person.
http://www.adventurewhitsunday.com.au/stay/
Free Camping / Low Cost Camping:
Magnums
Airlie Beach, Queensland
When you're looking for budget opportunities, you're looking for Magnums! There are not only a variety of relatively low-cost dorm rooms, cabins, and other rooms for backpackers and other travelers, but camper parking spots that are extremely affordable for families and other travelers. The retreat is conveniently located within range of all of the wonderful amenities that Arlie Beach provides, enabling you to reach shopping areas, restaurants, and pubs with only a short walk. The facility itself provides kitchen areas, free internet, television, games, and a laundry.
$30/ night per camper; $30/night per tent
Airlie Cove Van Park & Resort
Jubilee Pocket, Airlie Beach, Queensland
Nestled next to Conway National Park, this camp site offers everything an outdoor or wildlife enthusiast could want. The area is home to wide variety of some of Australia's most intriguing animals and birds, including kangaroos, parrots, wallabies, possums, and scrub turkeys. The park is renowned for its location, which provides the perfect launch point for tours to all of the major tourist destinations.
Prices as low as $39/night for caravans
DISCLAIMER* Please note, this advice is general in nature and we strongly recommend consulting the product manual and where relevant, a professional installer.
---
Leave a comment