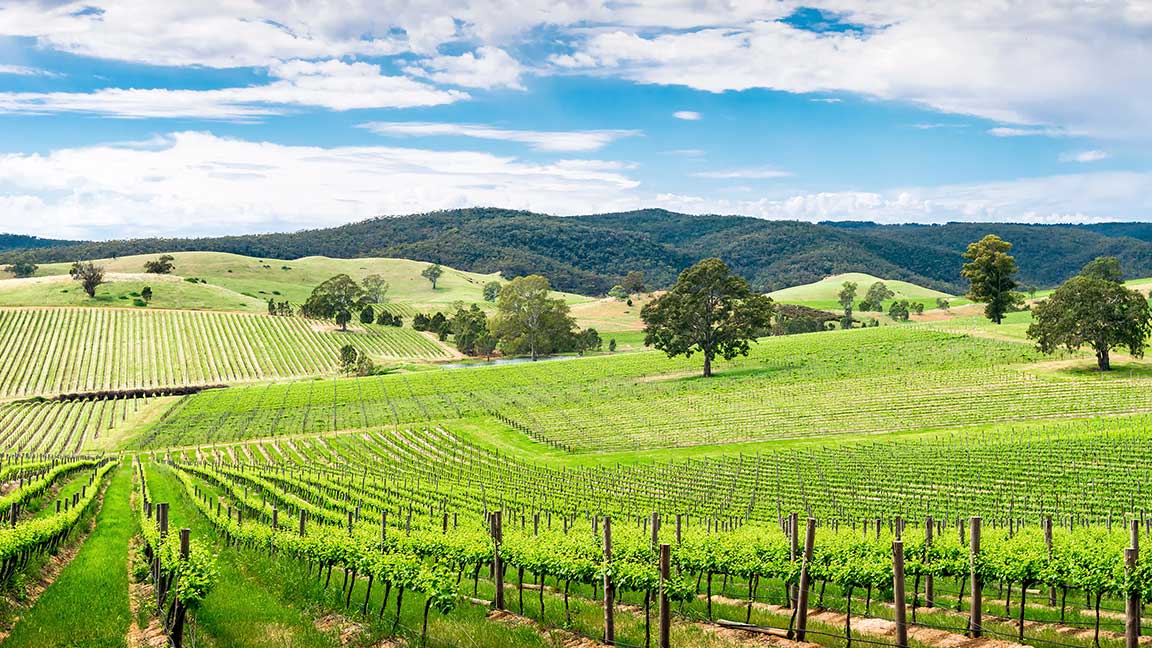 Barossa Valley - South Australia
Average Winter Temps: 13℃
Average Summer Temps: 22℃
Traditional Land of: Peramangk People
Whether you're a wine lover or just someone who appreciates a good time, a trip to the Barossa Valley can be an ideal way to accommodate your tastes! When it comes to uniquely Australian wine, the Barossa is the premiere example of the country's winemaking spirit. That the area also happens to be one of the most beautiful places on the planet is just icing on the cake!
Obviously, wine is a big attraction and draw for the Valley, as it is home to some four dozen local wineries and a large number of wine tours. Many of the wineries also offer other amenities like food, so you can easily make a day of your travels through wine country by also sampling local cuisine along the way. Best of all, the actual winemakers are always eager to talk to you about their craft, and are some of the most endearing people you'll ever want to meet.
Of course, there's more to do and enjoy than wine, so be sure to partake of some of the other local attractions. Balloon rides are an exciting way to spend part of your day, as they offer a unique opportunity to see the amazing landscape of the Barossa from a vantage point that will allow you to truly appreciate its magnificence. Visit the national parks and other nature attractions to see the area's diverse wildlife and vegetations. Or just relax and take in a game of ten-pins or stroll through the sculpture park.
There are always things to experience and enjoy in the Barossa – but be sure to schedule more than one day in the area if you want to have a chance to take it all in!
National Parks:
Kaiserstuhl Conservation Park
Sandy Creek Conservation Park
Hale Conservation Park
Attractions & Activities:
Barossa Valley Ballooning - Hot Air Balloon Rides
Barossa Bowl Land - Mini Golf and Bowling
Guided Tours at Lyndoch Lavender Farm & Café
Barossa Sculpture Park
Barossa Scenic Heritage Drive 4
Cycle the Barossa Valley
Barossa Goldfields Walks
Victoria Creek Reserve
Visit the Farmer's Market
Wineries
Kaiser Stuhl Conservation Park
Barossa Bushgardens
Mengler's Hill
The Whispering Wall
Para Road Walking trail
Caravan Parks:
Gawler Caravan Park
Gawler, SA
If you're looking for an ideal home base for your travels throughout the Barossa, then this beautiful park may be just the solution you need. They have both unpowered and powered sites that are large enough for most caravans and motor homes. The park provides a playground, handicap accessibility, free barbecue areas, and laundry options. Best of all, its location is within walking distance of quality shopping and dining opportunities, as well as a variety of sightseeing attractions.
$29/night for two persons, unpowered site; $33/night for two persons, powered grass site)
$10/night for each additional child; $12/night for each additional adult.
BIG4 Adelaide Shores Caravan Park
West Beach, SA
With its spacious park environment and seemingly endless variety of things to do, this campsite can provide the perfect getaway for visitors to the Barossa. Swimming pools, a tennis court and playground, camp kitchen, jumping pillows, and tour booking service all combine to make a stay at this campsite one the entire family will remember for years to come.
$55/night powered ensuite site; $38/night powered slab site)
Discovery Holiday Parks – Barossa Valley
Tanunda, SA
Located right in the heart of the Barossa, this Tanunda caravan park offers quick access to the vineyards, hills, and other features of the surrounding environment that draw so many visitors to Southern Australia. The park provides powered and unpowered sites, a trampoline, swim area, and playground for the kids. There's a kiosk, recreational center, camp kitchen, and access to bikes that you can rent.
$30/night unpowered grass site; $35/night powered grass site)
Free Camping / Low Cost Camping:
Mount Crawford
Mount Crawford Forest
About an hour outside of Adelaide, you can find a perfect spot for bush camping at this beautiful forest spot. If you don't mind roughing it, this can be an ideal location for riding horses or mountain bikes, or just enjoying a lively nature walk. Keep in mind, however, that it is a good idea to call ahead to confirm your stay. The area is closed to camping at different points during the summer fire ban season.
DISCLAIMER* Please note, this advice is general in nature and we strongly recommend consulting the product manual and where relevant, a professional installer.
---
Leave a comment