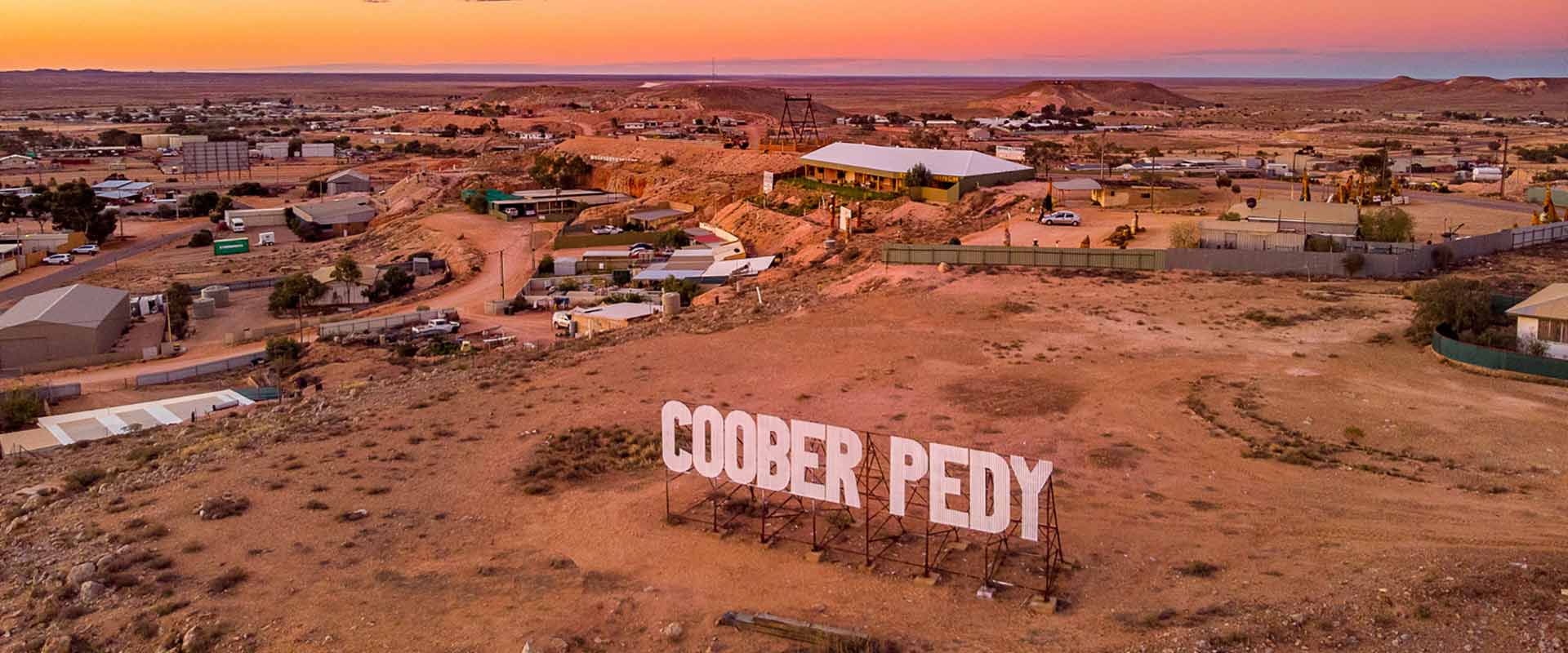 Coober Pedy - South Australia
Average Winter Temps: 19.8℃
Average Summer Temps: 35.3℃
Traditional Land of: Arabana People
If you're an opal lover and don't mind the heat, then Coober Pedy is a can't-miss destination for you and your family! Hidden deep within the vibrant heart of South Australia's outback region, this town has long been known as the Opal Capital of the world, and renowned for its many underground homes, mines, and churches.
It's also a great place to visit if Adelaide and Alice Springs are on your traveling itinerary, as it's located along the way and situated off Stuart Highway. Coober Pedy is a desert town, but don't worry about any potential lack of water. The town is well-served with artesian water, making it an oasis in the midst of one of the driest places on the planet.
Once you arrive, you'll find there's no shortage of adventure to be had. The city is a hotbed for opals even to this day, and you can find any number of opportunities to view, buy, or even search for these desirable gems in the area.
Of course, there's more to Coober Pedy than just gemstones. With a host of scenic sites to see, and events and festivals to dazzle the senses, this historic desert town provides an endless array of activities and attractions to occupy your time!
National Parks:
Breakaways Conservation Park (Protected Area)
Tallaringa Conservation Park
Eyre National Park
Attractions & Activities:
The Old Timers Mine
Simpson Desert
Flinders Ranges National Park
Clayton Station
Shark Cage Diving
Lake Eyre
Trail Rides at Clayton Station
Wangara Lookout
Faye's Underground Home
Umoona Opal Mine & Museum
Sightseeing Tours
Josephine's Gallery & Kangaroo Orphanage
Tom's Working Opal Mine
Catacomb Church
Breakaways Conservation Park
Crocodile Harry's Underground Nest
Golf Courses
Spaceship from Pitch Black
Bus Tours
Air Tours
Caravan Parks:
Big4 Stuart Range Outback Resort
Coober Pedy, South Australia
For weary travelers still searching for that ideal synthesis of rest and adventure, the Stuart Range Outback Resort is the perfect place to set up camp. This park offers easy access to tours of the area's many attractions, dazzling art, opals, and a beautiful landscape view. Camp kitchens, barbecues, and entertainment areas combine with all of the amenities any traveler could want or need to create the perfect home base for all your adventures in the area. And while you're there, be sure to stop by Nostrimo Pizza and Restaurant to try their famed gourmet pizzas!
$54/night for 6 persons, unpowered site;$68/night for 6 persons, powered site.
Call or visit their website to confirm availability and pricing.
Oasis Coober Pedy
Coober Pedy, South Australia
Anyone looking for a tranquil getaway need look no further than Oasis Coober Pedy. This park's quiet environment offers all the rest and relaxation you'll need after a hard day of adventure in search of opals and other excitement. The Oasis provides clean amenities, boom gate security, barbecues, camp kitchen, an indoor pool, and plenty of activities to keep the kids occupied. And if you've got a van that gets a little temperamental from time to time, they have on-site mechanical repair to ensure that you're able to get on your way without undue delays!
$30/night for 2 persons, unpowered site;$37.50/night for 2 persons, powered site; $48/night for 2 persons, ensuite powered site. $9/each additional child; $12/each addition adult.
Opal Inn
Coober Pedy, South Australia
The Opal Inn offers grassy campsite areas and sullage for all sites. The park has a bar and restaurant, business center, and meeting rooms for business groups and others who are looking for a home base while visiting the area. The Opal Inn Gift Shop is a great place to pick up those souvenirs for all the loved ones you left behind as you ventured forth on your adventure in the area! Best of all, the park's location in town provides you with easy access to all of the wonderful attractions and activities in and around Coober Pedy.
$20/night for 2 persons, unpowered site; $30/night for 2 persons, powered site; $5 each additional person
Free Camping / Low Cost Camping:
For free camping, head about 12km south and visit Hutchinson Memorial. There are no facilities to speak of, so you'll need to be self-sufficient in every respect, but the area is a great place to just park for the night and rough it! Just be sure to take your trash with you when you leave.
DISCLAIMER* Please note, this advice is general in nature and we strongly recommend consulting the product manual and where relevant, a professional installer.
---
Leave a comment