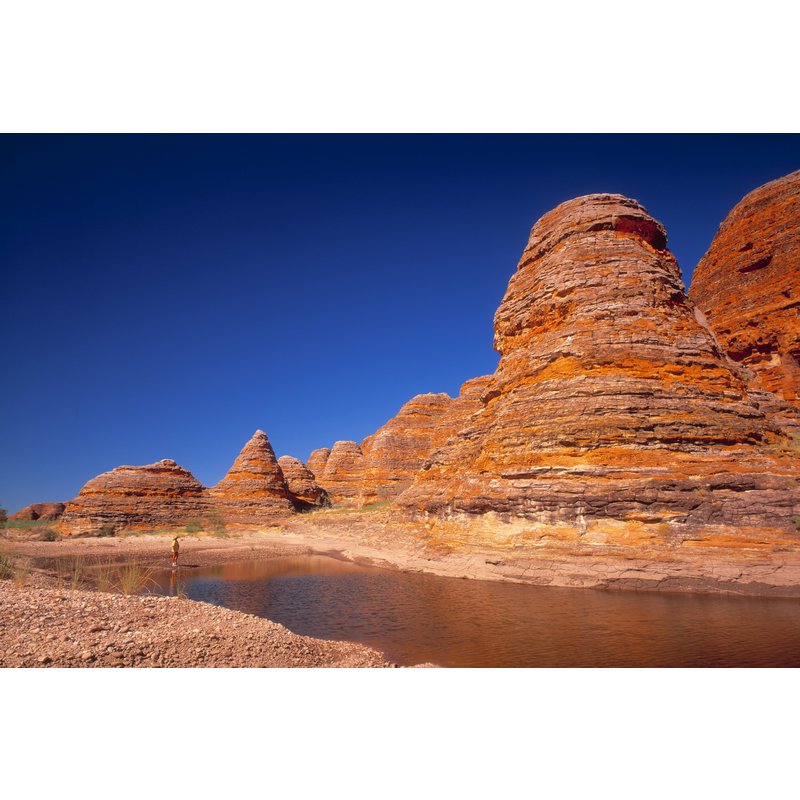 Caravanning Kununurra & the East Kimberly
Traditional Land of: Miriwoong people
One word.
Water.
It's what dominates life in this part of inland north-west Australia. Lakes, tidal rivers, streams, creeks, waterfalls, rock pools and gorges surrounded by ranges, cliffs and escarpments. Water is not only the life source that feeds nature's beauty in this region, it also dominates the "to do"scene that we travelers can become so focused on.
This is not only a stopover centre for tourists stocking up before & after their adventures in the Kimberleys, but an important agricultural community, that provides the majority of the state's fruit and vegetables. The town is also surrounded by incredible natural resources in the form of diamonds, rare rocks and fish, all of which contributes to a growing art and food scene.
Accessibility and security can be an issue in this area and so having a 4WD and being relatively self-sufficient is recommended. However if you are already up in the North you will definitely enjoy having a break in this area. There's a palpable vibe of excitement in this town and it's a great place to meet other travelers and exchange tips for the sometimes nerving outback that awaits. You may have just been through the Northern Territory and seen all it has to offer, but even the Territorians add Kununurra to their weekend wish list.
National Parks:
Mirima (Hidden Valley)
Keep River
Parry Lagoons Nature Reserve
Marlgu Billabong
Purnululu (Bungle Bungles)
Attractions & Activities:
Fishing - Bandicoot Bar, Dunham & Ord Rivers junction, Ivanhoe Crossing
Swimming - always check with local authorities about access & crocs! - Ivanhoe Crossing (dry season & in spas only), The Grotto, Middle Springs & Black Rock Falls (4WD), Molly Springs (4WD)
Day Trips: Lake Argyle & Homestead, Wyndham, Argyle Diamond Mine, El Questro Station
Kelly's Knob (sunset picnic is the best end to a day)
Lake Kununurra
Ord River Diversion Dam
Zebra Rock Mine
Hoochery Distillery
Kununurra Museum
Art Galleries
Diamond & Kimberley shopping
Paddy's Market
Packsaddle Road - farming area & Sleeping Buddha or Elephant Rock
City of Ruins (best visited in the afternoon)
Boat Cruises
Canoeing
Caving
Abseiling
4 Wheel Driving
Hiking
Caravan Parks:
Kimberleyland, Kununurra
Nice outlook overlooking the lagoon in town. There are lots of shady spots, the staff are helpful, great pool for cooling off after a long day, well maintained facilities, and it's a short stroll into town.
Stations:
Diggers Rest - King River Rd, Wynham
Home to many locations from Baz Luhrmann's film'Australia', they also offer horse riding adventures.
$15-$30/n, for 2 people.
www.diggersreststation.com.au/
El Questro - turnoff 36km from turnoff of Great Northern Hwy to Gibb River Rd (from Kununurra)
One of the largest stations in Australia, El Questro is an experience in itself, with many activities available on site and their own wilderness park.
$20-$28/n, per person.
www.elquestro.com.au/Camping-Rates.aspx
Zebra Rock Mine Campground - approx. 5km on Duncan Rd off Victoria Hwy, Lake Argyle
Offer wetlands safari, see the rare and curious zebra rocks, found only in this part of the world. The bush camp is known for their customer service.
Contact directly for pricing.
www.zebrarockmine.com.au/home/zebra-rock-mine-camping-ground/campground
Free Camping / Low Cost Camping:
Various Spots along the River Ord - Parry Creek Rd to Wyndham
Popular spots: Mambi Island & Buttons Crossing
Kununurra Showground - 199 Coolibah Drive
Only open during the dry season and not during the Agricultural Show in July.
Really only for people who can't stay in the caravan parks.
Cheaper than the town caravan parks - need to visit show ground directly for pricing information.
Goorrandalng & Jarnem - 50km East of Kununurra on Victoria Hwy, 3km from border take road for entry into park and continue for 18 or 31km to your preferred camping destination.
Located in Keep River National Park noted for its striking landforms.
Northern Territory Parks & Wildlife Commission Camping Fees Apply
$3.30 - $6.60 / night, per adult.
Main Roads WA Rest Stops - North West Coastal Highway
While we wouldn't recommend basing a holiday from any of these stops, if you feel you just can't go any further that night there are some rest stops between Durack and Kununurra.
DISCLAIMER* Please note, this advice is general in nature and we strongly recommend consulting the product manual and where relevant, a professional installer.
---
Leave a comment