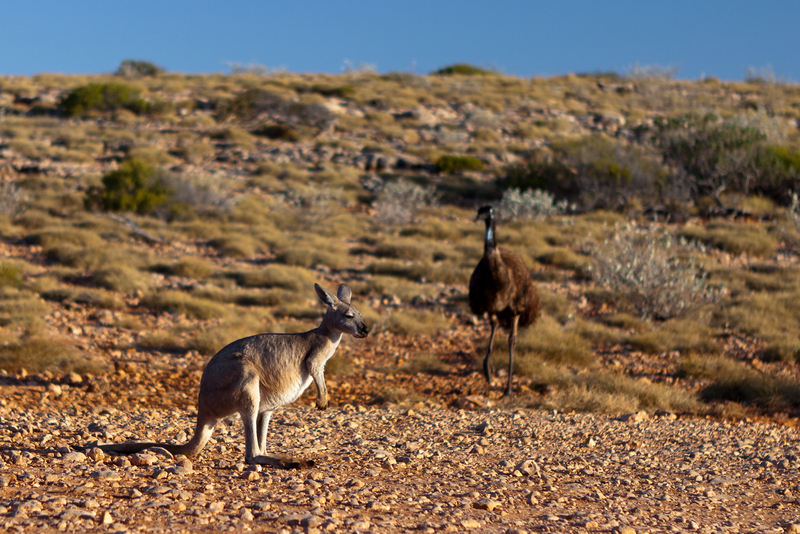 Exmouth & Coral Bay
Traditional Land of: Baiyunga & Jinigudira peoples
Located just over an hour apart, these two hubs may exude very different kinds of atmosphere. However it is undeniable that no matter where you go or stay, nothing can detract from the raw and breathtaking oceanic scenery sweeping the shoreline that connects the two together.
In a marine playground that rivals the Great Barrier Reef, it's no wonder that this special piece of Australia is home to one of the top 20 voted beaches in the world, and features on the World Heritage List. The Ningaloo Reef is all about the animals; be they in water, the sky or on land. In very few places are we still privileged enough to mingle so closely with such iconic both rare and prolific species. For this reason Ningaloo is renowned for its opportunity to swim with the whale sharks. If getting up close and personal in the water isn't your thing though, you're just as likely to have emus and kangaroos popping by as you lazily relax reading back at camp. (Mind you who would want to read and daydream of beautiful places and lives far off when you have paradise waiting just outside your caravan!).
It can be very windy, in a lot of good camp spots you need to be totally self sufficient and handy in a 4WD, and it's busy all year round so you usually have to book in advance. But this place has a magnetism that will sing to you long after you've moved on.
Exmouth vs. Coral Bay
Exmouth is slightly cheaper and a bigger town with more facilities. You have to travel further to get out to the reef, but it is closer to the Cape Range National Park (which is a must do - absolutely - no arguments), which can be accessed without a 4WD from the Exmouth end.
Coral Bay on the other hand makes up for its lack of facilities with atmosphere. Although not a fancy place, it has a more relaxed coastal holiday vibe about it then it's larger counterpart. There are just enough businesses to keep anyone happy to relax, eat, drink and swim. But the luxury of any resources in this town comes with an expensive price tag. It is a price tag however that even backpackers are more than willing to pay, as you can stroll across to the beach and 50m away from the shore you're on the reef, snorkelling amongst nature's treasured beasts.
Local Events:
Apr - Jul: Whale Sharks
May - Nov: Manta Rays & Dugongs (found all year in Coral Bay)
Jun - Nov: Humpbacks
All Year: Turtles
All Year: Reef Sharks
National Parks:
Cape Range
Ningaloo Reef Marine
Attractions & Activities:
Charles Knife Gorge (4WD)
Shotover Canyon (4WD)
Turquoise Bay
Mangrove Bay Bird Hide
Yardie Creek
Ningaloo Station (4WD) - Norwegian Bay whaling station & Point Cloates Lighthouse ruins
Mandu Mandu Gorge
Muiron Islands
Jurabi Turtle Centre
Milyering Discovery Centre (in Cape Range National Park)
Krait & Potshot Memorials
SS Mildura Wreck
The Big Prawn
Vlamingh Head Lighthouse
Swimming
Diving
Snorkelling
Surfing
Kayaking
Fishing
Quad Biking
Bushwalking
Caravan Parks:
Yardie Homestead Caravan Park, Exmouth
This family run park is actually located 26km out of Exmouth on the way into Cape Range National Park. It is the closest to the national park. A good in-betweener both literally and figuratively (between roughing it bush camping and staying in town with all the town facilities you could want). The local knowledge and advice is top-shop. Close to the fishing ramp, games like bocce on offer and pets welcome, the sunday roast isn't too shabby either! Although the facilities are decidedly no-frills, you can't beat old fashioned service that celebrates what was important on a beach holiday 20 years ago.
http://www.yardie.com.au/Camping.aspx
People's Park, Coral Bay
Right opposite the beach and further away from the main shops and restaurants that can get a little noisy. There are some beautiful shady and grassy sites for caravans and camping and the facilities are all spotless.
http://peoplesparkcoralbay.com.au/caravan-and-camping-sites/
Bullara Station, between Exmouth & Coral Bay
A working cattle station, Bullara Station is a unique experience. It is not by the beach (being inland half way between Exmouth & Coral Bay), but still has beautiful landscapes, particularly towards the end of Winter when the wildflowers start to come out. The sites may be red dirt and the facilities seemingly rustic, but it's all part of the outback charm. The place is extremely well-cared for and the owners pride themselves on their hospitality. Rarely in the world of hospitality do you find a place where past guests have basically nothing negative to say, so these family owners must be doing something right.
http://www.bullara-station.com.au/accommodation.html
Free Camping / Low Cost Camping:
Cape Range National Park (2WD & 4WD) - Yardie Creek Road from Exmouth
There are 11 campsites within the national park and accessibility varies. None of the sites have power or water but the views and natural beauty (both flora and fauna) are second to none.
Parks & Wildlife WA Camping Fees Apply
$5.50 - $10.00 / night, per adult.
Ningaloo Station (4WD) - Yardie Creek Road from Coral Bay
An alternative to camping in the national park. It's a rough 4WD road to get here, and no facilities or shade once you do, but the beaches (directly accessible from all campsites) seem untouched, and at $35/week per person you can't really complain.
Main Roads WA Rest Stops - North West Coastal Highway
While we wouldn't recommend basing a holiday from any of these stops, if you feel you just can't go any further that night there are four rest stops inland from the Ningaloo region.
Yannarie River, Burkett Rd, Lyndon and Minilya.
DISCLAIMER* Please note, this advice is general in nature and we strongly recommend consulting the product manual and where relevant, a professional installer.
---
Leave a comment