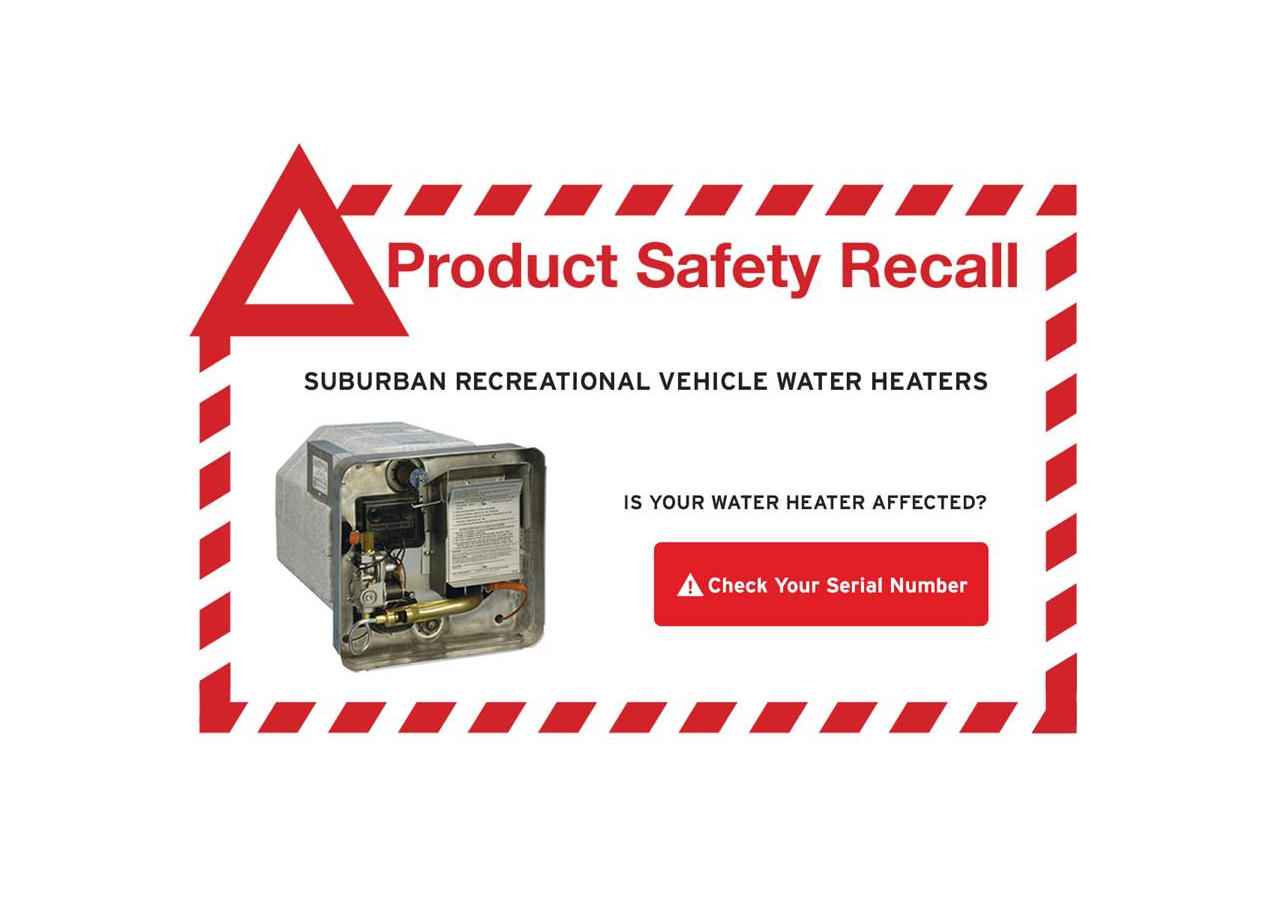 On the 4th of December 2020, the ACCC released a notice on their website for Suburban Hot Water System owners to have their systems inspected.
The national distributor for Suburban products is Coast to Coast and they have released this notice:
"ACCC Recall Reference: PRA:2019/17885
Coast RV Pty Ltd Recall Reference: CTC001
Serial Number Range:
· 181315552 – 193002648
· 183114087D – 191302511D
· 8183311827
· 8190201139
Dates Available for Sale: April 4 2018 – September 25 2019

We write to you today regarding the Suburban hot water service recall. We would like to advise that we will be going live with the product safety recall at 4pm today, Thursday 26 November 2020.

The initial stage of this process requires us to contact as many owners of affected water heaters as possible to advise them of the recall and call them to action to have their water heaters inspected.

There is a link below to the email that we will be sending to registered consumers at 4pm today. This email explains the recall process and directs consumers to our Suburban recall webpage to enter their water heater serial number to check if they're affected. We ask that you please share the email from the link below with your customer databases so that we may reach as many potential consumers as possible.
We'd like to advise that only authorised Coast RV Recall Service Agents may undertake work under this recall. These service agents have the necessary equipment and have been provided with the necessary training to undertake the required inspections.
Today, we are also launching a campaign to reach consumers who have not yet registered for the recall. There are several thousand owners of affected units that still remain unaccounted for and direct communication to these owners needs to occur.
As part of this campaign, we are making a "Check Your Serial Number" tool available for consumers to quickly and easily check the serial number of their hot water service against the list of affected units. The new tool can be found on the Coast website here and we advise that you spread awareness of this tool so that we may capture the details of the unaccounted owners.
To help spread awareness we have made some digital assets available for use on your website and social media channel here.
For all manufacturers, we ask that you please provide us with the contact details, chassis numbers and VINs of all of your customers who own an RV with an affected water heater or who purchased an RV with a water heater installed during the affected time period if serial numbers were not recorded.
For all resellers, dealers and repairers, we ask that you please provide us with the contact details of all your customers who purchased a Suburban hot water service during the affected time period.
If you do not wish to provide the above details, we advise that you contact these customers on our behalf and ask them to use our Check Your Serial Number page.
We would like to take this opportunity to remind all sellers of affected Suburban hot water services that it is a requirement under Australian consumer law to assist with this safety recall. If you have any questions, please contact our recalls team on 02 9645 7685 or at recalls@coastrv.com.au.
We'd like to thank you for your continued support as we move forward.
Kind regards,
The Team at Coast to Coast".
For more information, please visit the Coast to Coast site here.
If you have any further questions, please do not hesistate to contact Coast to Coast on 02 9645 7685 or at recalls@coastrv.com.au.
DISCLAIMER* Please note, this advice is general in nature and we strongly recommend consulting the product manual and where relevant, a professional installer.