EvaKool 110L 12v Fridge/Freezer
Caravan Fridge / Freezer
Reviews: Rated 5/5 based on 4 reviews. SKU: DC110 Learn More»
---
---
---
Evakool Platinum DC Upright Fridge Freezer for RVs - Model No DC110
473mm (W) x 815mm (H) x 530mm (D)
Say HELLO to the Evakool Platinum series range of caravan and motorhome fridge / freezers. Due to popular demand for a fridge that will comfortably fulfil the requirements of travellers in Australia's hottest environments, the Evakool Platinum Fridge series has been designed to work in ambient temperatures above +49 degrees Celsius while maintaining a freezer temperature of -15 degrees and a fridge temperature of -3.5 degrees. This fridge is Australian designed, for Australian conditions!
Evakool's unrivalled power consumption vs its cooling output is thanks to the Secop PBC 2.5 compressor - Look out for this compressor in the future for fridge technology in Australia as this is designed to suit the warmer climates.There are other brand compressors on the market that are very good for the cooler European conditions, although to bring them to Australia's hotter temperatures and watch the power consumption increase when put to the test!
Stylish in appearance, the silver/grey Satin finish is classy and uniquely designed to blend into the interiors of any caravan, motorhome or even boat.
I Just want a caravan fridge that will keep my food and drinks cold wherever I am in Australia!
The Secop (previously Danfoss) compressor delivers the optimum flow of refrigerant gas when cycling to efficiently and comfortably run your fridge/freezer. Combine this with extra thick insulation walls and clever heat dissipating design and you have extra cold beers on sweltering hot days!
The lowest drawing 12 / 24-volt fridge on the market - Perfect for free camping!
Designed for solar panel and generator setups where low amperage draw is very important, the Evakool range of fridges have a compressor designed to draw as little power as possible while still delivering optimum temperatures.
Platinum DC Upright Features
Cabinet:
Cooling capacity up to 60ºC below ambient temperature
Maximum T+ Climate Class Rating
Simple to use internal temperature adjustment dial
Easy to use controls
12/24-volt operation
240v operation is possible with the additional purchase and installation of an AC Adaptor
Reversible Doors
Metal Door Latch
Smooth, hygienic, easy to clean interiors, with all the bells you actually want
Service agents all over Australia including in remote locations
Includes free mounting kit valued at $149
Compressor:
Self-diagnostic fault system
Quiet, reliable, and efficient operation
Low voltage protection
Externally mounted condenser for improved performance venting heat away from the cabinet for reduced power consumption. Note - This does not mean its has an externally mounted compressor
Will operate on angles up to 30 degrees
Automatic reverse polarity protection
DC110 Specifications
Overall Specifications:
Overall Dimensions: 473mm (W) x 815mm (H) x 530mm (D) (depth includes bump stop)
Overall Capacity: 110L
Doors: 1 door
Weight: 30kg
Compressor: CK35 DC Compressor
Power: 12v (10.7~17) or 24v (22.8~31.5) operation (for 240v operation see Paul's Tips)
Power Consumption: 2.0-3.0A/hr (based on an ambient 32°C temperature, with internal fridge temperature set to +4°C, and internal freezer temperature set to -15°C)
Average Current Draw: 2.1 Amps or 26.9 Watts (over 24hrs - approx.)
Duty Cycle: 50% (i.e. 50% on and 50% off on average over 24 hours)
Finish: Metal
Colour: Platinum Satin Grey
Includes: interior light, metal door retaining clips, 3 x plastic coated metal shelves, 1 x Perspex shelf, 1 x vegetable/fruit crisper, 1 x ice tray, and 1 x egg tray.
Manufacturer's Warranty: 2 Year Fridge + 3 Year Compressor
Freezer Specifications:
Freezer Compartment Dimensions: 365mm (W) x 125mm (H) x 215mm (D)
Freezer Capacity: 10L (approx.)
Freezer Wall Thickness: 50mm
Fridge Specifications:
Fridge Compartment Dimensions: 395mm (W) x 720mm (H) x 380mm (D) (excludes compressor step)
Fridge Capacity: 100L (approx.)
Fridge Wall Thickness: 35mm
Paul's Tips:
> Evakool fridges can be run off 240V (mains power) when correctly set-up for use with an AC Adaptor. Our workshop recommends a product like the EP15-MW in the Accessories List above.
> Let your food cool down before placing it in the fridge to reduce your energy consumption.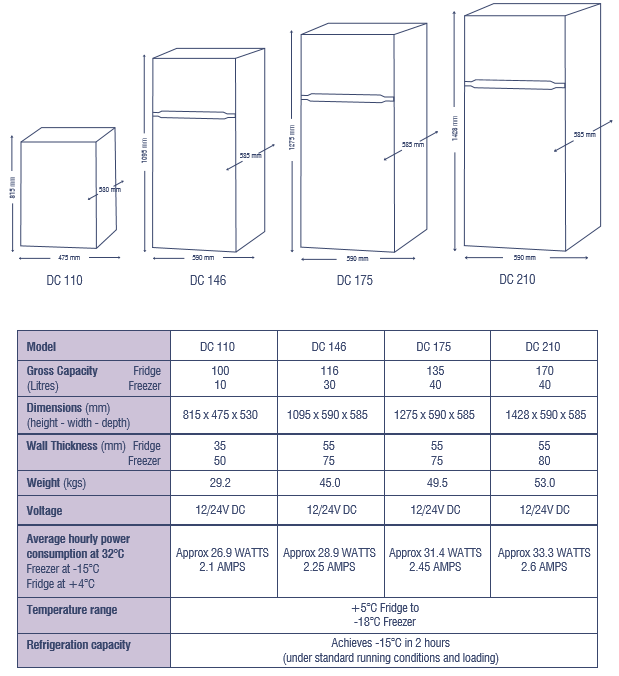 CARAVAN FRIDGE COMPARISON CHART
Click the link above


Not what your looking for? Feel free to browse the rest of our range of Evakool Fridges, 2 Way Fridges, Off Grid Fridges & Caravan Fridges - For any further infomation or to speak our fridge experts dial -1800 RV PARTS
SKU DC110
Brand Evakool
GTIN 9330263009085
Product Category Upright RV Compressor Fridges
Total Capacity 110 Litres
Fridge Width 475 mm
Fridge Height 815 mm
Fridge Depth 530 mm
Cut Out Required: 480 x 820 x 535 mm (W x H x D)
Weight: 30 Kg
Freezer Compartment: 10 Litres
Fridge Voltage: 12 / 24 V
Power Consumption: Approx 2.1 Amps/hr at 32°C ambient temp, Fridge at 4°C & Freezer at -15°C
NOTE: see full product specifications & further product info in the Description section on this page.
- We ship Australia-wide with national road express freight companies such as Star Track, Australia Post, TNT and Toll.
- Delivery times are generally 3-5 days from day of dispatch for major cities (sometimes quicker). Please allow longer for regional and remote areas.
- Once your item(s) have been dispatched, we will provide you freight tracking information so you can track your delivery to your door.
- Items are fully insured during the freight process.
- Unfortunately we cannot deliver to PO Boxes.
- For further details on our Delivery Process you can visit our Delivery Page HERE.
Important Covid-19 Comment: during these difficult times, our dispatch and delivery times are longer than normal. Please allow additional days for delivery over and above the normal estimates outlined above.
Evakool 110l 12vol fridge

By:

Kathryn Daly

on 19 June 2020

Am thrilled with this fridge. Great size, and performance. Also delivery was quicker than expected and fridge etc arrived in perfect condition.




(5)
Eva Kool frigd/freezer 12v.... Good unit

By:

waynewornes

on 29 March 2020

Easy fitting but I would recommend ply screwed to floor with holes for little legs.. And extra clear hose for drain so don't kink when pushing back under bench or hold up with endless line and when fitted pull the bitter end last thing




(4)
Evakool 110lt 12v fridge freezer

By:

Denese Naughton

on 7 July 2019

Really happy with our purchase especially advise given re product. Received on date advised.




(5)
Evakool 110ltr fridge/freezer.

By:

Greg King

on 9 August 2018

Great product. Runs quietly and efficiently on the 12v . Ideal for caravans .




(5)
---
Best Sellers From This Category: