---
Who likes to wait for their hot water to heat up? With the Suburban Nuatilus on demand hot water heater, waiting for hot water is a thing of the past. Suburban is a household name in the RV world, known for its hot water systems, and now the much awaited on demand hot water heater is here, so you can enjoy endless hot water from a name you know and trust. You can enjoy hot water in your RV's bathroom, kitchen and laundry simultaneously from every fixture. Reduce your weight by not needing to carry adidtional water to heat as there is no water storage tank required, plus you will improve efficiency as the system only operates as you need a supply of hot water.
Features:
60,000 BTU two stage self modulating combustion (MCS) system to instantly adjust the gas input, thus providing consistent hot water
MCS monitors the inlet water temperature, inlet water flow, output water temperature, combustion air fan speed, heat exchanger and burner operation
5 burners
2 Stage: stage 1= 2 burners, stage2= 5 burners
Built in freeze protection
Specifications:
Fuel source: LP Gas
Operational Voltage Range: 10.2-14.5v DC
12VDC: 2.1 Amps
Heating Capacity: 7.6L/min at 28°C rise
Maximum outlet water temperature: 50°C
Factory set water temperature: 50°C.The optional control panel will allow you to set the temperature between 35°C-50°C
Required Flow (LPM): 1.9
Watermark certified
Dimensions: 316.6 (w) x 317.8 (h) x 464.9 (d) mm *includive of inlet and discharge waterlines
Weight: 15kg (unit + vent assembly only)
Weight:16.3 (with optional access door)
Warranty: 2 years
Note: VENT-This unit does NOT come with a vent. You will need to pucrahse the vent separately according to your wall thickness.
See 950-03504 for 0-1"/0-2.5cm, 950-03506 for 1-2"/2.5-5cm, 950-03508 for 2-3"/5-7.6cm.
Note: TEMPERATUre-You cannot adjust the base temperature. For improved efficiency of the unit, it is recommended to use in conjunction with the temperature controller (sold separately) see parts 950-03500 for white or part 950-003502 for black.
Note: ACCESS DOOR- The access door is optional depending on your type of installation. If you are replacing an existing Suburban hot water system, you will require an access door.
Alternatively, see our Suburban Nautilus Kit, where you can add or remove the elements you require.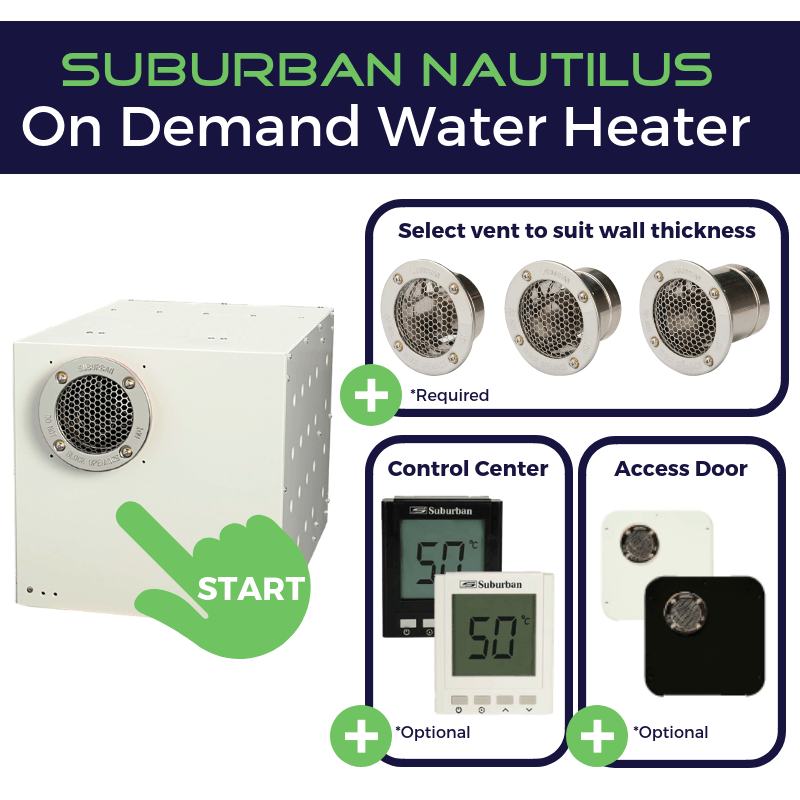 Be The First To Review This Product!
Help other Caravan RV Camping Accessories users shop smarter by writing reviews for products you have purchased.
---
Others Also Bought
---
More From This Category