How to Get the Most Privacy in your Caravan
Author: Gracie Quinn Date Posted:19 May 2017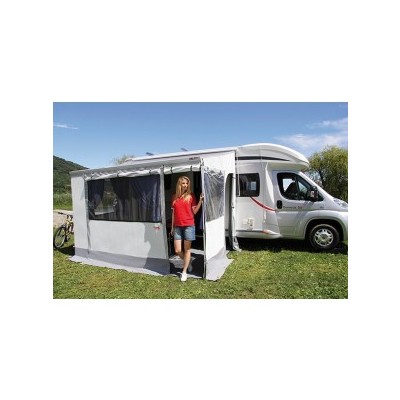 Almost everyone loves the idea of going camping, especially with a caravan in tow. But not all of us are comfortable with the kind of 'openness' that a caravanning holiday entails. We're not referring to open spaces and fresh air, of course (because who doesn't love that?), but rather to the sudden loss of privacy that we usually take for granted at home. Essentially, some of us are 'private' people, and the idea of being visible to other vacationers at caravan parks while we read, cook or nap, can actually keep us from venturing to the Outback at all.
Is privacy really that hard to come by in a caravan?
You don't have to be introverted or unsocial to agree that going caravanning involves making yourself at least a little more visible to your holidaying neighbours, than you typically are within the four walls of your home. Space is limited, no matter how big a caravan you own, and it's quite natural to prefer to move some of your daily activities to the area just outside your caravan. And it's natural to want some privacy while you do so.
However, this doesn't mean you have to either compromise on privacy or not go caravanning at all. Achieving acceptable levels of privacy in your caravan involves some simple add-ons specially designed for the purpose, coupled with some intelligent decision-making. We'll talk about all you need to do in terms of 'levels' of privacy, ranging from basic 'covering up', to more advanced and indirect methods.
Caravan Privacy Level 1: Covering up
The first and most obvious way to get more privacy in your caravan is to supplement its awning with privacy screens. Privacy screens are opaque fabric or vinyl surfaces that can be attached to an existing awning for the purpose of increasing its coverage and also shielding its footprint from harsh sunlight and UV rays. Depending on the amount of coverage you're looking for (basic sun protection, all the way through completely screening off the awning space), you can install one or more privacy screens and enjoy some quiet reading, a meal with the family, or even a siesta away from prying eyes. Of course, you could also go a step further and get yourself a caravan annex, which is essentially a complete 'room' with fabric or vinyl walls. While we're on the subject of covering up, we should also mention the standard and fairly obvious privacy-augmenting window accessories such as curtains and privacy tints (do make sure you're complying with your state laws, though).
Caravan Privacy Level 2: Getting the right layout
Getting more privacy in your caravan isn't limited to installing privacy screens and annexes alone. If you still haven't finalized your caravan's layout, you can make some very useful decisions at this point. For example, deciding where your caravan's shower is located. Ideally, if it opens into the bedroom space, it'll bring the occupants of your caravan more privacy while they go about their morning ablutions. Of course, if you travel alone or with just your partner, this might not be an issue.
Caravan Privacy Level 3: Self-Sufficiency
To some extent, the level of privacy in your caravan can be raised by investing in parts and accessories that keep you self-sufficient – for the most part. A classic case in point is your waste disposal mechanism. Installing a proper cassette toilet will, for instance, eliminate your dependence on amenities provided at caravan parks and campgrounds. Similarly, investing in a solar power setup and leisure batteries will enable you to stay indoors and keep using all your appliances without running to and from the camp kitchen or rec room.
So don't let privacy concerns keep you from exploring the open road and getting your much-needed mojo back! Reinforce your caravan with your preferred levels of privacy and enjoy 'your' kind of holiday every time you head out.
---
---