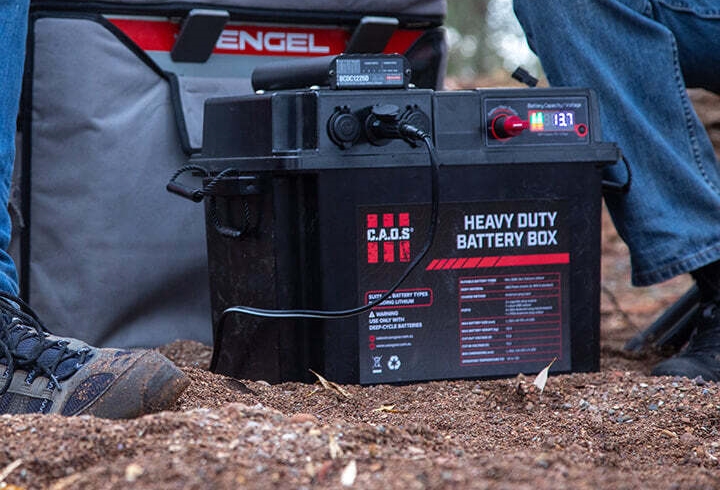 If you're buying an extra battery to power your camping adventures, you need a battery box.
At a basic level, a battery box helps to protect the battery so you can use it on your adventures without worrying about it being exposed to the elements.
But some battery boxes do more than protect the battery. They can also include various outputs, connections, inverters and monitors too.
Let's take a look at the different types of battery boxes so you can find the right one for your kit.
Types Of Battery Boxes
Depending on what you want from a battery box, you'll find the right type to suit your needs. At the most basic, the battery box is built to protect your battery from the elements and other hazards you might encounter on your trips.
Some are built with particularly heavy duty materials and design, as well as special features to secure your battery, so you can be confident it's protected on rough terrain.
A step up from the basic battery box includes connectors and monitors. Look for the connectors that make sense for your set-up, whether to make it easy to power your portable fridge, charge the battery from your solar, or jumpstart your car. They are considered portable power packs, as you can easily move them from your car to camp and power your campsite.
Many battery boxes come with a monitor as standard. The more advanced boxes include a colour or large digital display so you can see your battery's vitals at a glance.
Let's dive into some examples:
Basic Battery Box
A simple battery box like this Projecta BPE330 will provide you with housing for your battery. It protects the battery from the elements, as well as stopping acid leaks into your vehicle.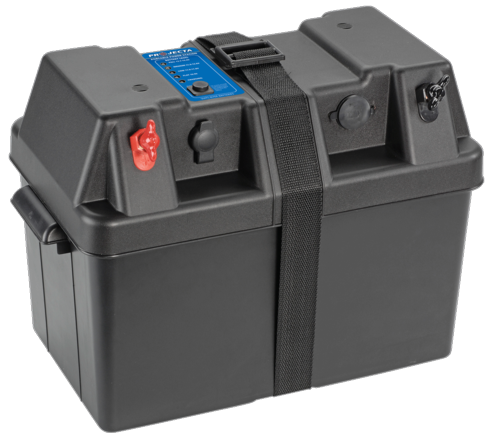 With a basic battery box, the lid design allows cables in and out of the box to charge the battery and power your gadgets. Some boxes, like the Projecta BPE330, come pre-wired so you simply fit your own battery into the box and you are ready to go.
Others are even more basic and it's your job to sort out the wiring, whether that's USB, accessory ports or Anderson plugs.
These battery boxes are great if you don't intend to move your battery around throughout your trip – it will stay in the same place in your caravan or trailer.
Pre-Wired Battery Box
If you're looking for a portable battery box that comes pre-wired and built for more rugged adventures, check out a heavy duty battery box, like the Thunder Heavy Duty Battery Box.
This box has more features than a basic battery box and is built to suit tougher applications. It's made from high strength industrial grade polypropylene copolymer, which essentially means there are no joins, which means no weak points, and it can withstand heat.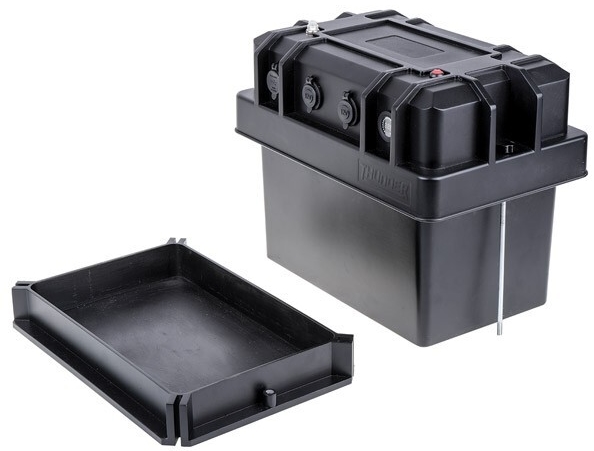 In the Thunder box, you get internal battery strap mounts to keep the battery secure and a separate mounting tray which secures it while you're on the road. Then, it's super easy to remove when you want a portable power supply to power additional devices at the campsite.
It also comes with connections for 12V accessories (such as your portable fridge) thanks to the two recessed 50A Anderson style connectors, so you can charge the battery via your DC-DC or solar. This battery box also comes with a digital volt meter so you can keep an eye on your battery status. That's a big plus!
Battery Box Power Hub
Step up to the next level of battery boxes and get one that turns your battery into a whole power hub.
The Projecta PH125 Power-Hub does precisely that.
The Power-Hub is designed to make power available anywhere, any time, so you can venture further off the beaten track while still having power available to charge and run all your devices and appliances.
The PH125 comes with 10 power outlets meaning you can charge or power multiple devices simultaneously. When we say power outlets, we're talking about a 240V AC socket for clean 'Pure Sine Wave' power, USB, Cigarette Lighter, Engel, 50A Heavy Duty and Merit sockets, not to mention DC Terminals.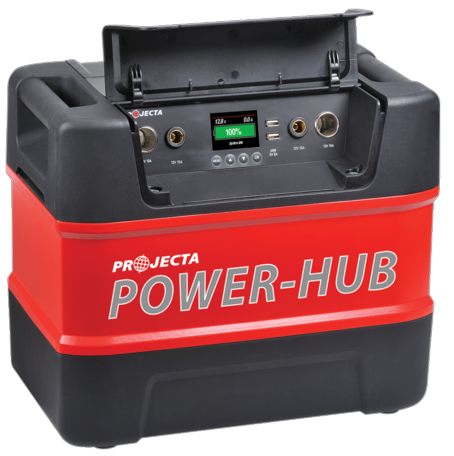 That's pretty much all the outlets you could want in one place!
You also get the convenience of a colour LCD monitor to provide comprehensive battery status information.
This battery box also comes with an advanced built-in inverter to power sensitive equipment. However, bear in mind that it is only suitable for 12V lead acid batteries (including Calcium, Gel and AGM).
Advanced Battery Box
At the top of the range is the battery box that comes with all the connections, is built for rugged adventures AND can be used for any battery type.
Meet the CAOS Power Heavy Duty Battery Box.
The CAOS Power Heavy Duty Battery Box is built to protect your battery from the weather and other hazards you find off the beaten track.
It comes with multiple input and output ports for connecting to multiple devices. You have 4 x 50A Anderson style input/output ports, 2 x 12V outlets with 10A fuses and 2 x USB ports. As a bonus, there's a handy 175A Anderson-style outlet which can be used to jumpstart your car. Simply buy the battery jump cables as accessories.
The battery box also comes with a large digital display for accurate charge and voltage information at a glance.
This battery box comes with a generous 3 year warranty.
Check out our full range of battery boxes.
DISCLAIMER* Please note, this advice is general in nature and we strongly recommend consulting the product manual and where relevant, a professional installer.
---
Leave a comment