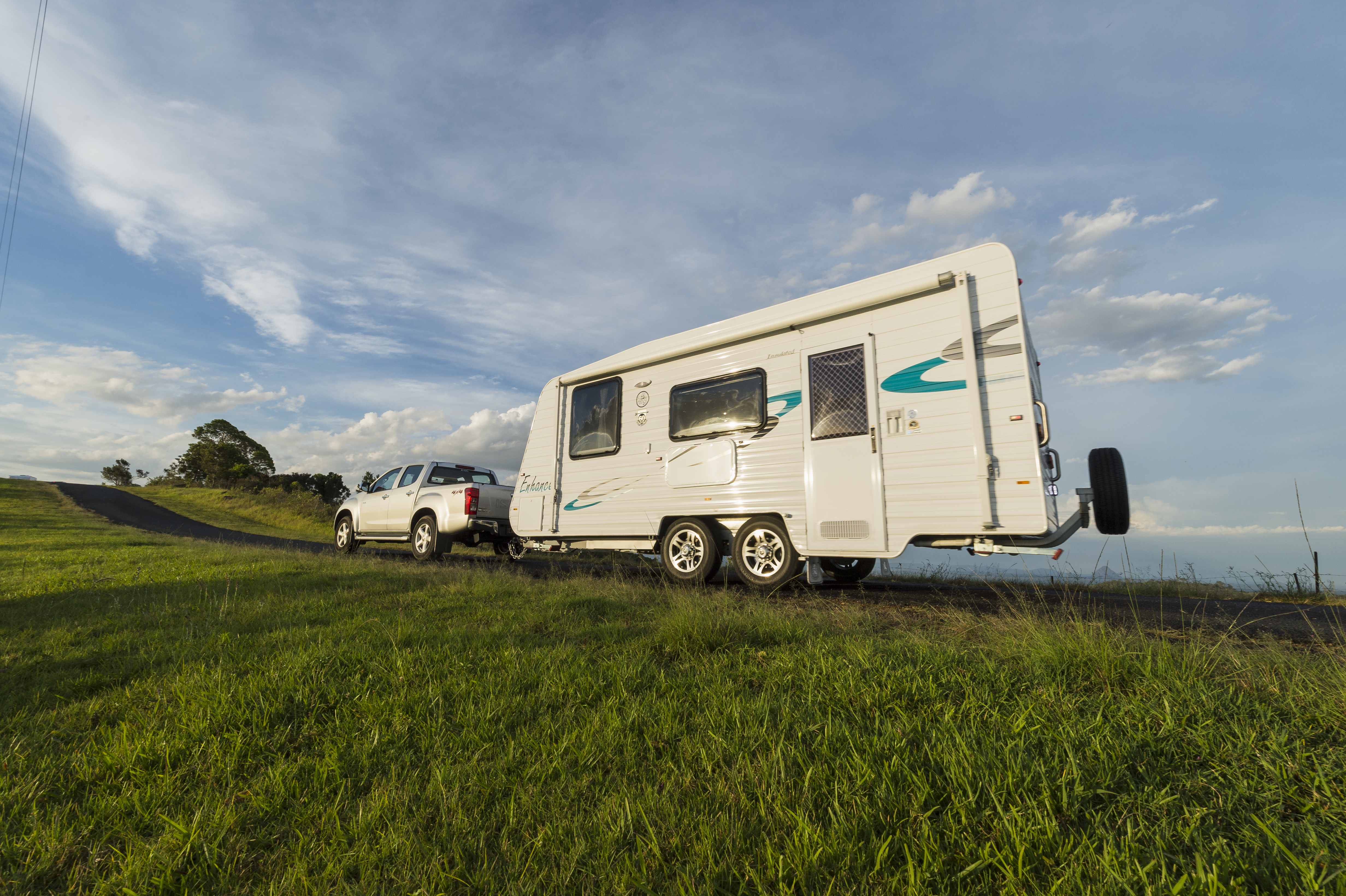 Want to shower, wash dishes and prepare food while you're travelling? You need a caravan water tank. The reality is a freshwater and grey water tank are a must if you want to enjoy even the most basic luxuries of home while on the road.
Not sure what to buy? Read on…
Choosing The Right Caravan Water Tank
Before you buy your tank, answer these three questions:
What Type Of Water Are You Storing?
There are two caravan water tanks you can buy:
A fresh water tank gives you access to clean water on demand for showering, washing your hands, doing the dishes or just a refreshing glass of water.

A grey water tank is the place where all the freshwater from your sink and shower goes once used. You can't dump this water just anywhere – this used water often contains oils, detergents, chemicals, shampoos, soaps, food scraps, and a whole heap of other nasty additives and matter. That's where a caravan grey water tank is essential. It means you can collect the waste water as you travel and dispose of it appropriately at a suitable facility, like a dump point.
Don't worry the grey water tank is not taking water from your toilet, just all the other wastewater produced by your caravan!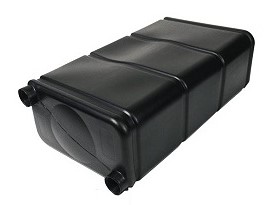 How Many Litres Of Water Will You Be Using?
If you're heading off on a longer trip, a larger water tank would be a better choice than a small one. And if you're planning on lots of off-grid camping away from water sources, you'll need more water storage on hand. Likewise, the bigger your travelling group, the more water you'll need – especially if your fellow campers love long showers!
Here's a good rule of thumb:
A 22-litre water tank can usually last 2 people for around 2 days (5 days for 1 person).

A 30- litre tank can usually last 4 people for around 2 days (7 days for 1 person)

Anything over 30 litres will accommodate extended caravan trips and 100 litres should provide 2 people enough water for almost 2 full weeks.
A larger water tank will obviously hold more water, but that also means you will need to deal with a heavier tank. Remember you need to be able to carry and empty the tank so consider the weight of your tank.
Caravan RV Camping offers caravan water tanks in various sizes, from 40-litre portable water tanks up to heavy duty 140-litre tanks with all the fittings ready to go.
What Size Tank Will Be Able To Fit Underneath Your Caravan?
Consider that each litre of water will add 1kg to your caravan's weight. So, if you're thinking of adding multiple large tanks, a good trick is to disperse them evenly underneath the vehicle to keep the caravan from becoming unbalanced.
Many tanks come with fittings to make it easy to install your tank, and you can also buy accessories to make installation easier.
If you don't want to install the tank under your caravan, choose a portable tank on wheels for easy transportation.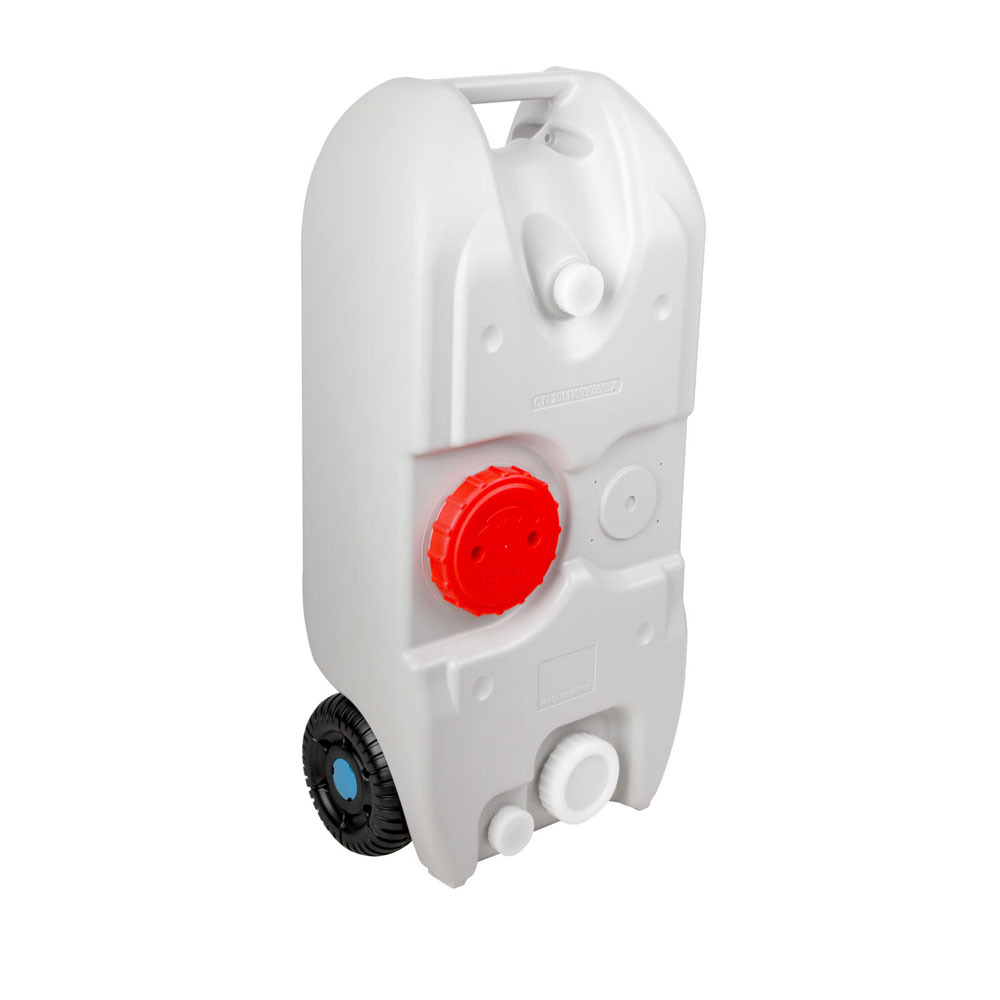 What's The Caravan Water Tank Made Of?

Most caravan water tanks are manufactured from one of three materials:

• Polyethylene plastic – This is the most common water tank material thanks to its lightweight design and impressive flexibility, making them ideal for use on smaller caravans. These tanks are also 100% food-grade approved. Check out the Fiamma 70L Water Tank, a horizontally or vertically mounted tank, composed of non-toxic, molded plastic.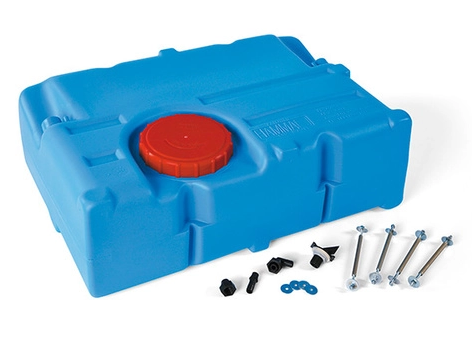 • Galvanised Steel – As you'd expect, these tanks weigh much more than poly models but are much easier to repair if damaged. These tanks are resilient to corrosion which makes them perfect for campers who often find themselves in wetter, humid environments or near water.
• PVC and Nylon – These are soft-sided, bladder system tanks and great when you need a handy and easily portable option.
Pro Tip For Caravan Water Tanks
Don't forget to maintain your caravan water tanks! If you don't, the built-up grime and food waste can quickly cause an odour in and around your caravan.
Both grey and fresh water tanks should be cleaned regularly. For grey water tanks, we're not just talking about draining it but using a chemical treatment that cleans it out properly, like the Grey Water Deodorizer Tablets. These are 100% natural and formaldehyde-free, and designed to break down waste and tissue in order to keep your grey tank fresh.
Fresh water tanks are less prone to odours, but can still get bacterial type problems, especially if the caravan has been stored for a long time.
If you think your water is starting to taste funny, use an additive like the Camco Taste Pure Water Freshener. All you need to do is add it to the water when filling your tank. Not only will it eliminate unwanted tastes and smells from your water, it will also battle any algae and slime accumulating in your tank.
Caravan Water Tank Accessories
Create the ultimate water system for your caravan with all the right accessories – water filler caps, valves, inlets, funnels, tank level indicators and more.
One of our favourites is the Stand At Ease water tank filler. It's an absolute game changer when it comes to filling your tank. Simply insert the filler into your trailer water tank and it's ready for you to attach a hose. This holds the hose in position and fills the water tank quicker, while preventing air locks. Genius!
Browse our caravan water tanks and accessories now to create your ultimate caravan water system.
DISCLAIMER* Please note, this advice is general in nature and we strongly recommend consulting the product manual and where relevant, a professional installer.
---
Leave a comment