---
Airtronic D2 Diesel Heater - Double Outlet 12 Volts
A good heating system is essential when on the road in the cooler months, and the Eberspacher Airtronic D2 Double Diesel Heater 12v is a unique air heating system that can be incorporated into most RVs. These heaters are suitable for use with campervans, caravans or camper trailers when combined with a Diesel Fuel Tank (sold separately). However they are most popular in motorhomes, as they can be fueled from and connected directly to the motorhome fuel tank, without effecting the vehicle engine or heating/cooling balance. They won't run your vehicle diesel fuel tank dry either, as they operate off a sparse 0.10-0.23 litres/hr.
The Airtronic D2 adheres to the highest standards of safety, efficiency and ease of use. The compact device comes with three pre-programmed heating modes, and features extremely quiet operation. This unique heating system also offers immense flexibility of installation, with in cabin and under floor heating both possibilities.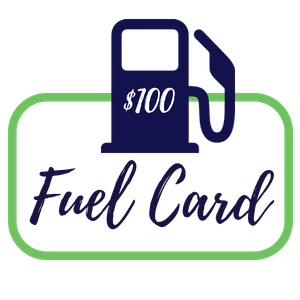 Features
Compact size and flexibility of installation, including underfloor installation within a protective case

Low fuel and electricity consumption

Multiple performance settings, including fast heating

Automated temperature control

Quiet operation

Low voltage consumption (12 volts)

Fan-only operation during warm weather

Electronic control over speed, noise and power consumption

Inbuilt diagnostic system

Maintenance free operation

Integrated micropocessor

controller withTRS/ADR function

Adheres to global safety standards; can be used while driving

2 year warranty
Specifications
INCLUDES: Diesel Heater with: Electric fuel delivery pump, 2m of ducting, muffler for exhaust & the 801 Controller

Double outlet operation suitable for medium to large size caravans.

Weight: 2.7kg

Dimensions: 115mm (W) x 122mm (H) x 310mm (D)

Heat Settings: Power, High, Medium, Low

Electrical Power Consumption: 8 - 34 watts

Voltage: 12 volts

Fuel Consumption: 0.1-0.28 Litres Per Hour
Extra Notes
These units now come with the control modulator included - approx $300 value. The kit does not include a fuel tank tank as it is possible to tap into the existing fuel tank of a motorhome or campervan. If you don't have a diesel tank fitted to your caravan for this purpose already, then a seperate purchase of the 10L Diesel Tank is required. Everything else that you need to make this heater work is included in the kit, complete with instructions for installation and operation.
Airtronic Diesel Heater Comparison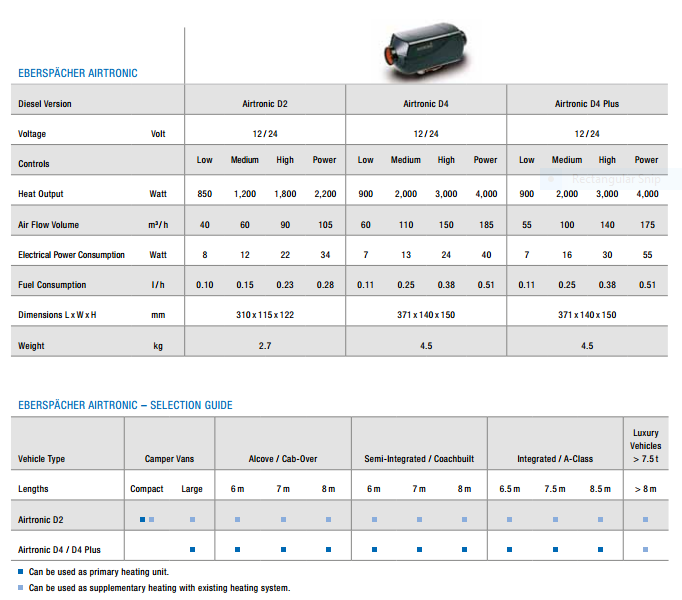 Not what your looking for? Feel free to browse the rest of our range of Eberspacher, Caravan Heater Parts & Caravan Heaters - For any further infomation or to speak our Heater experts dial -1800 RV PARTS
Be The First To Review This Product!
Help other Caravan RV Camping Accessories users shop smarter by writing reviews for products you have purchased.
Ask a Question or Submit an Answer to this Product
---
Q) Looking at upgrading to an Eberspacher diesel Heater as we are heading south in the cooler months and was wondering would it be beneficial to upgrade to a diesel heater rather than rely on our roof top air conditioner?
A) Yes, most defiantly as some roof top air conditioners will only perform accurately down to a minimum of 5 degrees. If you are heading down south where it's going to be in the minus degrees I would highly recommend investing in a diesel heater as we all know being caught out in the cold is not going to be a pleasant vacation.
Q) I have a motor home that has an on-board diesel tank for running the vehicle for everyday use, is there any way of hooking the Eberspacher heater into that to save me adding an extra fuel tank?
A) Of course, there is a component called a Airtronic D2 Fuel Stand pipe which enables you to draw directly from your existing on board fuel tank saving you the expense of installing an extra diesel tank and finding the room for installation.
Q) Do I have to be plugged into 240-volt mains power to run this heater?
A) No, you only have to have the unit connected to a 12-volt power supply (house battery) for operation. The only source of fuel required is diesel to run the heater and 12-volt for the ignition.
Q) Is there any maintenance for the Eberspacher Diesel heater? servicing requirements and so forth?
A) No, the unit is pretty much maintenance free after installation. However, it should be turned on momentarily every month for about 10 -15 minutes. This prevents the fuel pump and burner motor from seizing up.
Q) I have a motor home which I permanently live in, can this unit be used while I am driving?
A) Yes, The Eberspacher Diesel heaters functions at such a high safety rate that heating is authorised worldwide whilst driving, the installation does not require any further componentry for this option.
Q) We do most of our camping in caravan parks where there are always lots of other campers, are these diesel fuelled heaters accepted in these types of locations?
A) Yes, The Eberspacher Diesel Heating range provides odourless emissions and are whisper quiet. They will not disrupt any other campers even if you are parked alongside them in a caravan park type arrangement.
Q) Does the Eberspacher heater have to be turned off whilst we are filling the fuel tank?
A) Yes, Upon the fuel tank being refuelled the heater should not be running and switched off.
Q) We Keep our motor home stored in side of a huge industrial shed and was wanting to know is it ok to have the heater running whilst we are in this indoor setting?
A) No, you must have adequate ventilation whilst the heater is in operation and is not recommended for any indoor use at any time.
---
We Also Recommend
---
Others Also Bought
---
More From This Category