Evakool 146L 12v Fridge/Freezer
Caravan Fridge / Freezer
Reviews: Rated 4/5 based on 2 reviews. SKU: DC146
---
---
---
Evakool Platinum DC Upright Fridge Freezer for RVs - Model No DC146
590mm (W) x 1095mm (H) x 585mm (D)
For the best performing 12v refrigeration all-rounder on the market, you can't go past the EvaKool 146L 12v Fridge/Freezer Platinum series. 100% Australian owned, EvaKool are the fridge of choice for many RV industry experts thanks to an unrivalled low power consumption that doesn't affect their reliable cooling capacity.
The EvaKool Platinum series of stylish upright fridge/freezers designed especially for RVs, handle high Australian temperatures better than almost all of their counterparts. Which is why they've been able to rely on word of mouth rather than paid advertising.
The EvaKool platinum series has even been tested to maintain a freezer temperature of -15°C in ambient temperatures in excess of +48°C! This is thanks to its thicker than average insulated walls catering for Australias warmer climate. They are designed to withstand the bumps and knocks of off-road travel, continuing to operate when on angles of up to 30 degrees. Their low power consumption is also ideal for anyone relying on 12V and solar power, however they can also be combined with an AC adaptor to run off 240V mains power for even faster cooling when bunked down at home or in a caravan park. So when choosing a fridge for your Caravan, Motorhome, Boat, Bus Truck or Trailer look no further than the 146 litre Evakool as you won't be disappointed in its efficient low maintenance new age design.
The platinum series is available in 4 common sizes, with a 1-door and 2-door models, complete with all the features you do want, and none of the unnecessary frills you don't need!
Backed with a two year manufacturer's warranty and service centres throughout Australia, the perks of the EvaKool experience continues even after you purchase.
Platinum DC Upright Features
Cabinet
100% Australian Owned
Cooling capacity up to 60ºC below ambient temperature
Maximum T+ Climate Class Rating
Simple to use internal temperature adjustment dial
Easy to use controls
12/24 volt operation
240v operation is possible with the additional purchase and installation of an AC Adaptor
Reversible Doors
Metal Door Latch
Smooth, hygenic, easy to clean interiors, with all the bells you actually want
Service agents all over Australia including in remote locations

Includes free mounting kit valued at $149
Compressor
Self-diagnostic fault system
Quiet, reliable, and efficient operation
Low voltage protection
Externally mounted condenser for improved performance venting heat away from the cabinet for reduced power consumption. Note - This does not mean it has an externally mounted compressor
Will operate on angles up to 30 degrees
Automatic reverse polarity protection
DC146 Specifications
Overall Specifications
Overall Dimensions: 590mm (W) x 1095mm (H) x 585mm (D) (depth includes bump stop)
Overall Capacity: 146L
Doors: 2 door
Weight: 45kg
Compressor: CK35 DC Compressor
Power: 12v (10.7~17) or 24v (22.8~31.5) operation (for 240v operation see Paul's Tips)
Power Consumption: 2.0-3.0A/hr (based on an ambient 32°C temperature, with internal fridge temperature set to +4°C, and internal freezer temperature set to -15°C)
Average Current Draw: 2.25 Amps or 28.9 Watts (over 24hrs - approx.)
Duty Cycle: 50% (i.e. 50% on and 50% off on average over 24 hours)
Finish: Metal
Colour: Platinum Satin Grey
Includes: interior light, metal door retaining clips, 3 x plastic coated metal shelves, 1 x perspex shelf, 1 x vegetable/fruit crisper, 1 x ice tray, and 1 x egg tray.
Manufacturer's Warranty: 2 years
Freezer Specifications
Freezer Compartment Dimensions: 440mm (W) x 180mm (H) x 380mm (D)
Freezer Capacity: 30L (approx)
Freezer Wall Thickness: 75mm
Fridge Specifications
Fridge Compartment Dimensions: 470mm (W) x 660mm (H) x 420mm (D) (excludes compressor step)
Fridge Capacity: 116L (approx)
Fridge Wall Thickness: 55mm
Paul's Tips
> Evakool fridges can be run off 240V (mains power) when correctly set-up for use with an AC Adaptor. Our workshop recommends a product like the EP15-MW in the Accessories List above.
> Let your food cool down before placing it in the fridge to reduce your energy consumption.
EvaKool Platinum Upright Fridge Models Comparison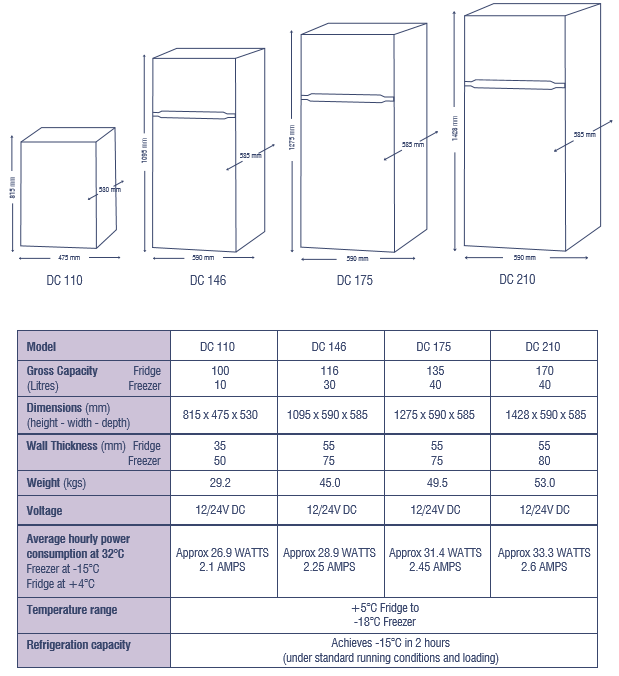 Not what your looking for? Feel free to browse the rest of our range of Evakool Fridges, 2 Way Fridges, Off Grid Fridges & Caravan Fridges - For any further information or to speak our fridge experts dial -1800 RV PARTS
Cut Out Required: 595 x 1100 x 590 mm (W x H x D)
Weight: 45 Kg
Freezer Compartment: 30 Litres
Fridge Voltage: 12 / 24 V
Power Consumption: Approx 2.25 Amps/hr at 32°C ambient temp, Fridge at 4°C & Freezer at -15°C
12 volt fridge

By:

John

on 28 September 2019

The fridge is great but their service is even better ' I told them my issue and they resolved it ' and they did everything they said they would do and they did not Over rate there product ' basically thanking them for there old fashion service and honestly




(5)
Thumbs up

By:

Katie

on 3 September 2018

This is the 3rd fridge we have purchased for this van. We are very pleased with the layout. The freezer is very roomy. The 1st fridge which was a Chinese 12 volt had similar lt fridge but divided into sections so you could only fit small items in. The next one was not high enough either. This fridge is looking promising but we have only been on one small trip with it so far.




(4)
---
Best Sellers From This Category: