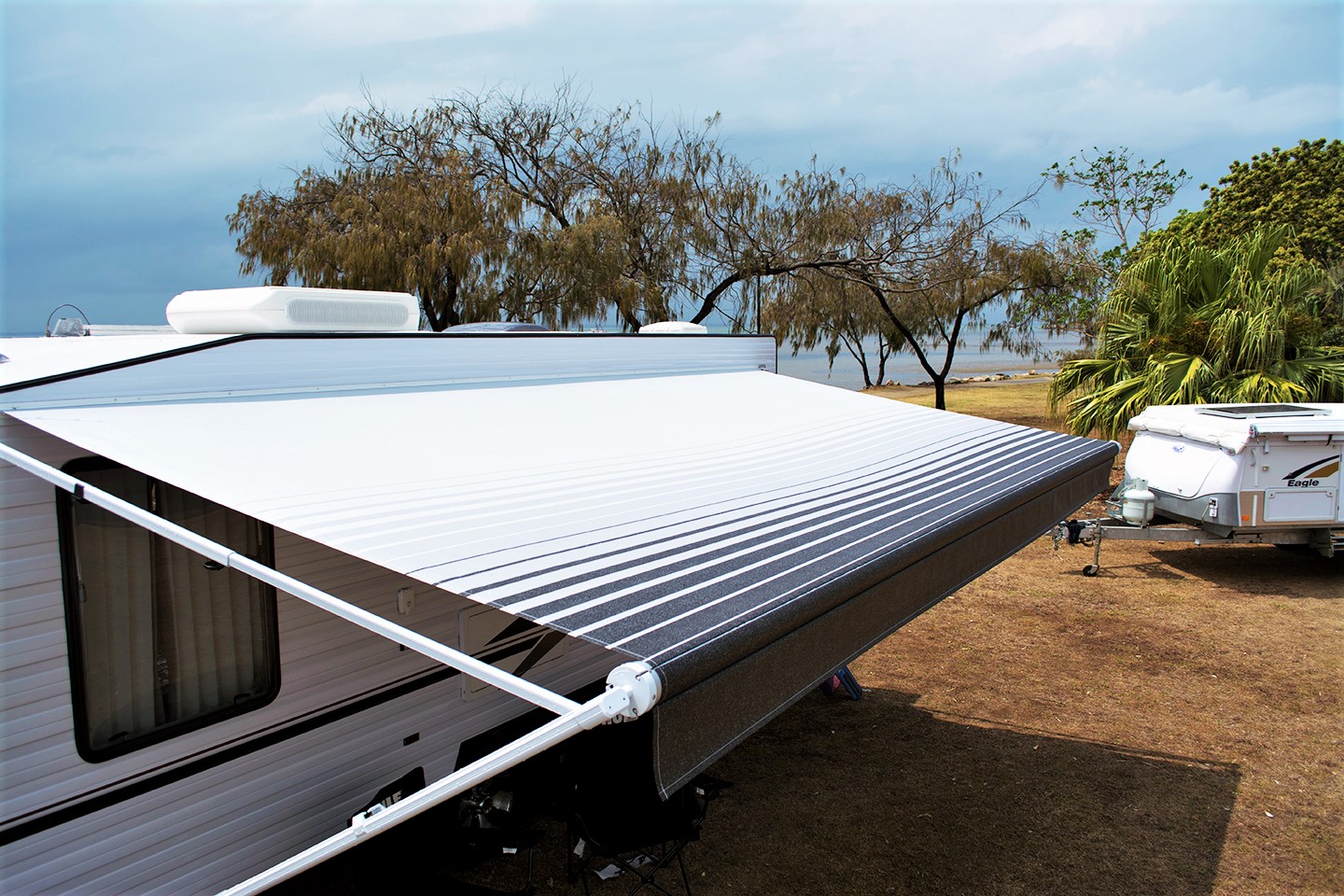 If you're planning on using an awning with your caravan, you need the right accessories - and that includes an anti-flap kit.
That's where Aussie Traveller comes in. Aussie Traveller has the crown for anti-flap kits - after all, they invented the original Anti-Flap Kit after decades of design and testing.

Who Is Aussie Traveller?
Aussie Traveller is an Aussie-owned and operated company that's been around since the time of shoulder pads and big hair (1988, to be precise). They manufacture Australia's largest range of awnings and annexes (in addition to Fiamma), plus all the accessories you need, including anti-flap kits. They also supply a huge range of Caravan and RV components and accessories.
What's an Anti-Flap Kit, why do you need one, and how do you choose the right model for your needs? Here is everything you need to know before you buy an Anti-Flap Kit.

What Is An Anti-Flap Kit?
An Anti-Flap Kit is an essential caravan accessory designed to stabilise and secure your awning. Essentially, it stops your awning from flapping around when it's windy, so the awning doesn't rip or get damaged.


Why You Need An Anti-Flap Kit:
The number one reason you need an Anti-Flap Kit is to protect your awning from flapping, so it doesn't get damaged. Awnings are an investment for your caravan, and the last thing you want on your trip is to worry about bad weather damaging it. Windy days can quickly cause your awning to flap, and one strong gust is all it takes to damage your awning beyond repair. So an Anti-Flap Kit will lengthen the life of your awning, ensuring it doesn't stretch, rip or pool water in windy conditions.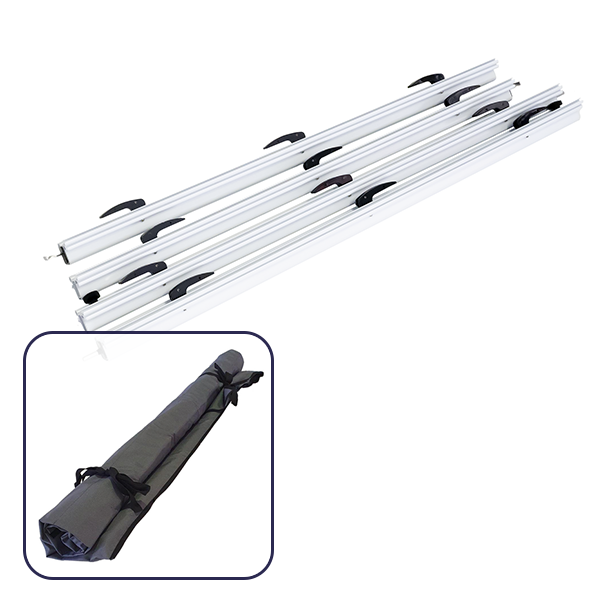 Another reason you will need an anti-flap kit is to attach privacy screens or annexes to your caravan's awning, if your existing awning doesn't have tie down points for your walls.

How An Anti-Flap Kit Works:
Anti-flap kits are designed to sandwich onto the side of your caravan awning. The main purpose is to make your awning stronger and more stable, and prevent your awning flapping in windy conditions. Second, they are used to install side and front walls for privacy and weather protection with their built-in sail tracks.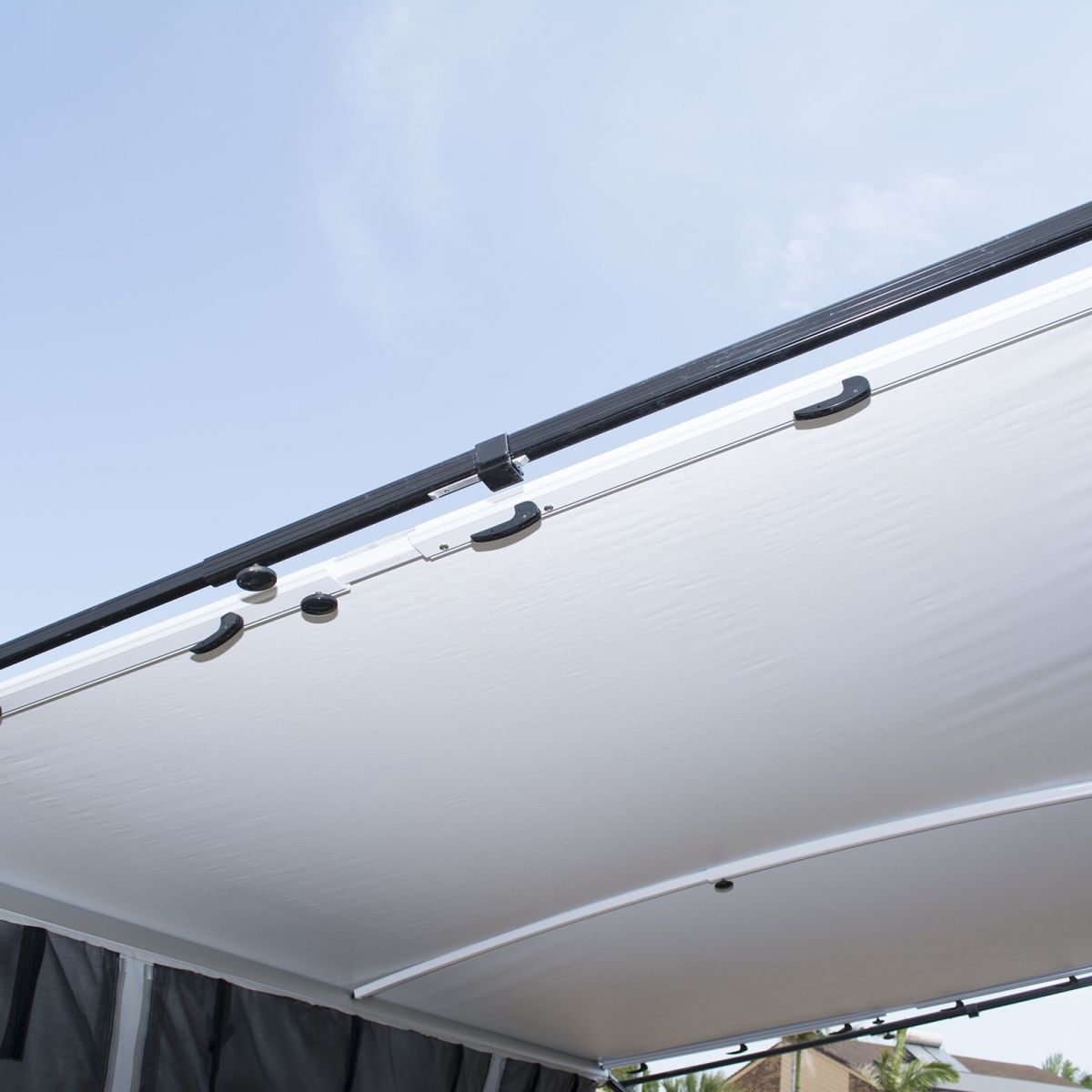 The Aussie Traveller Anti-Flap Kit also provides a water and windproof seal between the wall and awning fabric, and protects your awning from damage by reducing water pooling. Use it with Aussie Traveller Curved Roof Rafters to prevent your awning from sagging so the water runs off quickly in the rain without pooling.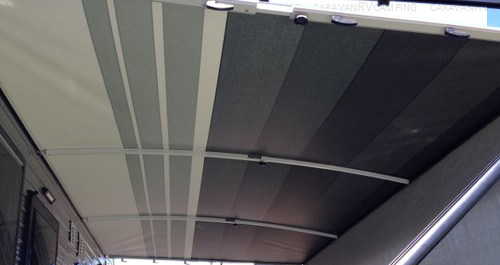 How To Buy The Right Anti-Flap Kit:
The good news is Aussie Traveller has made it easy to find the right Anti-Flap Kit for your needs. They have designed a kit to suit all types of roll-out and cassette awnings.

There are three sizes:
Short (2100-2200mm)

Medium (2200-2300mm)

Long (230-2400mm)

For awnings with projections greater than 2400mm, extension brackets are available. To choose the right kit, first you need to measure your awning.
If you have a roll-out awning, wind out the awning until your sail track on your roller is at 3 o'clock. This will ensure you measure your distance and avoid having a gutter effect where water can pool. Measure from the wall of the van to the inside barrel of the awning.

For a box awning, measure from the wall of the caravan to the inside of the cassette.


How To Install Your Anti-Flap Kit:
The best thing about Aussie Traveller Anti-Flap Kits is they are designed for ease. Phew! The Anti-Flap Kit breaks down into four sections (2 pieces per end) which join together to form a full-length clamp. This full-length clamp holds to the outside edge of the awning fabric. It also includes a sail track for walls and includes fitting brackets. All instructions are included with the kit, as you'd expect. However, you still may need to purchase extra parts depending on your awning model.

For Fiamma F45 box awnings between 1.9m and 4.5m, you need the following:
100mm hook end extensions

Grasshopper spigot end adaptor (pair)

Paddle end adaptors (pair)

For Fiamma F45 box awnings between 4.5m and 5m, you need the following:
100mm hook end extensions

Grasshopper knuckle adaptor (pair)

For a rollout awning, you don't need any additional parts. The kits also come with the added feature of the smart design sail track to attach Aussie Traveller Standard, Custom, Euro Walls, or any other walls.
At Caravan RV Camping we reccommend the Anti Flap Kit's be installed by a professional, however if you're handy with a drill see below for the installation instructions:
For Installation with a Dometic, Thule or Fiamma Cassette Awning, click here

For Installation with a Thule 8000 Cassette Awning, click here

For Installation with a Roll Out Awning, click here
What About Curved Roof Rafters?
Curved Roof Rafters are used to help lengthen the life of your awning. They add stability to your awning and will prevent water pooling and stretching your awning material over time. They are good to pair with your anti-flap kit to keep your awning fabric taut to prevent flapping. Aussie Traveller has the most solid roof rafters on the market.
They come in two sizes:
Mini – with a curvature of 90mm, which is suitable for brand new awnings.

Maxi – with the largest curvature on the market at 120mm, which is suited to older awnings where the fabric is already stretched or loosened.

To work out how many roof rafters you need, use the table below: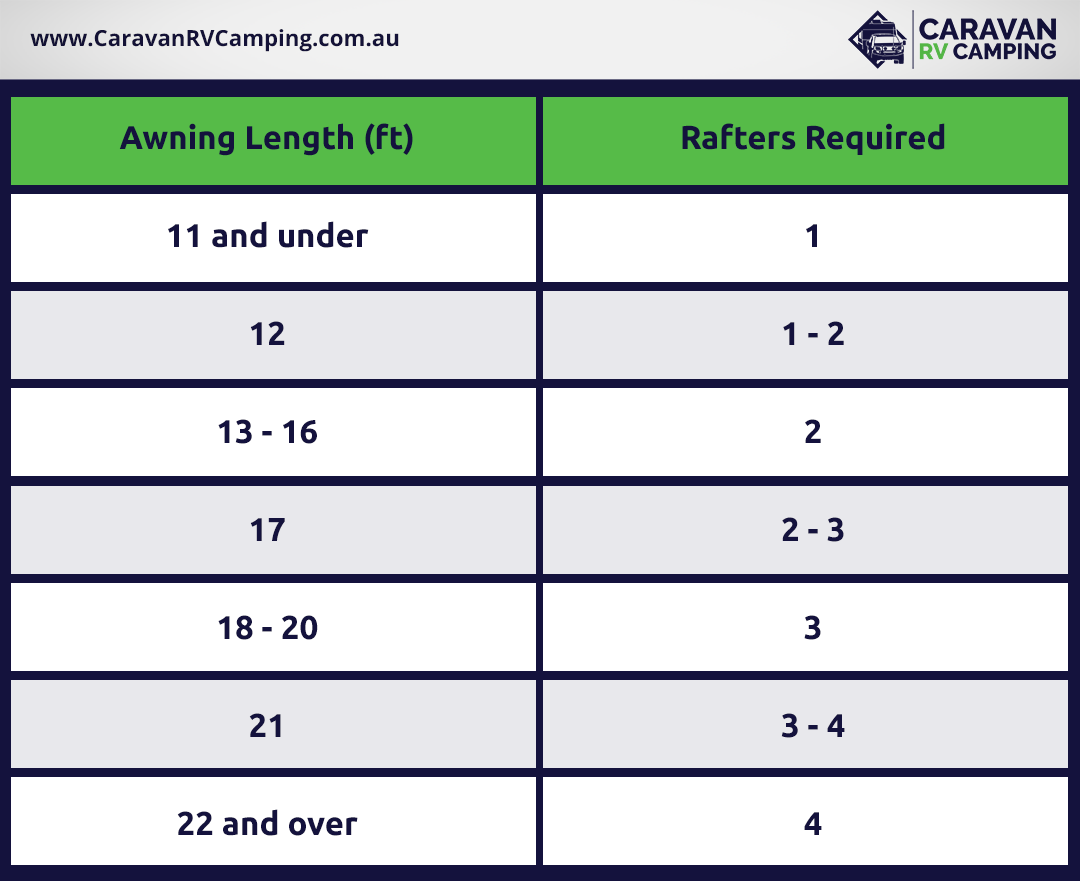 Ready To Buy Your Anti-Flap Kit?
We get it - this can seem confusing. Good news! Here at Caravan RV Camping, we've made it easy for you to choose the right kit based on your specific awning and size. Choose the ready-made bundle in our store!
Check out the Anti-Flap Kit bundles HERE!
DISCLAIMER* Please note, this advice is general in nature and we strongly recommend consulting the product manual and where relevant, a professional installer.
---
Comments (3)
ANTI FLAPS FOR VAN

Hi, Are there any anti flap kits for annexes that are on vans please. I have a VW Van that came with one on the side of it, no additional panels on the side tho and it has a couple of tiny holes which I intend to cover but it doesnt have these anti flaps on it. Thanks for any help or response. Regards





www.caravanrvcamping.com.au Response
Hi Lori, we have reached out to you via email to help you. Some awnings require extra parts to fit the Aussie Traveller Anti Flap. So it is best if we get the exact details you need. You can also call us on 1800 787 278 for help too
---
How do I stop water pooling on my Caravan Awning

In addition to the anti flap kit also put your Awning on a slight slope, slope away from the entry door. This can be done by having one of the supporting side arms one hole "Longer" than the other side. This will result in water running both down then across the awning where the roller is then onto the ground

By:

Stuart Hollingworth

on





www.caravanrvcamping.com.au Response
Hi Stuart, great tip! Thanks for contributing and happy camping
---
what size

I have a dometic 8700 awning, what size kit do i need. I think large.....do you have a large kit with 2 rafters and a bag. ?





www.caravanrvcamping.com.au Response
The kit requirements are as follows: Dometic Standard Hardware - Height range: 1626 mm - 1930 mm Dometic Tall Hardware - Height range: 1892 mm - 2235 mm This measurement is taken from the bottom of caravan to the roof, i.e the wall height
---
Leave a comment