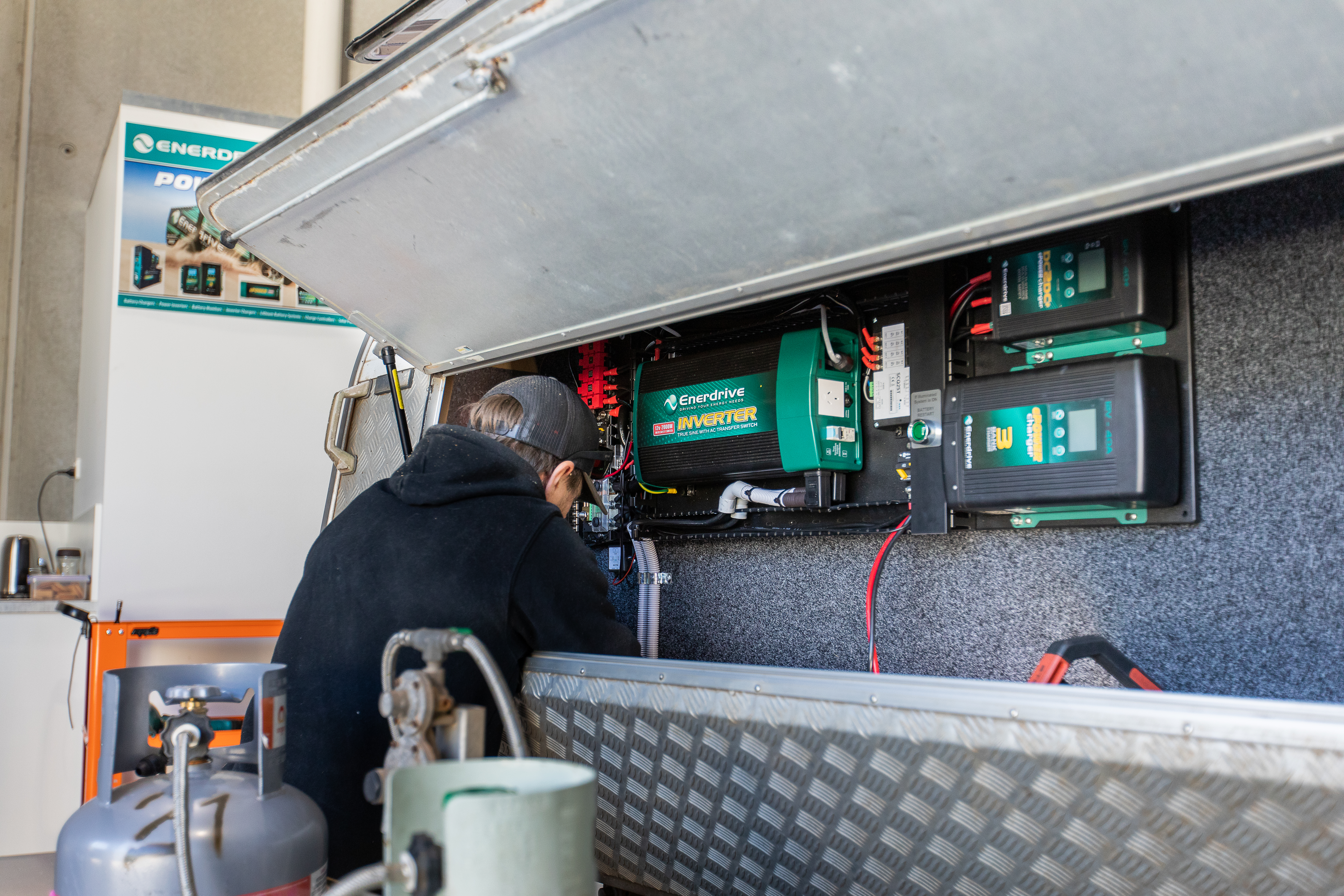 Ask another traveller which is the best battery for your caravan, and you'll quickly find yourself in the debate of AGM vs lithium.
AGM is the more traditional option – but that's because for a long time it was the only option! Then along came lithium batteries promising higher efficiency and better life cycles in a lightweight package.
Suddenly Aussie caravanners everywhere had a decision to make: AGM or lithium?
In this article we weigh up AGM vs lithium to help you decide on the right battery for your caravan.
Read On For Our AGM VS Lithium Review:
Battery Capacities
In the battle of AGM vs lithium, the first factor to consider is battery capacity.
This is where lithium batteries always come out on top. They pack more energy into smaller, lightweight package which is ideal for RV, caravan and 4WD adventures.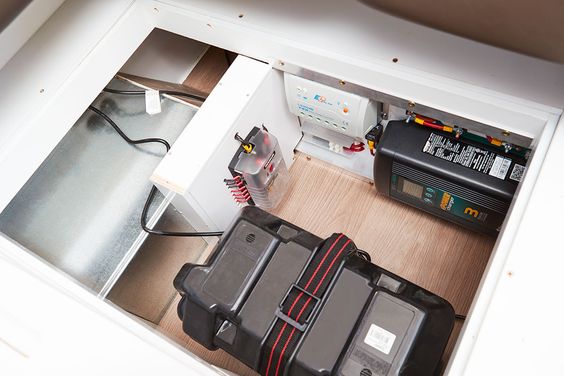 Take a look at the Amp hours:
100Ah Lithium = 160Ah AGM
125Ah Lithium = 200Ah AGM
200Ah Lithium = 360Ah AGM
Depth Of Discharge
Next, consider the battery's depth of discharge (DoD) – this is the percentage of the battery that's been discharged relative to its overall capacity.
A lithium battery has a Depth of Discharge of almost 80%. So, a 200 Amp hour lithium battery will provide 160 usable amp hours before it needs to be recharged. Compare that to a 200Ah AGM battery which will only give you 100 usable amp hours.
In the showdown of AGM vs lithium, it's a no-brainer as you're looking at 50% vs 80%, making lithium batteries the better choice for longer, more frequent trips.
Life Cycle
A lithium battery gives you almost 2X the life cycle of an AGM battery. This means you'll need to replace an AGM battery sooner than a lithium battery. So, even though a lithium battery costs more, it will last longer and give you more bang for your buck.
Applications
When it comes to AGM vs lithium applications, AGM has the edge. It offers a range of hybrid batteries which you can use for cranking and deep cycle. Most lithium batteries cannot be used as a cranking battery.
Size & Weight
This is another battle that lithium batteries win outright. AGM lead acid batteries contain more lead, which obviously makes them much heavier than their lithium counterparts. Lithium batteries are renowned for being a more compact, lightweight option – in fact, lithium batteries can save up to 70% of the volume and weight compared to similar traditional lead batteries. That's a huge saving, and one your RV will thank you for.
Cost
If it's a cheap battery you're after, AGM batteries could seem like the obvious choice. They are cheaper than lithium batteries, simply because they are the cheapest battery type to make.
But that doesn't mean they are cheaper in the long term. While you pay more for a lithium battery, the higher performance and longevity mean you get better value in the long run. Best of all, innovations in the technology mean the price is dropping fast.
If you buy a lithium battery bundle, you can save money and get everything you need for your caravan power system.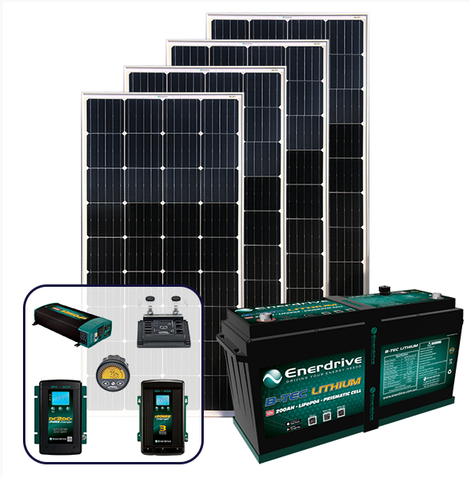 AGM Batteries We Recommend:
Century:
Century AGM batteries boast the ultimate deep cycle battery performance in even the harshest of conditions. Top features include dependable deep cycling capability, extra strong grid designs, lower self discharge, superior vibration resistance, and improved recharge capabilities. Battery sizes on offer range from 55Ah to 140Ah.
Zeal:
The Zeal AGM range offers a reliable, maintenance free unit with low self-discharge, giving you a great value for money option. Choose 7Ah, 105Ah and 125Ah options.
Power-Sonic:
The Power-Sonic AGM range is built for those applications which require regular and consistent cycling (charge and discharge), so you get constant power for longer periods of time without shortening the life of the battery. Choose from a wide range of battery sizes.
Lithium Batteries We Recommend:
Enerdrive:
The Enerdrive ePower B-TEC lithium batteries all come with a built in Smart Phone monitoring system and an Internal Battery Management System or BMS. The BMS monitors each cell in the battery to protect the battery from over charge, over discharge, over temperature and short circuit.
The 200Ah ePower is a great choice and our most popular model for caravan owners. For a smaller price tag, the Enerdrive Elite 100Ah battery is a stripped back version of the ever popular 100Ah B-TEC Lithium battery.
Invicta:
What do we love most about the Invicta lithium batteries? The huge 7-year warranty – never before seen in the market until now. Invicta offers a range of lithium batteries in 12V, 24V & 36V and 9Ah right through to 300Ah.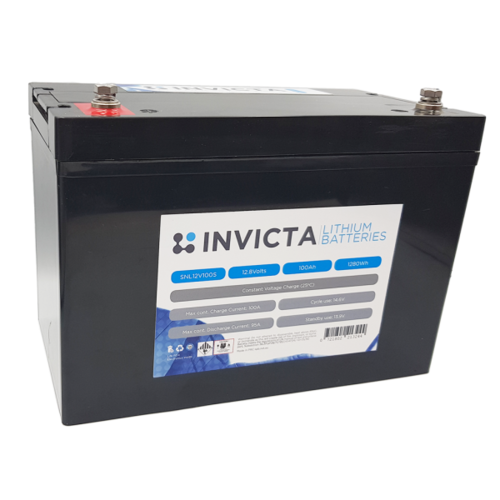 Deep Cycle Systems:
DCS offer a range of both traditional and slimline lithium batteries that are an ideal upgrade to existing AGM, Gel or other Lead Acid batteries. They offer advantages in weight, performance, reliability and service life so you don't have to worry about running out of power half way through your trip. All batteries also feature a comprehensive Bluetooth system allowing you to forgo the need for a battery monitor.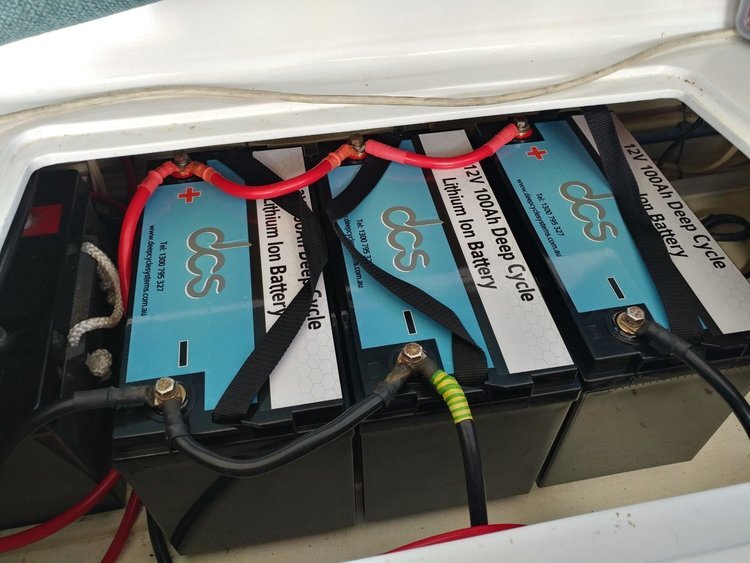 Victron:
Victron is a global leader in off grid power solutions and build their products to last in the harshest conditions. Victron produces Gel, AGM and Lithium deep cycle batteries in all sizes and voltages.
The Victron 200Ah 12.8V Smart LiFePO4 Lithium Battery is the best 200Ah lithium battery on the market for people want to run high powered inverters. Other batteries limit the amount of continuous discharge current available, and therefore limit the size of inverter you can power. This battery will have no trouble powering an inverter up to 3000W. Installation of this battery is a little more involved, an external Victron Battery Management system and Victron Battery Monitor is required to install this battery. A battery management system (BMS) and Battery monitor are available from the accessories list on each Victron Lithium Battery. The Victron 200ah is the perfect battery to power an induction cooker via a 2000W inverter.
Zeal:
Zeal is a budget-friendly lithium battery range which gives you power and performance without all the bells and whistles. Backed by SPB, which has over 25 years of experience in the energy storage industry, Zeal lithium doesn't disappoint when you want a sturdy, reliable battery.
Baintech:
Baintech has a slimline lithium battery range. This is ideal if you need to fit your battery unit in a tight space. Some slimline lithium battery models even have a built in DC to DC charger. The entire range has a BMS system and are incredibly lightweight too.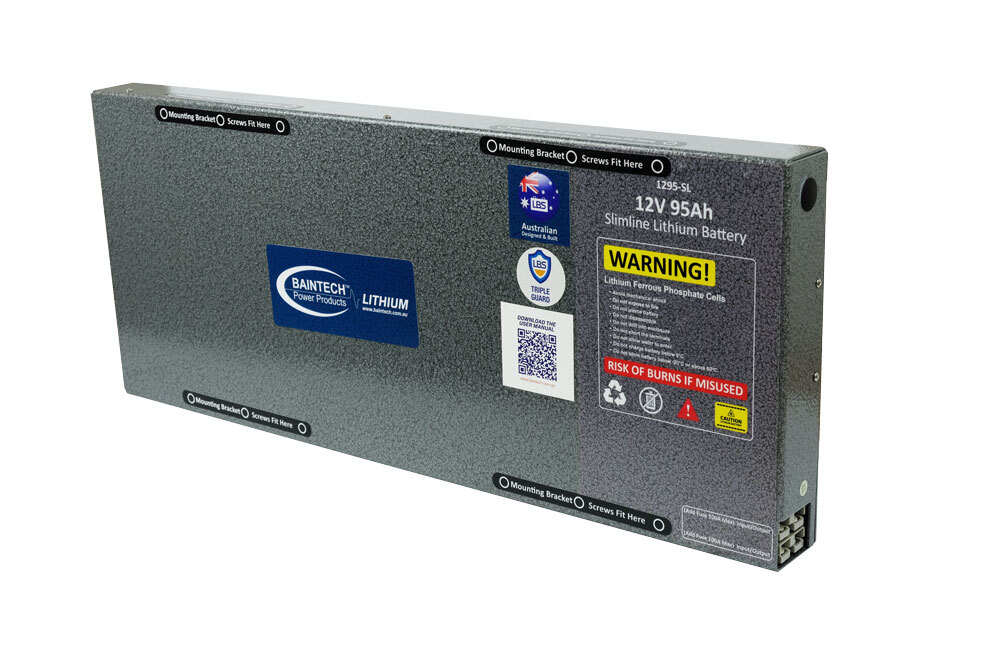 Power Lithium:
Power Lithium have a comprehensive range of both traditional and slimline lithium batteries ranging from 85Ah to 150Ah. They are an affordable but quality option to power your appliances. There's also the option to connect the batteries in series or parallel to generate more power.
Duramax:
Duramax is your budget friendly option when looking to power up your caravan, motorhome or 4x4. It doesn't have all the bells and whistles like some of the brands but it is suitable to run a 2000W inverter so you can still use all of your must have appliances on the road. Don't be fooled by the price tag, Duramax still use A grade prismatic lithium cells so there's no compromises on quality.
Pro Tip: Check out the Lithium Battery Power Bundles and caravan battery packs. Whether you want an off-grid 4x4 bundle, battery plus solar panel combo, or just a new battery, you'll find what you need in our store.
DISCLAIMER* Please note, this advice is general in nature and we strongly recommend consulting the product manual and where relevant, a professional installer.