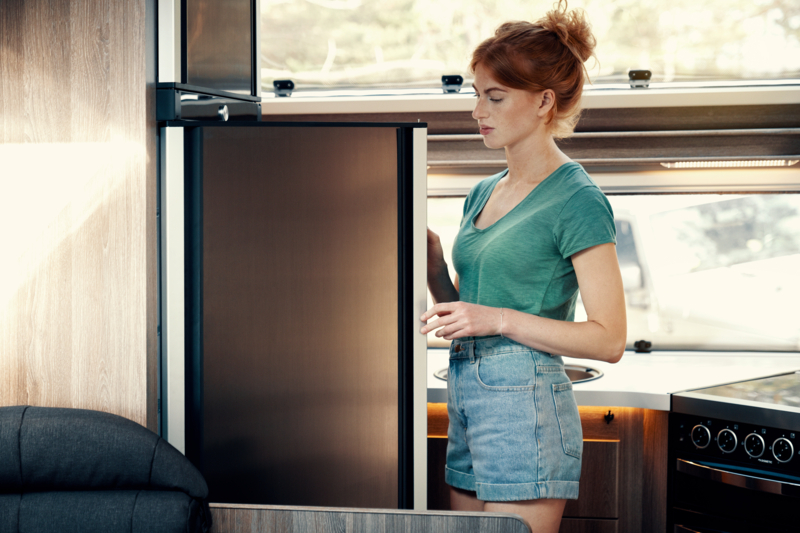 Most campers will identify that a generous size fridge is one of the most important components whilst camping, especially if your camping with kids. Although some campers opt for a quality ice box, an RV fridge is a top priority on the road to enable you to keep your food and beverages at a nice chilled temperature during those long sizzling summer adventures.
So, what happens when your fridge stops working? There are a few things to look out for whether it be a flickering of an internal light, to the internals of the fridge not cooling, it really is a process of elimination to diagnose the problem. Depending on your fridge type whether it be a 2 - way compressor fridge or a 3 - way absorption fridge, there are different components in each that can be faulty and need to be replaced or need urgent service attention.
How Do Caravan Refrigerators Work?
There are two main types of caravan fridges on the RV market today. Firstly, there is your 3-way fridge offering you 3 fuel sources to choose from - 240 volt, 12 volt and Gas. This will enable you to operate the fridge anytime and anywhere giving you the choice to run off 240 volt mains power at a caravan park, 12volt while travelling on the road or gas when free camping for extended periods.
Gas Tips: A naked flame is prohibited at petrol stations, motorway service areas and in most tunnels. For this reason, it is advisable to run off your vehicles 12volt system while towing. The latest 3-way fridges from Dometic have an inbuilt safety feature that delays the starting of the fridge for a couple of minutes when running off your vehicles 12volt ignition to allow you time to move away from the fuel bowser.
Silent Operating Caravan Absorption Fridge
Many of the 3-way fridges on the RV market today are absorption style principal, in which the application of heat causes refrigerant to circulate in a closed system of pipes at the rear of the refrigerator cabinet, there are no moving parts which allows the fridge to operate silently.
Features and Benefits of Absorption Fridges:
Quiet and efficient operation

Availability of 240, 12volt and Gas

Avoiding the use of moving parts

Highly resistant to wear and tear

Easy to maintain
Compressor fridges, or 2-way fridges are just like your fridge at home, although the compressor runs on a lower voltage of 12 or 24 volts (usually from your deep cycle camping batteries or from your vehicles 12 volt system) The fridge can operate on 240-volt power aswell when a 240 to 12 or 24 volt transformer is installed to suit the lower voltage compressor (some fridges come with this feature as standard, although usually the transformer is sold separately). As a general rule of thumb, compressor fridges or 2-way fridges are able to cool down quicker and more consistently than your 3-way gas absorption design due to the stronger and more efficient compressor motor. This also enables some of the compressor fridges to double as freezers simply by dialling the temperature control to a lower setting.
Another advantage of the compressor fridge is its undeniable workings on uneven terrain or slight inclines delivering the same output and efficiency as it would be operating on a level surface.
Features and Benefits of Caravan Compressor Fridges
Able to operate on uneven terrain

Able to cool to lower temperatures

Designed to operate off battery power supply

Less of a drain on a car battery during normal operations

Generally run more efficiently than absorption types

Lower starting amps than a domestic fridge
Troubleshooting Steps;
Luckily, caravan refrigerators are relatively simple units. There are essentially 3 main things that can cause issues:
Ammonia is not circulating correctly

There is an ammonia leak

The heating unit has been damaged
If the ammonia is not circulating properly, you will likely be able to feel a bit of coolness, but not nearly as much as is normal. Ammonia leaks are relatively rare. However, if you do experience a leak, it can be easily identified as the smell of ammonia will be overpowering.
If the heating unit has been damaged, it will not be able to heat the liquid ammonia to start the cooling process and you will not feel any coolness at all.
Why Do These Things Happen?
A big reason for refrigerator problems is simply that the refrigerator is not always in use. After extended periods of disuse, it isn't rare to see the liquid ammonia start to form into a thick sediment. This sediment sinks to the bottom of the cooling unit, ultimately blocking the ammonia from properly circulating. People who use their caravan fridge regularly are less likely to see this buildup of sediment, as the operation of the fridge keeps the ammonia in a state of constant movement.
Repair or Replace your Caravan Fridge?
The first thing to look at is the age of the fridge, if the fridge is coming up to a ten-year life span or over, it is most likely going to be beneficial to replace the unit as they are like an old car, once you fix one problem and drive it down the road another occurs.
If you add up the cost of getting a technician to look at it, roughly a $100 an hour to decipher the problem then once determined could be a $300 - $400 part, then a few more hours of labour to re-install you are already looking at half the cost of a new fridge.
It boils down to the amount of use the fridge will undergo and if the owner is willing to take the gamble of doing a repair at a prohibitive cost and a high chance that something else will fail in a short period of time.
DISCLAIMER* Please note, this advice is general in nature and we strongly recommend consulting the product manual and where relevant, a professional installer.
---
Comments (5)
Dometic 3 way fridge works on electricity but not

When on gas the flue gets hot but the fridge doesn't get cold. It works on 240V





www.caravanrvcamping.com.au Response
Hi Ken, it sounds like its time to get it inspected by a Dometic Service Agent, please see the link below to find your closest agent https://www.dometic.com/en-au/support/service-locator
---
My caravan 12v 24v gas refrigerator

I was wondering if there's any refrigerator repair man that can look at the refrigerator in the caravan we have, it doesn't seem to want to ignite or run by gas





www.caravanrvcamping.com.au Response
Hi Michael, most Fridge Manufacturers will have local service agents near you, you can find them using Google. Alternatively feel free to give us a call on 1800 787 278 and we can point you in the right direction
---
replacing door seal electrolux rm210 seal ok

took seal off to clean. how do you refit the seal





www.caravanrvcamping.com.au Response
Thanks for contacting us, you are best to get in contact with your local Dometic service agent who should be able to assist. You can find your closest one here https://www.dometic.com/en-au/support/service-locator
---
Rv fridge not getting cold

Have a Waeco 140 litre rv compressor fridge and all of a sudden it's not getting cold





www.caravanrvcamping.com.au Response
We would recommend checking your battery voltage as a first step to ensure you have sufficient power. If the fridge has a 240V AC plug, then you could content direct to mains power to see if it runs. Most likely you should visit or contact a Dometic service agent which can be found on Dometics website.
---
3-way Fridge Ammonia Not Circulating Properly??

I bought a camper that had not been used regularly and definitely the 3-way fridge had been sitting for months, if a couple of years of no use. I have been monitoring the temperatures. The freezer sometimes gets to -15 degC and a few times the fridge compartment got down to 4 degC but mostly the last couple of weeks, the freezer struggles around -6 degC and the fridge compartment can get to 15 degC or more depending on the outside temperature going over 30 degC. I have installed 3 fans to suck away the hot air from the radiators but it does not improve. I suspect it is the ammonia not circulating properly or the thermostat is faulty. Is there anything I can do, short of replacing the rather good condition, hardly used fridge-freezer? I hope you can advise. Thanks.





www.caravanrvcamping.com.au Response
Hi, depending on the brand of the Fridge you would be best to get it inspected by a service agent. You can check out Dometics service agents at https://www.dometic.com/en-au/support/service-locator or Thetford at https://www.thetford.com.au/store-locator/
---
Leave a comment