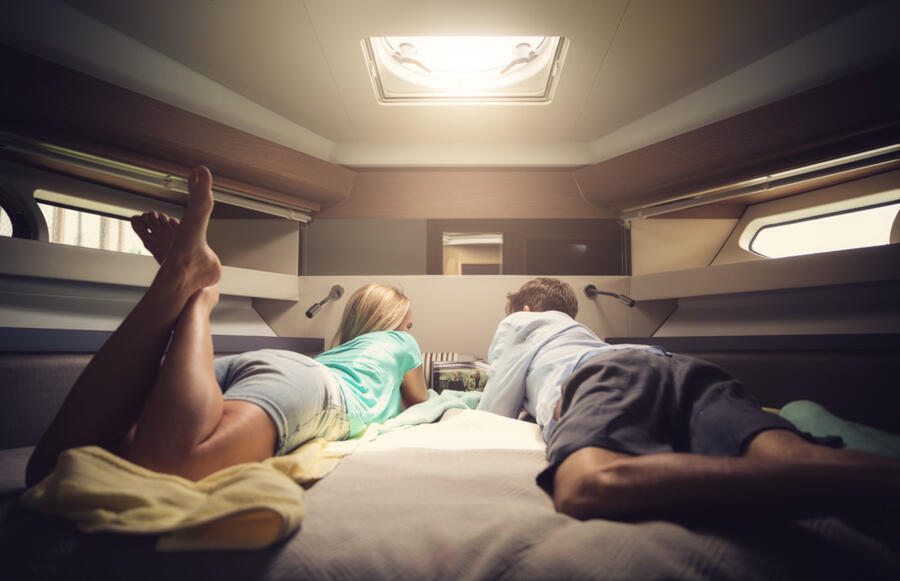 A caravan skylight can make a huge difference to your caravan interior. It brings natural light and illumination, while reducing energy consumption. Many caravan skylights can be opened and closed as hatches, which improves air flow and provides a handy escape for steam, odours and gases.
The big question is, with so many to choose from, which caravan skylight is right for you?
Read on for our caravan skylight and hatches buyer's guide:
Why Buy A Caravan Hatch, Vent or Skylight?
Caravan roof hatches, vents and skylights bring lots of benefits to life on the road.
They add ventilation throughout your caravan or motorhome, so you improve air flow and let more light in – perfect whether you're preparing food or reading.
The best part is, with the right caravan skylight, the great outdoors will be the last thing you see before going to sleep and the first thing you wake up to in the morning.
You can also get added features, such as ventilation fans for your bathroom and kitchen, or LED lights for additional illumination when the sun goes down. There are hatches available with rain sensors such as the Maxxfan Plus with T/stat, Power Lift & Remote, so you don't get caught out with a wet bed if you're not near your caravan!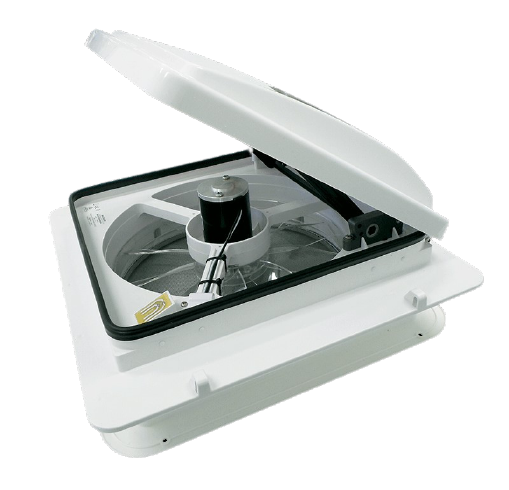 How To Choose The Right Caravan Hatch, Vent or Skylight:
Replacement Or New Hatch, Vent or Skylight?
Are you looking for a replacement skylight or roof hatch or one for a new build? If you are replacing a caravan skylight or roof hatch, look at the cut-out size currently on your caravan and check the specifications of various models to find the right fit. You will also need to determine how thick your roof is as some hatches come with different kits to suit van thicknesses.
For a new build, first consider where you will place your skylight. This will determine what size would best suit your needs. Do you have anything currently obstructing the roof, such as an air conditioner, solar panels, or antenna? This will help you work out the best place to locate your skylight and how big it can be.
If it can be opened and closed, locate your hatch where it will be within easy reach. The best places are usually above the kitchen and dining area rather than over the bed. As great as it can be lying underneath a blanket of stars, the morning sun or streetlights could disturb your sleep!
Pro tip: think about where your hatch will cast a shadow over your solar panels as this could affect the efficiency at which your panels will work.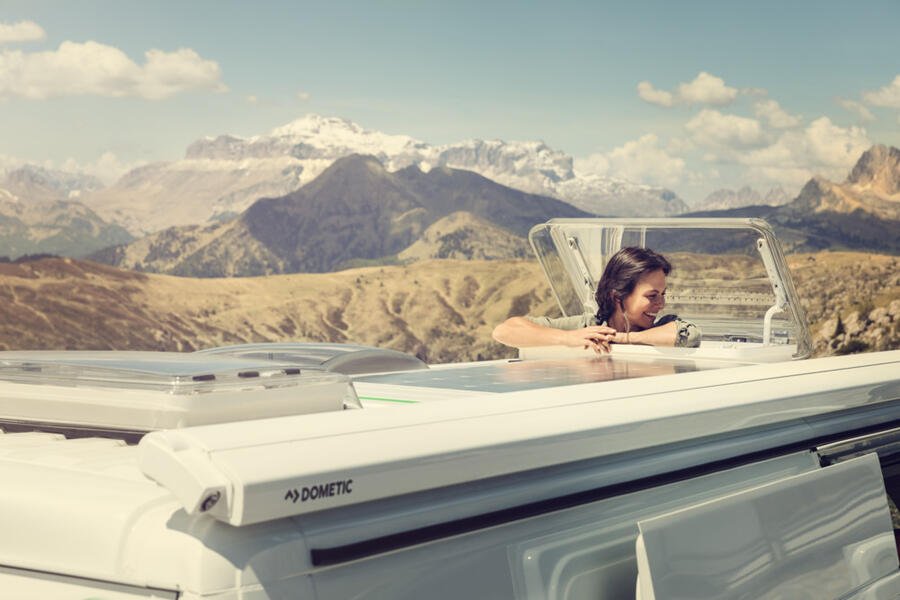 Which Added Features?
There are lots of added features you can choose depending on your preferences. Some caravan skylights feature a blind for added privacy and an integrated flyscreen to keep the creepy crawlies out. Or you can opt for a LED light and exhaust fan, which is handy in bathrooms and kitchens for extra ventilation. Some models feature LED lights that can be adjusted depending on whether you're using them during the day or at night. There are shower hatches available which come in a small dimension to fit a tighter roof space and come with a fan to ventilate steam.
Multiple Caravan Skylights?
Who said you need to stop at one skylight? If you have a large van with a larger roof space and would like more ventilation, you might want to add several skylights. If you have a smaller van, one will probably be your limit.
Which Brand?
Choose from caravan skylights from the most trusted caravan appliance brands including Dometic, Camec, Fiamma, Maxx Air, Thetford, and more.
The main difference between their products is the features, so it's worth spending some time working out the best one for you.
Here Are Some Of The Most Popular Models:
Maxxfan Plus: these are one of our most popular roof vents on the market due to coming with a fan, easy to clean flyscreen and the ability to have functions such as a rain sensor, remote control, and being able to run it while it is closed so you can have air moving around the caravan while you are on the move to help keep dust out!
Dometic Heki Range: There's a lot to love about the Dometic Heki range. The Dometic Heki 2 come with a large tilting window, separately adjustable fly and darkening screens for added control, and double acrylic glazing.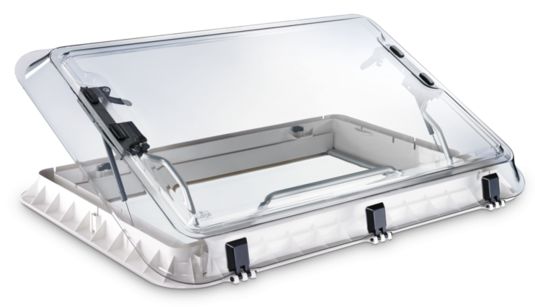 For a smaller option, the Midi Heki comes with a flyscreen and LED lighting which can produce both white and blue light at the flick of a switch for a homely feel.
Camec 4 Seasons: The Camec roof hatch is designed and tested in Australia for Australian conditions and features a versatile and easy to use design complete with LED lights and a roller blind.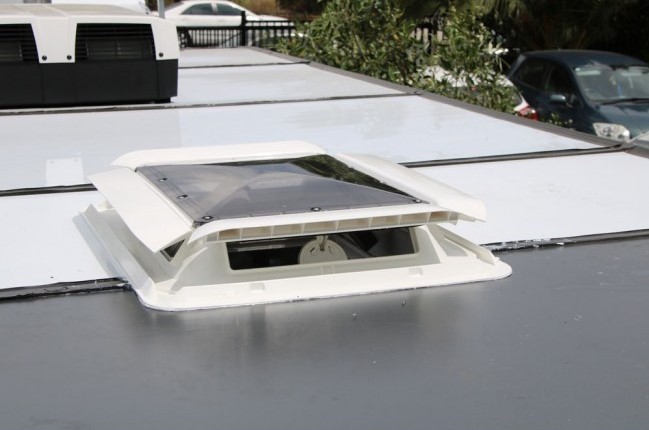 Finch Australia Star: The hero of the Finch Australia skylight range, the Star skylights come with LED lighting, an adjustable block out blind and flyscreen as standard, so you have everything you need to create the mood and interior you want. The push-up grab handle makes it easy to open too.
Top Tips And Tricks For Caravan Hatches And Skylights
Tip #1. If you are purchasing a 12V hatch, additional wiring will be required to run the unit.
Tip #2. If you don't have an existing opening, a cut-out will be required.
Tip #3. We stock a range of replacement parts to fix your existing skylight or hatch, so you don't have to spend the money replacing the whole unit if something goes wrong.
Browse our full range of caravan skylights and hatches today.
DISCLAIMER* Please note, this advice is general in nature and we strongly recommend consulting the product manual and where relevant, a professional installer.