Are you tired of crowded surroundings, nosy neighbours, and glaringly hot sun? If so, then you are definitely not alone. While caravan and camping can be relaxing, sometimes we'd just prefer a bit more privacy, especially when taking advantage of popular caravan park locations and on-site living.
If you're in this type of crowded situation, then you may want to look into caravan sun and privacy screens. These handy caravan additions have boomed in popularity as more and more people are beginning to partake in caravan and camping adventures and leaving the bricks and mortar.
Privacy Screens:
If you're new to the terms "privacy screen" or "annex", you're probably asking yourself, What's the difference? Well, for the most part, sunscreens/privacy screens are designed specifically to provide shelter from natural elements such as the sun and light rain showers. Generally, they are installed on the end-wall or sidewall of your awning, and in combination with the caravan's surface, create a tent-like structure under which campers can enjoy a bit of shade.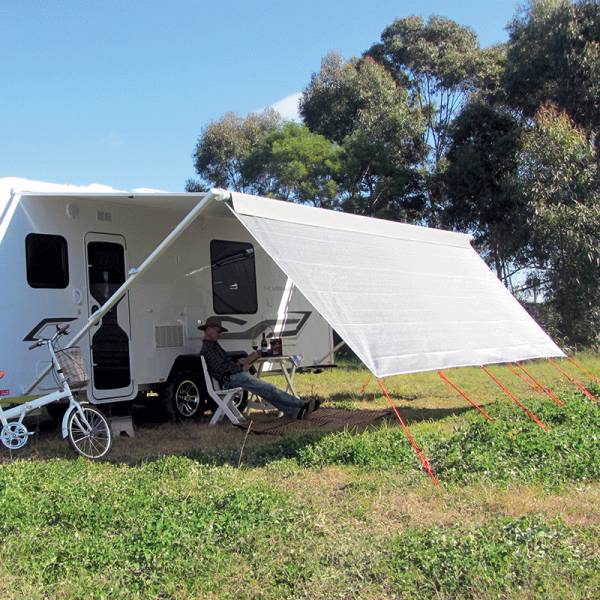 In addition to providing shelter, sunscreens also provide a bit of privacy as the campers are located between the wall and screen, obstructing them from the view of neighbour campers.
When installing the privacy screen/sunshade you will need to factor in the awning you own and how you'll attach your sunscreen to your awning. If you own a Fiamma awning, you will need a Fiamma Clip System to use side sunscreens. This ensures proper installation and support especially on windy days.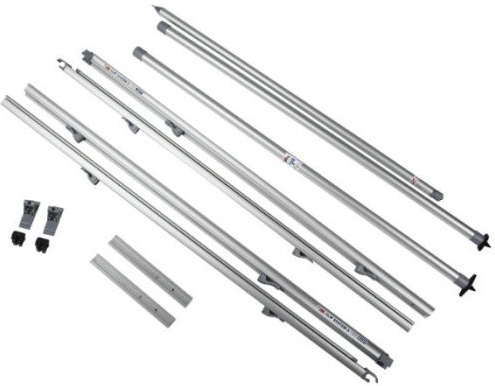 There are after market anti-flap kits that can be used for easy installation of your sunscreen sidewall. These can be used with all awnings on the market including box and roll out awning from varying brands.
The Aussie Traveller range of Anti Flap Kits offer a range of different sizes and adapters to suit all awnings. They are quick and easy to install and offer support of your awning to prevent stretching of your fabric and to enable you to install the side screens with a sail track ready to go. Simply clip on your Aussie Traveller Anti Flap Kit, fit it into your awning with the correct fittings and you are ready to slide your sunscreen in. It is that easy!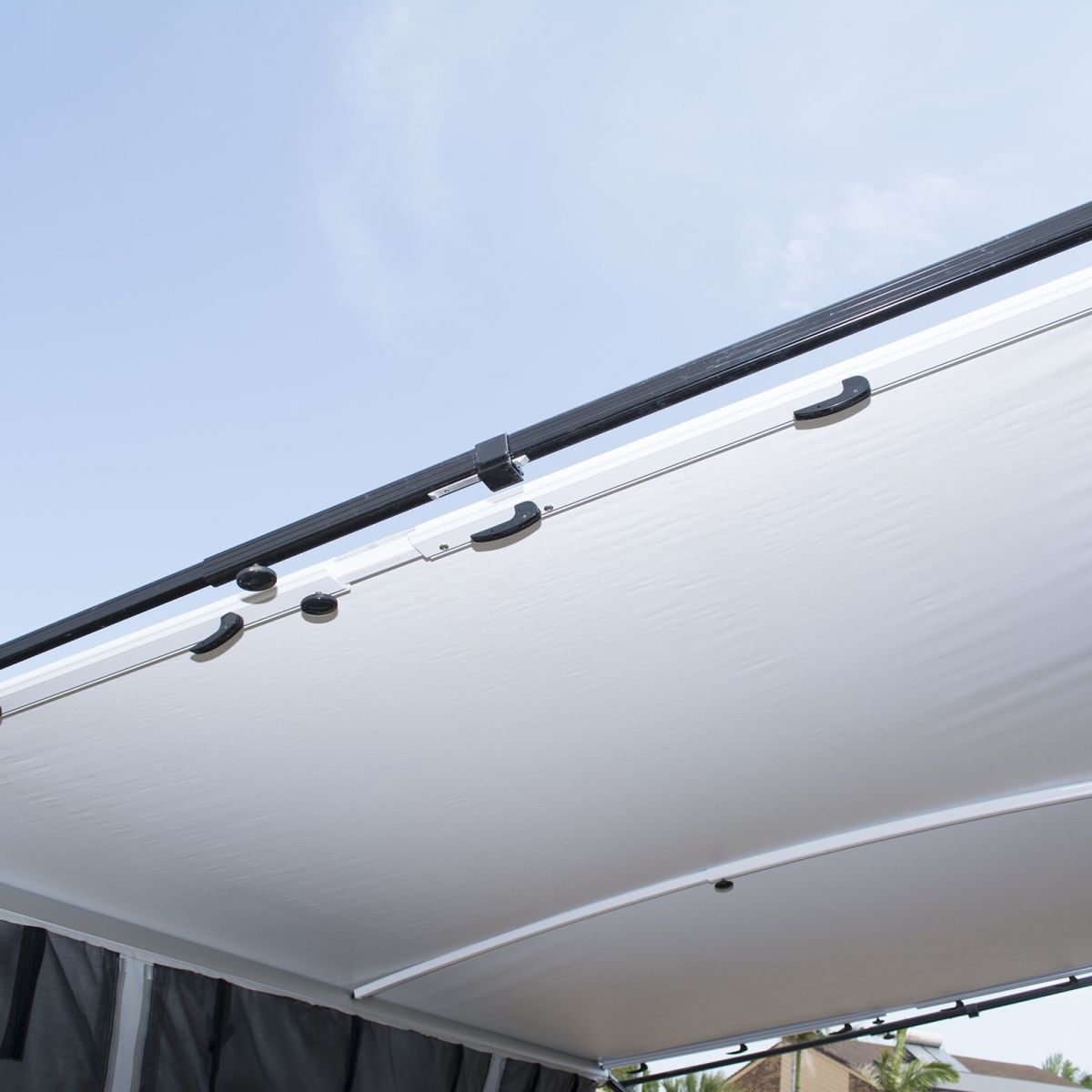 When it comes to adding a sunscreen to the front of your awning these should fit into the sail track of your existing awning. Remember measure twice, buy once!

When selecting a sunscreen you need to ensure you are buying your side panels to suit full van or poptop.
Leading Brand: The most common brand is the Coast V2 Sunscreen with reinforced sturdy seams and an anti-kink spline. This range is available in different sizes to suit your awning type.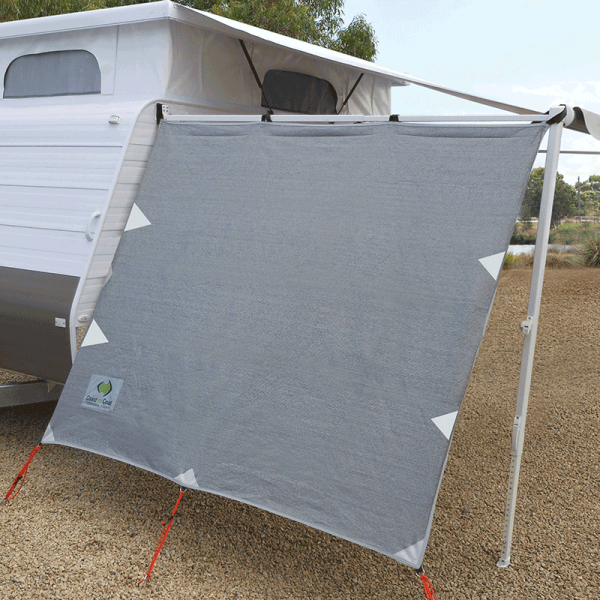 Annex Wall Kits:
For those looking for more control of the weather elements and even more privacy, this is where a full, annex wall kit come into place.
The Coast wall kit includes three full walls that are attached onto your awning, and are generally equipped with screened windows and a full-sized door.
The closed in style & waterproof material of the annex walls provide complete shelter from rain & sun as well as completely blocking the view of fellow campers.
The Coast wall kit is great for providing all round weather protection, while having ample sized windows for ventilation and breezes on a hot day. It will require a few initial installation steps which can be found in the product manual. These can be bulky and weighing in at approximately 30-40kg which can be important when you are limited with total weight capacity.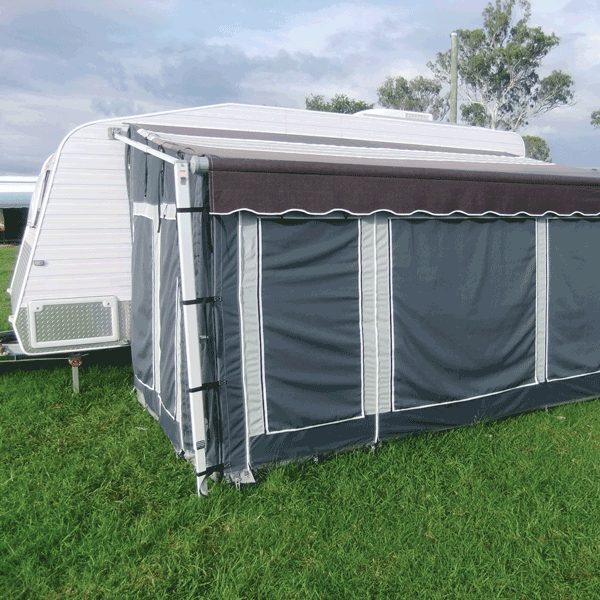 Another option to consider is the Dometic inflatable awnings. They are quick and easy to install and weigh in between 23-35kg. There are two types of awnings in this range. The Dometic Driveaway Rally Pro suits motorhomes and buses where you have the option to driveaway and leave it setup while you explore. The other option is the Dometic Rally Air Pro static awnings which can be installed into a sail track attached to your caravan or your awnings existing sail track (roll out awning excluded). These are more suited if you are camped in the one spot and don't need to move your caravan/RV.
Just connect the awning, set the pump, and watch your awning install itself while you crack a beer!
Leading Brands:
Purchasing a high-quality annex is important because they are generally not the cheapest of additions. In general, the cost of the annex goes up with the quality of the material, zips & stitching used.
There are three major brands in annex/privacy rooms: Fiamma, Dometic and Coast to Coast.
Fiamma have created their own annex rooms to suit their awnings and are specific to their brand.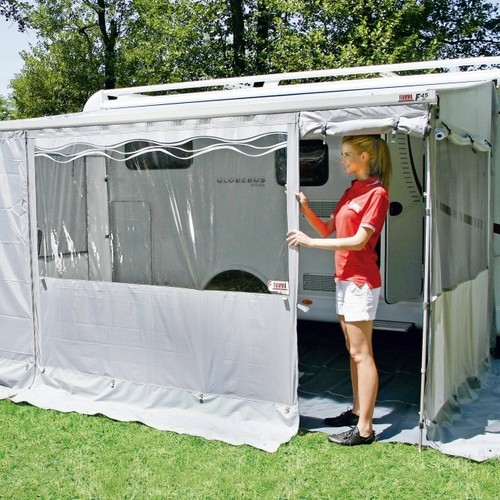 The Coast to Coast annex wall kit can be universal with modifications, as can the Dometic inflatable range.

For more information about Caravan RV Camping's popular screens and kits, click here.
DISCLAIMER* Please note, this advice is general in nature and we strongly recommend consulting the product manual and where relevant, a professional installer.