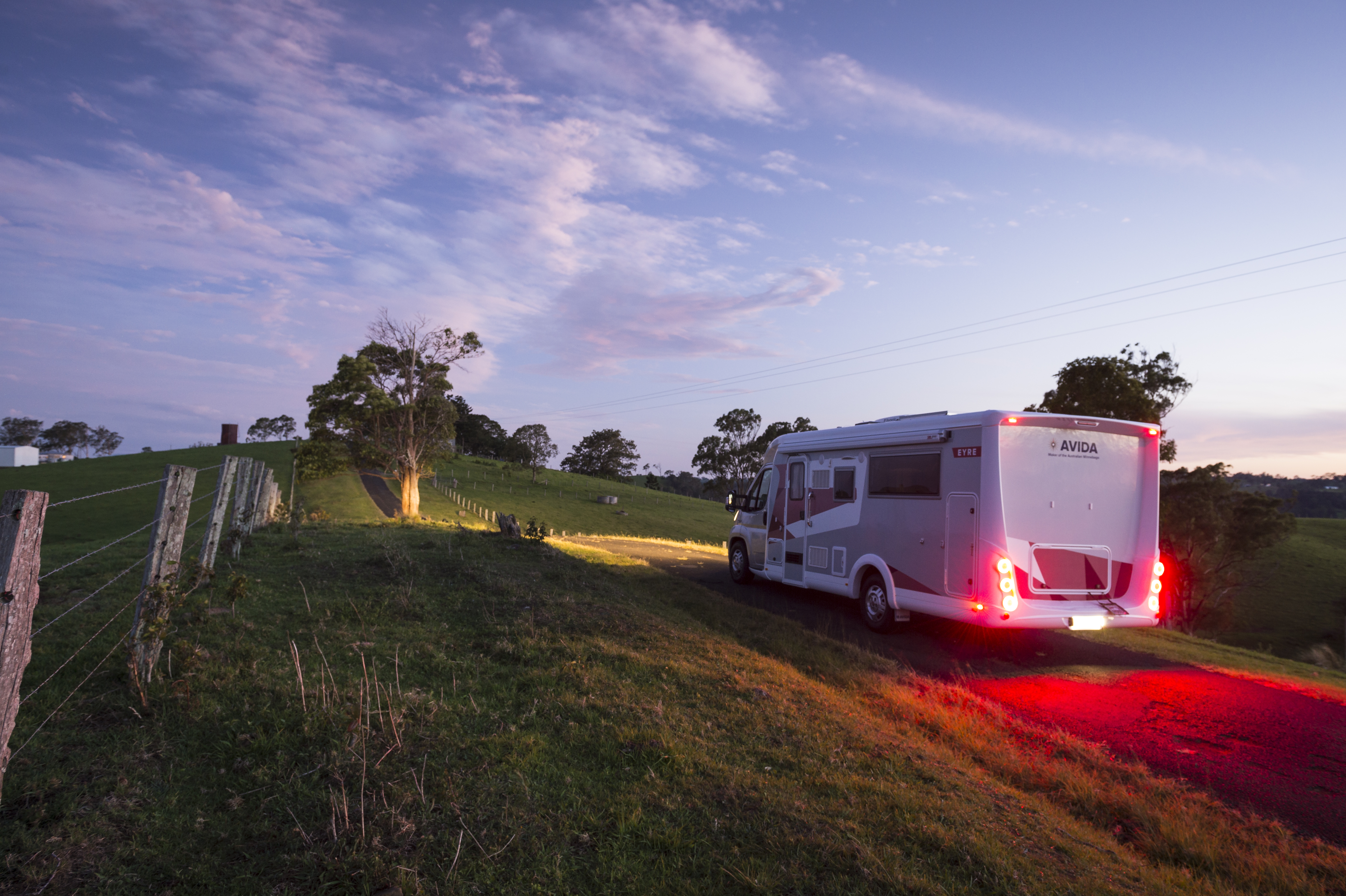 Introduction To Caravan Reversing Cameras:
Towing a caravan can be challenging. So, the more visibility you have whilst reversing and driving, the more confidently you can manoeuvre and the safer it is for everyone.
Caravan reversing cameras help you do exactly that. They provide good and clear vision behind your caravan to assist with reversing and tailgating.
If you install a caravan reversing camera in the back of the vehicle, it will be the perfect gadget to help you reverse your towing vehicle and hitch your caravan. No need for someone to get out and give you directions through yelling and hand signals! The driver can easily rely on the screen for perfect alignment of the tow ball and coupling.
Here's our guide to caravan reversing cameras to help you choose the best one for your travels.
Types Of Caravan Reversing Cameras:
There are different types of reversing cameras depending on the type of driving you plan to do and how you want to install it.
Take a look at the different types below:
Reversing Cameras Suitable For Hitching And Rear Of Caravan Vision:
If you're specifically looking for a caravan reversing camera for hitching and rear of caravan vision, there are two types to choose from: Wired and Wireless.
Wireless:
Englaon 7" Wireless Monitor & Camera Kit
Brand new to the market, this Englaon Wireless Monitor and Camera Kit is already proving to be one of the best on the market. The camera gives a 120-degree view angle and 2.4GHz transmission. Designed for long-range signal monitor and camera communication, the best range of the kit is within 120 metres for high-quality output. However, with no barriers, the maximum range could reach 170 metres!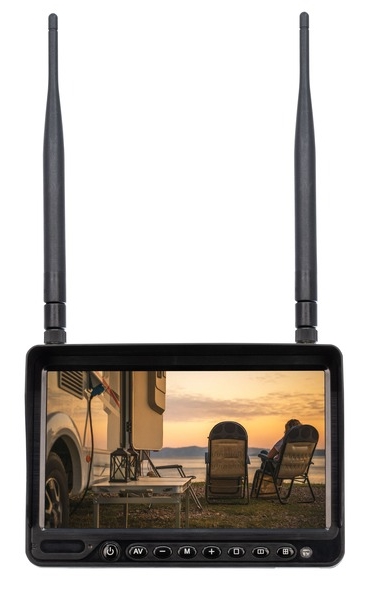 Pros
Long range signal

IP67/IP68 rating for weather-resistance and durability in almost any environment.

Split-screen monitor can be used as a single, double or quad screen.

Stable transmission even when travelling up to 100km/h

Remote access control gives the ability to control everything from afar

Wireless parking assistance is easy - the monitor will start up automatically and display the video from the rear-view camera when you're reversing or braking.

Great price
Cons
You are relying on wireless transmission of the picture

Interference may occur with CANBUS signals on some tow vehicle's lighting wires.
FURRION Vision S Rear-Vision Camera & 5" Display Kit
Backed by a top of the range brand, the Furrion 5" Vision S camera system is designed to make life easy on the road. You can connect up to 4 cameras AND use the system at night thanks to the night vision mode.
The Furrion backup camera means you can live stream not only while reversing but also while on the road for added security when passing and being passed, and to reduce your blind spots.
The digital wireless set up boasts a range of 150 metres (with no obstructions) and an easy to use touch screen, complete with anti-glare for those sunny days. It comes with 120 degree vision for reversing or driving to assist with safe lane changes. Also available in 7" screen.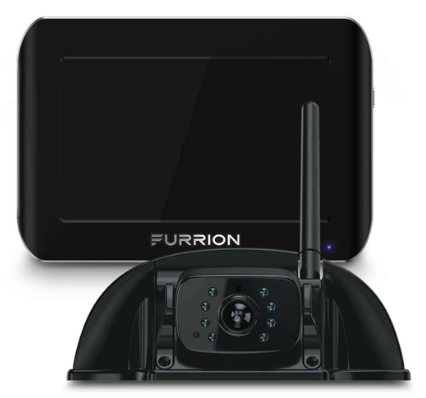 Pros
Microphone means you communicate with the person helping you direct the caravan

Rear assist reversing lines to help you reverse correctly every time

Suction and surface mount options included for easy installation

Cameras offer clear images, wide viewing angles and night vision

Monitors are available in 3 sizes with side and rear cameras available
Cons
Relying on the wireless transmission for the picture can be an issue as interference can occur on some tow vehicle lighting wires.

More expensive option
Wired:

Dometic RVS 745 - 7" AHD LCD Monitor And Colour Camera
This exceptional Dometic caravan reversing camera kit has lots of top features you'd expect. Three cameras can be connected to one monitor for maximum coverage around the vehicle, with the wired connection going from the monitor directly to the cameras.
It comes with digital LCD technology with super-bright, energy-saving LED backlighting for excellent image quality in all light conditions. The monitor is designed to be flat and compact so it doesn't take up much room, and still gives the perfect view for safe manoeuvring. Also available in 5" monitor.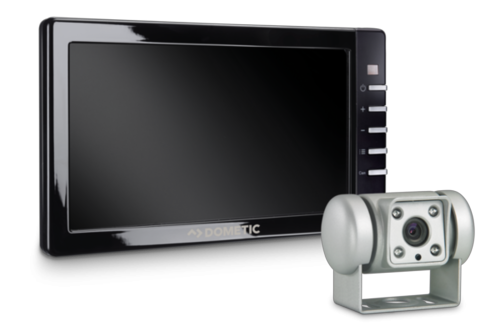 Pros
LCD displays with Analog High Definition (AHD) technology and LED backlighting give you an exact view of what is happening around your vehicle.

Bright, high-contrast display is easy to read in all light conditions.

Connect up to three cameras to have everything in sight.

Comes with a microphone

Direct wire connection between the monitor and cameras means no interference
Cons
Running cables may cause an issue with wear and tear over time, especially in harsh conditions
5.8" Caravan Reversing Camera System With White Rear Camera
This caravan reversing camera system from Coast to Coast (under the Safety Dave brand) comes with CCD camera technology and you can purchase a second camera to view up to two camera feeds using the monitor's two-channel display.
The LCD screen comes with a sun shield to reduce glare, while the Eyeball camera is fully waterproof and carries audio, video, and night vision infrared.
The monitor can be mounted to your windscreen or dashboard using the included suction mount cap.
Pros
The second camera makes the kit perfect for towing caravans, showing you what's behind your tow vehicle as well as what you're towing.

Sunshield to reduce glare

Waterproof camera

Easy to set up and operate

All in one kit including the camera, monitor, cabling, connectors, mounting equipment, and instruction manual.
Cons
Running cables from vehicle to the caravan can potentially lead to wear and tear of the cable over time, kinks on installation, or installation near heat.

You need to connect the cable to the tow vehicle when connecting the caravan.
The Sphere rear mirror is a different approach to the caravan reversing camera. It mounts over your rear view mirror. The system can be turned on at the screen or wired to your reverse lights.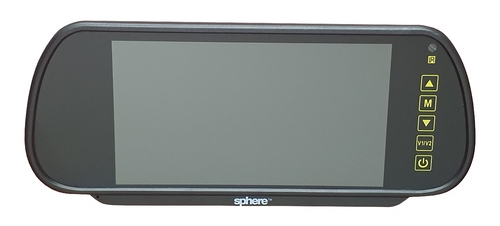 Pros
Touch screen and more control for easy operation

Available with black or white camera to suit your vehicle

Comes in 6m for car and 20m for van

The ability to simulate a rear-view mirror.
Cons
No microphone, though there is a volume setting
Reversing Cameras Suitable For Hitching Only:
There are two types of reversing cameras which you would really only use for hitching: Wired and Wireless.


Garmin is known for its top-quality GPS gadgets and this is a great addition to the range. The camera wireless pairs with the compatible Garmin Navigator, such as the Overlander.
You can connect up to 4 cameras which gives you a huge 140 degree viewing angle around your caravan. And like many cameras, it powers from your reverse lights.
Pros
Great option if you already have a Garmin navigator to connect to

Connect up to 4 cameras for more coverage
Cons
Like Garmin, Hema is renowned for its GPS gear. This camera wirelessly pairs with the Hema HX-2 Navigator.
Like the Garmin camera, it offers 160 degree viewing.
Pros
Built-in wifi to connect to Navigator

Transmits up to 28 metres (best results when it has line of sight to the antenna)

Grid lines for easy parking
Cons
Garmin BC 40 Wireless Backup Reversing Camera:
The Garmin BC40 is designed to pair with compatible Garmin navigators enabled with Wifi connectivity. It's also battery operated, which means there's no cable installation required. You can simply snap it onto the number plate to install. Easy!
Pros
Battery operated for super easy installation

Transmit up to around 7.5 metres

Voice command to initiate camera view

Provides a wide, clear video image of what's behind your vehicle

Rugged and weather-proof
Cons
Connectivity can be an issue if there are obstructions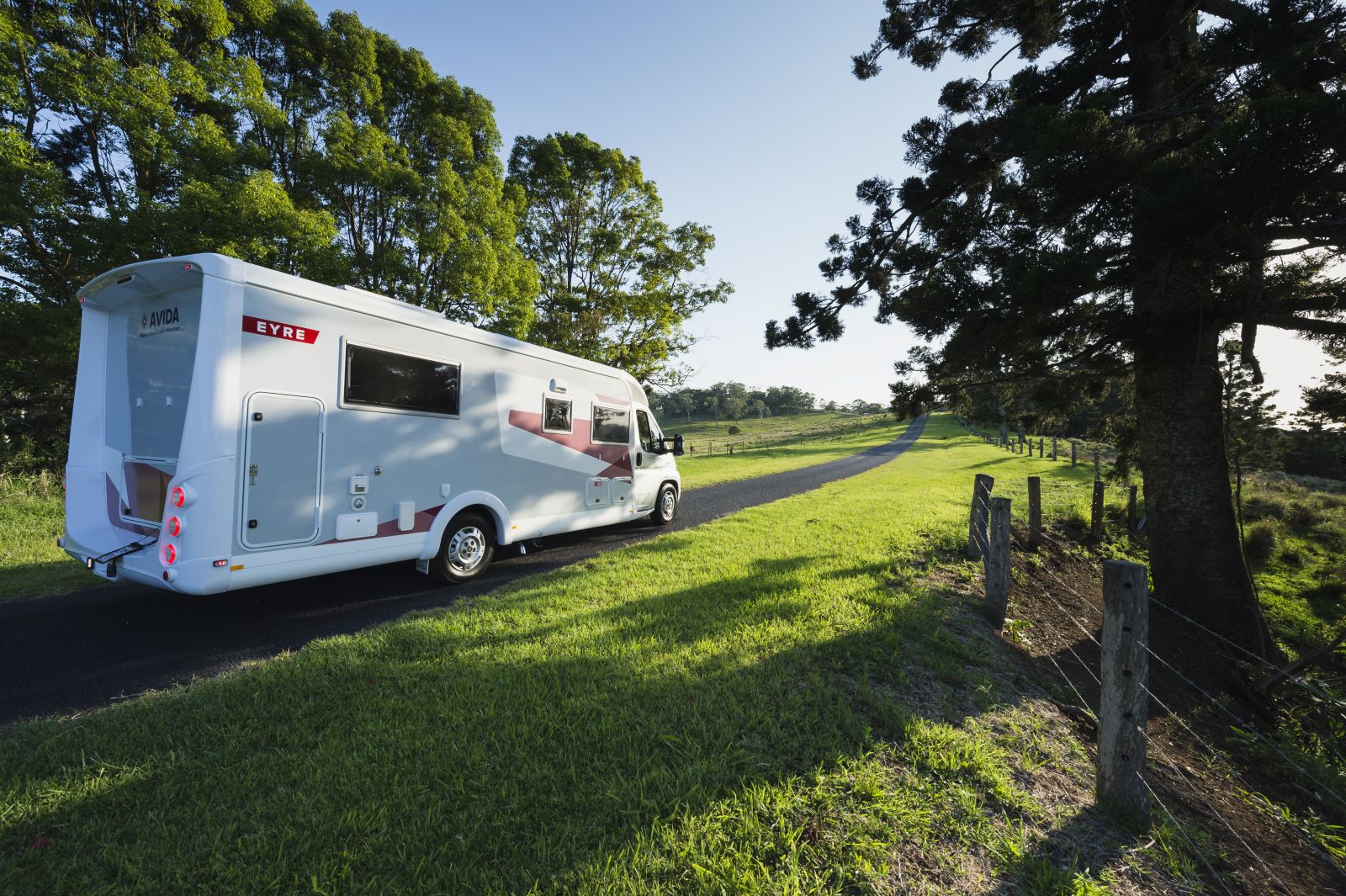 Comparison Table:
To help make your purchasing decision easier, we have put together a comparison table with the specifications of the top three caravan reversing cameras on the market!
| | | | |
| --- | --- | --- | --- |
| | Englaon 7 Wireless Monitor Camera Kit | Furrion 7 Vision S Rear Vision Camera Display Kit | Dometic RVS 545 - 5" AHD LCD monitor and colour camera |
| Price | | | |
| Monitor Size | 7" | 7" | 5" |
| Anti-Glare | No | Yes | Yes |
| Microphone | No | Yes | Yes |
| Cameras | 4 max | 4 max | 3 max |
| Wireless or Wired | Wireless | Wireless | Wired |
| Wireless range | 170m | 150m | N/A |
| Warranty | 1 year | 1 year | 1 year |
Discover more caravan reversing cameras in our online store here!
DISCLAIMER* Please note, this advice is general in nature and we strongly recommend consulting the product manual and where relevant, a professional installer.
---
Comments (1)
15meter reversing cable for a dometicclearview 6 p

Can you please advise me if this is available to purchase and if so, do you have any or can tell me where to purchase. Thank you





www.caravanrvcamping.com.au Response
Hi Don, thanks for reaching out. We have sent you an email if you would like to respond to that we will be more than happy to help out. Alternatively you can call us on 1800 787 278
---
Leave a comment