---
BONUS ITEMS! Buy Evakool Elite 12V/24V Upright 208L Fridge Freezer Today & Receive These For FREE!
---
FREEBIES! Buy Evakool Elite 12V/24V Upright 208L Fridge Freezer Today & Choose From One Of These FREE Gifts!
---
Evakool Elite Upright Caravan Fridge Freezer 208L
Evakool's Elite series delivers exceptional performance using Dual BD50 compressors to ensure ultimate cooling performance and lowest power consumption. The Elite range of stylish, upright fridge/freezers have been designed by Evakool with their years of experience and extensive knowledge of 12/24 volt refrigeration, Evakool has developed a range of upright fridge/freezers specially designed to provide maximum cooling capacity in our harsh hot and humid Australian conditions.
The 208 Elite has a premium black cabinet finish offering reversible left or right door opening. A drawer freezer allows for maximum freezer storage and a sneaky ice cube tray for those afternoon beverages. Store your fresh vegetables in the crisper department and keep your eggs safe in the egg container. You will be saving power with the LED interior fridge light and adjustable temperature controls.
For a limited time receive a BONUS 25L Icebox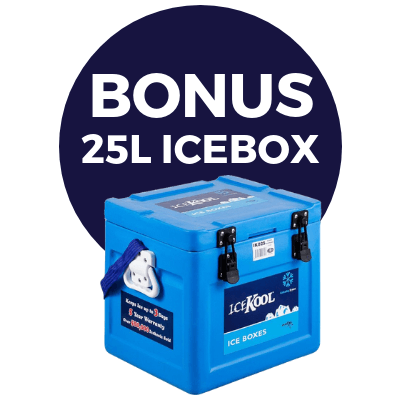 Features:
Easy to use controls
12/24-volt operation
Satin Black finish
Insulated walls up to 75mm thick
Reversible fridge doors & drawer style freezer
External door latches
Smooth internal walls, hygienic and easy to clean
Interior light
Wire shelves
Vegetable/fruit crisper
Removable Freezer Tub
2 Year Warranty
Nation-wide service support
Compressor:
Secop PBC 2.5 (Formerly Danfos BD50)
Quiet, reliable, efficient operation
Low voltage protection
External mounted condenser for improved performance
Will operate on angles up to 30 degrees
Self-diagnostic fault system
Easy to use controls
Automatic reverse polarity protection
Specifications:
Climate Class

T+

Gross Capacity

Fridge

Freezer

208L

168L

40L

Dimensions (mm) H x W x D

1365 x 600 x 605

Dimensions- Including mounting frame

1386 x 658 x 605

Wall Thickness

Fridge

Freezer

-

55mm

75mm

Weight (kgs)

62

Voltage

12V / 24V DC

Compressor

Secop PBC 2.5

(Ex BD50)

Average power consumption at 32'C over 24Hrs

Fridge at +4'C Freezer -15'C

3.3 Amps

Temperature range

Fridge -5'C to +10'C

Freezer -5'C to -18'C
Not what your looking for? Feel free to browse the rest of our range of Evakool Fridges, 2 Way Fridges & Caravan Fridges - For any further infomation or to speak our fridge experts dial -1800 RV PARTS
Be The First To Review This Product!
Help other Caravan RV Camping Accessories users shop smarter by writing reviews for products you have purchased.
Ask a Question or Submit an Answer to this Product
---
Q) Hi, we are looking at installing the Evakool 208 litre Elite fridge freezer into our slide on camper and will be needing it to be mounted very securely as we do a lot of off road travelling. Does the fridge come with a mounting kit? Or is it an additional purchase?
A) Hi There and thank you for your inquiry. The Evakool Elite range provides a mounting kit at no extra cost incurred and delivers an extremely secure install for tourers who love travelling in remote terrain.
Q) We are very interested in the Evakool Elite 208 litre, what type of compressor does this fridge have on board and does it have a separate compressors for the fridge and freezer?
A) The Evakool 208 litre Elite fridge freezer has two Secop PBC 2.5 compressors (formally known as the Danfoss BD 50) on board, one for the fridge and one the freezer to enable maximum efficiency when operating in those high ambient temperatures.
Q) Hi There, with the evakool range (platinum and elite series) do the fridges have a circuit breaker installed internally or does the positive line have a inline fuse installed?
A) Yes, the evakool range (platinum and elite series) all have a on board circuit breaker installed but still recommend a fuse be installed on the positive line of the circuit.
Q) Good Morning, we are interested in the Evakool Elite range and was wondering what speed does the Seacop compressor run at?
A) Hello There, the speed of the compressor will vary as it will ramp up and down to suit the thermostats instructions. The Secop compressor is a 4-speed compressor, at its lowest speed 2000RPM its rated at 42 watts of cooling and at high speed 3500RPM its rated at 71.6 watts.
---
We Also Recommend
---
Others Also Bought
---
More From This Category